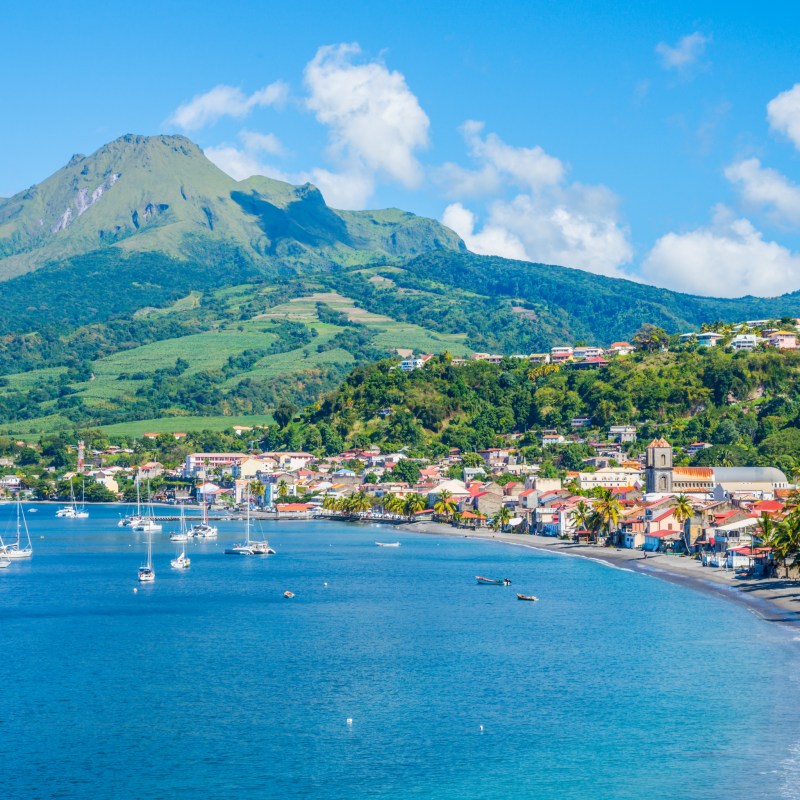 Martinique, one of the Windward Islands located in the eastern Caribbean Sea, is an island like no other. Birthplace of a French empress, dubbed the Pompeii of the Caribbean because of a devastating volcano eruption in 1902, Martinique combines French chic and cuisine with Creole culture and lifestyle, and you'll find endless amazing things to do and see.
The island is a French Overseas Territory and an extraordinary member of the EU. This means U.S. citizens need a passport and the currency is the euro. French is also the principal language.
Whilst the northern part with active Mount Pelee is mountainous and the beaches are grey and black because of lava ash, you find brilliant white sand beaches in the south, as well rain forests, mahogany, banana plantations, rum distilleries, and old sugar plantations.
1. Discover Saint-Pierre's Tragic Past
Until 1902, when the Mount Pelee volcano erupted, Saint-Pierre was the lively capital of Martinique, often called the Paris of the Caribbean. On that fatal day, the city was destroyed and the entire population died within minutes, with the exception of one prisoner who was protected by the thick walls of his cell.
The city has been rebuilt upon the ruins of the old one, but many reminders can be seen, among them the once splendid theater and the prison cell. In some places, you have to go underground to see remnants of the old city walls. A black beach runs along the waterfront. If you wish to learn more about the 1902 disaster, make your way to the Volcano Museum.
2. Learn About the Power Of Volcanoes In The Musee Volcanologique
This haunting museum recently got a facelift. Today, it is a striking, modern place to view the over 400 artifacts that document the catastrophe of 1902 as well as life before, during, and after the eruption. Photographs and exhibits, among them even calcified rice, will send a shiver down your spine. If you happen to have been to Pompeii in Italy, you'll once again be reminded of how violent and unpredictable nature can be.
3. Meet The Memories Of An Empress
Born in 1763 as the daughter of wealthy sugar cane plantation owners, Josephine de la Pagerie later became the wife of Napoleon and Empress of France. Her childhood home, or rather what's left of it, is the interesting Musee de la Pagerie. Surrounded by a pretty park, letters, furniture, and other objects which belonged to her are on display. There are also the remains of a sugar mill.
Her family members were, of course, also slave owners, something which haunted Josephine in later years. Her statue in the present capital, Fort-de-France, was decapitated in 1991 and splattered with blood-red paint.
4. Explore Lively Fort-De-France
After the catastrophe of 1902, Fort-de-France, located on the west coast of the island, became the capital and the commercial center. The development was helped by draining the surrounding swamps and ensuring adequate water supply and other conveniences.
You'll find French heritage everywhere in Fort-de-France, happily mixed with the Caribbean spirit. A must-see is the Schoelcher Library, not for its books but for its stunning art deco architecture and its story. The entire building was made in France then shipped to and reassembled in Martinique. The library is named after a famous abolitionist.
Sacre Coeur de Balata Church is worth seeing, too. It's a replica of the Montmartre Church in Paris.
Swing by the cathedral, modified many times, and old Fort Saint Louis, behind which lurks the French Navy frigate Ventose. The island has seen its fair share of skirmishes and changing ruling nations.
Dedicate a few hours to the colorful and lively markets in Fort-de-France. There are several, the biggest and most famous being the Grand Marche, which is covered and offers island fruit and vegetables plus several bars and restaurants.
5. Smell The Flowers In The Balata Botanical Garden
Just outside Fort-de-France you find a tropical paradise, a riot of colors and scents. The Balata Botanical Garden is privately owned and has been created by artist and poet Jean-Philippe Thoze, who grew up in the cottage that sits in the middle of the garden.
Today, the garden contains 3,000 varieties of tropical plants, 300 species of palm trees, and countless anthuriums, bromeliads, and begonias.
6. Climb Mount Pelee
It always gives me a thrill to climb a volcano, active or otherwise, and Mount Pelee is no different. Located in the north of the island, the last major eruption occurred in 1932, but this is an active volcano under constant observation.
The mountain is bare, pelee being the French word for "bald," formed by hardened ash and lava. There are several routes that lead to the summit, but all of them require a certain degree of physical fitness and proper gear. Depending on the route you choose, the entire trip takes 4 to 6 hours. At the summit and near the two craters, it can be damp and foggy. But oh, the views and the excitement!
7. Get Tipsy At Habitation Clement
After all the excitement, you deserve a calming slug of rum, and the best place to sample it is one of the best Martinique distilleries.
Located in the Francois area, Habitation Clement is the place to go for unique insight into Creole life, the history of rum, and Martinique's flora. It's also the island's only still-working sugar plantation. Habitation Clement is arranged around the original plantation house with the distillery and rum aging rooms surrounded by a botanical garden and linked by paths.
Naturally, there is also rum tasting.
8. Get Wet At Didier Waterfalls
You'll be delighted by the many different and exciting things you can do in Martinique. Take a small excursion from Fort-de-France to the refreshing Didier waterfalls. There are actually two that splash down into a river where you can swim and refresh yourself. It's a bit of a hike, and you have to go through a tunnel to reach the second one, but it's an adventure not to be missed.
There are quite a few stunning waterfalls to be found on Martinique, some requiring serious hiking skills to get to. If you love this kind of adventure, consider RootsRated's Martinique waterfall exploration guide.
9. Chill Out At Grande Anse
It's not all climbing volcanoes and hiking up waterfalls in Martinique. The discerning traveler who longs for a pretty beach, kicking back, and getting a tan finds all that and more at Martinique's best beach: Grande Anse.
Located on a peninsula about four miles south of Fort-de-France you actually find three beaches: the biggest at about one mile long is called Grande Anse, the next is Petite Anse, followed by Grande Terre des Salines. The first is bordered by a tropical national park, so you sit in the shade of palm trees. Otherwise, there are plenty of water sports and bars for refreshments.
10. Learn All About Bananas
Bananas are an important part of agriculture in Martinique, and the lovely Banana Museum in Sainte Marie explains it all to you. It's part of a working banana plantation, so you can follow firsthand all the steps from planting to harvesting and marvel at the countless products that can be made from bananas, all on display — and for sale — in the colorful huts. What's more, the restaurant offers delicious dishes, all centered around the banana.
11. Sail Away On A Catamaran
The island itself is a treasure trove of experiences and adventures, but you might also want to see it from the water.
Catamarans are always pleasant to sail on, and various tours are available, from day trips to Baie des Anglais and the Anse beaches to multi-day excursions to St. Lucia and back. All you have to do is make your choice.
12. Take Your Kids To Les Salines
This is actually the third part of the Anse beaches, but it needs to be mentioned separately because the clear and shallow water makes it ideal for kids to play in.
There are also restrooms and plenty of vendors strolling up and down the beach with snacks and drinks.
Where To Stay On Martinique
If you don't happen to arrive on the island with a cruise ship, you might want to spend a night or two. If you don't mind splashing out a bit, Cap Est Lagoon Resort and Spa is a fabulous option.
Located in Le Francois, the resort borders a lagoon and offers all the luxuries of a five-star hotel, including pools, spa treatments, and fine dining in the restaurant.
Pro Tips
Get used to the fact that Martinique is practically France in a tropical climate. If you speak French, you are at an advantage as some tours and explanations are in French only. But, either way, you'll manage. As for shops and closing times, they keep the siesta in Martinique, too. If you embark on more adventurous tours like climbing Mount Pelee, only do so with good hiking shoes and a light waterproof jacket — and only if you are in good physical shape.