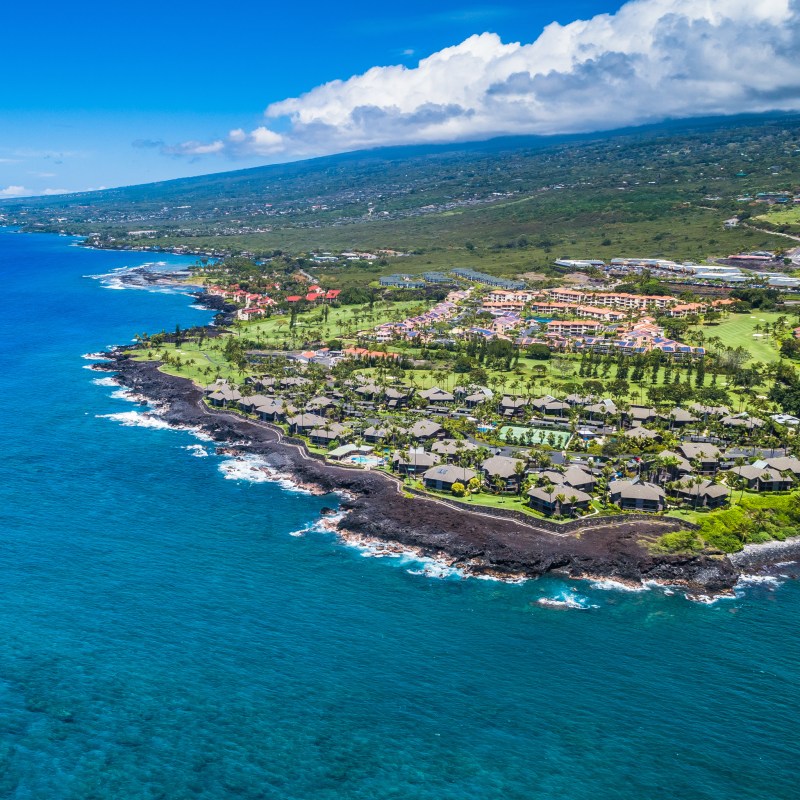 Kona, the district comprising most of the Big Island's western shore, is known for its incredible seascapes, dry climate, and its role as host to the annual (and grueling!) Ironman Triathlon. There's so much to see, do, and experience in this area, from exploring the charming city of Kailua-Kona to sampling some of the world's best coffee to getting up close and personal with marine residents.
Here are just a few of the best things to do during your Kona vacation.
Hit The Beach
You're in Hawaii, after all. Kona is world renowned for the quality of its beaches, with sand of various colors — including white, black, and even green — rimming crystal-clear waters. Whether you want to simply put your toes in the sand and soak up the sun, or have a more adventurous day of water sports, Kona's got you covered. There are simply too many activities to list them individually, but your accommodation can certainly point you toward the closest options. We really liked the three beaches at Kekaha Kai State Park along the north Kona coast. The park also offers dramatic hiking with gorgeous coastal views.
Whatever outdoor activities you choose, don't forget the beach essentials: water shoes (the sand can get hot!), plenty of sunscreen, water, snacks, and snorkel equipment. You're bound to see a whole host of underwater species in a dizzying array of colors, not at all far from the shore.
Visit The Palace
We are always eager to learn about the history of the places we visit, and there's a lot of it to explore in Kona. To get a healthy dose, head to Hulihee Palace in Kailua-Kona. This is the place where Hawaii's royal family would come to spend their summers. Today, it's a museum full of Victorian-era artifacts from the time of King Kalakaua and Queen Kapiolani. The palace is constructed from lava rock, and it's easy to see why kings and queens made it their summer getaway: Hulihee's ocean-facing lanai and lush landscaped gardens are gorgeous. Consider taking the guided tour to learn even more about Hawaii's royal roots.
Go To Church
Across the street from the palace and just steps from the ocean, you'll find the oldest church in the Hawaiian Islands. Mokuaikaua Church was founded by British missionaries in 1820 and was a cultural crossroads for the entire Hawaiian Islands. The missionaries arrived at the invitation of King Kamehameha II and instructed him in Christianity. This marked the beginning of a transition away from the belief in gods and demigods that had traditionally been honored.
Mokuaikaua Church is still in use and is open to visitors. Its sanctuary is decorated with beautiful koa wood, which is native to Hawaii, and there are also several historic items on display inside.
Stroll Down Alii Drive
The beating heart of Kailua-Kona is Alii Drive. The main thoroughfare stretches for several miles right along the coast, and it's packed with shops, boutiques, cafes, and galleries. It's the perfect place to explore, take in the ocean views, get your steps in, and pick up souvenirs as well as gifts for family and friends back home. Depending on how long you wander, you'll pass beaches and gorgeous homes and maybe even take in one of the prettiest sunsets you've ever seen. Of course, you can opt to cruise Alii Drive by car, but to soak up the most local scene, plan to take time to stroll it.
Take An Evening Swim Adventure
One of our most memorable travel experiences ever transpired on a cool evening off the coast of Kona. We decided to book an evening snorkel in an attempt to see some of the area's most graceful and intriguing residents: manta rays! The rays snack on plankton in the evenings, and we wanted to see if we could catch a glimpse.
Our evening started with a boat ride out to their feeding area. That's where we hopped off the boat and swam with a guide to a raft outfitted with lights that shone down toward the ocean floor. This illuminated the plankton, and soon, we had four huge mantas swimming and swaying just inches from where we were snorkeling. It was an absolute marvel, and we cannot recommend this experience enough!
Several outfitters offer night snorkels; your hotel should be able to help arrange a tour for you.
Visit A Seahorse Farm
For another unforgettable up-close-and-personal animal adventure, plan an afternoon trip to the Ocean Rider Seahorse Farm just north of Kailua-Kona. This aquatic farm raises more than 25 species of seahorses and seeks to provide their babies to businesses and home aquariums in order to prevent direct ocean poaching. The farm offers hour-long tours of its facilities where you can learn more about these fascinating creatures and even handle a few in the farm's interactive tide pool.
Keep in mind that reservations are required and that there are strict requirements in place to protect the animals. That said, this is a magical place and would be a terrific addition to any Kona visit.
Tour A Coffee Farm
There's no question that coffee is king in Kona. The rich, volcanic soil and high elevation of the area combine to create the perfect place to grow the beans (or cherries) that make some of the best and richest coffee in the world.
Many farms are open for visitors to explore, so you can learn more about the steps that take place — growing, harvesting, roasting — to get that coffee into your cup each morning. The area might remind you a bit of Napa Valley, since the shorter, squat coffee trees resemble grapevines from a distance. Hala Tree Coffee is a smaller, family-owned farm offering free tours and samples and is well worth checking out.
True coffee connoisseurs might consider booking private masterclass tours. They can be a bit pricey, but they often include transportation, samplings, and behind-the-scenes looks at several farms.
See Temples And Petroglyphs
For an incredible outdoor adventure featuring a bit of archeology, make time to visit Kaloko-Honokohau National Historical Park. First, hike by the series of ancient fishponds. Located in the northern portion of the park, they were built by Hawaiians hundreds of years ago to help sustain their community in this barren black-lava landscape. This was a sacred space for them, as evidenced by the remains of Honokohau in the southern end of the park. The site, reachable via trail from the park's visitor center, contains more fishponds, home sites, and heiau, or temples. You can also view the park's petroglyphs — carved into stone by the Hawaiians who lived there — from a special boardwalk designed to protect them.
If you stroll the small beach — and we recommend that you do — keep an eye out for sea turtles. They love to snack on seaweed. If you're lucky enough to see a few, keep a respectful distance.
Horseback Ride At Hoomau Ranch
You might be surprised to learn that the Big Island has a rich cowboy tradition. It started more than 200 years ago, when explorer George Vancouver gifted Hawaii's King Kamehameha a group of cattle. The king allowed them to roam, the island was soon overrun, and Mexican cowboys — or vaqueros — were called in to help rustle up and manage them. Those cowboys, now called paniolo, remain on the island.
To get a real-life glimpse of paniolo life, book a private horseback ride at Hoomau Ranch, a family-owned working cattle ranch about an hour south of Kailua-Kona. You'll ride through Hawaiian forests, see the cattle, and be greeted by other friendly ranch guests. If a few hours on horseback sounds a bit extreme, the ranch also offers ATV tours.
Go Fishing
Hawaii is an angler's paradise, and the most serious of the bunch should consider a private deep-sea fishing tour while visiting Kona. There is no shortage of outfitters who offer a wide range of trips out to sea; most provide all the gear, bait, and snacks you'll need for the perfect big-fish day. They will even prepare your catch onboard so that you can cook it up that night. The waters off Kona's coast contain numerous species, including marlin, mahi mahi, tuna, and wahoo, so prepare to have fun — and maybe a bit of a fight — should you hook one of those big fish!
Try A Flight At Kona Brewing Co.
For the perfect way to end a day exploring, sunning, or shopping in Kona, head to Kona Brewing Co. Since 1998, this craft beer spot has been loved by locals and visitors alike. Start with a flight to figure out your favorite beer, and then grab a pint, order a pizza, and kick back. It doesn't get any better than this!
Pro Tip: The Kona district is full of little delights, many of them culinary. Don't be afraid to stop at that roadside fruit stand and try something you've never had before. Get your fill of fresh fish — in most cases, caught the same day. Make sure you try passion fruit-orange-guava juice. Nosh on pineapple cookies. Maybe even give poi a taste! In short, make sure you give your taste buds an adventure as well.