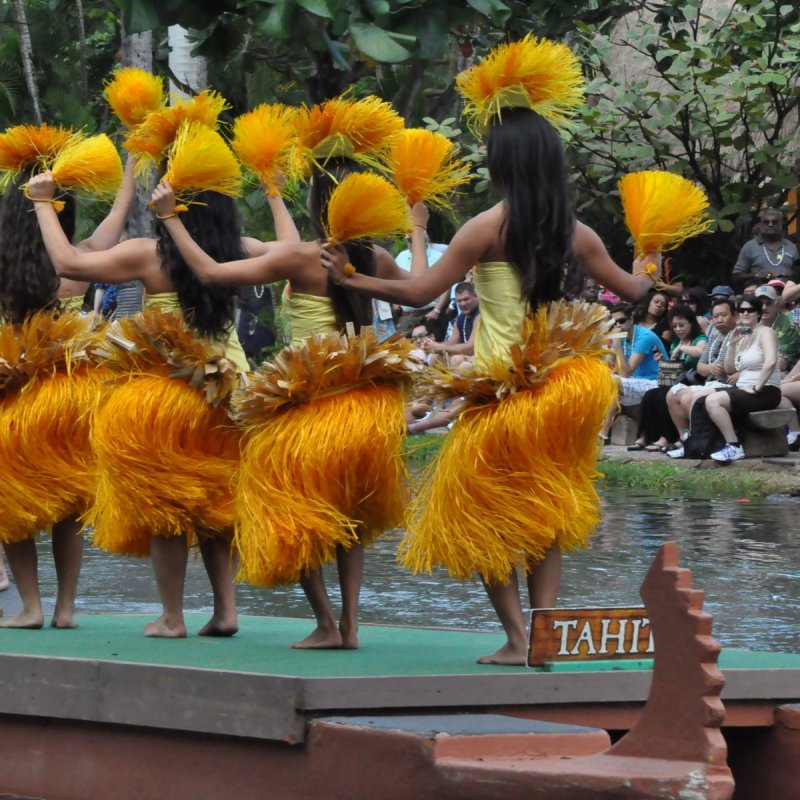 With a whole roasted pig unearthed from an in-ground oven, grass-skirt-wearing hula dancers, and bare-chested fire dancers, a luau is a festive, can't-miss experience in the Aloha State. Originally social gatherings meant to unite a community in celebration of significant events, luaus are now held nearly nightly at resorts and other venues across the Hawaiian Islands.
These casual outdoor evening gatherings are similar to backyard barbecues. But instead of hot dogs and hamburgers cooked on a grill, you'll enjoy tender chunks of slow-roasted pig. Instead of cold beer, you'll sip fruity rum-infused mai tais. And all of this will take place in a palm-tree-shaded, oceanfront tropical paradise unlike any other place in the United States.
Here's what you need to know before you attend your first Hawaiian luau.
What To Wear To A Hawaiian Luau
You can celebrate the beauty of this tropical paradise by donning prints inspired by the islands. For both men and women, bright colors like lemon yellow, lime green, ocean blue, sunset orange, and cherry red are all good luau colors.
Men can wear Aloha shirts (also known as Hawaiian shirts). These button-down, collared shirts typically feature palm trees, flowers, and tropical birds in a variety of eye-catching colors, and they pair well with khaki shorts.
For women, a flowy, floral sundress or Hawaiian-style sarong would be a good choice. Glam up your outfit with a shell necklace or a single plumeria flower tucked behind your ear. Just remember to place the flower behind your right ear if you're single and your left ear if you're taken!
Casual footwear is the way to go. Leave your fancy shoes and high heels at the hotel, and opt for comfy sandals or flip-flops instead. You can even kick off your shoes and go barefoot — no one will judge you!
Although Hawaii is known for its beautiful temperatures year-round, it can cool off at night. Be sure to bring a sweater, wrap, or light jacket.
Arriving At A Hawaiian Luau
Guests are typically welcomed to a luau with a lei. Traditional leis are made from fragrant, fresh local flowers like ginger, jasmine, or orchid blossoms. But leis can also be crafted from kukui nuts or shells. Regardless of how it's constructed, the lei is a symbol of friendship, and it's important to wear it throughout the luau. Setting the lei on the table, stowing it in your handbag, or throwing it away is considered disrespectful and rude.
Seating At A Hawaiian Luau
At traditional luaus, guests sit on the ground on large mats decorated with elaborate natural centerpieces fashioned from ti leaves, lacy fern fronds, and fragrant flowers. While some luaus still offer traditional seating on mats, guests can also enjoy the luau at long community tables.
While mat seating is a more authentic experience, keep in mind that you'll be getting up and down several times during the evening to visit the buffet, use the restroom, and enjoy the activities. While you're sure to have an unobstructed view of the entertainment, consider whether you'll be comfortable sitting on the ground for up to 3 hours before choosing this option.
Dining At A Hawaiian Luau
Just like Thanksgiving dishes vary across the States, there isn't a set menu for a luau. However, just like you can expect turkey, mashed potatoes, and pumpkin pie at any Thanksgiving feast, you can expect several staples at these tropical buffet feasts.
Like the golden brown turkey at the center of every Thanksgiving meal, the kalua pig is the star of every luau. In an earthen firepit known as an imu, a whole pig is seasoned, wrapped in banana leaves, and slow cooked over hot coals. Many luaus kick off with an imu ceremony, during which the roasted pig is unearthed before the pork is shredded and added to the buffet table.
Instead of starches like mashed potatoes or stuffing, luaus feature poi. Made from steamed taro root that is mashed and mixed with water until it has a paste-like consistency, poi is often described as having a bland taste, but it pairs well with the savory items on the buffet. Plus, this superfood is gluten-free, high in fiber, and a good source of calcium.
Fun Fact: Because luau foods were traditionally eaten by hand (and not with utensils), the consistency of poi was determined by how many fingers were required to scoop it up and eat it — three fingers, two fingers, or one finger (the thickest).
At the end of the luau buffet, look for coconut-flavored desserts like haupia and kulolo. Haupia is made by blending coconut milk with sugar, water, and cornstarch to create a thick, yogurt-like mixture that is chilled and served in squares. Kulolo mixes coconut milk with taro root (yes, the same staple used to create poi) and sugar to form fudge-like squares.
Other dishes commonly served at luaus include poke, lomi lomi salmon, huli huli chicken, sweet potatoes, chicken long rice, macaroni salad, Hawaiian rolls, and pineapple.
Drinking At A Hawaiian Luau
The mai tai is one of the most popular adult beverages served at Hawaiian luaus. This tropical fruit-and-rum cocktail is made by shaking rum, triple sec, orange juice, orgeat syrup, sugar, and a few other ingredients together before garnishing with tropical fruit like a slice of orange or triangle of pineapple.
Another popular rum-based drink served at luaus is the Blue Hawaiian. Served either on ice or blended to perfection, the Blue Hawaiian gets its oceanic color from blue Curacao and its tropical flavors from pineapple juice and cream of coconut.
Although it was concocted in Puerto Rico, an island on the opposite side of the U.S. from Hawaii, it's not uncommon to see the pina colada on the drink menu at Hawaiian luaus.
Entertainment At A Hawaiian Luau
Once the guests have enjoyed kalua pig and poi, Polynesian musicians, luau dancers, and other performers take the stage. Sit back and sip another tropical fruit-infused cocktail while enjoying ukulele music, fire knife dancing, and hula. Many Hawaiian luaus encourage audience participation, and some will invite guests onto the stage for hula lessons.
In addition to luau performers, some Hawaiian luaus include additional interactive experiences like ukulele lessons, coconut leaf headband weaving, and lei making.
How Long Does A Luau Last?
Luaus are traditionally scheduled to include the magnificent Hawaiian sunset and typically last about 2 to 3 hours. While you'll want to confirm the time of your specific luau experience, most luaus begin around 5 or 6 p.m. and end around 8 or 9 p.m.
How Much Does A Luau Cost?
Located 2,500 miles off the coast of California in the middle of the Pacific Ocean, Hawaii is not known as a budget destination. And just as you may be surprised by the price of a fresh pineapple or a gallon of gasoline in Hawaii, you will find that Hawaiian luaus can be a bit pricey. Expect to pay around $100 per person as a starting point, with upgraded experiences — like reserved seating, additional drink tickets, and souvenir photo opportunities — increasing the package price. That said, a trip to Hawaii is often a once-in-a-lifetime vacation, and a Hawaiian luau is an important part of that experience.
If you don't upgrade your Hawaiian luau package to include reserved seating, be sure to arrive early to score a good spot. Arriving early will also ensure you're sipping your first mai tai in record time and engaging in the other activities before the lines get long.
Pro Tip: From the servers to the entertainers, the folks helping to ensure you have a memorable luau experience always appreciate a cash tip.
The Best Luaus In Hawaii
Hawaiian luaus vary by island. Most large resorts offer evening luaus, and your hotel concierge is likely to recommend the in-house option if one is available. If you are enjoying an accommodation without an on-site luau, ask your concierge, host, or another local for a recommendation.
On the island of Oahu, about an hour north of Honolulu, the Polynesian Cultural Center's luau is considered to be one of the most authentic. Transportation from Waikiki is available for an additional charge, and upgraded packages include lei greetings, canoe rides, and backstage tours.
Provided you're not battling jet lag, try to attend your first Hawaiian luau as soon as you can after arriving in Hawaii. From the food to the entertainment, a luau is a fantastic way to learn about and embrace the local dishes, history, and culture.