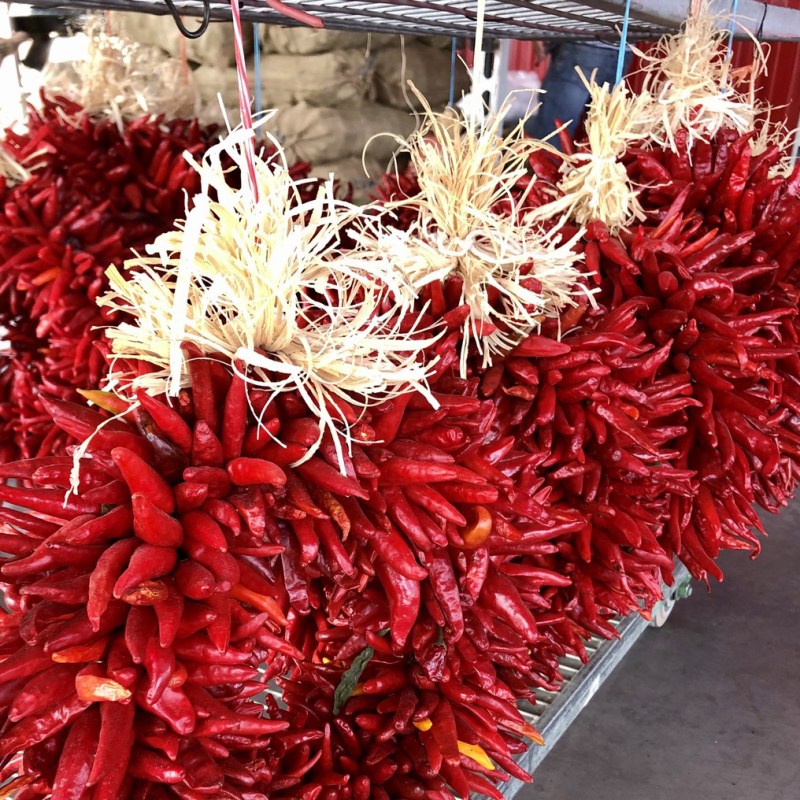 It should come as no surprise that Mexican classics are done to perfection all along the Green Chile Trail in southern New Mexico.
You will find countless spots, for instance, to sample the smoky-rich goodness of green chile enchiladas, as well as the hearty combo of egg, cheese, beans, and chile sauce in the breakfast favorite huevos rancheros.
But the state's cool towns of Las Cruces, Hatch, and Deming take their green chile creations to levels far beyond typical Southwestern fare. Visitors dining in the area should expect hot, sweet, and salty — and sometimes all at the same time.
If you find yourself in this fascinating region of New Mexico, located not far from the Texas border and the Mexican state of Chihuahua, it's best to suspend your notions of what green chile should be.
That means that in Las Cruces, I recommend that you sample a signature green chile sundae. In Hatch, be sure to check out a tart green chile lemonade. And in Deming, tangy green chile undertones beckon in the region's wine selections.
Everywhere you look, it seems, there are chile options to explore. Here — from the classics to the creative — are 10 of the tastiest bites to try along New Mexico's Green Chile Trail.
1. Huevos Rancheros
The Shed, Las Cruces
The long line you'll need to wait in for a table on a weekend morning attests to an undeniable fact: The Shed is a local brunch favorite. And the little cafe that is known for its locally sourced products and made-from-scratch breads and salsas more than lives up to the hype.
While there are many worthy menu choices for breakfast, brunch, or lunch, the standout seemed to be the huevos rancheros, a traditional dish consisting of eggs cooked to order with red or green chile over a corn tortilla and topped with cheese. The dish is served with fried potatoes, pinto beans, and toast or tortillas.
To add even more zest to your breakfast, ask for a side order of The Shed's excellent homemade green chile sauce, and opt for toast made with the restaurant's signature green chile Cheddar bread.
2. Green Enchiladas
La Posta De Mesilla, Las Cruces
The delectable Mexican cuisine at La Posta de Mesilla is rivaled only by the restaurant's beautiful setting. Located right in the middle of the charming Old Mesilla Village, La Posta has been a Las Cruces-area mainstay for more than 75 years.
Before that, the rustic adobe building served as the Corn Exchange Hotel — "a favorite stop on the Butterfield Stagecoach Line," says the restaurant's website, adding that the restaurant compound dates to the 1840s.
Today, La Posta is known for everything from its stellar margaritas served in the adobe-style tequileria to its dessert sopapillas (fluffy pastries served hot with honey) to the combination plates featuring a choice of enchiladas, tacos, tamales, and chiles rellenos. You also can't go wrong with the traditional green enchilada plate featuring corn tortillas smothered in green chile sauce and topped with cheese.
3. Green Chile Cheese Fries
Don Felix Cafe, Las Cruces
If a cold drink and a quick bite are in order, head to the shady patio at Don Felix Cafe. It's the perfect spot to while away a warm afternoon or evening taking in Mesilla's lively courtyard scene.
For a decadent snack, try the green chile cheese fries covered in chiles and Muenster cheese, and wash it down with local beer served in a frosty glass. Or, for a Mexican classic, check out the green chile cheese tamales, served with a side of calabacitas — Mexican squash, onion, tomato, and roasted corn, all topped with cheese.
4. Green Chile Sundae
Caliche's Frozen Custard, Las Cruces
If you harbor doubts that green chiles could figure into the local dessert equation, you would be wrong. When it's time for a cool treat to beat the southern New Mexico heat, the locals flock to Caliche's Frozen Custard, a colorful drive-in with a fun 1950s vibe.
And one of Caliche's most popular choices? The New Mexican sundae. It might sound implausible, but I found the cupful of vanilla frozen custard topped with green chile marmalade and pecans to be a perfect blend of silky sweetness, subtle spice, and salty crunch.
Or, if you're ready for a break from chiles, there are plenty of other refreshing flavors as well, such as Key lime, mango, and strawberry banana.
5. Ristra Chile Strings
Grajeda Hatch Chile Market, Hatch
For me, the autumn chile harvest season is a not-to-be-missed experience of New Mexico travel, and shopping is a big part of the fun. At Grajeda Hatch Chile Market on Hatch's main street, you'll find a huge selection of red chiles drying on strings amidst crowds of shoppers choosing just the right creation. Some of the ristras are strung in the traditional long ropes, while others are arranged into red wreaths or crosses.
Many cooks use the dried chiles throughout the year to create the rich red chile sauce that is integral to tamales and enchiladas.
6. Roasted Chiles
Chile Fanatic, Hatch
Along with picking up a ristra or two, I also love the opportunity during the harvest to stock up on roasted chiles, fresh from the cylinder roaster and packaged up in handy plastic bags.
Although roasting is done all over the region, the atmosphere and range of options at the Chile Fanatic shop in Hatch is hard to beat. The friendly workers allowed me to choose a quarter sack of chiles, which they roasted on the spot. Shoppers can also choose from a range of heat levels.
And for pure enjoyment, check out Chile Fanatic's garden of quirky metal art, crafted in the shape of chiles, cacti, and sunflowers.
Pro Tip: I've found New Mexico chiles to be a bit hotter than those I am accustomed to in my home state of Arizona. If you're in doubt, I suggest requesting a lower heat level than you would usually choose.
7. Chile Salsa
The Fresh Chile Company, Las Cruces
Along with a supply of roasted and dried chiles, you really should not leave Hatch or Las Cruces without a few jars of locally produced salsa.
An array of delicious and authentic varieties is available at The Fresh Chile Company. The shop offers everything from pure Hatch green chile to authentic red sauce to a slightly chunky red-and-green blend that is perfect for dipping.
In addition to its year-round Las Cruces location at 320 E. Wyatt Drive (with parking located off Mesquite Street), The Fresh Chile Company offers its products for delivery online.
8. Green Chile Burger And Chile Lemonade
Sparky's Burgers & BBQ, Hatch
Standing out colorfully on Hatch's main street is the ever-popular Sparky's Burgers & BBQ. Known for its green chile burgers, Sparky's offers many variations, including a classic green chile cheeseburger, a green chile cheeseburger topped with pulled pork, and a double green chile cheeseburger.
Regardless of your burger or barbecue choice, I recommend topping it off with a green-chile-infused lemonade — the perfect tart accompaniment. (Note that a limited menu is temporarily being offered at Sparky's, and not all menu items are currently available.)
9. Green Chile Wine
D.H. Lescombes Winery, Deming
In a process that is described as "allowing traditions of wine & chile to fuse into one," the D.H. Lescombes Winery in Deming offers Hatch green chile wine. The online description explains that fire-roasted, mild Hatch green chile is cold-soaked in white wine to create a semisweet and slightly spicy wine with "unique New Mexican flair." The chile wines are sold in some stores in Las Cruces, as well as online.
The D.H. Lescombes Winery is located in Deming, and a bistro is located in Las Cruces.
10. Green Chile Pistachios
Heart Of The Desert, Alamogordo And Las Cruces
For a flavorful mashup of chiles and another of New Mexico's major crops, pistachios, head to the Heart of the Desert farm in nearby Alamogordo, or the Old Mesilla location in the Las Cruces area.
There, you'll find a range of pistachio flavors, including green chile, red chile, and green chile lime. The locally grown pistachios are available both in shell and in kernel form.
What To Know Before You Go
Don't be surprised to find that national fast-food chains are on board with New Mexico's green chile theme, too. As soon as I crossed the border from Arizona into New Mexico on Interstate 10, I began to see billboards advertising McDonald's green chile double burger. While it certainly shouldn't be your only green chile experience in New Mexico, the burger slathered with green chile sauce is a novel regional option.
Although the harvest in September and October is a lovely time to visit the Hatch Valley, the chile focus continues year-round, with shops and markets offering the dried ristra pods and frozen roasted chiles — and restaurants serving a chile-focused menu — all year long.