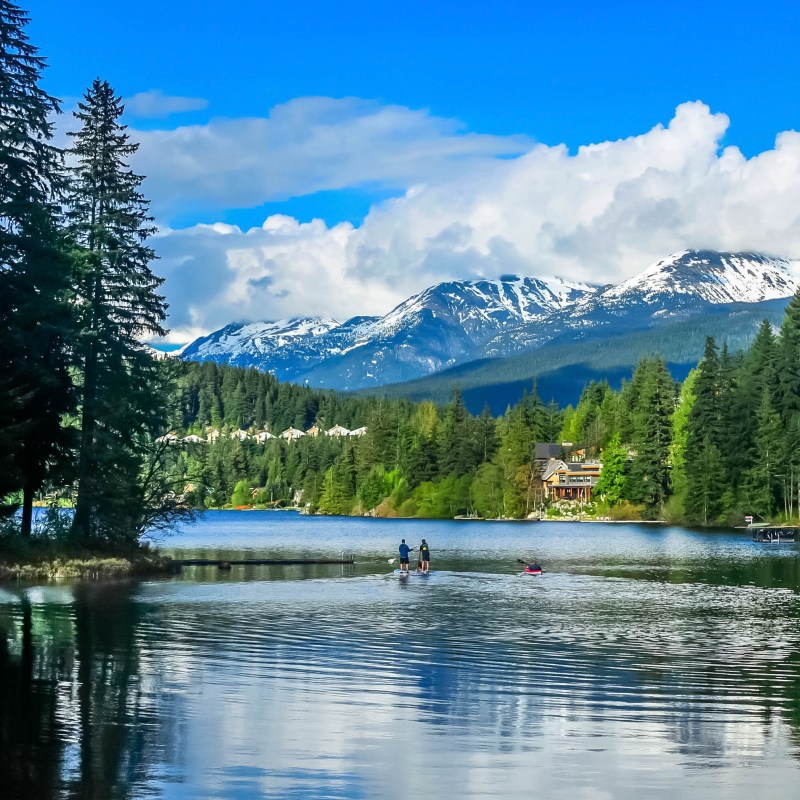 Whistler, British Columbia, is Canada's most famous ski resort and a world-class winter destination. In 2010, it hosted many Winter Olympics events, including downhill skiing, ski jumping, and cross-country skiing. For those who enjoy winter sports, Whistler is a paradise. But even for those who don't ski — or don't like cold weather — this resort village and its environs offer plenty of outdoor activities all year long.
Whistler is located an hour and 40 minutes north of Vancouver by car. Thanks to the Sea to Sky Highway (Highway 99), the drive is quick, easy, and very scenic. If you're driving to Whistler, allow time for a few viewpoints along the way, including Shannon and Brandywine Falls.
Winter In Whistler
Whistler is best known for its winter activities, and for good reason. For more than 50 years, the mountains of Whistler and Blackcomb have been attracting visitors from around the world looking to ski, snowboard, snowshoe, snowmobile, and more.
For skiers and snowboarders, Whistler and Blackcomb Mountains offer 8,100 acres of snow-covered slopes. The result is virtually every snow condition, level of challenge, and type of terrain you could imagine. It could take a lifetime to fully explore all the ski runs of these two mountains. On-site heliskiing is also available, making it possible for skiers to experience an additional 430,000 acres. Recent improvements to the lifts and gondolas have made access to the slopes even easier. Group and private lessons are available, as are equipment rentals.
Cross-country skiing and snowshoeing are also great options in Whistler, with about 100 miles of trails. There is something for sports enthusiasts of all experience levels at Lost Lake Park, the Ski Callaghan Nordic Centre, and Whistler Olympic Park. Whistler Sport Legacies offers 2-hour guided snowshoeing tours through old-growth forests.
Snowmobiling is a fun way to see the backcountry of Whistler and Blackcomb. Race along groomed trails while enjoying the mountain vistas. If you want to be the first on the trails, head out early in the morning after a fresh snowfall. Canadian Wilderness Adventures offers snowmobile tours that include a full breakfast in their rustic cabin on Mount Sproatt.
Winter is the ideal time to see bald eagles in Brackendale, a small community just south of Whistler. And the best way to do this is by floating down the Cheakamus River with an expert guide from the Squamish Rafting Company. Here you'll see these magnificent birds flying, perching, and feeding on salmon.
Spring In Whistler
As the snow begins to melt, and temperatures rise just a bit, spring brings a new set of activities to try while visiting Whistler.
Die-hard skiers don't have to go home just because it's spring. In fact, many of the slopes remain open until late April. And as the days become longer, skiers have even more time to enjoy gliding down the mountain.
But spring also brings the opportunity for some new activities, like canoeing, kayaking, and stand-up paddleboarding. The River of Golden Dreams is a 3-mile waterway that links Alta Lake and Green Lake and is popular for all three sports. The river is bordered by lush, old-growth forests and colorful wildflowers. For a solo experience, rent the boat of your choice at Backroads Whistler. Or head out with a guide to learn about the flora and fauna of the area. Whistler Eco Tours offers a 3-hour guided canoe tour.
For a real adrenaline rush, try exploring Whistler on an ATV. Whether you're experienced or not, Canadian Wilderness Adventures has something for you. Learn to ride, and then explore the area on their 2-hour Mountain Explorer tour. For guests with some experience, the 3-hour Ridge Runner tour is ideal. If you'd rather have someone else drive, try the 2-hour Jeep 4×4 Glacier Safari.
If it's still a bit chilly outside and you want to warm up, head indoors and learn to throw an axe. At Forged Axe Throwing, you'll experience this traditional Canadian sport and in just an hour grasp the basics of safety as well as one-handed and two-handed throws. This would make a great multigenerational activity, since kids as young as 10 are welcome.
Summer In Whistler
Summer is a beautiful time of year in Whistler. Snow has melted at lower elevations, leaving verdant forests and abundant wildlife. Temperatures rarely exceed 80 degrees, making this a lovely time to hike, bike, and golf.
Whether you're a serious mountain biker or just want to casually cycle around the area, Whistler has plenty of options. And with the really long days, you'll have ample time to ride.
Whistler Mountain Bike Park attracts riders from around the world. But don't worry if you're not a highly experienced rider, because all levels and abilities are catered to here. With plenty of well-maintained trails to choose from, it's no wonder that many riders describe this park as the best mountain-biking destination in North America. If you've always wanted to learn to mountain bike but would prefer a bit of instruction, book a lesson at the Whistler Blackcomb Bike School.
For a more low-key bike ride, try the paved 25-mile Whistler's Valley Trail. Along the way, you'll see alpine lakes, the Whistler Village, and many scenic views. Pack a picnic and make this a leisurely day of exploration.
Whether you want to hike close to the Whistler Village or explore farther afield, there are dozens of scenic trails to choose from. For a flat and mellow hike, try the 3-mile Lost Lake Nature Trail. For something really unique, try Train Wreck Trail. While this is also 3 miles and considered easy, it combines the best of Mother Nature with a handful of mangled boxcars decorated with graffiti.
Summer in Whistler is ideal for golf, and players will love the fact that this town was rated the number-one golf destination in Canada by Golf Digest. You'll have four championship designer courses to choose from: the Big Sky Golf Club, Nicklaus North Golf Course, Whistler Golf Club, and Fairmont Chateau Whistler Golf Club. It's possible that these will be some of the most scenic courses you'll ever play.
Zip-lining anywhere and any time is an adventure, but there are some special reasons to try it in Whistler. To start, this is home to the longest zip line in Canada or the United States. Called The Sasquatch, this line is only open during the summer and is offered by Ziptrek Ecotours. If you'd prefer to fly along four different zip lines on one tour, make a reservation with Superfly Zip Lines. While zipping along a .6-mile line, it's possible to reach speeds of 62 miles per hour! It is possible to zip-line at any time of the year in Whistler, but summer typically provides the best weather.
Fall In Whistler
Fall brings bursts of red and gold to Whistler as the leaves change color. And this is the last chance to enjoy outdoor activities before the winter snow moves in.
As the snow melts at higher elevations, hiking along alpine trails becomes possible. To get to these trails, hop on either the Whistler or Blackcomb Gondola. Choose from several trails, including the 16-mile round-trip Black Tusk. If you're really ready for a challenge, try the Blackcomb Ascent. Divided into three sections — Little Burn, Big Burn, and Heart Burn — this trail is not for the faint of heart. Alpine hiking comes with risks, so be prepared with proper clothing, footwear, a first-aid kit, and plenty of snacks and water.
Whistler is home to about 60 black bears, and in the fall they are busy getting fat in preparation for winter hibernation. In fact, the bears forage up to 18 hours a day. It's possible to see the black bears on your own, but an experienced guide will know their favorite grazing sites. Book a tour with Whistler Discovery Tours or Whistler Photo Safaris. During a tour, it's also possible to see hoary marmots, pikas, bald eagles, Canada jays, and Steller's jays.
Fishing is a great activity at any time of the year, but fall brings the opportunity to catch chum and coho salmon along with bull, cutthroat, and rainbow trout. With all its rivers and lakes, Whistler offers endless fishing locations. If you have your own equipment, find a quiet spot on the shore of Alta, Green, or Nita Lake and wait for the fish to bite. If you'd like some professional assistance, contact Chromer Sport Fishing or Whistler Year-Round Fishing.
One of Whistler's most popular attractions is the Peak 2 Peak Gondola, an aerial ride between Whistler and Blackcomb Mountains. In fact, this gondola holds three Guinness World Records: At its highest point, the gondola is 1,430 feet above the ground, it boasts the longest unsupported span between two cable car towers, and at almost 2 miles, it is the world's longest continuous lift system. For skiers, this gondola provides access to the plethora of slopes, but during the fall, this is a lovely way to get an elevated view of the mountain scenery.
Whistler is truly a year-round destination offering endless activities for the outdoor enthusiast. Simply decide what season most interests you, and make plans to get to this gorgeous part of Canada soon.