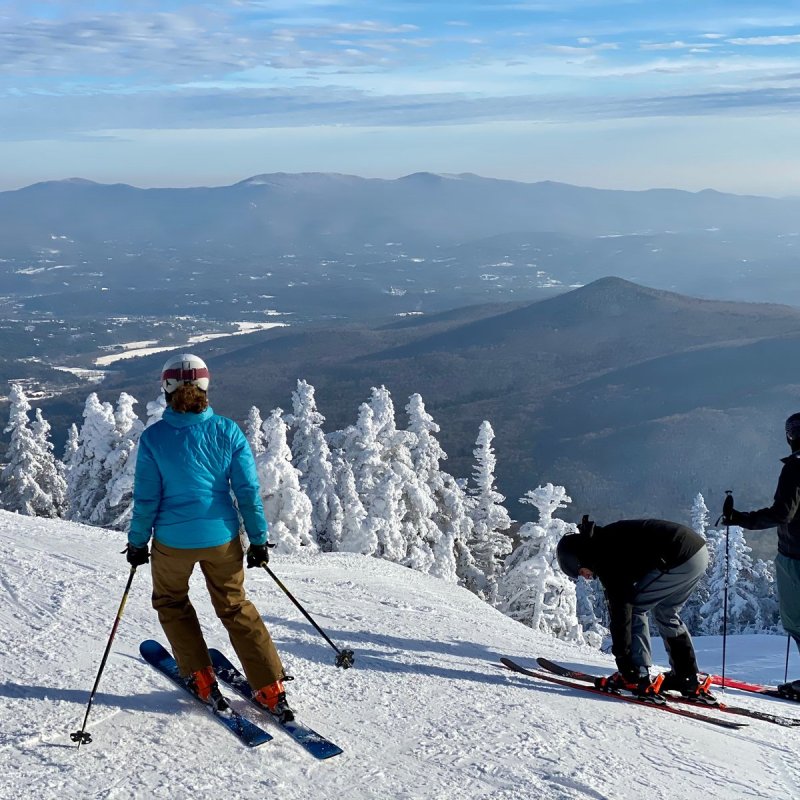 Snow-capped mountain vistas offering breathtaking panoramic views. Fresh white snow-covered trails dare you to take on their challenges. Rosy-cheeked smiling faces alight a lift from the mountain base. Skiing in Vermont is like being on the top of the world. It brings you close to nature and provides joy in the challenge of taking on the mountain terrain.
Vermont is known for some of the best skiing in New England and offers a wide variety of mountain resorts. Most Vermont resorts receive a tremendous amount of natural snow, which is augmented with the man-made variety for a quintessentially Vermont winter outdoor getaway. Resorts typically open mid-November and have some runs open until mid-May. You don't always think of skiing when you don't have snow in your own backyard, but the winter slopes are open and ready for your skiing and snowboarding adventures.
The list below includes some of the best well-known Vermont ski areas and a few hidden treasures. Whether you are seeking a beginners' slope and snow-plow lessons or a breathtaking double black diamond precipitous drop adventure, you will find a trail to suit your snowy journey.
1. Killington Ski Area
Killington is synonymous with Vermont skiing. Serving downhill adventurers for over 55 years, the seven-mountain resort's summit, Killington Peak, is 4,241 feet above sea level. The sister mountains in the ski area are Skye, Ramshead, Snowdon, Bear, Pico, and Sunrise. The steepest vertical drop is a whopping 3,050 feet. Check out Killington's Peak Lodge Webcam for a panoramic view of the mountains and their current conditions. On a clear day, it's almost as good as being there. Almost…
Known as the Beast of the East due to the sizable collection of mountains, first-class ski runs, a wide variety of restaurants, and lots of accommodation options, Killington Ski Area is a mecca for skiing and snowboarding enthusiasts. In addition to a day pass, Killington offers the IKON Pass, which gives you unlimited access to 15 North American destinations.
For those who aren't into downhill, there are plenty of options to keep you busy while you wait for an apres-ski beverage and nosh. A must-see in the area is the Simon Pearce studio, where you can watch a glass blowing demonstration, shop for gorgeous glassware, and enjoy a lunch with stunning views of the Ottauquechee River.
Pro Tip: Stay in neighboring Woodstock if you desire quieter getaway accommodations. The Woodstock Inn is a classic, luxury Vermont Inn. You can pick up a few tips about the area in our article "The Best Things To Do In Woodstock, Vermont."
2. Stowe Mountain Resort
Part of the Vail Resorts Company, Stowe Mountain Resort brings the Colorado Rocky Mountain resort feel to the eastern skiing community. Stowe is also on the Epic Pass system that offers avid skiers and snowboards the opportunity to access different resorts with a season-long pass.
Situated on Mount Mansfield, the highest mountain in Vermont with an elevation of 4,395 feet, Stowe boasts a vertical drop of 2,360 feet. The resort offers 116 groomed trails supported by 12 lifts.
The "Front Four" trails — Goat, Liftline, National, and Starr — are famous for their double black diamond, narrow runs perfect for the skilled adventurous skier. These runs are no joke and not for the faint of heart; they are aspirational dreams for the intermediate skier. Stowe does, however, offer a huge array of wonderful beginner and intermediate runs that make the mountain friendly to all abilities and levels.
Pro Tip: If you are staying in Stowe and are in search of additional entertainment, make "The Best Things To Do In Stowe, Vermont" your next read!
3. Jay Peak Resort
Located just a short ride from the Canadian border, Jay Peak Resort offers some of the East's best skiing and snowboarding. Skiers who enjoy a resort with a big personality will love Jay Peak. With a summit elevation of 3,968 feet and a vertical drop of 2,153 feet, Jay Peak is a favorite resort for skiers and boarders who love tons of snow. Their nine lifts and 81 trails are supported by an average natural snowfall of 359 inches per season. When supplemented with man-made snow, Jay offers some of the deepest snow bases in New England.
If terrain parks are your thing, Jay offers five parks open to all levels of riders. The Interstate run, for intermediate and advanced athletes, has jumps, jibs, rails, and boxes and is serviced by its own chair.
Want to keep up on what's what at Jay? Follow them on Twitter @jaypeakresort for headlines, updates, and conditions — they love to tweet about their very special mountain.
Pro Tip: Since Jay Peak is so far north, it has some of the best natural snow in the East. Keep up with their tweets for updates on the type of snow on the slopes.
4. Sugarbush Resort, Warren
Sugarbush Resort opened on December 25, 1958 and charged $5.50 for a lift ticket. It is now one of Vermont's largest ski areas, sporting over 100 groomed trail options. The resort has a Summit elevation of 4,083 feet, a vertical drop of 2,600 feet, and 16 lifts. Supported by five mountains — Mt. Ellen, Lincoln Peak, Castlerock Peak, North Lynx Peak, Gadd Peak, and Inverness Peak — Sugarbush is a mecca for serious skiers and boarders.
A wonderful apres-ski dining option is the home of the American Flatbread Company, located just 20 minutes north of Sugarbush. Since 1988, they have been nourishing their patrons with delicious, locally grown, and nutritious food. The simple and rustic restaurant feeds a steady stream of local Vermonters and year-round vacationers.
Pro Tip: Sugarbush is a haven for skiers who love wooded trails, often left in their natural state, that offer a genuine skiing experience.
5. Okemo Mountain Resort, Ludlow
Southern Vermont is home to Okemo Mountain Resort, a family-friendly mountain that is perfect for a multigenerational getaway. Okemo is also part of the Epic Pass program, which allows you to ski different mountains on one ticket.
Okemo boasts a summit elevation of 3,344 feet with a sharp 2,200-foot vertical drop. The 121 trails, glades, and slopes are serviced by 20 lifts. They offer a special lift, a "high-speed detachable six-pack chair with protective bubbles and heated seats" to keep you nice and toasty as you ride to the top.
Okemo holds some great stashes for the more adventurous rider. A "stash" is essentially a hidden area for power seekers in the ungroomed backcountry. Many skiers keep these areas a closely guarded secret; they want to be the one and only breaking the deep powder. Note: Rebel skiing off the trails is not condoned by the resort.
Pro Tip: Okemo is located in the quaint town of Ludlow. If you venture off the resort, you will find an old fashion, New England downtown district with cute shops to explore.
6. Mount Snow Resort, West Dover
Mount Snow, another member of the Epic Pass system, offers skiers an opportunity to ski in Southern Vermont on four mountain faces: Main Mountain, North Face, Sunbrook, and Carinthia. The summit rises 3,600 feet up and the vertical drop is 1,700 feet. Mount Snow's trails are supported by 20 different lifts.
The availability of onsite childcare at Mount Snow makes it the perfect family ski destination. For children up to six years old, the state-licensed center offers indoor and outdoor activities to keep munchkins busy while you hit the slopes.
Pro Tip: Mount Snow is a great place to go tubing for the young and young at heart. Ride Mount Snow's Magic Carpet up the tubing hill and enjoy the track-guided slide back down. Finish off with a hot cocoa from the Base Lodge for a memorable evening activity.
7. Smugglers' Notch Resort, Jeffersonville
Smugglers' Notch is another great family-friendly resort, making it the perfect destination for a family reunion or multi-generational trip. Childcare, kids clubs, and ski and snowboard lessons geared specifically for family fun are front and center here.
With three mountains — Morse Mountain, Madonna Mountain, and Sterling Mountain — supporting 78 trails and eight lifts, there is something for everyone. Smugglers' Notch attracts skiers and snowboarders looking for great skiing in the Vermont fresh air contained in a well-appointed resort village.
Pro Tip: Smugglers' Notch is well known for having one of the best ski schools in the region.
8. Burke Mountain, East Burke
Burke Mountain is a Vermont hidden gem. With beautiful glades and few lines, you will fall in love with the peaceful nature of this mountain. Burke has five lifts and 53 trails; the mountain is small but has a variety of runs and something for every skill level.
Pro Tip: Burke Mountain offers free mid-week skiing to all active members of the U.S. and Canadian Armed Forces and their families. Burke Mountain, we applaud your commitment to our servicemen and women.