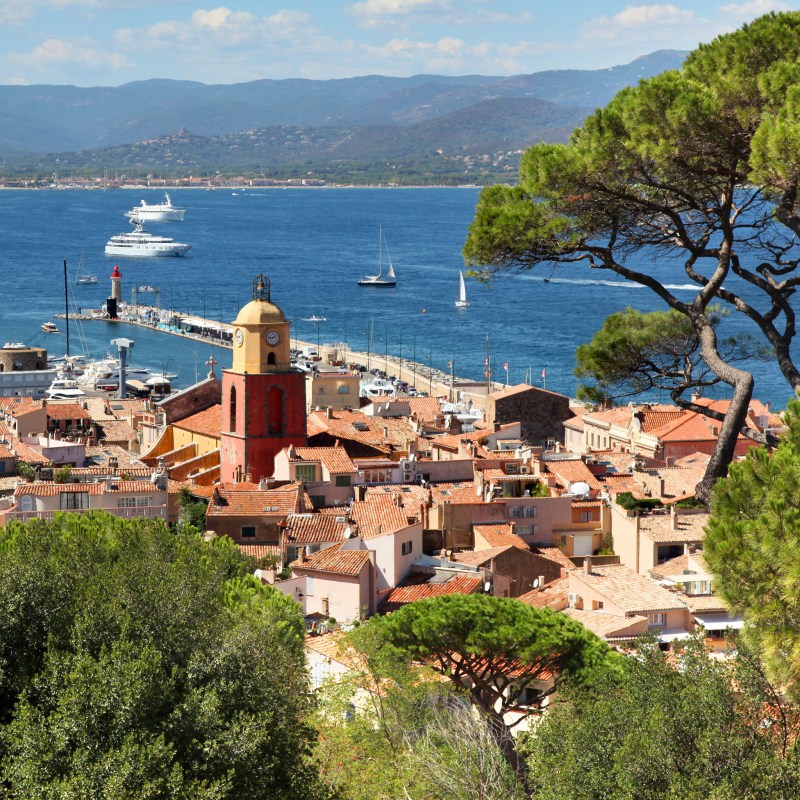 The sun-drenched resort of Saint Tropez in the south of France, which was once a modest fishing village, became an international playground for celebrities in the 1950s when blonde bombshell Brigitte Bardot put in on the map.
Located on the Bay of Saint Tropez, about two hours from Cannes, Saint Tropez is primarily known for its beautiful beaches with clear, aqua blue waters and for its hedonist lifestyle of sun and fun.
Things To Do In Saint Tropez
1. La Vieux Port/The Old Port
La Vieux Port/The Old Port is the original port of Saint Tropez and the center of the village. The harbor is lined with over 700 moorings of sailboats, fishing boats, tourists boats, and large-scale luxury yachts, which attract the rich and famous. Cafes, bars, nightclubs, and restaurants dot the port with low-scale buildings painted in Mediterranean shades of mustard, ochre, apricot, and pale pink.
2. The Citadel
High above the village of Saint Tropez is the Citadel, which was built in the early 1600s. The original citadel had three turrets and many cannons to protect it and was only reachable by drawbridge. It's now a museum that explores and tells the long history of maritime activities in the area. It also traces the sailors and fishermen who braved the sometimes dangerous waters. The museum now allows visitors access to the original dungeons, which were off-limits until recently.
3. Sentier Du Littoral
The Sentier du Littoral is a breathtaking hiking trail that's 5.6 miles long and takes about two hours to walk. The trail leads to beaches, creeks, and wondrous wildlife.
4. Beaches
The number one reason to come to Saint Tropez is for its incomparable beaches, which are some of the best in France.
Pampelonne Beach is where Brigitte Bardot fell in love with Saint Tropez when she was filming one of her first films, And God Created Woman, in 1956. It's an almost three-mile-long beach with A-list beach clubs and public areas for regular folks. There are excellent facilities with public toilets and showers, and lifeguards are on duty from June to September, during the height of the season.
The Escalet beach in Ramatuelle is a serene nudist beach with small coves and inlets, which are great for snorkeling, plus there are easy walking trails.
Located at the entrance to Saint Tropez, La Bouillabaisse beach is another popular favorite with casual cafes and lounge chairs and umbrellas for rent. If you stay late in the day, enjoy the stunning sunset.
5. Art And Museums
Early in the 20th century, artists Paul Signac, Matisse, Pierre Bonnard, and Albert Marquet flocked to Saint Tropez since the natural beauty was so impressionable, and the Fauvism and Pointillism art movements emerged there. The next generation of artists from the late 20th century, Bernard Buffet, David Hockney, and Donald Sultan, also ventured to Saint Tropez to create their works.
Le Musee De L'Annonciade
A small but significant museum, Le Musee de l'Annonciade is in a chapel that dates back to 1510. Today, it celebrates avant-garde art from 1892 to 1950 and prominently displays works by Paul Signac, who was one of the first artists to work in Saint Tropez, beginning in 1892. In fact, Le Musee de l'Annonciade is considered the first museum of modern art in France.
Museum For Police And Cinema/Musée De La Gendaramie Et Du Cinema
A quirky museum that explores the role of policemen in French cinema, this museum specifically focuses on films that have been shot in Saint Tropez since the 1950s and feature policemen and detectives.
6. Tarte Tropezienne
Another ode to Brigitte Bardot is the Tarte Tropezienne, which is a brioche filled with whipped cream. The pastry was invented in 1955 by Alexandre Micka, a Saint Tropez pastry shop owner who named it after town, supposedly per the blonde bombshell's suggestion. She first tasted it when in Saint Tropez while filming And God Created Woman. You can get a Tarte Tropezienne at almost any pastry shop in town.
Best Restaurants In Saint Tropez
For a fairly small village, Saint Tropez packs an impressive amount of fine and casual restaurants and cafes.
7. La Table Du Marche
On the ground floor, La Table Du Marche is a beloved bakery, tearoom, and terrace, and upstairs, it's a gourmet restaurant. Celeb chef Christophe Leroy offers surprisingly reasonably priced menus with a two-course lunch for under 20 euros and a three-course option for under 30.
8. La Vague D'Or Restaurant
The pinnacle of dining in Saint Tropez is having a culinary experience at the three Michelin-star La Vague d'Or Restaurant at Cheval Blanc Saint Tropez. Master chef Arnaud Donckele is as much an artist as he is a chef, creating culinary masterpieces. His showstopping menu is presented in "acts." with a seven-"act" tasting menu, or a five-"act' menu, plus you can have a wine pairing accompany the menus. Pastry chef Florent Martini offers a dessert menu named from orchard to dessert, and the Grand Cru menu has five separate chocolate desserts, making it a great fix for chocoholics.
9. Le Pationata
The giant terrace with fragrant orange trees is the big draw at Le Pationata in the summer. Michelin star chef Michel Guerin offers a superior quality menu for a reasonable 50 euros for three-courses at dinner. Le Pationata is inside the chic Hotel de Paris, so breakfast is also served. The extensive wine list includes over 350 selections, and the bar serves a long list of cocktails and international spirits.
10. L'Isoletta
L'Isoletta is a charming Italian bistro in the Relais and Chateau La Bastide de Saint Tropez Hotel. Specialties include vitello tonnato, risotto with summer truffles and zucchini, fritto misto with seafood, and pasta with blue lobster and giant shrimp. Tempting desserts include grandma's tiramisu, a dark chocolate and salted butter caramel tart, and a Limoncello soaked baba.
Where To Shop In Saint Tropez
Saint Tropez has chic boutiques with local designers and also known French designers such as Hermes, Louis Vuitton, and Dior.
11. Atelier Rondini
Handmade sandals that were good enough for actress Marlene Dietrich are available at Atelier Rondini. Atelier Rondini has been crafting sandals in leather and snakeskin since 1927.
12. Caroline Dechamby
Caroline Dechamby takes handbags, watches, and accessories and turns them into works of art. She hand paints each item, and many have become collectible.
13. Kiwi Saint Tropez
The beach is the canvas for Kiwi Saint Tropez, which offers fun and colorful swimsuits for women, men, and children, plus beach accessories and towels.
14. La Clef Des Marques
Shop at a designer clothing outlet store, French style. At La Clef Des Marques, top designer labels are heavily discounted.
Where To Stay In Saint Tropez
15. La Reserve Ramatuelle
For all-out luxury, which goes hand in hand with Saint Tropez, the five-star La Reserve Ramatuelle is the place. Located on a private reserve in one of the most desired beaches in Saint Tropez, La Reserve Ramatuelle has a wide range of accommodations, from a deluxe room for one or two people to 14 villas, one of which has seven bedrooms in over a 7,000-square-foot home, a private pool, private parking for four cars, a fully equipped kitchen with a barbecue, and an expansive garden covering over an acre of land.
Their full-service spa includes three to six-day programs consisting of yoga, pilates, two-hour walks, spa treatments, and balanced meals. Eric Canino, a two Michelin-star chef, creates a menu in harmony with the Mediterranean Sea and Provence in La Voile Restaurant.
16. Villa Casabianca
Just 1.5 miles from the center of Saint Tropez, Villa Casabianca is a top bed and breakfast pick. Spacious rooms have air conditioning, mini-bars, and free Wi-Fi, plus you'll enjoy an organic breakfast of local foods served by the pool. Parking is available with your own private remote.
17. Mas De Chatelas
An 18th-century farmhouse turned country estate hotel, Mas De Chastelas has been host to stars and celebrities including Jane Birkin, Serge Gainsbourg, Catherine Deneuve, and Gerard Depardieu. Mas De Chastelas has rooms, suites, and villas decorated in the romantic Provencal style. A six-acre garden overlooks a prestigious vineyard. Activities include a pitching golf green, swimming, and tennis. Le Table du Mas serves a varied menu with mostly locally sourced produce and ingredients. The wine list focuses on nearby regions including Provence and the Var.
Pro Tips
The months to visit Saint Tropez are May, June, September, and early October. In July and August, the crowds swell with mostly French tourists.
Saint Tropez is not reachable by train. The best plan is to drive. It's approximately a 90-minute drive from the Nice airport and is two hours from the Marseille airport. From Paris, you can take the TGV train from the Gare de Lyon station to Marseille, which is about four hours. You can also opt for a taxi from Nice or Marseille, but it will run over 100 euros each way.
For more inspiration, consider our guide to a beautiful weekend getaway in Nice, France, plus Ille de Re and La Rochelle: two seaside resorts the French love.