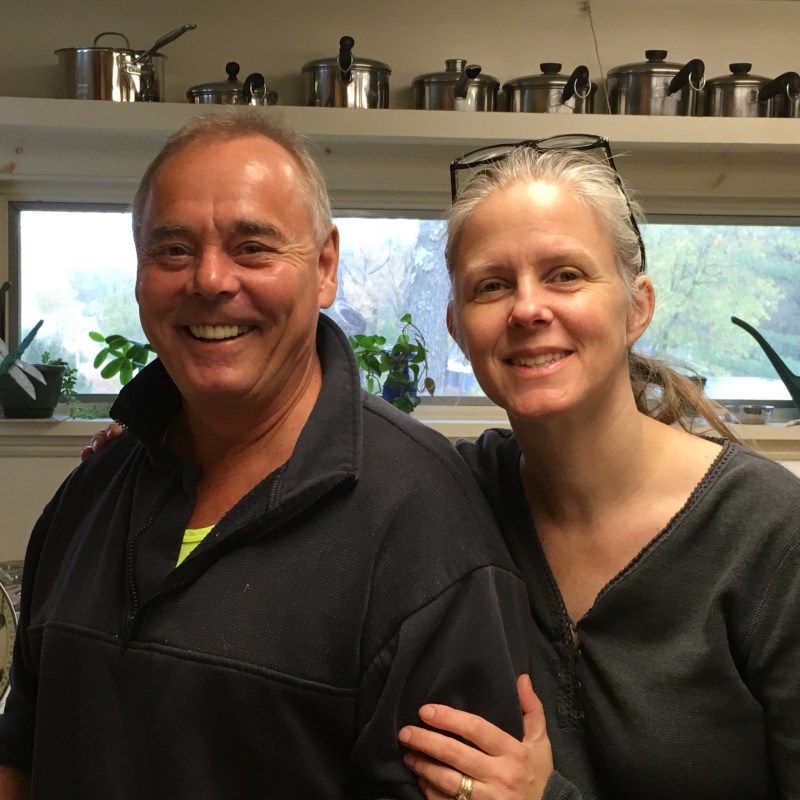 We had just completed a 13-mile hike through Vermont's Green Mountains, walking from Chester to Proctorsville.
Tired, hot, and dusty from our journey, we slowly straggled onto the porch of our overnight accommodations, the Golden Stage Inn. Innkeepers Julie and Mike Wood met us on the porch with cheery greetings and tall, cool glasses of fresh ginger lemonade. It was perfect.
"We have mason jars with cookies for you as a late-night snack," Julie said. Yes, please. We slept well that night in the luxurious country inn after being extremely well-fed.
How I Wound Up At The Golden Stage Inn
The Golden Stage Inn is part of an Vermont Inn-to-Inn experience and why I hiked 44 miles in four days here, during which participants visit four different inns. Guests walk from one inn to the next while the innkeepers drop their bags off for them. The walking tour is about 44 miles through the hills of the Green Mountains if you stay on course. Learn more about the Vermont Inn-to-Inn experience and why I hiked 44 miles in four days here.
Innkeepers Mike And Julie
Mike and Julie weren't always innkeepers, although you would never guess it. They cater to their guests as if they were long-awaited, extended family members who have come to visit. Their gracious manner and beautiful inn were a delight.
Owner of a successful CPA firm in Massachusetts, Mike's work kept him extremely busy. As he managed the staff and high-profile clients, he found less and less time to spend with Julie and his family. Julie was responsible for raising the family and managing the house. Additionally, she was working on completing her master's degree. They were, needless to say, a very busy bunch.
Both Mike and Julie loved Vermont. They visited every chance they could and were even married in a romantic country inn located in northern Vermont. Julie said, "We always stayed in inns when we traveled — we loved the culture and lifestyle. It was a passive dream of ours to run an inn. Being here in Vermont and doing anything else didn't make much sense."
As the dream morphed into something more, they put together a five-year plan. Of course, moving and leaving a business are two exceptionally difficult life stressors. Mike said, "We visited 13 different Vermont inns. Additionally, we researched dozens of inns online before finally choosing the Golden Stage Inn."
The Magic Of The Golden Stage
The beautifully appointed inn has eight guest rooms with private bathrooms, a far cry from its 1788 origin. It was a stagecoach stop that had one guestroom for men and another for women. The bathroom was a community chamber pot behind a privacy screen. The inn was renovated and reopened in the 1980s.
Mike and Julie became the sixth "generation" of innkeepers when they purchased the Golden Stage on December 30, 2010. Mike reminisced, "We left the closing and arrived at the inn to a house full of guests. So we popped out trays of cheese and crackers and celebrated our first night as innkeepers with everyone."
Since then, the Woods have meticulously maintained the inn's historic charm and marry it with modern-day conveniences. The inn is a fine-tuned balance of old tradition and new technology.
They still serve abundant platters of cheese and crackers to their Walking Tour guests as they arrive from the daily trek. The hikers also enjoy a hearty, homecooked, three-course dinner. Every guest can partake in the amazing breakfast. Farm-fresh, local cuisine is more than a catchy phrase here; it is a way of life. Eggs from the backyard hens, honey from Julie's hives, and scratch-baking beseech you to rise from your comfy bed and welcome a new day.
Making The Inn Work For Guests And Family
Living quarters for innkeepers are typically small apartments, and innkeepers usually share the rest of their homes with all their guests. With two young tweens still at home, this was not going to be a solution for the Woods. They renovated an old barn into their four-bedroom home. Mike said, "We have amazing living quarters when you consider most innkeepers have a room or a small apartment. One of our favorite memories before we finished the renovation was when the weekend guests had checked out, the girls would run through the empty inn squealing with delight to play freely."
Both Mike and Julie are a decade or more away from traditional retirement age, and Mike cautions that "being an innkeeper is hard work. You have to be there for your guests when they need you." Mike still runs a boutique accounting firm. "My former firm was more than just a job — it was me. It requires a constant vigil to keep both careers and a family in balance." As he told me this, I could see by his smile that he enjoys the challenge of making it all work seamlessly.
If you ask the Woods what they enjoy about their new life, Mike will tell you, "Working together. Before the inn, we didn't have much time for a relationship. We were so busy. Also, for the first time, I was home when the girls came home from school. I never had that before. It was a special experience."
Julie told me, "I also love working together. I love the day-to-day running of the inn, the rhythm of innkeeping, and having my family around. I love our guests. We have many that return again and again."
The biggest challenge the Woods face is finding balance, but it is also what brought them to Vermont. They felt their work-life balance in Massachusetts was out of whack. Now in Vermont, they still have to balance work, family, and their personal lives, but their commitment to the inn has encouraged them to work side-by-side to achieve work-life harmony.
Dreaming Of Becoming An Innkeeper?
When considering a major life change, this is Julie's recommendation: "Research, research, and more research. I interviewed innkeepers and attended hospitality conferences; I wanted to make sure I wasn't thrown any curveballs." All the research paid off. "Never once did we look at each other and say we did the wrong thing," she told me.
Ladders, a job recruiting site, says, "Yes, you can make a career change at 50." Ladders recommends spending time contemplating your career change, gaining experience (hands-on, if possible), and closing your skills and knowledge gaps. With more financial freedom as we get closer to retirement and the desire to make a difference and enjoy our life, many Americans are choosing a very different second career in their 50s and even 60s. A retirement career is not out of the question given how healthy and fit we can stay well into our 70s.
The Woods are in complete agreement. They trusted their guts and are happy with their second career as innkeepers. Julie said, "We weren't driven by the money and niceties. I feel like I have found my people. I am more relaxed and peaceful here. Trust your instincts and follow your dreams."
How much have their lives changed? Julie quipped, "It would be funny to think — when back in Mike's running a CPA firm days — that he would come to be known for his weekly tradition of baking a chocolate cake. Inn guests ask for it, walking tour guests know about it before they get here, and community members call to ask for a donation for Bingo nights or to purchase it for family members." Looks like the Woods have settled in just fine.