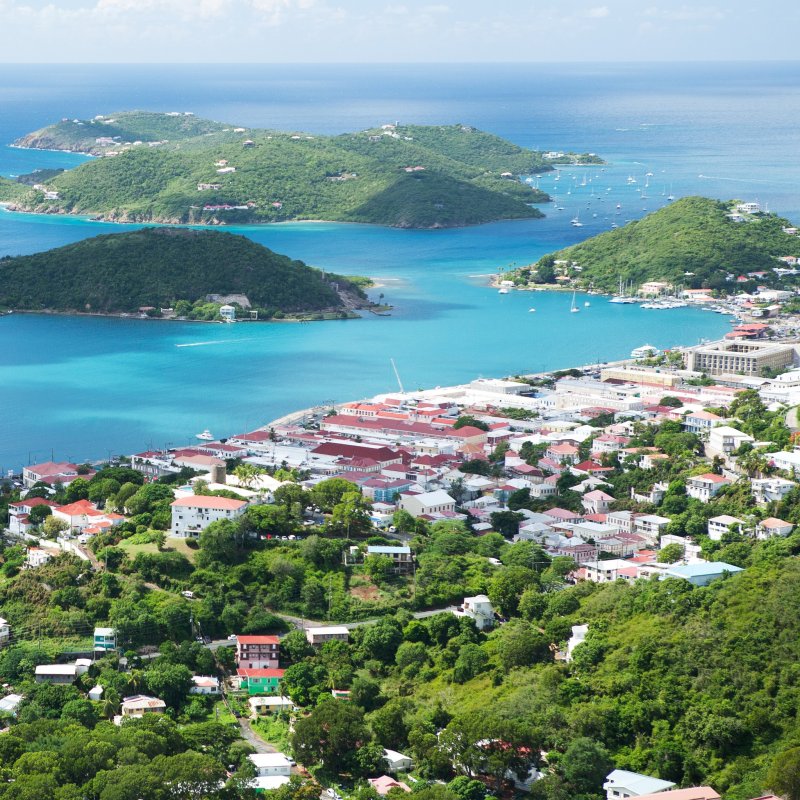 The island of St. Thomas in the Caribbean belongs to the U.S. Virgin Islands. It was purchased in 1917 for $25 million in gold from Denmark, and the capital is called Charlotte Amalie in honor of the wife of King Christian V of Denmark. U.S. citizens don't need a passport to visit. June to November is hurricane season in the USVI, so any time outside that bracket is a good time to visit.
St. Thomas is a popular cruise-ship stop, but that gives you only a few hours to explore. There is so much to do and see on the island that you might want to stay a few days and take advantage of the many fabulous all-inclusive offers from resorts including Bolongo Bay and The Ritz-Carlton. To get around, you can either rent a car, go on a great variety of tours — from exploring the island to shopping to water adventures — or use one of the typical, colorful taxis. Alternatively and even more fun is the dollar safari bus system, which is also popular with the locals.
Things To Do And See On St. Thomas
St. Thomas is the ideal destination for the active 50+ traveler who wants to enjoy beaches, coral reefs, and the World Amber museum, and isn't afraid to try zip-lining. Nothing stops you from alternating with a stroll through pretty Charlotte Amalie, learning about the colorful history at Blackbeard's Castle and, of course, shopping till you drop at several duty-free shopping centers.
Charlotte Amalie
I got my first glimpse of the capital, colorful Charlotte Amalie, approaching onboard a cruise liner. We docked at the Havensight Cruise Ship Dock, which is an easy 20-minute walk to town. I dispensed with guided tours or taxis and went exploring along the waterfront on foot, arriving at all the major sights before anybody else! Called Long Bay Waterfront, it's an easy pedestrian trail that takes you to downtown Charlotte Amalie. This walk is a great way to stretch your legs after sitting on a cruise ship and to meet locals by stopping at some of the stalls offering the best tropical smoothies you can imagine.
Founded in 1666, the island's deepwater harbor was a haven for pirates, and you'll find plenty of that history. The houses and narrow streets of downtown have distinct Danish architecture and Danish names.
The 99 Steps
To get around the hills of Charlotte Amalie, the Danes constructed several steep stairways, the 99 Steps being the most famous one. Originally called Store Taarne Gade or "Greater Tower Street," the staircase ultimately leads you to Blackbeard's Castle. The bricks it is made from came as ballast in the sail ships from Denmark, so you actually walk on history. Flanked by flowers and tropical plants, it's quite a climb but not too tiresome as the steps are shallow. One-third of the way up the stairs you can have your first break and visit a dazzling museum …
The World Amber Museum
Located in the Hotel 1829, this unique museum's most eye-catching feature is a waterfall at the entrance, made from 12,000 pieces of amber in all hues, with water cascading over them making them glitter in the sunlight. You'll also find valuable antique pieces from St. Petersburg, objects made from the green Caribbean amber, and modern, movable sculptures. You won't be able to leave the museum shop without buying at least one piece of the handmade jewelry set in silver. The hotel was once a private residence and is one of the finest examples of 19th-century urban architecture on St. Thomas.
Blackbeard's Castle
This is a nine-acre complex on top of Government Hill, which can be reached by climbing a few more steps after ascending the 99. Dominated by a watchtower dating from the 17th century and originally named Skytsborg Tower, it served to guard and protect the island from enemies and pirates. Fort Christian at sea level served the same purpose. Legend has it that Edward Teach, an 18th-century pirate, used to hide his treasures here, and so it was named after him and his black beard.
You can actually make your way down to Charlotte Amalie at a more leisurely pace, admiring the world's largest collection of life-size pirate statues and historic Danish houses with amazing antique mahogany furniture as you go.
Keep in mind that St. Thomas was badly damaged in Hurricane Irma in 2017. The tower's roof was partly blown away, but Blackbeard still stands tall. However, due to extensive renovation work, the complex is currently closed. Please consult their website to see when it will be open to the public again.
Magens Bay Beach
Located at the north shore of the island, Magens Bay Beach is probably the most celebrated and hence most visited beach of St. Thomas. Just over the mountains from downtown Charlotte Amalie, it's a mile-long stretch of fine, white sand, protected by hills, which means the water is usually calm and ideal for swimming. An entrance fee of $5 is charged to maintain the beach and facilities like showers and loungers. Some shacks provide food and drink and there are also picnic tables. It's best to drive there on your own early in the morning or later in the afternoon because it can get full if there are several cruise ships in port. If you're in need of transportation to the beach from a hotel or cruise port, check out this budget deal.
Coral World Ocean Park
Five acres of tropical landscape, aquariums, pools, and walks will give you an experience of the Caribbean's water world like no other. See dolphins and sea lions swimming on Coki Beach or explore reefs without the need for scuba gear. This park will educate and entertain the whole family for hours.
Drake's Seat
It's not only beaches and life in, on, and under the water that make St. Thomas such an exciting destination. There are mountains, too, and things to be done and seen there. For a panoramic view over the coast and Magens Beach, stop and have a rest at Drake's Seat. The blue bench was constructed by Arthur Fairchild in 1933, at a time when travel on the island was on horseback or on foot and he thought this a pretty place to rest. However, the legend is much more interesting: Apparently, Sir Francis Drake, 16th-century explorer and pirate, used to watch from here as Spanish ships with valuable left the port so he could attack and plunder them later at sea.
Skyride To Paradise Point
Just across the street from Havensight Cruise ship dock, you find the ground station of a "ride to paradise" — the cable car that takes you up 700 feet to Paradise Point. It runs and carries 24 passengers every few minutes if cruise liners are in port. At the top, you find an observation platform where you can see as far as St. Croix, all the ships in port, and most of the island. You can play with parrots and taste the world-famous Banana Daiquiri and learn its history. A road leads up to Paradise Point, so you can also walk (plan on two to three hours). If you opt for this adventure, you'll wander through the typical dense vegetation of St. Thomas.
Tree-Lining Experience
Fancy a bit of adrenaline flow? Then head for the rainforest at the St. Peter Mountains and venture on a breathtaking (but safe) zip-line over the tops of the jungle trees with, again, fabulous views over the island and ocean.
Snorkeling And Scuba Diving
Apart from anything else, water sports in all forms are the most popular activities in St. Thomas. There are several great tours which you can take, measure made to your taste and fitness. Whilst snorkeling is practically for everyone, scuba diving is not, so plan accordingly.
Best Places To Eat On St. Thomas
The food of the U.S. Virgin Islands is a result of history and, as such, a mix of the cuisines of the original Indian or native population, European conquerors, African slaves, and Asian immigrants. As far as drink is concerned, it's rum, fruit smoothies, or a drink called sea moss, which is made with seaweed, milk, sweeteners, and spices. Popular dishes are stewed oxtail, goat, chicken, beef, salt fish, yams, fried plantains, dasheen (or taro), and cassava.
Blue Orchid
This restaurant serves traditional food and plenty of seafood dishes, too. In addition, it's in a unique location: St. Peter Greathouse in the volcanic mountain peaks of St. Thomas. Blue Orchid is currently closed, but watch for its reopening.
Greengos Caribbean Cantina
Located in a historical Dutch building right on the waterfront in Charlotte Amalie, this restaurant specializes in Mexican food and tequila.
Oceana Restaurant And Bistro
Another great place to eat in a historical setting and with a colorful history of its own is Oceana.
More Foodie Fun
If you want a more comprehensive taste of the island, you can go on a three-hour Rum and Food Tour of Charlotte Amalie with up to five food and drink stops.
Where To Shop On St. Thomas
Shopaholics beware. St. Thomas is a duty-free zone and shopping temptations lurk everywhere. If you happen to arrive on a cruise ship, you practically fall into the Haven Sight Mall. It's where all the tourists go, so it can be very crowded if several cruise liners arrive at the same time.
A bit quieter and more elegant is A.H. Riise Mall, especially for luxury jewelry and cosmetics. Fun shopping and glorious Caribbean kitsch are to be found in the shops on Paradise Point or any of the small ones on the side streets of Charlotte Amalie.
Where To Stay On St. Thomas
Let's start with the more economic accommodation. A delightful bed and breakfast is At Home in the Tropics, which is currently open.
At the top end, you can't do much better than the fabulous Ritz-Carlton.
Pro Tip: When several cruise liners arrive in port at the same time, it gets crowded. To avoid this, explore as much as possible on foot and go against the flow. It's easier than you might think. Want more inspiration? Read up on all our Virgin Islands (U.S.) and Virgin Islands (British) advice.