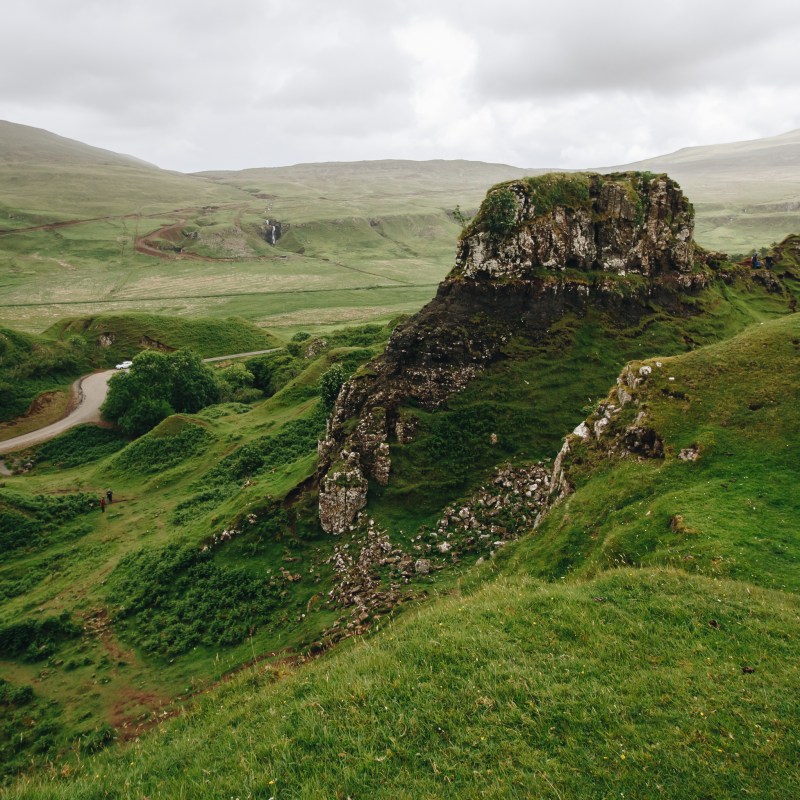 My grandmother's family was from the east coast of Scotland, but even though it's a country not too far away from where I live, it wasn't until after my grandmother died that I finally began to explore it. Once I started, I couldn't stop. Castles, lochs, mountains, and of course, whisky — Scotland has it all. My roam through Scotland, which still continues, eventually took me to the Isle of Skye. Intriguing and mysterious, Skye had more in the way of spirits than just the whisky kind I was expecting to encounter!
I Started At Portree
The Isle of Skye is a Hebridean island just off the west coast of Scotland. The main town on Skye, Portree, features rows of pretty, brightly painted houses and is the pull for the majority of tourists, and initially, me. Portree hosts various festivals and events throughout the year, making it one of the more lively areas to visit. But no matter how bright the local celebrations were, or how many tourists turned up, I couldn't shake the feeling of the past being all around me, and of ghosts everywhere I looked. It's like the past, present, and future are all in the moment simultaneously. It's an eerie experience, a feeling that the land here holds onto the people and the stories from all the years gone by. The history of the area is everywhere you look, juxtapositioned with a modern music festival and visitors from all over the world. If you let yourself dwell in this strange feeling too much, it will send the shivers on your skin like the trickle of water through the hills. I needed a drink.
On To Carbost For The Whisky
The only distillery on the island producing Skye's only single malt whisky, Talisker is situated in the village of Carbost on the west coast. The drive through Carbost to Talisker Distillery is breathtaking. The stark white Carbost church seems to dazzle against the dark green hills it sits within, and the distillery, also bright white, rises to meet the block of green hills behind it. The scenery on this west coast is some of the most picturesque you will find anywhere on Skye. Empty sandy beaches, mountains, and lochs all conspire to create perfect views wherever you look. You will also find a good selection of accommodation in this area, as with Portree, including hotels, bed and breakfasts, cottages, and campsites.
But wherever you choose to go on Skye, Talisker dominates. Talisker, originally the name of a nearby farm at Carbost, was first made in the distillery in 1830. It was known for its fiery kick, and at 45.8 proof, this whisky has a powerful, almost peppery intensity. Peat, and more so, smoke, are evident in the taste of Talisker, which is ironic as it was a disastrous fire in 1960 that almost saw the end of the distillery. But so beloved is this site that the building was rebuilt as close to the original as possible. The distillery you see today is almost identical to the first one.
Robert Louis Stevenson famously wrote about Talisker scotch as being the king of drinks, and one thing he looked forward to on his return to Scotland from abroad. For being the only single malt on a small Hebridean island, Talisker has certainly made an impression over the years. Some say it tastes of the sea, while others refer to it as challenging. Talisker whisky is probably both of these things and more, like the island it comes from — a meeting of old and new, ocean and land.
My Search Ended In Eerie Uig
Skye is much more than just picture-postcard scenery. In the northwest, the small village of Uig, like many places on Skye, is a strange amalgamation of ancient tales and modern ruins. And when I say modern ruins, I mean the alarming scattering of abandoned buildings. It's an urban explorer's paradise, with a school left caught in the moment it was left, chairs and tables still standing in classrooms. These are buildings abandoned by their inhabitants due to the lack of prospects on this small, north Scotland island. The cities, it seems, will always entice.
In addition to a ferry port to and from the other islands, Uig has only two hotels and a handful of bed and breakfasts. The bed and breakfasts can be basic and it's likely you'll be staying in someone's house and sharing in the way they live. If you like a personal touch, this will suit you fine. The proprietors of these bed and breakfasts go to lengths to ensure guests feel at home, making up for the lack of facilities and heating by providing large amounts of tea and slipping hot water bottles into the beds when the rooms are cleaned. I came back to my room one night to find a hot water bottle tucked snugly in my bed and an electric blanket laid on top with a never-before-seen cat dozing on it.
If all that is a bit too homely, the two hotels in Uig will provide a different experience altogether, boasting superior en-suite rooms with wireless internet and central heating. The Uig Hotel is full of character and history, and that's not just reserved for the building itself. The current owners have a few stories of their own to tell. Ironically, in search of a better life, they left their native South Africa and settled on Skye, an island that sees its inhabitants leave for a better life abroad in their droves. So much so that the staggering amount of abandoned buildings on the island, still owned by the emigrants, is a sad sight indeed. The owners of the Uig Hotel will regale you with tales of their travels over a wee dram for hours, proudly showing off their collection of stuffed game, which seems to fit and add to the hotel's Victorian atmosphere. Wood paneling and a large stone fireplace with a real fire crackling in its grate set the scene for relaxing and sampling the array of real ales and whiskies from the bar.
Walking back from the Hotel Uig's cozy bar, with its open fire and Talisker whisky, to my homely guesthouse one night, the road devoid of street light and only the stars above, I saw a single glow coming from the upstairs window of an abandoned house. I didn't linger. Maybe it was the total darkness of the night, the whisky, and the quiet road I walked along that made the experience spooky. Skye has many stories with loose ends and many mysteries. I suppose this is just another one to add to the collection.
Pro Tip
You can take your own car across on the car ferry or rent a car once you're on the island, but if you don't drive or prefer not to, be aware that the buses on Skye are infrequent and unreliable. If you're walking around on the island, you'll notice cars often stop and offer you a lift. This is normal practice on Skye because of the lack of public transport, and there's a kind of unspoken, unofficial island car-sharing scheme going on! No one will be offended if you don't feel comfortable with it, but if you're happy to hitch, it's very easy to get around.
The Isle of Skye is one of many gorgeous destinations in Scotland. Here's information about a few magical places nearby that are worth a visit: