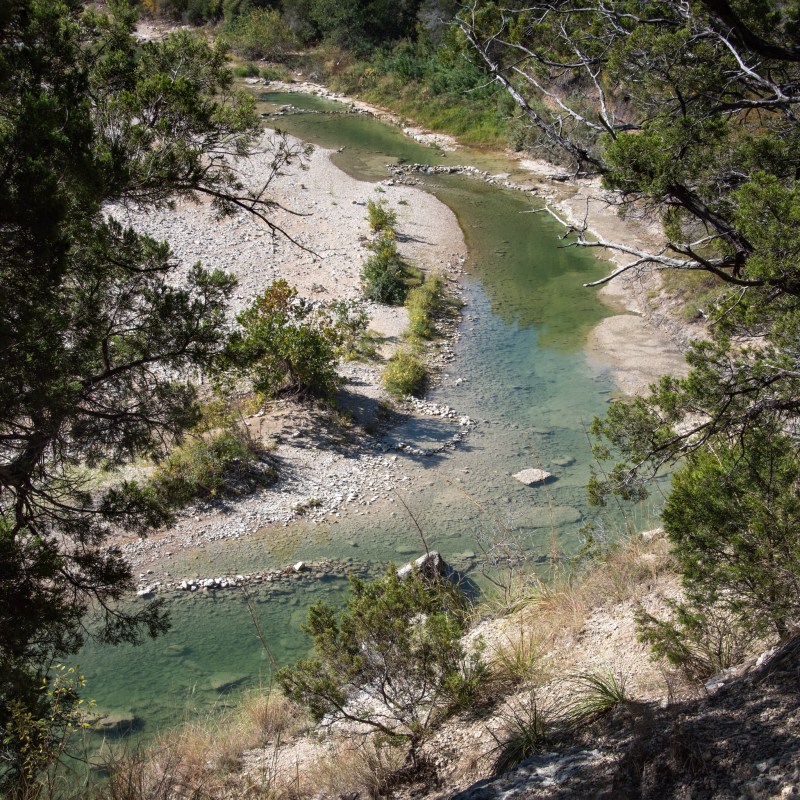 It's odd to think that dinosaurs actually roamed this part of the world long ago, but it's the mere thought of standing right where dinosaurs once lived — and where their tracks were discovered — that draws so many folks to amazing Dinosaur Valley State Park in Texas year after year.
According to Texas Parks and Wildlife, "Long ago, dinosaurs left footprints in the mud at the edge of an ancient ocean. Today, you can walk in their tracks in the bed of the Paluxy River. This long trip to the past is just a short drive from Fort Worth."
Just outside of Glen Rose, Texas, the so-called Dinosaur Capital of Texas, lies an adventure waiting to happen. Dinosaur Valley State Park sits on 1,587 acres alongside the scenic Paluxy River and is home to many dinosaur tracks made by the ancient Acrocanthosaurus and Sauroposeidon.
My grandson has loved dinosaurs since he was a toddler, and any time I can take him to see these creatures, tracks included, I do. With plenty to do and see at the park, you're sure not to hear the words "I'm bored." Be sure to purchase your tickets online because parking is limited, and this is how they gauge their visitors. My advice to you is to take a large vehicle packed with the whole gang! If you do nothing else but explore the park and find a few dinosaur tracks, I think the kids would be happy. But if you're looking to do more, here are 10 things to do at Dinosaur Valley State Park.
1. Map Out Dinosaur Tracks
I'm pretty sure finding dinosaur tracks is the main reason why people come out to Dinosaur Valley State Park. The amount of rain the area has received will determine the possibility of sighting tracks. But to find some tracks, you'll have to wade in the water, so keep that in mind and wear a pair of good shoes. For educational purposes, there are signs throughout the park about the various types of dinosaurs that once walked there.
Did you know the state dinosaur of Texas is the Acrocanthosaurus? I did not know Texas had a state dinosaur!
When we visited the park earlier this month, all my grandson and his friend wanted to do was find some tracks. They had their minds made up that they were going to find some. The water was high that day, which made the tracks very hard to see, but by the end of the day, the boys found a couple. Can you imagine how excited they were? I guess those visits to the Fort Worth Museum of Science and History museum exploring the Dinosaur Exhibit and the outdoor DinoDig paid off!
Be sure to read about Mapping Dinosaur Tracks and, if you want, download the digital dinosaur track maps on your GPS-enabled smartphone. The rocks can be slippery, especially after a good rain, so you'll want to be sure to use caution when crossing over them.
2. Pack A Picnic
There is a designated picnic area in the park that's next to a children's playground. This picnic area is beautiful, with lots of shady trees and places for the kids to roam, but it gets busy during lunchtime. If this area is too crowded, there are also a few picnic tables at the front next to the park's store near the Brontosaurus and Tyrannosaurus (T-Rex) statues. Both areas are perfect for a family picnic — and don't forget to snap a photo of the kids by the dinosaurs.
For large groups, there is a pavilion available to rent for the day that has a fireplace, picnic tables, and nice and clean restrooms nearby, but no electricity. If something was left at home, the park's store has cold drinks, snack foods, and other items.
3. Kayak In The Paluxy River
The Paluxy River makes a U-shape from one end of the inner part of the park to the other side and goes around the downtown area in Glen Rose. If you're lucky enough to be there after a good heavy rain, the Paluxy turns into a fast-moving whitewater river that is perfect for kayaking. However, if this is the case, it can be very challenging to navigate. If no rain has been in sight for weeks, or even days, there's no kayaking. Be sure to call ahead before trucking out there with your kayak. You can bring your own or rent one at the park.
4. Hike, Bike, Or Bring Your Horse
With 20 miles of nature trails to explore, you can enjoy your adventure through the park any way you like. The map you receive when checking in mentions all the trails and the difficulty of each. Half of the trails are easy, and the other half are moderate. Whichever way you go adventuring, be sure to wear a pair of good shoes as some of the trails are steep and rugged.
If you're lucky and are at the park at the right time, you may see fluttering birds and butterflies while meandering through the trees on the Monarch Trail. Or perhaps you'll be able to see small waterfalls along the Buckeye Trail.
While you're hiking, save some energy and steps to hike up to the Paluxy River Scenic Overlook area. That's the only way to get there. Parking is near, but not close.
5. Take A Guided Tour On Horseback
Don't have a horse? No problem. You can mount up and enjoy magnificent views along Dinosaur Valley State Park's scenic trails alongside the Paluxy River on a guided horseback tour. Guided tours are available through Eagle Eye Ranch Carriage Company, and you can register online. Take an unforgettable ride through open fields where dinosaurs once roamed.
6. Look For Geocaches
Geocaching has been around for a long time, and my son and I just started doing it last year. We were excited to find out that you can look for geocaches here at the park. Be sure to download the app before you go, as we had a bit of trouble accessing it because of spotty Wi-Fi. You may have to use your cellular data, but it's worth it. We were lucky and found two geocaches, and the boys were thrilled. If you've never done geocaching in Texas State Parks, this would be a brilliant place to start.
7. Swim In The Blue Hole
The Blue Hole is a popular area to go swimming. There are plenty of places to dip your feet in the water in the park, but at the Blue Hole, which is 20 feet deep, you can put your whole body in the water. But be aware, its location is quite challenging to get to. I'd give the walk a moderate to difficult rating as it is on a rocky ledge and the steps are steep. I made it down, but it took me longer than the rest of the gang!
We saw the neatest thing there and thought it was a brilliant idea. It's a Borrow A Life Jacket stand with life jackets that anyone can use while swimming in the river. That said, I recommend that you bring life jackets for everyone in your party if you plan on swimming here. If the area received heavy rain recently, the water could be flowing fast, and there may not be enough life jackets to borrow!
8. Visit The Interpretive Center
Start your day with a visit to the interpretive center located to the left of the park's entrance. Here, you can read about how dinosaur tracks were made, the types of dinosaur tracks that made the park famous, and why the tracks are still visible. You'll also discover various fossils and can read more about the types of dinosaur tracks in the park at the interpretive center.
9. Pitch A Tent
There are three options for tent camping in the park; one is with electricity, another is walk-in primitive campsites, and, if you're up for a 2.5-mile hike across the river, there are seven hike-in primitive campsites available. As we were hiking in the walk-in camping area, we spotted a couple of campsites near the water where you could hear the rustling of the water — that's where we would have pitched our tent!
Be sure to reserve and pay for your campsite online before you go because they sell out, especially on weekends and holidays. More information can be found on the Dinosaur Valley State Park's campsites page. Dogs are allowed, but horses are not allowed near any of the campsites.
10. Fish For Catfish
The Paluxy River is a great place to toss a pole. The Blue Hole is where most people have luck fishing for catfish and bluegill. Fishing is free (after paying entrance fees), and a fishing license is not required in Texas state parks.
Pro Tips
If you and your family want to see more life-size dinosaurs, Dinosaur World Texas is nearby and is opened to the public. Tickets can be purchased online.