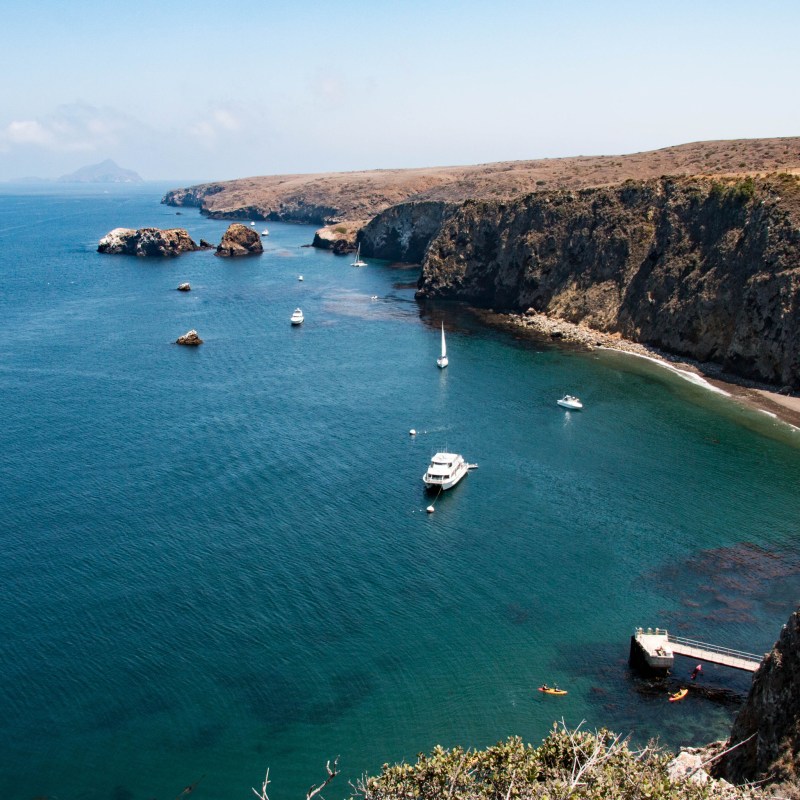 Last year my husband, Jason, and I made our first trip to Channel Islands National Park and fell in love with it. Fortunately, we had a chance to return to the park this year and continue our exploration. These rugged, uninhabited islands are just a short ferry ride from the coast of California, but they offer visitors a chance to escape the hectic pace of everyday life and appreciate all that Mother Nature has to offer. Cell phones don't work here, and there are no services on the islands, so visitors must come prepared with everything they need for the day.
Channel Islands National Park comprises five islands: Anacapa, Santa Cruz, Santa Barbara, San Miguel, and Santa Rosa. Most people arrive on one of the islands on the ferry operated by Island Packers Cruises. The ferry ride to the islands can be one of the highlights of your visit, since marine life is frequently spotted. Recently, there were 8,000 dolphin sightings in one day!
Surrounding the islands is the Channel Islands National Marine Sanctuary. The combination of federally protected land and water has resulted in the conservation and protection of hundreds of plant, animal, bird, and marine species.
National marine sanctuaries were created to protect marine ecosystems and sensitive habitats such as coral reefs, kelp forests, deep sea canyons, and underwater archeological sites. The United States is home to 14 sanctuaries, each protecting important ecosystems and marine life. Scientific research is conducted at each sanctuary to learn more about the endemic species and monitor their populations.
Channel Islands National Marine Sanctuary encompasses 1,470 square miles of ocean waters surrounding the islands. The sanctuary protects several endangered species, including giant black sea bass, white sharks, blue whales, and humpback whales.
I was surprised to learn that Channel Islands is among the least-visited national parks in the U.S. Just about 100,000 people venture to the islands each year to explore either the land or the sea. If I accomplish nothing else, I hope to inspire more people to set aside a day to experience the steep cliffs, clear waters, and abundant wildlife this area offers.
Our visit to the Channel Islands was hosted by Channel Islands Adventure Company and Island Packers Cruises. All opinions are our own.
1. Kayaking
I've kayaked many times throughout the U.S. and around the world, but doing so in the Channel Islands has been my favorite experience so far. During our most recent trip to the islands, we paddled along the coast of Santa Cruz, admiring the rocky coast, searching for life under the remarkably clear water, and learning of the island's history.
Channel Islands Adventure Company hosted our trip. They offer several tours led by expert guides, and we were fortunate to join their Prisoners Harbor Kayak Tour. We began with a safety briefing and then lifted our kayak into the water. Our cheerful guide, Sarah, led us to several points of interest, including Tinkers Beach, Pelican Bay, and Emerald Cove. Along the way, we paddled into two sea caves and under a large rocky arch. We were even visited by a few curious harbor seals, who popped out of the water to see what we were doing.
The Channel Islands are home to the largest concentration of sea caves in the world. In addition to Prisoners Harbor, sea caves can be explored at Scorpion Anchorage, also located on Santa Cruz. However, for something really unique, book a tour to see Painted Cave, the longest sea cave in the world. You can either view this 1,215-foot cave from a ferry or kayak.
2. Whale Watching
While researching this article, I had the opportunity to interview Shauna Bingham, outreach coordinator with the National Oceanic and Atmospheric Association's Channel Islands National Marine Sanctuary, and I learned that the Channel Islands National Marine Sanctuary is home to the largest concentration of blue whales in the world. I also learned that the blue whale is the largest animal on Earth. But it's also possible to see gray whales, humpback whales, minke whales, and orcas in the sanctuary.
While whale watching wasn't the purpose of our trip, we learned that several orcas had been spotted the day before. This is definitely the place to go for whale watching! From December through April each year, Channel Islands Whale Watching offers tours.
3. Snorkeling
I have not snorkeled in the Channel Islands, but it's on my to-do list. Snorkeling these waters offers visitors the chance to explore dense kelp forests, sea caves, and coves all while searching for marine life. You'll likely see brightly colored sea stars, anemones, urchins, and the state fish of California, the garibaldi. It's also possible to see harbor seals, sea lions, and dolphins.
The National Park Service recommends snorkeling near Anacapa, Santa Barbara, and Santa Cruz. Gear rentals and guided snorkeling tours are available through Channel Islands Adventure Company.
4. Diving
To get even deeper underwater, consider diving in the Channel Islands, considered one of the top places to dive in the U.S. You can expect to see abundant marine life along with undersea caves and arches.
The waters around the islands are home to more than 100 documented shipwrecks, and more advanced divers may be able to explore one of them. Currently there are about a dozen shipwrecks accessible to divers.
To book your diving trip, contact Raptor Dive Charters or Channel Islands Dive Adventures. Single-day and multiday dive trips are available.
5. Bird-Watching
The Channel Islands are home to the largest breeding colonies of seabirds in Southern California. They're also a vital habitat for many species of shorebirds and landbirds. This is an ideal destination for avid bird-watchers. During our kayaking trip, we saw California brown pelicans, ravens, island scrub jays, and two bald eagles. But the list of birds that live or breed here is much longer.
While many species of birds can be seen on land, it's even better to get out on the water. Some species of seabirds breed on rocky outcroppings that can only be reached by boat. One option is to rent a kayak and explore on your own. Or book a special birding tour with Island Packers.
6. Sport Fishing
The ocean waters around the Channel Islands are teeming with fish, making the islands an attractive destination for sport fishing. Types of fish to be caught here include halibut, white sea bass, calico bass, sheephead, rockfish, and lingcod. In fact, there have been four California halibut records set in these waters!
Fishing on your own is possible with a valid California state fishing license. Be sure to check the local regulations, since some fish species are protected, and there are sections of the Channel Islands National Marine Sanctuary where fishing is prohibited.
For some expert guidance and support, try booking a trip with Channel Islands Sportfishing in Oxnard. Half-day, full-day, and overnight trips are available.
What To Know Before You Go
Getting to Channel Islands National Park and the Channel Islands National Marine Sanctuary requires some planning. Be sure to book your ferry ride and any tours in advance. If you're visiting on a weekend, be sure to book a few weeks in advance to secure your preferred departure time.
The weather on and around the islands is moderate all year round, so there's no bad time to visit. However, even in summer, be sure to bring a light jacket, since heavy fog is common and can be a bit chilly.
Food and beverages are available on the ferry, but there are no concessions on the islands. Bring all the food and water you will need for the day. There are also no trash cans on the islands, so plan to take your rubbish back to the mainland with you.
One of the challenges to the national park and marine sanctuary is the presence of trash, both left behind by visitors and carried from the mainland by the currents. When you're visiting, be sure to use the proper trash receptacles on the mainland. The hard work of protecting this area can be quickly undermined by the presence of plastics and toxic waste.
Don't feed the animals! Island foxes are plentiful and quite crafty about snatching human food. Anything you are not currently eating should be stored in the provided boxes in the picnic areas.
As many of our national parks struggle to accommodate growing crowds, Channel Islands National Park remains one of the least-visited parks in the country. The park and the national marine sanctuary offer visitors a much wilder and quieter experience. Set aside a day to explore on land or sea — or even better, explore both!