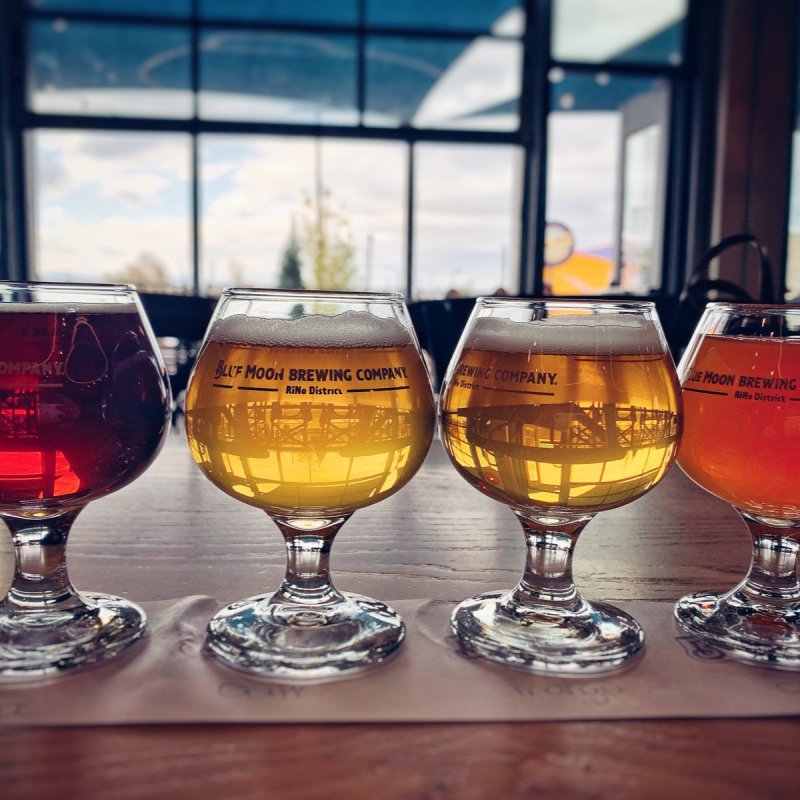 Denver has long had a reputation as a beer town. After all, the biggest single-site brewery in the world — and one of the country's oldest — is right down the street in Golden, Colorado. Coors, founded by German immigrant Adolph Coors, has made its home in the mountain town just west of Denver since 1873.
But the Mile High City's craft and microbrew scene has become a tradition of its own. From large craft brewers to boutique brewers that concentrate on small-batch gems, you're bound to find some suds that match your own particular taste. Here are a dozen of our favorite spots across the Denver area that attract a wide variety of beer aficionados of different ages and backgrounds, all united in their quest for the perfect pint!
1. Boulder Beer Company, Denver
Get the first sip of your trip in as soon as you land in Denver! Boulder Beer is legendary, first founded in 1979 by two faculty members at the University of Colorado. Its main claim to fame is that it's the Denver area's oldest microbrew, and it's well known for its IPAs and Shake Chocolate Porter. While Boulder Beer recently closed its flagship brewpub, its beers are still produced, packaged, and sold across the country. They are also served up at a small taphouse in the main terminal at Denver International Airport, which is worth a stop until a new brewery location opens.
2. Odell Brewing, River North Art District
Odell Brewing was born in 1989 in Fort Collins, north of Denver. The small, family-owned company expanded and grew to the point it opened a second location in Denver's River Art North District — known to the locals as RiNo. Odell's received accolades for its beer as well as its plucky independent streak: In 2015, the Odell family sold the majority of the company to its coworkers, now coowners. The Denver location features 16 taps, with half dedicated to experimental releases, including hoppy IPAs, pale ales, sours, and stouts.
3. Wynkoop Brewing Company, LoDo
In the late 1980s, Denver's now-bustling Lower Downtown area (LoDo) was anything but. It was a run-down, blighted eyesore. But when others were scared off, a group of four beer-loving friends (including Colorado's current governor!) banded together to buy an old mercantile building and transformed it into a craft brewery. Wynkoop Brewing Company is seen as the stabilizing force that helped bring back LoDo, and the place continues to be popular with locals and visitors alike. While the taps change seasonally, Wynkoop makes a terrific IPA. This is also a great place to grab lunch or dinner!
4. Great Divide Brewing Company, Denver
Another early bird on the scene, Great Divide Brewing Company also began small, with a single brewer and a big dream. Great Divide's beers are now routinely nationally and internationally lauded; its Yeti collection of seasonal porters is a must-sample for those who love dark beer. There are also plenty of pale ales and even craft hard seltzers on offer at the brewer's four locations, which include the Ballpark District, RiNo, Castle Rock, and even Denver International Airport.
5. Blue Moon Brewing Company, River North Art District
For a refreshing and light Belgian-style ale, look no further than Blue Moon Brewing Company. Founded by a brewer who got his brewing PhD in Belgium, this large pub in RiNo features Blue Moon's signature white ale, made with Valencia orange peels — and served with an orange wedge — to give it an extra bit of sweetness. They also offer rotating seasonal brews. Blue Moon's space is bright and airy, with a full kitchen serving elevated pub grub. Blue Moon makes a great jumping-off point or stop on any RiNo brewery adventure!
6. Novel Strand Brewing, Baker
In an industry that tends to be testosterone-heavy, Novel Strand Brewing stands out. Two of its three founders are women of color, and this relative newcomer to the Denver beer scene has a friendly, laid-back vibe. Novel Strand shares its building space with a coffee shop, so by day you can grab a cup of joe, and in the afternoon and evening a funky, creative brew. This is a quieter, more intimate experience than you'll encounter at some of the other big breweries on the list, so relax, enjoy, and feel free to ask questions about the beer.
7. Cerveceria Colorado, The Highlands
If Modelo, Corona, and Dos Equis are the sum total of your experience with Mexican beer, you owe it to yourself to include Cerveceria Colorado on your must-visit list of Denver breweries. This festive spot prides itself on producing beers that are inspired by and celebrate Mexican heritage. Horchata, churros, lime, and even poblano flavor profiles are all represented in the various beers on tap, including sours, stouts, and lagers. While you'll be drinking draft during your visit, we also love the bright, festive cans used by the brewery. You might be tempted to take some to go!
8. Renegade Brewing Company, Lincoln Park
What started as a home-brewing Christmas present 15 years ago has morphed into Renegade Brewing Company, a full-scale brewing facility and taproom in Denver's Lincoln Park neighborhood. True to their name, Renegade's beers push the envelope on style and flavor. Their alcohol content runs the gamut, from a 4.5 percent ABV lager to a 14 percent barley wine. And you can feel good about drinking up at Renegade: Its Tap 4 Tap program partners with an international nonprofit that provides safe drinking water for four million people across nine different countries. Each gallon of beer sold provides one gallon of drinking water for those who need it. It's a win-win!
9. Four Noses Brewing Company, Broomfield
Broomfield, a Denver suburb northwest of the city, is home to Four Noses Brewing Company, a spot absolutely worth the short drive from downtown. The family-owned, laid-back spot specializes in creative flavors and makes regular use of fruits including cherries, berries, mangoes, and even pineapple in its beer. While the sours, ales, and IPAs here are all terrific, our favorite beer style at Four Noses is the milkshake — beer made with added lactose to give it a creamy taste and feel. These brews double as dessert, and you'll want to try all of them, just like we did!
10. Station 26 Brewing Company, Park Hill
Located in Denver's Park Hill neighborhood, and housed in a former firehouse, Station 26 cranks out handcrafted standards, including pilsner, pale ales, and IPAs. But there are also terrific mashups, including hazy brews made with mango and strawberry, sours mixed with pineapple, an ale called Tangerine Cream, and even a lemon-lavender blonde brew. While the brewery doesn't have a kitchen, it does have a different food truck on-site each day to mix up the menu and the mood!
11. Cerebral Brewing, Bluebird District
What do you get when you mix in a science lesson or two with your brew? Cerebral Brewing, located in Denver's Bluebird District! No question, it feels — dare we say — intellectual in this light, airy space. The folks here clearly love their beer and embrace the nerdiness behind it. Tastings are served in beakers a la the chemistry lab, and scientific explanations of the brewing process and ingredients that go into Cerebral's beer are placed at each table. There's plenty of outdoor seating, and there's a different food truck here every day.
12. Black Shirt Brewing Company, River North Art District
What goes better together than pizza and beer? We're hard-pressed to come up with an answer, and it's the secret to success at Black Shirt Brewing. Located in the aforementioned RiNo neighborhood, Black Shirt has various offerings from the tap — from Local's Light at 5.2 percent ABV to the Blue Flower Moon at almost 15 percent ABV. Black Shirt also has 1.5-liter offerings for sale that come with special stemware.
Pro Tip: If you're short on time in Denver but still want to sample your fair share of brews, consider a microbrewery tour. It's a great way to cover a lot of ground and beer styles. While there are plenty of walking pub-crawl-style options in and around the city, consider elevating your experience with a private, driven tour. Aspire Tours offers a guided Brews and Views tour that will take you into the foothills, with three brewery stops and samples. The best part: You don't need to worry about the drive home!