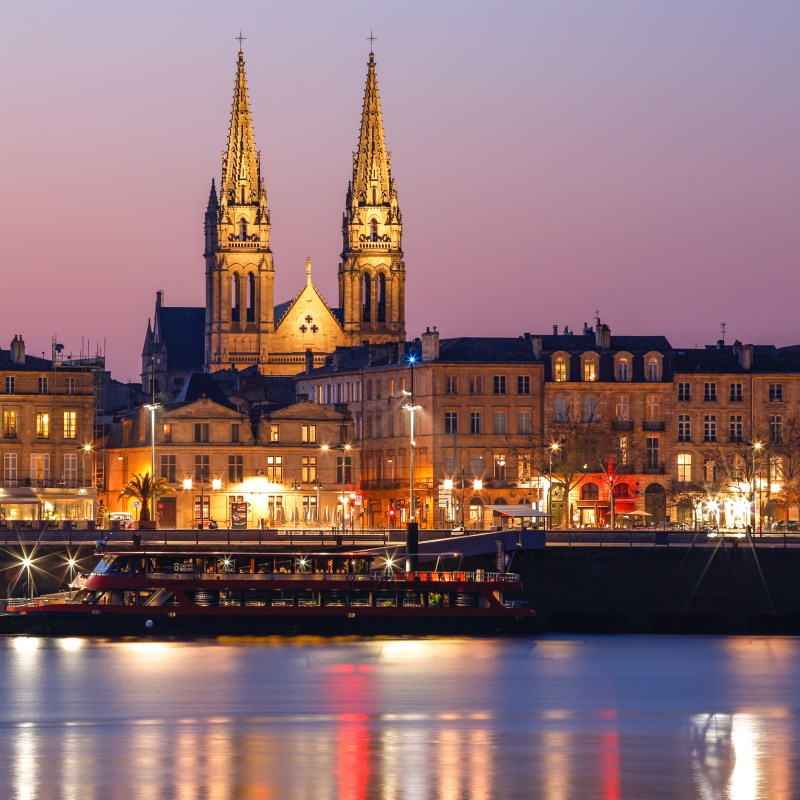 December is a popular time to travel, whether for a getaway before the holidays, a road trip to the seasonal markets in Europe, or simply a city escape combined with some shopping for presents. Throughout Europe, December is reasonably chilly — even the Canary Islands don't reach the 68-degree mark — so while a relatively warm break is a possibility, you might as well just pack warm clothes and embrace the European winter scene, filled with pretty twinkling lights, Christmas markets, hot drinks, and ice skating that you can enjoy in the best European cities to visit in December.
9 Best European Cities in December To Visit
1. Bordeaux, France
One of my favorite trips to Bordeaux was in early December. I took a train from Paris to Bordeaux in the morning — a 2.5-hour trip past misty fields full of deer nibbling on green shoots — and arrived before lunchtime in lovely Bordeaux. With its grand buildings, open boulevards, wide quays along the Garonne, and many pedestrianized, cobbled streets in the old center, Bordeaux draws visitors in with its many sights. Must-sees are La Cite du Vin, an interactive wine experience in a superb modern building; the Gothic Pey Berland Tower; the Place de la Bourse; and, quite simply, every little lane in the old town.
Don't miss the Sunday antique market on Place Saint-Michel, or, of course, the Christmas market along the Allees de Tourny, which runs from the end of November to the end of December.
Also in December, a trip to the frosted wineries around Saint-Emilion is a must.
2. Helsinki, Finland
Finland's capital is magical in December when it's all decked out for Christmas. The area around the old harbor basin is very pretty, with twinkle lights reflected in the water, a small market selling reindeer-related Christmas ornaments, and the highly rated restaurant Kappeli completely covered in fairy lights. The big tree outside the Helsinki Cathedral will enchant you, as will the old market hall where you can sample exotic winter delicacies like reindeer chips (surprisingly good — a bit like dried salami).
Make sure to explore Helsinki's two unusual churches: the Rock Church, with its own waterfall inside, and the rounded, wooden Kamppi Chapel.
3. Tallinn, Estonia
When it comes to picture-perfect Christmas settings, Tallinn is hard to beat. Walled medieval town? Check. Tiny square with a bustling Christmas market? Check. Ice skating in front of a row of colorful old houses? Check. Cozy hotels with roaring fires? Check. Too-cute-for-words Christmas ornaments? Check. Need I go on? I always say that Germany does Christmas markets best, and they do, but Tallinn certainly gives German cities a run for their money during the Christmas season.
Fed up with medieval Christmas prettiness? Head to the spectacular Lennusadam Seaplane Harbour, a marine museum in a modern and unusual setting.
4. Vienna, Austria
It does not matter when you visit Vienna — this city is always splendid and majestic. From the grand old-fashioned cafes where the famous sacher torte was invented (best accompanied by a frothy Melange coffee) to the Spanish Riding School where snow-white horses strut to music to the childhood palaces of Marie Antoinette, Vienna does glamor better than any other city. But with a chill in the air — and even better, a dusting of snow, some twinkling lights, and markets that beckon with aromas of cinnamon and spiced wine — the city is positively breathtaking.
As you're likely aware, Vienna is also known for its classical music. If you can, try to catch a concert, such as the New Year's Concert — or even better, attend a Viennese ball. This European town guarantees a White Christmas!
5. Strasbourg, France
Strasbourg is a lovely mix of French and German, being only a short distance from the German border. This European town is full of old cobbled lanes, half-timbered houses, and many tiny squares that, in December, are all filled with Christmas markets. The entire old town is decorated — there is not a corner left bare — and a 100-foot-tall Christmas tree stands proudly amidst it all. It takes two cherry-pickers, dozens of electricians, and a lot of planning to decorate it, but the sparkling end product is worth the effort.
Head down to Petite France and walk along the water and down the tiny lanes. Stop at one of the many cafes for a hot chocolate, and you will see why Strasbourg is simply perfect to visit in December.
Make a point of visiting the cathedral to see the fantastic astronomical clock, and, if you can manage 330 steps, climb to the top of the steeple to see the city's holiday decorations from above.
6. Edinburgh, Scotland
The capital of Scotland, the northernmost nation of the United Kingdom, is dominated by a vast and sturdy castle framed by cobblestoned lanes that look like they jumped from the pages of Harry Potter. The history and the setting are enchanting at any time of the year, but in December, the cold and the Christmas atmosphere make the city even more appealing. In December, the temperatures are just above freezing and quite damp, but it's nothing a sensible coat couldn't keep at bay.
What makes Edinburgh a little different is that while the Christmas lights and the Christmas markets (a German-style one and a Scottish one, among others) are fabulous, the city really comes alive on New Year's Eve. Hogmanay is a huge street fest that starts on December 30 and doesn't stop until January 1. Live music and events pop up across the city, and at the stroke of midnight, Edinburgh erupts into a legendary fireworks display, with the entire castle hill being lit up.
With the entire city being busy partying, it is best to stay somewhere not too far to walk, but still quiet enough to sleep. Options range from luxury hotels to hostels, but I like the A Room in the City bed and breakfast a few minutes from the center of town.
7. Venice, Italy
Venice and its lagoons call for sunshine, or so you might think. But the truth is that in spring and summer, Venice is too crowded to enjoy even one step in solitude. To me, part of the magic of Venice is seeing it without people — turning a corner and coming upon an empty alleyway, bridge, or piazza where you can take in the architecture, the magic, and the small details in peace and quiet.
Enter December. The crowds are gone, cruise ships do not arrive, and you'll have Venice nearly to yourself. Wrap up, put your boots on, and walk yourself warm. Take your Donna Leon crime novel and stop at Caffe Florian for a read over a hot chocolate, enjoy visiting the Doge's Palace without having to queue, and marvel at the gondolas decorated for Christmas.
Book ahead to see a performance at the La Fenice opera house, and if you are in town for New Year's, head straight to the Lido for the fireworks.
8. Zurich, Switzerland
If you are arriving in Zurich by train, you will step right out into a winter wonderland. It does get cold in Switzerland in December, with temperatures around freezing. But that is what makes it so special. The fountain outside the train station is likely to be frozen, the Christmas lights dance in the snow on the ground, and the river and lake boast ice floats.
Zurich also holds many unique events during the pre-Christmas period, from fondue stands at the markets to a historic candle-dipping event, a special Christmas circus, and a fairy-tale tram ride through the old town.
If you are young at heart, and there is enough snow, why not go tobogganing? There are different hills for different skill levels.
9. Berlin, Germany
Germany's capital does what a capital city should do: It offers some of Germany's best museums, monuments, sights, events, and atmosphere. In December, it gets cold, but it's a great time to get out and explore, get into the Christmas spirit, and enjoy not only the thinner crowds but also the lower prices.
My favorite thing to do is a boat trip on the Spree past the Reichstag and Museum Island. In winter, this is chilly but quite magical, especially if you have been lucky enough to get a sprinkling of snow. Afterward, hop off and visit the numerous superb museums on Museum Island to warm up.
There are around 100 large and small Christmas markets around Berlin, each with its own charm. Berlin is also the home of the currywurst, a spicy grilled sausage that goes down well with a mug of mulled wine.