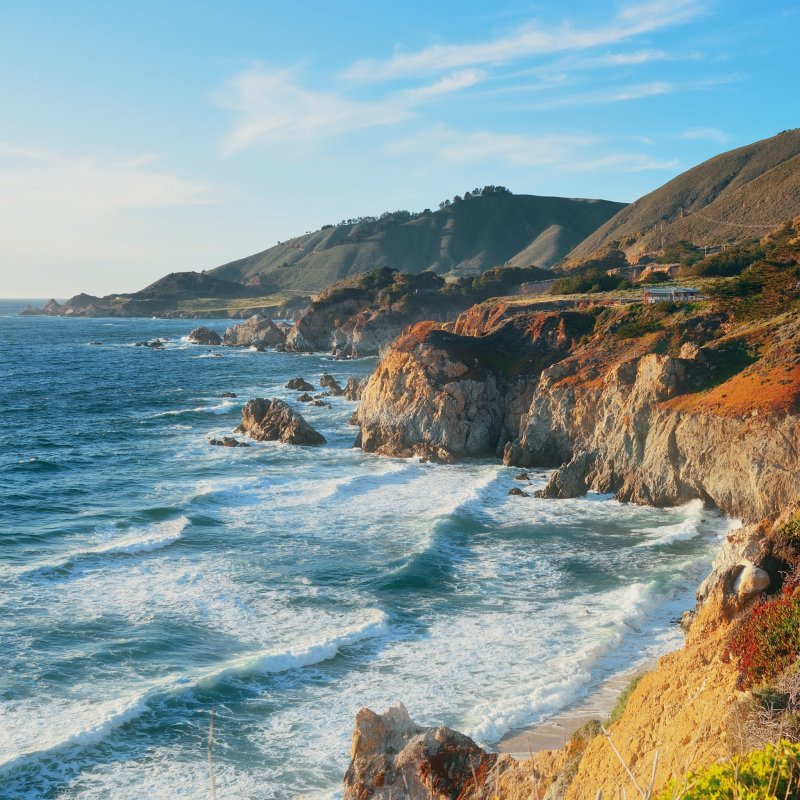 In a state teeming with gorgeous coastal destinations, Big Sur just might be the winner. This 90-mile stretch of coast is located 2.5 hours south of San Francisco. The rugged and mountainous area offers visitors sandy beaches, dense redwood forests, and dramatic waterfalls. Just the drive along this portion of Highway 1 is breathtaking; a weekend in the area would be unforgettable.
Things To Do In Big Sur
You'll want to spend all of your time outdoors in Big Sur appreciating all that nature has to offer. The weather can range from damp and cold in the morning to warm and dry in the afternoon, so be sure to pack appropriate attire.
Watch The Waterfalls
The surrounding creeks and rivers combined with steep cliffs offer the perfect setting for several waterfalls in the Big Sur area. The best known is McWay Falls in Julia Pfeiffer Burns State Park. This 80-foot waterfall spills onto white sand and flows into the Pacific Ocean. Visitors can view it from above after following the short Falls Trail. If you can manage to get there around sunset, you'll get great photos.
Getting to the Limekiln Falls inside Limekiln State Park will take more work, but you'll be rewarded with a drape of water flowing down a dark, rocky wall. The 1.4-mile out-and-back trail requires a bit of rock scrambling, so hiking shoes are recommended. These falls are better seen in late winter or early spring, when the water flow is strong.
Wander The Woods
Big Sur is a hiker's paradise. Whether you're looking for a short and scenic walk or want to trek deep into the woods, there's a trail for you.
For a flat and short hike near the ocean, try the Jade Cove Trail. This 1.5-mile bluff trail offers lovely views of the ocean, and if you're eager to walk on the sand, you can continue on the connected trail that slopes steeply down to the beach.
The Mill Creek Trail heads deep into the forest under the cover of giant redwood, sycamore, and maple trees. This 3.2-mile out-and-back trail has a 600-foot elevation gain and follows the creek much of the way.
If you have more time and want a great workout, try the 8-mile Andrew Molera Loop. You'll enjoy coastal bluff views throughout most of the hike along with 1,000 feet of elevation gain.
Take Pictures At Bixby Bridge
You've likely seen pictures of the historic Bixby Bridge, one of the most popular photo spots in the state of California. In fact, you've likely seen it in car commercials. Built in 1932, this bridge was a feat of modern engineering requiring 45,000 bags of cement. It rises 260 feet above a steep canyon and Bixby Creek.
Just driving over the bridge along Highway 1 is a great experience, but if you'd like a photo, head to the turnout on the north side. From there you'll find paths that will take you to nice vantage points.
Enjoy Dramatic Views
The Pacific Ocean, the surrounding forests, and the bluffs in between result in numerous scenic viewpoints in Big Sur.
At the northern end of Big Sur is Point Lobos State Natural Reserve. Like in most of the region, there are great ocean views, but the highlight here is the chance to see marine life like seals, sea lions, sea otters, and migrating whales.
Don't miss the opportunity to drive along the Old Coast Road to experience redwood forests, rolling hills, babbling creeks, ocean views, and possibly some waterfalls in the late winter or spring. Before the Bixby Bridge was built, the only way to drive north was along this 11-mile dirt road, and today it's still used by a few locals and adventurous tourists. A four-wheel-drive vehicle is recommended for this road.
Picnic On Purple Sand
Big Sur is possibly the only place in the world where you can see purple sand, so definitely take some time to check out Pfeiffer Beach to witness this unusual sight. Erosion of the cliffs above containing manganese garnet rocks is responsible for the plum-colored sand. This small beach is part of Pfeiffer Big Sur State Park, which is also home to the Keyhole Arch rock formation. Pack a picnic and enjoy a memorable afternoon here.
Search For Sand Dollars
At the south end of Big Sur is Sand Dollar Beach, the longest and widest stretch of beach in the region. This is a popular spot for relaxing on the sand, surfing, and tidepooling. Ironically, there aren't many sand dollars to be found, but beachcombers are likely to find jade rocks from the mineral deposits in the surrounding cliffs. There's plenty of parking available, as well as restroom facilities.
Best Restaurants In Big Sur
Dining options are plentiful in Big Sur, ranging from cozy and casual to gourmet fine dining. Some have wide ocean views, while others are surrounded by redwoods.
Deetjen's Restaurant feels more like a charming English cottage than a restaurant, but that's exactly why people love it. Serving breakfast and dinner, this establishment prides itself on organic and local ingredients. Both vegetarians and vegans can be accommodated. If the weather outside is chilly, request a table near the fireplace for an especially cozy experience.
For 70 years, Nepenthe has been serving the widely popular Ambrosia Burger. But don't think you have to give up great views to eat a burger — this place offers spectacular ocean and mountain views. Come expecting a wait, especially during the peak summer season. Just grab a drink at the bar and enjoy the setting.
Craft beer lovers should head to Big Sur Taphouse. Settle in at one of their wooden tables with a locally brewed beer and a sandwich while watching a game on the big-screen televisions. If you're looking for a meal to go, then order next door at their deli.
If you're celebrating a special occasion or just want to splurge on a really great meal, make reservations at Sierra Mar, located in the world-renowned Post Ranch Inn. High atop a cliff overlooking the Pacific Ocean, you'll enjoy a memorable meal. Both the lunch and dinner menus are prix fixe and can be accompanied by wine pairings.
Best Hotels In Big Sur
While Big Sur is loaded with outdoor activities and great restaurants, hotel options are limited. Some visitors opt to stay farther north in towns like Carmel or Monterey. Camping is also a popular option in the area.
If you really want to splurge for the ultimate in luxury, Big Sur has two perfect destinations. The Post Ranch Inn is intended as the ultimate in relaxation and escape, so don't expect televisions or alarm clocks. In addition to the beautifully decorated rooms, guests can enjoy yoga classes, stargazing, and garden tours. The spa includes the typical treatments like massages and facials along with astrology, crystal therapy, and shaman sessions.
Ventana Big Sur offers 59 secluded suites, each with an expansive balcony and a forest or ocean view. If you prefer to be closer to nature, try reserving one of the luxury tent cabins. The spa offers outdoor treatments for individuals and couples. And for something really unique, try a falconry experience on the property during your stay.
More affordable accommodations are available at hotels like the rustic Big Sur Lodge. This isn't the place to come for fancy amenities, but your stay includes a day pass to three state parks: Pfeiffer Big Sur State Park, Andrew Molera State Park, and Julia Pfeiffer Burns State Park.
Big Sur River Inn, located along the Big Sur River amidst towering redwoods, was the area's first hotel and restaurant. Amenities are limited and the setting is rustic, but guests enjoy the peaceful environment and splashing in the river.
If you'd prefer to camp while visiting Big Sur, consider Kirk Creek Campground, known for its spectacular ocean views. The Riverside Campground is located along the Big Sur River and offers campsites, RV sites, and cabins.
What To Know Before You Go
As with most of California, you can visit Big Sur at any time of the year. The summer season will definitely be more crowded, so if you can swing an off-season visit, you'll be rewarded with fewer people.
Since the Big Sur coastline is 90 miles long, it's important to have a plan when visiting. Think about where you'll start your trip — from the north or south — and map out the sights you want to see. You'll probably want to have a plan for where you will eat along the way as well.
The Big Sur stretch of Highway 1 is one of the most scenic drives in the United States, but it's very curvy and at times scary to drive on due to the steep cliffs. Make sure you've got a confident driver for your travels. And you may want to avoid driving at night, since there are long stretches of road without lights.
A weekend in Big Sur will be memorable, and you'll likely want to return to continue exploring this lovely stretch of California coast. Few places in the world offer so much natural beauty.