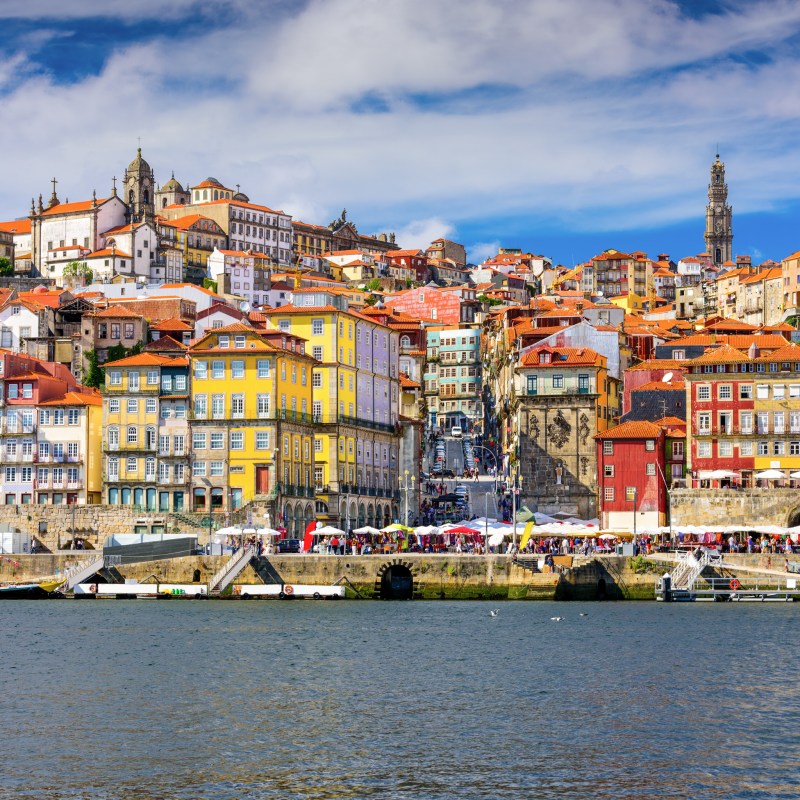 It may be that Portugal's south, especially the spectacular Algarve coast, is a popular destination in the summer, but if you want to escape the crowds and enjoy much cooler temperatures, there is no better place than the northern part of the country. Towns full of history and stunning architecture alternate with national parks where you can hike to your heart's content, relaxing river cruises along the Douro, and wine tastings await the discerning traveler. If you feel more adventurous, there are some Atlantic Coast beaches, too, where you can try out windsurfing and other water sports. Some of the best-known Portuguese dishes, like caldo verde or francesinhas originate from the north so you can taste them in situ.
1. Porto
There has always been a rivalry between Lisbon and Porto as to which of the two is more beautiful. Decide for yourself by taking a train to Porto. You can make it a day trip, but it's much better to plan for an overnight stay as there is so much to do and see.
Taking the train leaves you at the first stunning monument of Porto: the Sao Bento Train Station. The belle epoque design is already eye-catching, but you'll be blown away by the interior. The walls and floor are covered with over 20,000 of the distinct blue and white azulejo tiles of Portugal, depicting historical scenes and much more. It's also in the center of town, which makes it easy to explore the many more attractions on foot.
One of the first landmarks you'll see is the 246-foot-high Clerigos Bell Tower. Dating from 1763, the looming tower is covered with baroque motifs and affords a stunning view over the city and the Douro River from the top. But, you have to climb 225 steps to enjoy it. Next, you'll want to cross another landmark: the Dom Luis I iron bridge over the river, which connects you to Vila Nova de Gaia, most famous for its many wine cellars. Apart from a visit to the wine cellars, you'll enjoy a walk along the lovely promenade, seeing the colorful houses climbing up the rock front, or taking a little boat trip in one of the traditional wooden boats which once were used to transport wine barrels across the river. A brand new district called WOW has sprung up in Vila Nova dedicated to wine and fine dining, and it includes a few museums.
Back in Porto proper, you can't miss a visit to one of the world's most beautiful book shops: Livraria Lello. The art nouveau interior and famous blood-red staircase will make you want to browse. The shop has become so popular with tourists that they charge admission, but you can redeem the cost of admission against any purchase.
Then explore the historical Ribeira district, which is a World Heritage Site. Stroll through the beautiful Crystal Palace gardens or visit the imposing 12th-century Porto Cathedral. There is even more to do, like visiting Foz (the beachfront) or taking the Guindais Funicular for yet another head-spinning view.
We have talked about wine, but you need to eat, too, and no better place than Porto to try the typical francesinha, a sandwich like no other, served swimming in a beer sauce. A great place is O Afonso.
If you decide to spend the night, a nice boutique hotel with only seven rooms, all decorated by different artists, is Gran Cruz House.
2. Braga
Founded 2,000 years ago by Roman emperor Augustus, Braga is a delightful city full of history. Maybe the best-known attraction is the church of Bom Jesus do Monte, or rather the 630 zig-zagging steps that lead up to it, interspersed with fountains, palm trees, and flowers. If the climb is too much for you, there is a curiosity to take you to the top: the world's oldest water-powered funicular.
Visit Braga Cathedral and especially the richly decorated and gilded interior with two wooden organs. The lovely centric Praca da Republica invites you to a rest, a look at the surrounding historical buildings, and a glass of vinho verde, a young, green wine that comes from the region.
It's always interesting to visit a museum that was actually a home of wealthy and/or noble people, and the Biscainhos Museum ticks that box. Baroque architecture, silverware, furniture, and a lovely French-inspired garden await. If you are keen on churches, Braga has plenty of those, too.
For yet another lovely garden, make your way to Santa Barbara Garden.
3. Guimaraes
Just 15 miles southeast of Barga lies Guimaraes, considered the birthplace of Portugal. There is even a plaque to that effect on one of the old city walls. Guimaraes is indeed famous for several historical monuments, which is why the town is a World Heritage Site. There is the huge castle (partly in ruins), which dominated Largo Hill, and the 14th-century Palace of the Dukes of Braganza. Make your way to the town center where you can admire plenty of Gothic buildings. It's also a lively place because of the many students who attend the university.
4. Paiva Walkway
This is a nature adventure for the really fit over-50s. The Paiva Walkway is a five-mile hike along wooden walkways in the Arouca Geopark, a recreational area about an hour outside of Porto. It leads along the shore of the Paiva River, from beaches to steep rocks, through unspoiled nature. You need to be an experienced hiker and bring appropriate gear to enjoy this Northern Portugal gem.
5. Ponte De Lima
Ponte de Lima is one of the most charming and relaxing towns in the north of Portugal. Located on the slow-flowing Lima river, you'll find historical houses and monuments, flower gardens, and a quaint toy museum. Ponte de Lima is one of those places where you will notice the difference between the laid-back, calm lifestyle common in the north of Portugal as opposed to the tourist bustle in the Algarve.
6. Peneda Geres National Park
Mountains, valleys, woods, rivers, and traditional villages characterize this huge national park in the north of Portugal. Exploring all the different sights of Peneda Geres is not as difficult as the Paiva Walkway. You can either follow hiking paths or go by car. All routes are well marked. Stroll through the village of Campo Geres with its stone houses or visit the castles of Castro Laboreiro or Lindoso.
7. Montesinho National Park
The north of Portugal isn't short of nature adventures for every taste and degree of fitness. A great example is Montesinho National Park, one of the biggest nature parks in Portugal, which is shared by neighboring Spain. You can hike, enjoy flora, bird watch, and witness the clear rivers, which cut through the valleys. Or visit the village of Montesinho, which gives the park its name. Observe how common facilities are shared by the locals, most notably the huge wood-fired ovens used to bake bread. Don't hesitate to eat the bread together with some of the local cheeses washed down with a glass or two of red wine.
8. Chaves
Whilst you are in the Tras-os-Montes region of Montesinho National Park, visit the town of Chaves, located at the banks of the Tamega River and best known for a very well-maintained Roman bridge. The town center boasts narrow medieval houses and quite a few small churches. Thermal springs with some of the hottest waters in Europe are nearby.
9. Best Beaches For Windsurfers
Age is no reason why anyone, as long as they are fit enough, shouldn't enjoy windsurfing. Plenty of spots and beaches have opened up in the north of Portugal for people who want to avoid the crowds of the Algarve. There is Matosinhos, which is a Porto beach, or Afife, also known as Arda Beach. You don't need to bring your own boards; there are plenty of places to rent them.
10. Lamego
Located in the upper Douro Valley, Lamego is often called the baroque capital of Portugal — with good reason because of its many buildings dating from that period. The already ornamental baroque style is further enhanced by the use of blue and white Portuguese azulejos. A good example is Santuario de Nossa Senhora dos Remedios, a Marian shrine that is reached by climbing up nearly 700 steps that are interspersed with tiled patios.
11. Douro River Cruises And Wine Tastings
The Douro River, northern Portugal's most important waterway, begs for a cruise to explore the landscape and countless vineyards where the best Portuguese wines come from whilst relaxing on a comfortable boat. A great variety of cruises are available, from day trips to those that last for several days. One of the best day tours starting from Porto is this one, which combines wine tastings, a traditional Portuguese lunch, and a river cruise on a rapallo boat. Especially if you have indulged in activities like windsurfing or hiking, you'll enjoy the relaxing glide along a river and the great wines you can taste along the way.
Insider Tips
The best times to visit the north of Portugal are late spring and early fall. This isn't a beach holiday in the south, so bring some sweaters for cool nights and hiking shoes and water bottles for the national parks. You can do sightseeing by car or coach tours, but the best possible experience will be had by those whose level of fitness allows for climbing the many stairs to some sanctuaries and historical structures mentioned, if not taking on the really challenging Paiva Walkway. What you get for your efforts is an insight into a very different and charming Portugal.