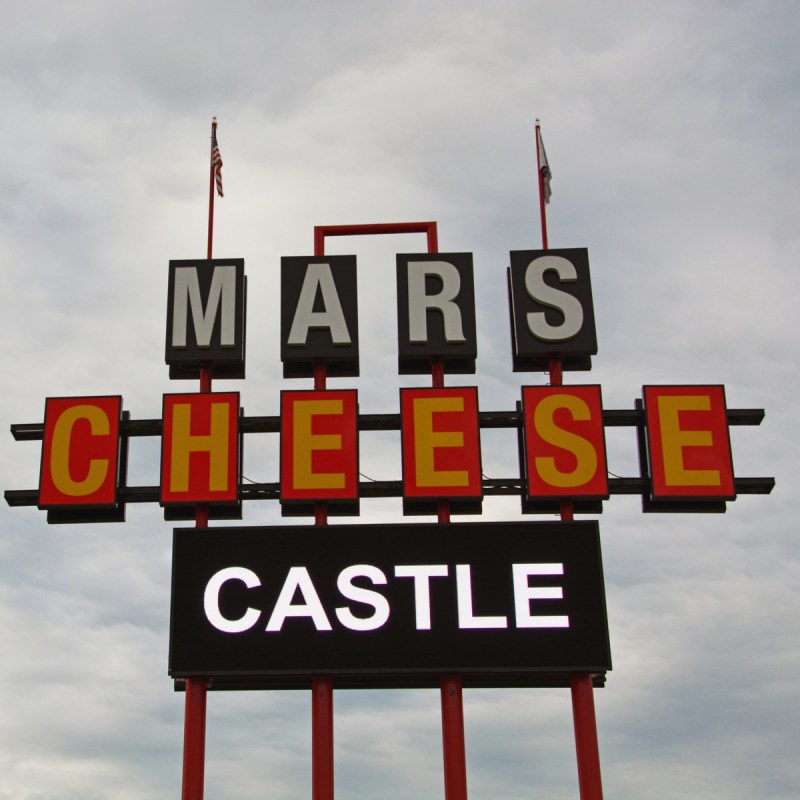 Kenosha, Wisconsin, is a town near the Illinois border that's loaded with fabulous foodie experiences. With a great lakeside location, lovely parks, popular eateries, and new and noteworthy tastes to try, Kenosha is a food lover's paradise. Here are just a few of the best foodie experiences in Kenosha.
1. Mars Cheese Castle
The Mars Cheese Castle is justifiably famous. It's located right along Interstate 94, so you can see it from the highway. Serving up hundreds of cheeses and everything that goes with cheese since 1947, this unique place offers an unparalleled foodie experience. It was just a regular shop until an interstate expansion required it to move. The owners decided to do something special and added the castle facade, which is impossible to miss. Inside the royal walls, the emporium is absolutely packed with cheeses from Wisconsin and around the world. There are also sausages, sauces, baked goods, beverages, gift boxes, and lots of cheesy souvenirs to share with family and friends.
2. The Brat Stop
Calling itself "The Bratfather," The Brat Stop is undeniably a Kenosha institution. The restaurant, which is just minutes from the Wisconsin-Illinois border, has been a family operation since 1961. It's a casual spot, where locals and visitors alike enjoy the fun and filling menu. There's lots of great food besides the bratwurst, but we can't resist the brats when it comes to a fabulous Kenosha foodie experience. There are several types of brats available, too. Of course, there's the traditional wurst, but there's also Cajun, garlic, veal, Cheddarwurst, jalapeno, Polish, and more. If you can't make up your mind, you can try a sausage sampler that will give you a variety of tastes. Don't forget the deep-fried cheese curds, too. Once you discover The Bratfather, you'll be making plans to return.
3. The Buzz
In good weather, we love a classic picnic. Kenosha has many great places to settle down with a view of the harbor, the lakeshore, some beautiful parks, and even a concert from time to time.
Best of all, you can have The Buzz put together a Euro-style picnic basket for you to pick up and take with you wherever you choose to go. They'll fill it with your choice of meats, cheeses, salads, bread, beverages, and desserts. If you're an early riser, you can take advantage of their breakfast dishes like loaded bagels, wraps, muffins, and bowls. They also serve a variety of coffees and Wisconsin's favorite Rishi Teas.
4. Elsie Mae's Canning And Pies
We go nuts for pie. And there's no pie place more drool-worthy in Kenosha than Elsie Mae's Canning and Pies. The scent of their fresh-baked pies gets us every time.
You'll find whole pies, hand pies, mini pies, whoopie pies, and even savory pot pies at this special spot. As one would expect from a shop named after the owner's grandma, Elsie Mae's offers a pie for any reason and any season. We love the fruity blueberry and cherry options, but the cream pies and specialty pies are also delicious. Cranberry pies and pumpkin s'more pies are just a few of the seasonal flavors on offer. And don't get us started on the tummy-warming chicken and other savory pot pies they serve during the colder months.
In addition to their wonderful pies, Elsie Mae's offers 20 flavors of jam, fresh-baked artisan bread, homemade honey butter, fruity lemonades, granola, crackers, and other delicious edibles.
5. Tenuta's Deli
You can't talk about Kenosha foodie experiences without mentioning Tenuta's Deli, which has been a part of the community for more than 70 years. Tenuta's is like a neighborhood store in the old country, packed with everything you love. Every aisle brings more to appreciate. The authentic Italian products practically dance before your eyes — all kinds of pastas and sauces, plus a huge cheese selection, including their very own line of cheese curds. The wine and beer selection is huge, and they've got lots of choices waiting in the chiller so that you can choose all of your goodies and head right out for a picnic.
6. Sandy's Popper
When it comes to fun Kenosha foodie experiences, Sandy's Popper is hard to beat. This family-owned popcorn and ice cream shop specializes in delicious gourmet treats. Their original gourmet popcorn comes in a rainbow of flavors and colors from sweet to savory — even a cheese-and-caramel popcorn that combines the two. All of the popcorn is made in-house in small batches from the finest ingredients.
Sandy's also offers hand-scooped ice cream in cones, shakes, sundaes, and good old-fashioned malts. The variety of sweet treats will make you feel like a kid again. You can also have Sandy's make up a special gift tin, box, or basket for a special occasion.
7. Kenosha Public Market
There's always something new when it comes to foodie experiences in Kenosha. The Kenosha Public Market is a new farmers market experience that offers fresh produce, meats, cheeses, baked goods, and specialty food items near Kenosha's lakefront. More than 50 vendors make this a booming foodie experience that has the locals buzzing. Fresh herbs and microgreens, hand-rolled butter, free-range chicken eggs, and bison sirloin steaks are just a few of the farm-fresh goodies available. There also are prepared meals, sweets and snacks, beverages, and much more. For the ultimate convenience, you can even shop online and pick up your order curbside to take with you and enjoy on an outing.
8. The Apis
If you love unique food experiences, then you'll want to check out The Apis, the brainchild of the Grease & Honey Restaurant Family, the folks who birthed The Buzz and other Kenosha favorites. It's an avant-garde restaurant with the kind of sophistication you would expect from a much larger city. The name Apis evokes the whole bee and hive theme that inspires a sense of meaningful and lively activity.
You can expect the food experience at Apis to be full of fresh, bright flavors from the talented Chef Danielle Weybright, who adds flair with ingredients that change slightly every day and significantly every month. Dishes highlight earth, land, and sea, resulting in exciting offerings for vegetarians, seafood lovers, and meat-eaters alike. Apis also offers a rooftop bar with great views of Lake Michigan and the historic downtown.
9. El Camino Kitchen
If you love Southern Californian and Mexican fusion cuisine, you'll want to make a beeline for El Camino Kitchen. The exciting blend of bold Latin flavors and the freshest ingredients makes for a fantastic foodie experience in Kenosha. Cheeseburger quesadillas? Check! Poke tuna tostadas? They have them.
But that's just the beginning. The menu is full of fantastic creations from fajita rice bowls to Southwest salads. But there are lots of standard offerings, too, like salads, sandwiches, and American favorites like homemade barbecue baby back ribs. There are plenty of veggie options, and the waffle fries are available in several different styles from Bandito to Thai to Greek and more.
We think it would be pretty hard not to find something delicious at this fun new restaurant located just minutes from Interstate 94. So if you've got a craving for made-to-order guacamole when you're hanging around Kenosha, you know where to go.