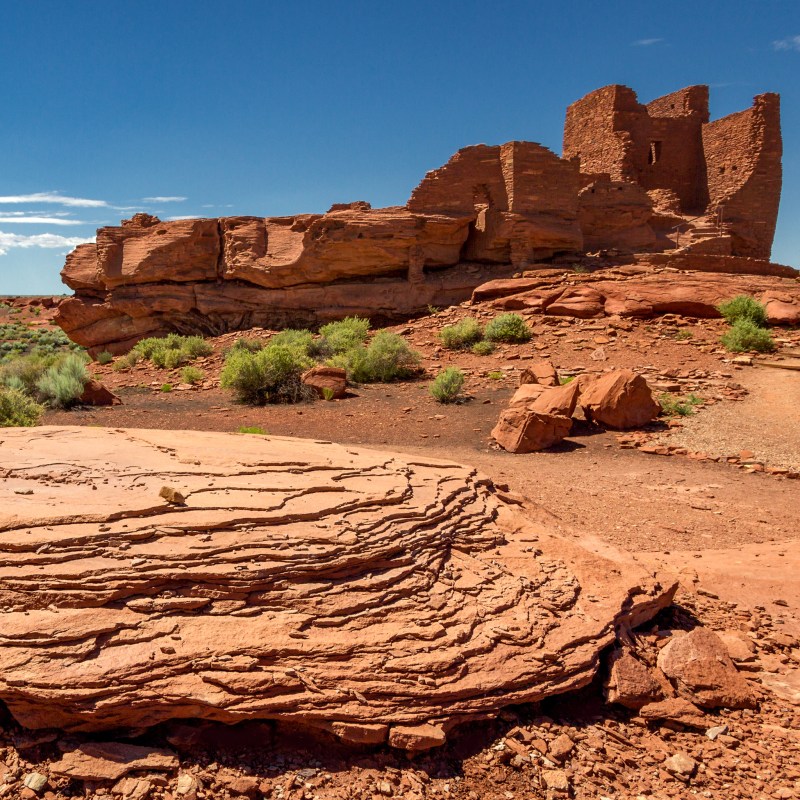 The United States is home to many beautiful national parks and monuments. It's no secret that I enjoy visiting any of them and that Rocky Mountain National Park is my all-time favorite national park. There are also many other national parks and monuments that many people do not seem to know about, though. I hope that I can inspire you to visit some of these lesser-known parks, as each of these truly has something special to offer. I have visited each of these parks over the course of the past year, and none of them were very busy.
If you want to go to a quieter park without the crowds, this is one list that you will want to pay attention to. Purchase an annual pass to these attractions at any visitor center, and you will not have to pay any daily fees to visit these national parks or monuments.
1. Theodore Roosevelt National Park
North Dakota
Theodore Roosevelt National Park is located on the southwestern edge of North Dakota. There are two units to the park and the entrance to the South Unit is in the charming town of Medora. The North Unit is about 15 miles south of Watford City, approximately one hour north of Medora. The bison roam freely along the beautiful backdrop of the Badlands of North Dakota. It's not uncommon to come upon a whole herd of bison as you drive through the park. Keep your eyes open, as you never know when one of the wild horses in the park will appear nearby. There are also numerous hiking trails and stunning photo opportunities in both units.
Medora is located on I-94 and the North Unit is off of Highway 85, a major road in North Dakota. Pack your camera, binoculars, and a good pair of hiking shoes. The wildlife viewing is spectacular, and there are numerous hiking trails to choose from. The terrain is rough in places, but there are also short hiking trails that are paved and offer spectacular views of the park.
2. Chaco Culture National Historical Park
New Mexico
Chaco Culture National Historical Park is located in New Mexico, and it's quite a journey to get to it. The best advice I can give you is to carry an actual map with you, as GPS is not reliable in this area. You can also download your route before you leave for the park. From the south, the route is paved once you arrive at the boundary of the park, but before you get to that point, it's a rough road. The day we drove the 20 miles of this rough, dirt road, we were grateful to be in our four-wheel-drive truck. I would not recommend driving this route in an RV or a small car, although we did see them on the road. The park itself is amazingly beautiful and worth every bump in the road.
The nine-mile loop drive is fantastic, and I'd suggest getting out and exploring each site that you come upon. With more than 3,000 architectural structures in the park that are more than 1,000 years old, it's truly a remarkable scene. The climate is hot and dry, so be sure you have plenty of water along with you at all times. There are paved walking trails as well as rocky trails that go back into the more rugged areas of the park. If you enjoy history and a little challenge, this national park will quickly win you over. This park can be extremely hot in the summer, so a fall or spring visit would be best for a comfortable experience.
3. Mesa Verde National Park
Colorado
Mesa Verde National Park is located in the southwest corner of Colorado. This national park was established in 1906 to preserve the archeological heritage of the Ancestral Pueblo people. This area was their home from 600 to 1300 A.D. With more than 5,000 archaeological sites, including 600 cliff dwellings, it's quite a sight to see. Today, the park protects nearly 5,000 known archeological sites, including 600 cliff dwellings. These sites are some of the most notable and best preserved in the United States.
You will want to stop at the visitor center for current up-to-date information about the park and to pick up tickets for a tour or two. You can explore some of the cliff dwellings without a special ticket, but you will learn more about the people's history if you are able to take a tour. On one of my visits, I made a trip back into the park at sunset and I would highly recommend that you do that as well. Make sure to leave the park as soon as possible, as the gates close at dark. The climate is dry, so be sure to pack plenty of water.
4. Walnut Canyon National Monument
Arizona
I literally stumbled upon Walnut Canyon National Monument last fall while in northern Arizona, outside of Flagstaff. It's really easy to hop off of I-40 and follow the signs to this national monument. The canyon itself is stunning as is the area surrounding it. It is along a route to the Grand Canyon, which makes it an easy stop for national park enthusiasts like yourself. The Island Trail, a one-mile hiking trail that will take around one hour to complete, offers views of the cliff dwellings in the area. When you arrive in the visitor center, you will also see an elevator. For those who would benefit from assistance, this elevator offers a ride to views of the park that you cannot see from the main entrance.
5. Sunset Crater Volcano National Monument
Arizona
Sunset Crater Volcano National Monument is located near Flagstaff, and it offers a unique view of a volcano from the past. It was around 1085 that Sunset Crater Volcano erupted. There's no doubt that it changed the landscape in the area forever. Today, visitors can explore the Bonito lava flow and various volcanic features. The drive through this national monument is interesting, as the lava tubes are visible and the colors from the volcanic ash are still present today. This national monument connects with Wupatki National Monument, and the fee to get into this monument affords you access to Wupatki National Monument as well.
Editor's Note: The National Park Service announced on August 18, 2022 that the Sunset Crater Volcano is partially open with limited services following the Tunnel Wildfire destruction. The Lava Flow and A'a trails are open. The Visitor Center, Lenox Crater and Lava's Edge Trails, as well as the Cinder Hills Overlook remain closed. For the most up-to-date information, please visit NPS.gov.
6. Wupatki National Monument
Arizona
While in the area of Sunset Crater Volcano National Monument, you need to continue your drive through Wupatki National Monument. Several ancient pueblos dot the red rock outcroppings across the miles of prairie. It's fascinating to see how people from so many years ago lived in the area. There are several places to park along the roadside, so don't be afraid to pull into a parking spot to get out and explore. Some of the pueblos are in really good condition, which will more than likely surprise you. Plan a good three hours to visit both of these national monuments, and pack a picnic lunch to enjoy the parks a little longer.
7. Effigy Mounds National Monument
Iowa
Effigy Mounds National Monument is located in eastern Iowa along the Great River Road, which lies parallel to the Mississippi River. There are more than 200 Native American mounds located in this area. The mounds preserved here are considered sacred by many, especially the members of the monument's 20 culturally associated Native American tribes. A visit offers opportunities to contemplate the meanings of the mounds and the people who built them. The 200+ mounds are located in one of the most picturesque sections of the Upper Mississippi River Valley.
I find the shapes of the mounds fascinating. Mounds shaped like birds, bears, deer, bison, lynx, turtle, panther, and water spirit are the most commonly found here. They were built for burial purposes, which makes them different from many other mounds across the country. These mounds were not known for storing trade goods, which sets them apart. Plan to spend three hours in this park and pack your picnic lunch. Fall is a particularly gorgeous time of year to visit, as the fall foliage is outstanding. Iowa is home to numerous hiking trails, including several in this area of the state.
I hope you will make time to visit some of these national parks and monuments. They are not the highly profiled parks that we all hear so much about, but they offer beauty, lessons in history, small crowds, and an opportunity to hop off of the beaten path. The best tip I can give you is to purchase your national park annual pass, this way you will find yourself planning more trips to national parks and monuments. The one-time fee will save you a lot of money over the course of your explorations.