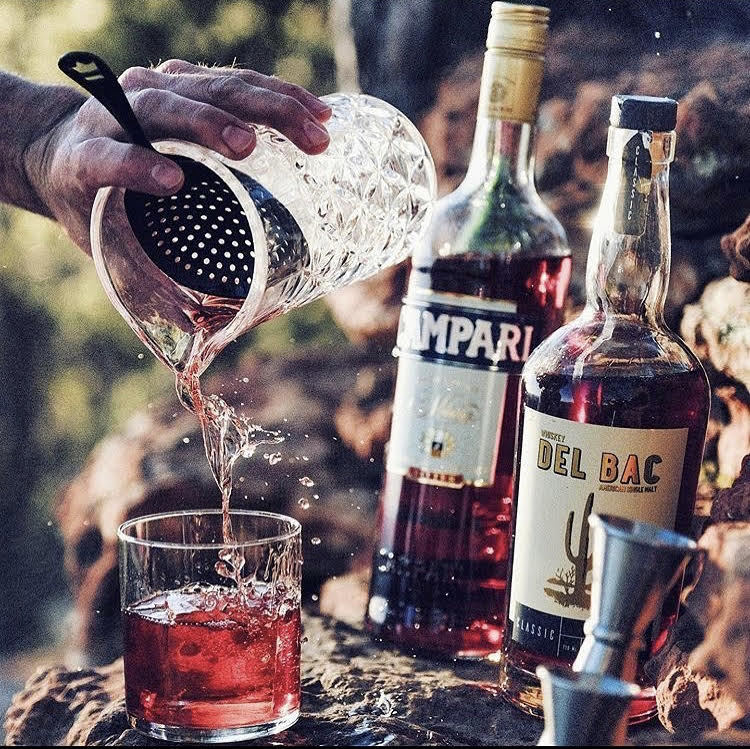 I stepped onto the romantic patio at LON's, the restaurant at the Hermosa Inn in Scottsdale, Arizona, for an interview with the chef and a chance to learn about the myriad ways of cooking with mesquite. The patio was overhung by an enormous mesquite tree, the air lightly tinted with the smoky sweetness of the burning wood in the outdoor fireplaces. Executive Chef Jeremy Pacheco and I sat in the shade of the mesquite tree and began the interview.
I had heard of smoking meat with mesquite, but I didn't realize all of the uses for not just the wood, but the pods and flowers as well. The entire mesquite tree is used to create food.
The pods (sometimes mistakenly referred to as beans) from the tree are ground to make meal or flour for baking and as a thickener. Pacheco told me, "The duck we have on the menu has a crepe made with mesquite flour. I've had pancakes on the menu with it before. We've also made gnocchi with it." He has also used the flour to make bread and Lavash crackers. The ground meal is naturally gluten-free and the mesquite flour can even be fermented to make a fizzy alcoholic drink.
Another use for the pods is to soak them in water to make a mesquite syrup. The pods are naturally sweet and lend well to syrups for pancakes or cocktails as well as for making flavored butters. "We take that mesquite syrup and whip it into butter and we serve that with our bread," Pacheco said.
The flowers are harvested and either roasted and pressed into balls made to be eaten or simmered in water to make tea.
Then there's the actual wood of the tree, used in smokers and on barbecue grills to enhance the food with its smoky flavor. Other uses for the wood include barrels made from mesquite for aging whiskey and even smoking barley with mesquite wood to create a smoked whiskey.
Here's how Pacheco and other amazing Arizona chefs and distillers are incorporating this diverse tree into their menus.
LON's At The Hermosa Inn
The Hermosa Inn was ranked the number one hotel in the Southwest and West for two years in a row in Conde Nast's Traveler's Reader's Choice Awards. The inn's adobe architecture was handcrafted in the 1930s by cowboy artist Lon Megargee as his residence and art studio. His namesake restaurant, LON's, is nestled in a garden landscape and was honored by Food and Wine as Arizona's most romantic restaurant.
When I met Chef Pacheco, he was the executive chef at LON's (he recently moved on and now oversees the Genuine Concepts restaurants). His passion for cooking with mesquite was evident; in addition to using the flour to make crepes, gnocchi, crackers, and breads and the syrup to flavor whipped butter for the bread, when I dined there, the sweet mesquite syrup was used to coat the bar nuts that sat along the bar for patrons to snack on while having a cocktail.
Replacing Pacheco, Chef Rebecca Tillman brings a similar enthusiasm for the native wood — an Arizona staple — and has added a charred Brussels sprouts side dish with bacon and mesquite butter. She is committed to using local produce and products and has slightly updated the menu with plans to debut her personal menu in the fall with additional mesquite options.
CIVANA Wellness Resort And Spa
Anna Brown, executive pastry chef at CIVANA, calls it "tree to table" when cooking with the ancient beans. Located on more than 20 acres in the Sonoran Desert just outside of Scottsdale, CIVANA is a healing spa with nature-inspired rooms, healing waters, and healthy culinary options.
The land on which CIVANA is located was once inhabited by ancient Native American tribes, and the prolific mesquite tree, which is drought-tolerant and provided wood for building shelters, continues to grow in abundance. Remnants of ancient homes have been found near CIVANA. The desert dwellers used the wood for building but also dried and ground the seedpods into flour for cooking.
The flour is gluten-free and high in protein and fiber, making it a low glycemic food that digests slowly.
In addition to serving pancakes and cookies baked with flour made from the mesquite pods, Brown teaches a Bake Shop 101 culinary class when the beans are in season. She teaches how to harvest and process the beans to make the flour for the recipes she shares. If you don't have access to mesquite trees, purchase the flour online and try her recipes for mesquite pancakes and mesquite oatmeal cookies at home.
Whiskey Del Bac
Stephen Paul owned a custom furniture store that specialized in mesquite wood. He says he would take the mesquite scraps home to use when grilling. He and his wife are both malt drinkers, and one day they wondered, Why couldn't they malt barley over mesquite instead of peat — like they do in Scotland — to create a single malt whiskey with a flavor distinctive to the American Southwest?
This idea eventually led to the creation of Whiskey Del Bac, co-founded by Stephen and his daughter, Amanda. They started a still in 2007 and began learning how to malt shortly after. In 2011, they purchased a 40-gallon still and started malting seriously. In 2014, the Pauls installed a 500-gallon distilling system.
Since he was unable to find any mesquite barley malt to make a smoky version of American Single Malt, Paul put in a malting facility and learned to do it himself. To create Del Bac's unique smoked Dorado, the barley is malted and smoked over a velvet mesquite fire, mashed, fermented, copper pot distilled, aged, and then bottled on site.
Paul says that Dorado "has notes of tobacco and chocolate, giving way to campfire embers, and finishing with soft tannins and sweet toffee on the palate." He compares the flavor to the heavily peated single malt scotch from Scotland, saying those have a very astringent, almost iodine quality to the finish, whereas mesquite is a lot softer on the palate than peat and doesn't give that astringent taste. "Very much a campfire aroma. It does get cold in the desert, and walking through a neighborhood on a chilly night, the aroma of mesquite coming from fireplaces is compelling."
When asked if he has used mesquite wood barrels to age the whiskey, Paul says he made mesquite barrels, charred the inside, and aged whiskey in the three-gallon barrels. He told me, "It tasted horrible. The tannins were so aggressive." He was disappointed but said that experimentation and learning from failure are a favorite part of his job. Another experiment he ultimately decided not to continue was using the sweet pods, which are full of sugar, to ferment and distill the whiskey.
The Wigwam
The Wigwam is a historic resort retreat in Litchfield Park. Since 1929, guests have enjoyed the 440 acres of lush landscapes in crafted adobe and timber suites. The restaurant, Litchfield's, is named after Paul W. Litchfield, then Goodyear Tire and Rubber executive and founder of Litchfield Park. Under Executive Chef Kirsten Seltzer, the restaurant embraces a farm-to-table philosophy and incorporates locally sourced ingredients into the menu. Seltzer is the first female executive chef at The Wigwam and has been with the property for more than 20 years.
Among the local ingredients is mesquite. Seltzer said the mesquite is purchased from a family-owned company called Mount Hope, located about 1.5 hours north of The Wigwam. "Our culinary team utilizes a mesquite flour, which is incorporated in desserts, seasoning, and dry rubs. My personal favorite mesquite recipe is our mesquite cookies. Mesquite has quite a smokey flavor — and a little goes a long way — so I always recommend using it sparingly in cooking and baking."
The mesquite seasoning is a signature item used throughout the resort restaurants and is often incorporated into their Wine Dinner Series dishes.
Here's a copycat mesquite grill seasoning that incorporates dried mushrooms and tomatoes into the mix.
Desert Harvesters
Dedicated to appreciating the native foods of the Sonoran Desert, Desert Harvesters has a wealth of information and recipes using mesquite. The site says that Native Americans, including the Papago, Pima, Yuman, Cocopah, Mojave, and Cahuilla peoples of Arizona and California relied on mesquite as a dietary staple. Each part of the tree was used for different purposes: the bark for basketry, fabrics, and medicine; the trunk and branches for firewood and manufacturing bows, mortars, and furniture; the thorns were for awls and tattooing; the leaves for making tea and medicinal tinctures; the sap for glue and dye; and the pod for making coarse meal for cooking.
Try one of the many recipes, such as the Mesquite Margarita using mesquite syrup or Pearl's Mesquite Pancakes using mesquite meal and traditional flours, at home.