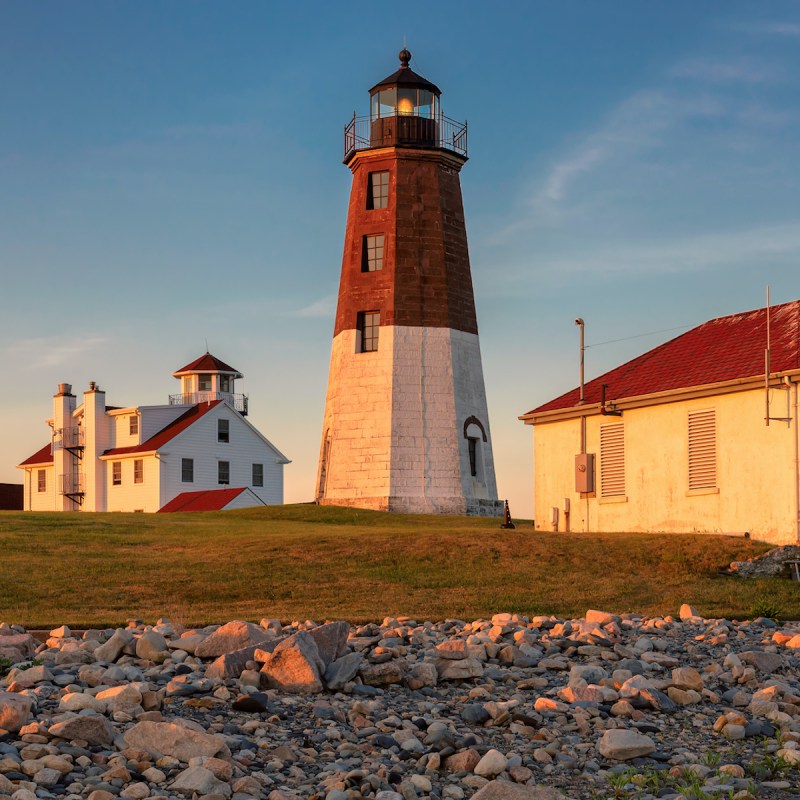 A seaside town, once the center of Rhode Island summers for long vacationers, the town of Narragansett is now home to daytrippers, beachgoers, and weekend getaway adventurers.
Known to the locals as 'gansett, the beautiful, historic village has a wild past. Since the late 1800s, the town has come to life each summer as tourists swarm to the beautiful beaches, warm waters, and friendly atmosphere of this great island.
Back in the good ol' days, visitors would arrive early in June and stay until the end of August. While there, they relished in gambling, parties, and beachside fun. Narragansett is still a Rhode Island local summer attraction. The gambling and three-month-long summer vacations are mostly a thing of the past, but the beachside fun now pairs with amazing food, boating, and kicked-back relaxation mixed with the season's upcoming events.
10 Things To Do In Charming Narragansett, RI
1. The Towers on Narragansett Pier
Steeped in history, The Towers were the gate to Narragansett Pier Casino. Dominating Ocean Road, The Towers represent bygone days when 'gansett was the summer-long party location for a well-off crowd. In the Gay Nineties, the Narragansett Pier Casino was the centerpiece of summer living.
The Narragansett Pier Casino burned down in 1900, was rebuilt in 1905, weathered many storms, and finally went the way of most turn-of-the-century wooden structures.
The stone towers on Narragansett pier, however, have remained strong and are a symbol of Narragansett's past, present, and future.
Modern-day events at the Towers include luxuriously rustic weddings, ballroom dancing, and a summer music series. Historical tours are available. Your docent will guide you through the gilded age of Narragansett, highlighting the many families who flocked to the seaside town and made her famous.
2. The Beaches
Narragansett offers great beach options for your toes-in-the-sand vacation. You can relax and rewind on one of Narrangsett's public beaches, wonderful for swimmers and water sports enthusiasts alike.
Nature lovers, foodies, and thrill seekers will all find fun things to do in South County. (While not the official name of one of Rhode Island's five counties, "South County" has been a nickname for the southern region since the mid-nineteenth century).
Bear in mind that Labor Day marks the official end of the beach season for Rhode Island, as the next day lifeguards leave their chairs, bathrooms are closed and concession stands stop slinging fried seafood.
Narragansett Town Beach
Narragansett Town Beach is the major sandbox for 'gansett beachgoers. With almost 19 acres of sandy beach, plenty of parking, soft sand, and room to spread out, you can understand why locals and visitors love this beach on Rhode Island.
Situated near the center of the action, you can walk along the beach, take a break at one of the nearby restaurants for lunch with ocean views, and head back out for more sun and surf. The town beach also has a designated surf area where you can try your hand at hanging 10, or just sit back and watch the show while enjoying an ice cream or gelato from Nana's Ice Cream.
Nana's is a multi-generational family business and a place where you can stop and have a great time with your family. It has become a local staple on the town beach as well as in Narragansett.
Scarborough State Beaches
Scarborough State Beaches (North and South) are popular places for spending the day. The long swath of soft sand sprinkled with cool, shady parks is the quintessential beach-day escape.
Scarborough Beach in Narragansett is often the most crowded in the state and is popular with just about everyone.
Roger Wheeler State Beach
Roger Wheeler Beach offers gentle surf due to the breakwater barrier dialing back the waves. This is a great place for small children and families due to the gentle surf and amenities. Formerly known as Sand Hill Cove, Roger Wheeler Beach offers showers and a concession stand.
Salty Brine State Beach
Salty Brine State Beach in the village of Galilee has a recently completed beach pavilion. The new pavilion project involved the installation of a concession stand, a new boardwalk with overlook platforms, and shade structures.
3. Hiking
The Narragansett area is fairly flat, making it easygoing for hikers. AllTrails.com highlights several easy Narragansett hikes that showcase Rhode Island rocky coastline.
The Black Point Trail is an easy 2.1-mile trail, however, it offers opportunities for rock scaling, bluff climbing, and awesome exploration. If you have a gang and need a break from the beach, this is a fun place for some beachside adventure. It is a good place to wear out those energetic little munchkins and tweens.
The easy, 2.1-mile Whale Rock Trail is another fun trail to explore. After a short walk through the woods, the trees open up and surprise you with a wonderful ocean view. There are plenty of options for exploration along this trail, too.
Fishermen's Memorial State Park is a great spot for hikers who want to pitch a tent and explore all the beauty of Rhode Island Narragansett's natural charm. The park is close to the beaches and the Block Island Ferry.
4. Point Judith Ferry
With the Point Judith Ferry to Block Island at your disposal, relax on an enjoyable hour ride over to New Shoreham. The ferry docks right in the center of the very walkable town studded with fun restaurants and shops.
You can take your bike across on the ferry or rent one at the dock when you land for a quicker way to get around town. Moped rentals are also available for your island exploration.
If you plan to take a trip over for a day or more, don't miss our tips on the best things to do during a Block Island getaway: where to eat, stay, and play.
5. Fishing
You will find many great fishing charters out of Narragansett Harbor. One of the best is Seven B's V. Scheduled trips focus on porgy, squid, cod, fluke, and sea bass. They offer equipment and instruction for the new-to-fishing and big water fun for the more experienced angler. If you have never been deep sea fishing, a half-day excursion, gear included, with instruction is perfect for newbies. Be careful, you might find yourself a new hobby.
Boatsetter.com will hook you up with a private charter. You can be the captain or hire a professional so you can fish or just relax. Rental options run the gamut from zodiaks to yachts. Imagine kicking back in your private boat, captain at the helm, beverages in the cooler, and the entire world at your feet. Sounds perfect.
6. People Watch
Park along Ocean Drive and grab a seat on the break wall. You will have an unobstructed view of the Narragansett bay on one side and a view of the gorgeous beach houses with sweeping lawns and wrap-around verandas on the other. As happy beachgoers pack and unpack their vehicles, walk by, or grab a seat on the wall, too, you will be entertained by the sights and sounds of seaside vacationing in full summer swing. Watching families juggle chairs, kids, coolers, strollers, toys, blankets, et cetera may be very relatable or bring back some wonderful memories.
Saunderstown is a small village in Narragansett and North Kingston filled with charming historic buildings and a nice spot for an afternoon stroll.
7. The Coast Guard House
The Coast Guard House on Ocean Drive is planted squarely between The Towers and Narragansett Bay. Originally a U.S. Coast Guard Station built in the 1800s, the restaurant has served the region for three-quarters of a century.
Inside the wrap-around dining room, a wall of windows affords diners an unobstructed view of the rocky shore and bay waters. On the second-floor deck, in addition to the bay view, you can relax in the shade of the Towers and enjoy watching beachgoers further down Ocean Drive.
Known for its wonderful cuisine, the Coast Guard House is also the perfect spot to enjoy a cocktail while sitting by the bay.
Narragansett Beer, remembered best for its 1950s "Hi Neighbor, have a 'gansett" tagline, is making a comeback. Started as a local craft brewer, Narragansett Brewery company grew to become New England's largest and most advanced brewery.
Take a trip down memory lane and enjoy a tall one at this iconic Narragansett location.
8. Oysters
At Matunuck Oyster Bar you will find the most delicious seafood dishes on the Rhode Island coast. Ask for a seat on the patio, the view of Potter Pond is the perfect backdrop for your meal. Whether you prefer a raw bar oyster, oysters Rockefeller, or even bourbon oysters, you won't find any fresher than at Matunuck. The main course menu encompasses every kind of fresh seafood you can imagine and the opportunity to pair your entree of choice with the perfect wine.
Curious about where your dinner comes from? Book a private, 1-hour tour of the Matunuck Oyster Farm, where you can experience Rhode Island aquaculture and pond-to-table farming.
Since there's a bar as well, you can eat the freshest food available, with locally sourced produce, farm-raised, and wild-caught seafood. They are fully stocked with a variety of Rhode Island oysters, crisp cherrystones, littleneck clams, and jumbo shrimp.
Located in Potter Pond, the tour leaves from the restaurant. Book a late afternoon tour and an early dinner for a unique and memorable outing.
9. Iggy's Doughboys
Clam cakes are the quintessential Rhode Island dish and you will love the clam cakes at Iggy's Doughboys. Located near Point Judith Lighthouse, you can enjoy an after-dinner walk around the grounds and enjoy the water views.
10. Road Trip
Some days just call for a "Sunday" drive. Navigate over to Route 1 and 1A, the coastal route, and head north to the village of East Greenwich or south to Watch Hill. Route 1A will split and rejoin Route 1 several times. When you can, stick to 1A, where you will drive along the coast, explore quaint little towns (like South Kingston), and ogle at gorgeous mansions (in Newport). This dreamy coastal drive is an adventure waiting for you to arrive.
Newport, home of glorious mansions, is less than a 30-minute drive from Rhode Island Narragansett. You will love touring The Breakers, Marble House, and The Elms, embracing the showy luxury of New England's yesteryear. If you can extend your trip for a day or two, Newport is a wonderful spot to enjoy a seaside getaway.
For more on enjoying Rhode Island's coast, consider our beautiful Rhode Island coast road trip: Providence to Westerly.
Pro Tip
The town of Narragansett is a water lover's vacation dream. You will find yourself walking everywhere since there is really only one road in and out of the beach area — Ocean Road. Make sure to pack your most comfortable flip-flops, plenty of sunblock, and a fun hat.
FAQs
Is Narragansett Good For Families With Kids?
Yes, Narragansett always delivers family fun. if you're eager for some fun with the kids at less than Newport prices, Narragansett offers families a four-season getaway minus the hustle and bustle of Rhode Island's more famous spot a few miles to the east.
Is Narragansett Beach Free?
No, daily admission is $12 per person per day and is not transferable. The admission is available to residents and non-residents to pay in cash or by credit card. Children aged 11 are not charged the admission. ATMs are available at both the South and North Pavilions located within Narragansett Beach. If you're on a tight budget, Bonnet Shores Beach is free.
Does Narragansett Have a Night Life?
Yes, Narragansett is not only known for its coastal beauty but also for its vibrant nightlife. After sunset, Narragansett comes alive with numerous bars, pubs, and entertainment venues. Whether you're looking for a cozy pub, live music, or beachfront cocktails, Narragansett offers something for everyone.
What to Do for Holidays In Narragansett?
You can spend Christmas in Narragansett by going to events like Gospel Choirs, Christmas Dinners, Santa Claus Gift Distribution, and more. Other things to do in Narragansett for the holidays include a street fair, a 5K run, and ice-skating opportunities.
What Is a Jingle Bell Run in Narragansett?
If you're interested in running, you'll love the holiday-themed Narragansett Jingle Bell Run that you can join no matter what age you are. In addition to this run, there is a 1-mile Family Fun Walk for those who want to participate but prefer something casual.