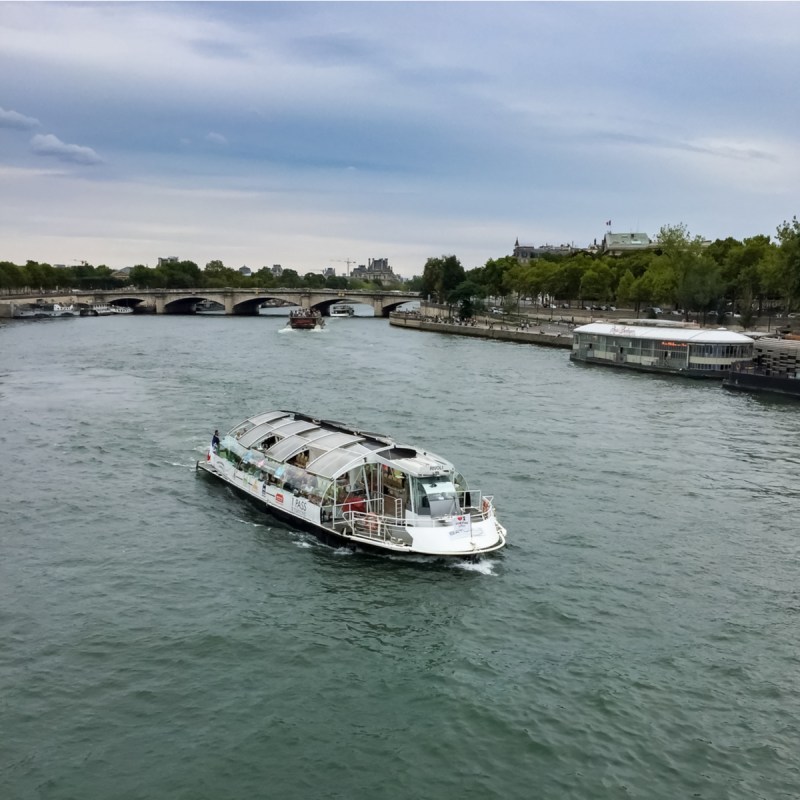 The mighty Seine River runs nearly 400 miles across France. In Paris, the Seine has been celebrated, filmed, romanticized, and politicalized, and it's been a key player in the history and settlement of the city.
Seine River cruises are a great way to view Paris in a relaxed fashion. There are over a dozen companies that offer Seine cruises in varied forms, from private motorboats limited to four passengers to the large-scale boats for 200. There are also different price points, from 15 euros for basic one-hour voyages to a luxurious dinner cruise with cuisine by one of the top chefs in the world. Here are our recommendations for the best Seine River cruises, organized by operator.
1. Batobus
Using the same principle as the hop-on, hop-off buses, Batobus is the only Seine River cruise that lets you board and disembark at different stops along the river. The nine stops include Jardin des Plantes (the botanical garden), Invalides, Hotel de Ville, Musee d'Orsay, the Louvre, Notre Dame, Place de la Concorde, Saint-Germain-des-Pres, and the Eiffel Tower. Boats run during the day from 11:40 a.m. to 6:30 p.m.
Batobus offers a 24-hour pass for 17 euros and a 48-hour pass for 19 euros. You can also purchase a weeklong pass. An advantage of taking the Batobus, in addition to enjoying the views from the river, is you can avoid the heavy vehicular traffic as you navigate to the different Paris monuments. Amenities on the boat include food and drink vending machines, panoramic views thanks to glass panels on the sides of the boat, and an open-air deck.
2. Le Calife
Le Calife is a privately owned boat with oodles of charm. A one-time industrial barge, it's been refitted into a three-level dining room and a bar with a piano. Tiffany-style lamps and wood beams give the upper-level dining room an intimate feel. Le Calife offers nightly, two-hour cruises serving a three-course dinner plus a welcome cocktail and the same cruise for lunch on Saturday and Sunday for lunch. Menu specialties include goat cheese in a puff pastry, filet of sea bass with tarragon sauce, and for vegans or vegetarians, a plate with shitake mushrooms, vegetables, tofu, and rice served in a lemongrass sauce. Chocolate lava cake with Madagascar vanilla ice cream is just one of the decadent desserts.
Another option La Calife offers is a two-hour Champagne cruise for 24 euros per person.
3. Ducasse Sur Seine
World-famous chef Alain Ducasse has extended his restaurant empire by launching a luxury Seine River cruise serving his signature cuisine, Ducasse Sur Seine.
A floating glass pavilion with floor-to-ceiling glass panels glides its way down the Seine in near silence as the boat runs on electricity. Chef Francis Fauvel, under the supervision of Alain Ducasse, prepares a contemporary French menu and can also accommodate specific requests for those who have food allergies or particular dietary needs.
A two-course lunch (either starter and main course or main course and dessert) which includes a glass of wine, mineral water, and coffee for 95 euros per person is an excellent buy considering the caliber of food and service. Other lunch packages include a three-course lunch with or without paired wine and a four-course menu with wine pairings. Lunch cruises leave at 12:45 p.m. sharp and return at 2:45 p.m.
Nighttime is the right time for this cruise. The lights are dimmed, so you can enjoy the sight of the Paris monuments lit up. You can either go with the four-course dinner for 150 euros per person or live it up and indulge in the six-course, personalized menu along with a flute of Champagne plus a glass of wine to match the various courses. If you opt to splurge, you will also have a prime table and receive a surprise gift as a keepsake of your voyage.
Dinner cruises are from 8:45 p.m. to 10:45 p.m., and the boat boards by Place du Trocadero on the Right Bank.
4. Bateaux Mouches
The oldest company conducting Seine cruises is the Bateaux Mouches, which means fly boats. The boats have a capacity of 200 people and have a pre-recorded tour indicating points of historic interest on the route. The price is 14 euros per person and you can either purchase tickets online or at their kiosk at the departure point near Pont de l'Alma. The double-decker boats have both open-air and enclosed decks.
Boats depart every two hours during the week and every hour on the weekends.
5. Lakana Paris Cruise
Do you fancy traversing the Seine River in style in a speedboat? Lakana Paris Cruises gives private cruises for up to four passengers (they also have two additional boats to accommodate larger groups) with added stops that most cruises don't include, such as a view of the mini Statue of Liberty on a tiny island in the Seine. The 2.5-hour cruise option includes soft drinks and a bottle of wine for just over 100 euros per person, and there's also a 90-minute cruise for under 80 euros. You can also charter boats for special occasions such as weddings, bachelor and bachelorette parties, and birthdays.
Since the boats are relatively small, Lakana Paris Cruise also offers cruises outside of Paris and on alternate waterways including Canal Saint-Martin and Canal de l'Ourcq, which are man-made canals with different views than the Seine.
6. Bateaux Parisiens
Bateaux Parisiens, one of the largest companies that operates Seine cruises, offers a comprehensive list of cruises from simple one-hour to deluxe dinner and Champagne voyages.
At the top of the spectrum are the Premier Service lunch and dinner cruises, which include a three-course meal, a selection of cheeses, two glasses of Champagne, two glasses of wine, mineral water, and coffee and/or tea. These cruises also include a premium table at the bow of the boat where you have floor-to-ceiling windows with unobstructed views. A singer, accompanied by a musician, sings popular French and American songs.
The imaginative menu includes dishes such as pate in a crust made with chicken, apricots, and pistachios, cod and potato ravioli with spring onion, roast chicken with chanterelle mushrooms and baby turnips, and, for dessert, a strawberry ice cream cake with meringue.
The lunch boat leaves at 12:45 and there are two dinner sailings: 6:15 p.m. and 9 p.m.
7. Green River Cruises
Green River Cruises is one of the few companies that offers a full-day cruise excursion of six hours. A fleet of five pontoon boats that hold a maximum of 12 passengers includes two electric catamarans.
The full-day cruise starts at a restaurant on a stationary boat docked in Paris in Green River's private VIP lounge. Next, you will board the boat and leisurely sail to Nogent-sur-Marne, a quaint village just outside of Paris.
Green River Cruises also schedules one- and two-hour cruises.
8. Capitaine Fracasse
Capitaine Fracasse is a company that advertises some of the most inexpensive cruises that include meals. Prices start at under 50 euros per person for a brunch cruise that includes savory choices (such as smoked salmon and avocado toast), fruit salad, cheese, and pastries and breads plus fruit juice and coffee or tea.
Dinner cruises have three price points starting at just over 50 euros for a three-course dinner excluding drinks, under 70 euros including a cocktail and half-bottle of wine, or under 80 euros for dinner with a glass of Champagne. There's a less expensive menu for children under 12.
The length of the cruises ranges from one hour and 45 minutes to two hours and 30 minutes.
Pro Tips
Although the day cruises are fun, the night cruises are extra special because you see the Paris monuments lit up. Also, most cruises will pass the Eiffel Tower when the twinkling lights go off on the hour after dark.
Bring a sweater or jacket if you plan to go on the outdoor deck of the boat.
The tip is included in the price of your lunch or dinner, but it's customary to leave a small tip in cash, too, usually between 3 to 5 percent of your bill.
If you choose a dinner cruise, dress semi-formally — a dress, skirt, or dress pants for women, and for men, khakis or dress pants and dress shoes.
Take extra time to determine where the boat is docked and how you will get there.
For more Paris vacation inspiration, read up on: