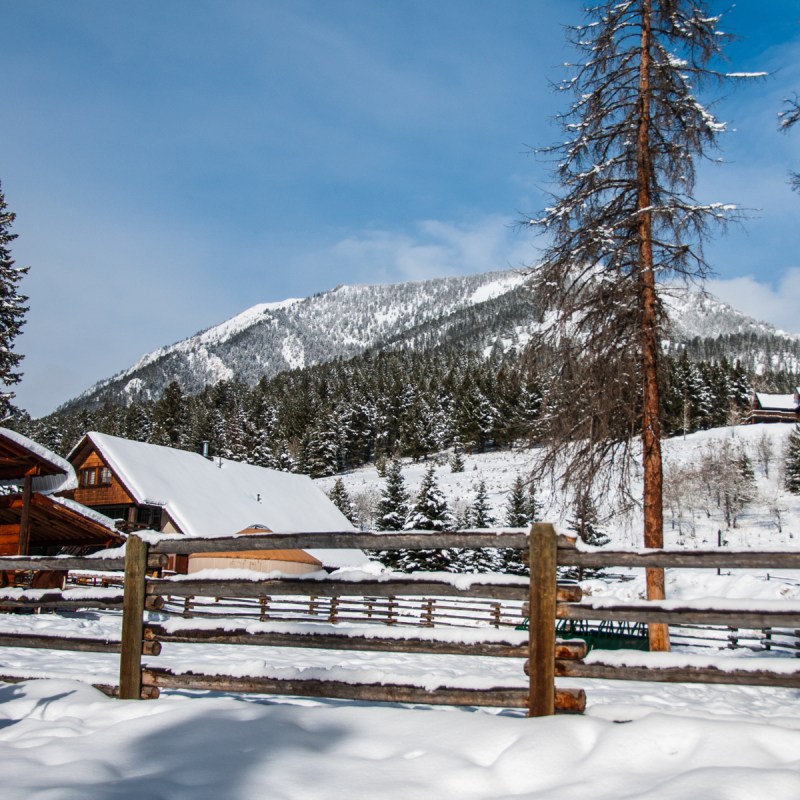 Disclaimer: Our visits to Rawah Ranch and Lone Mountain Ranch were sponsored press trips. All opinions are our own and are based on our experiences.
City slickers and cowpokes alike love to feel at home on the range. But some ranches provide experiences that go far beyond the ordinary. Rawah Ranch at the border of Colorado and Wyoming; Lone Mountain Ranch in Big Sky, Montana; and The Alisal Guest Ranch & Resort in California's Santa Barbara Wine Country each offer a unique way to enjoy creature comforts while experiencing the delights of Mother Nature. We want to share the details of what makes each of these three unique luxury ranches worth a visit.
1. Rawah Ranch, Glendevey, Colorado
You'll find yourself beginning to loosen up on the way to Rawah Ranch in northern Colorado. Forget your television and cell phone. This intimate haven is a place to unplug. Scenic rivers, valleys, hilltops, horses, and the unmistakable scent of evergreens build thrilling and well-deserved anticipation for the unforgettable experiences you will have once you arrive.
Why We Like It
Rawah's location is unspoiled and spectacular. Alongside a private stretch of the Big Laramie River, this hidden gem lies just south of the Colorado-Wyoming border. Rawah means "abundance" in the language of the Ute people of the mountains, and we can't think of a better description. Established in the 1940s as a place to enjoy nature, the Rawah Wilderness Area later became part of Roosevelt National Forest and is preserved for future generations.
Lodging
Rawah's main lodge serves as a cozy Western hub for meals and activities. Nine cabins offer accommodations, including large suites for families or groups, homey cabins with comfy sitting areas, and secluded cabins along the Big Laramie River where moose and deer stop by early in the mornings. Porches, fireplaces, wood stoves, private baths, refrigerators, and other amenities vary, giving each cabin its own unique ambience and charm. All of them are comfortable, peaceful, and well appointed.
Best Activities And Experiences
Rawah offers many outdoor activities. The Big Laramie River, Poudre River, and nearby lakes and creeks boast incredible fly fishing. Hikers can take Rawah Wilderness Area and Roosevelt National Forest trails directly from the ranch or drive a few minutes to explore Rocky Mountain National Park away from main-gate crowds. Horse lovers can ride on private trails past mountain waterfalls. Lawn games at the Dude Ranch Pond include cornhole, bocce ball, disc golf, and croquet, while water fun includes paddleboards and boats. Polish your skeet shooting, archery, tomahawk, knife-throwing, or lassoing skills with professional instruction. Or relax with a private massage, soak in the hot tub, or watch a magnificent Rawah sunset. Check out the special themed packages centering on fishing, bourbon, romantic escapes, and more.
Dining
Rawah's exceptional meals excite all the senses. A morning wake-up treat of French-pressed coffee, tea, or cocoa and warm pastries is delivered at your chosen time right to your cabin door. Take your goodies, sit on your porch, and wake up along with nature. Then head to the lodge and order a satisfying breakfast of huevos rancheros, fluffy blueberry pancakes, or anything you'd like. Lunch is fresh and filling, even if you're on the trail. Avoid the humdrum with exciting global cuisine as well as traditional favorites, all of which are hearty, tasty, and homemade. A cocktail hour with appetizers precedes a gourmet dinner. We can't imagine anyone going hungry at Rawah.
Pro Tip
When you're away from the city lights, you can really see the stars. Stay up one night with a warm beverage and just look up at the sky. The beauty of the universe will touch your heart forever.
2. Lone Mountain Ranch, Big Sky, Montana
Lone Mountain Ranch has been part of Montana's history from the founding of Yellowstone National Park and the town of Big Sky to the present day. Offering a sense of real Montana hospitality, the ranch highlights the majestic wilderness around it.
Why We Like It
Montana has captured our hearts in so many ways, and everything we love about it comes through in Lone Mountain Ranch. From the amazing hospitality and sumptuous accommodations to the beauty of Big Sky Country, it just doesn't get any better than this. Special treats like cowboy serenades and s'mores over the campfire add to the charm of Lone Mountain Ranch.
Lodging
Lovingly restored log cabins offer a comfortable stay at Lone Mountain Ranch. Cabins have anywhere from one to six bedrooms, and five pairs of adjoining cabins are perfect for families or groups. Fun cabin names like Meadowlark, Porcupine, Chipmunk, and Bull Moose; top-shelf amenities; fireplaces; and inviting porches add to the charm.
Best Activities And Experiences
Set on 148 acres in beautiful Big Sky, Lone Mountain Ranch offers a wide array of activities. Summertime brings horseback riding, fly fishing, mountain biking, whitewater rafting, painting, and photography. Winter fun includes fishing; cross-country, downhill, and backcountry skiing; snowshoeing; and dogsledding. Try out archery or zip-lining, purchase a themed package like Explore Yellowstone or Angler's Dream, or customize a personal experience however you'd like. Or simply relax with yoga, massage, and facial treatments at the spa.
Dining
Horn & Cantle Restaurant is known for incredible farm-to-table dining. Tastes of Montana shine through at every meal. You'll enjoy breakfast on avocado toast, breakfast burritos, buttermilk pancakes, and more. For lunch or dinner, there are hearty dishes like Tomahawk bone-in ribeye and braised bison short ribs in addition to light vegan fare like crispy Montana trout, vegan enchiladas, and cedar plank mushrooms. Afterward, sit outside on The Saloon's terrace with a signature cocktail like the Big Sky Bramble with vodka, lemon, and huckleberry, or try a flight of Montana whiskeys. Indulge in the cast-iron cookie and housemade ice cream for a sweet finish. Summertime brings a wonderful ranch barbecue and other great outside dining.
Pro Tip
Although Montana winters get cold, you won't mind the temperature at all on Lone Mountain Ranch's magical sleigh ride dinner. You'll be bundled up in a horse-drawn sleigh and will ride to a historic oil-lantern-lit cabin for a prime rib cowboy dinner with all the trimmings and local entertainment.
3. The Alisal Guest Ranch & Resort, Solvang, California
When new settlers arrived in this Santa Ynez Valley paradise filled with oak trees, rivers, and rolling hills, they named it Alisal, meaning "grove of sycamores." A working cattle ranch for many years, the land was later converted into a dude ranch for visitors. The Alisal Guest Ranch & Resort has since hosted guests and celebrities from around the world. Today, this stately property offers first-rate hospitality and abundant activities in a California climate that is temperate all year long.
Why We Like It
We love discovering remarkable hideaways, and The Alisal is most definitely that. A 10,000-acre dude ranch just 30 minutes north of Santa Barbara that combines the rustic Old West with a swanky Hollywood country club vibe is something unexpected. The huge spring-fed lake, championship golf courses, incredible dining, nearby wine country, miles of riding trails, and wildlife at every turn are just too alluring for us to resist.
Lodging
Western-style cowboy charm blends seamlessly with Nathan Turner designs, Ralph Lauren fabrics, and Pendleton accessories. If this sounds appealing, book a luxury room at The Alisal. All 73 suites and studios have wood-burning fireplaces, coffee makers, and refrigerators, whether in a private cottage-style space or adjoining quarters for a large family or group. Kick off your boots and kick up your heels when you arrive, because the rooms are blissfully free of televisions and telephones.
Best Activities And Experiences
The Alisal offers more to do than you could possibly experience on one visit. That's probably why guests hang around for a week or more and come back time and time again. Ride horses on miles of scenic trails, fish in a 100-acre spring-fed lake, or hike through Deer Canyon spotting hawks and eagles, meandering deer, and maybe even a bobcat or two. Then try golfing, cycling, tennis, archery, swimming, or boating. Strengthen your ranching skills with barrel-racing, round-up, or roping lessons. Go wine tasting at the more than 70 nearby vineyards, or get grilling tips at the BBQ Bootcamp. Unwind at the spa or get pumped at the Alisal Rodeo.
Dining
All that activity is bound to make you hungry, and The Alisal has you covered. Several venues offer food and drinks, and you can even get breakfast all day — omelets, pancakes, French toast, breakfast burritos, and more. Lunch on salads, sandwiches, tacos, burgers, and other tasty options, or try a special Sunday brunch. Dinner is a dressy affair at the Ranch Room and Sycamore Room. Summer barbecues on different nights of the week can feature seafood, Southwestern fare, or traditional barbecue dishes. Other dining options include casual chuckwagon favorites and late-evening cocktails.
Pro Tip
Don't miss out on a quick visit to the Danish village of Solvang while you're at The Alisal. It's a charming — if surprising — little slice of Denmark just a few minutes away.
These three unique luxury ranches all have beautiful scenery, incredible food, and lots of activities from which to choose. When you crave deluxe amenities plus nature's beauty, any of them will surely provide you with an extraordinary experience to remember.