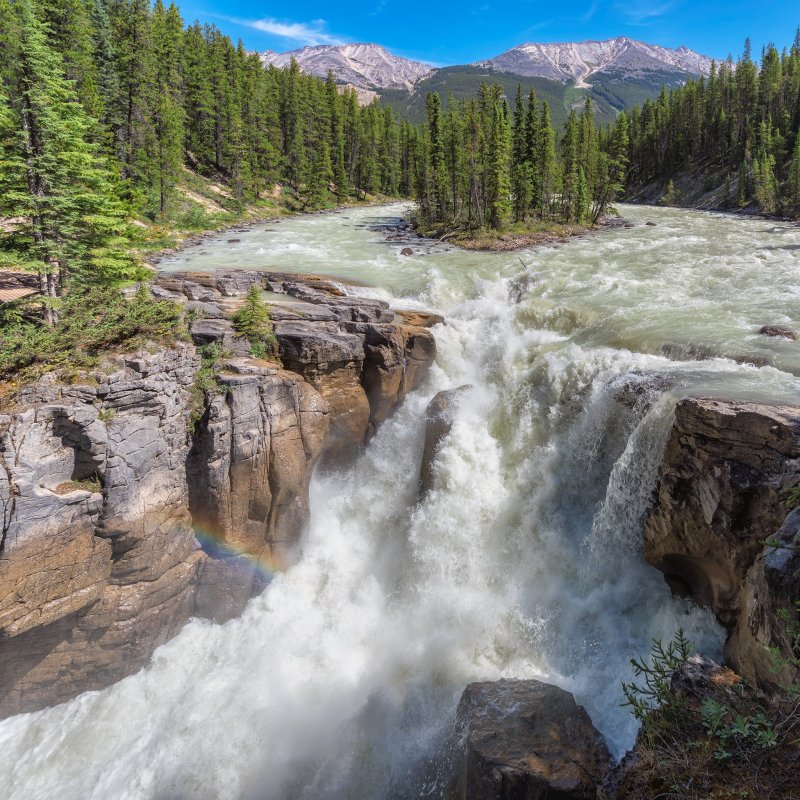 Of the four national parks in the Canadian Rocky Mountain Parks UNESCO World Heritage site, Jasper National Park is the farthest north.
Like Banff National Park on its southern border, Jasper National Park is in the province of Alberta. Both parks extend as far west as the Continental Divide, which is the boundary between Alberta and British Columbia.
Jasper is a smaller town than Banff, with a less commercial feeling. Banff National Park typically gets far more tourists annually than Jasper National Park, and this is reflected in how busy the respective townsites are. Jasper is a long drive from Calgary and Edmonton, whereas Banff is an easy day trip from Calgary.
Jasper, however, offers the same broad selection of outdoor activities as Banff: hiking, skiing, snowboarding, golf, birding, paddling, photography, and more. It's a relaxing getaway perfect for a weekend or longer. There's lots to do in Jasper.
People enjoy Jasper because, like Canada's other mountain parks, it's a place where nature is preserved and respected. The Rockies deserve all the lovely descriptions of their beauty. They reach thousands of feet above the valleys, and many have pure white tops, even in summer.
The town of Jasper is 257 miles from Calgary by car via the Trans-Canada Highway and the Icefields Parkway (Highway 93). This route goes from Calgary to Banff, Lake Louise, and on to Jasper and is very popular in the summer. Between Lake Louise and Jasper, there are no services open in the winter.
Another way to drive to Jasper is to start in Edmonton, the capital of Alberta, and go 227 miles west on the Yellowhead Highway (Highway 16). This is a good choice if you're concerned about winter driving. Both Calgary and Edmonton have international airports and car rental agencies.
From Vancouver, the shortest drive to Jasper is 494 miles and takes more than 8 hours. This road trip would be better completed over several days and has plenty of route options.
Here are 13 great things to do on a visit to Jasper.
1. Experience Jasper As A Railway Town
Jasper is one of the few places west of Toronto that still has scheduled passenger rail service. VIA Rail's western route from Vancouver to Toronto passes through Jasper.
The luxurious Rocky Mountaineer runs from Vancouver to either Jasper or Banff. Between the two towns, there are private bus services, like the SunDog Connector.
2. Stargaze In The Jasper Dark Sky Preserve
One special feature of Jasper National Park is its dark sky. Jasper National Park is the second-largest Dark Sky Preserve in the world. You can escape light pollution year-round here. For something sky-oriented with social events, too, check out the annual Jasper Dark Sky Festival in October.
The Jasper Planetarium at the Fairmont Jasper Park Lodge highlights the Jasper night sky in a 40-minute indoor show with the option to add a telescope experience.
3. Visit The Icefield Discovery Centre And Skywalk
About 60 miles south of the Jasper townsite, the Columbia Icefield Discovery Centre is open from about mid-April through mid-October. The actual season depends on the weather. Near the center, you can follow a trail close to the magnificent Athabasca Glacier at no cost. The Skywalk is a related attraction­, a glass walkway high above the ground with a spectacular view of the mountain landscape.
4. Stay At The Fairmont Jasper Park Lodge And Golf Course
"High-end rustic" is how one of my friends describes the Fairmont Jasper Park Lodge. It's a luxury hotel with a main building and a surrounding village of cabins. The golf course opened in 1925 and has consistently been praised for its design and stunning scenery.
5. Go Fishing
I don't care for fishing, but I enjoy being where it happens. To fish in the national park, you'll need a special fishing permit, not the provincial license from Alberta. Cutthroat trout and Arctic grayling are just two of the popular fish in Jasper.
6. Watch For Wildlife
Of the 53 species of wild mammals in Jasper, the one most tourists want to see is the bear. There are two kinds of bears here. Black bears come in colors from light cinnamon to dark black, and some have white patches. They can climb trees. Grizzly bears are usually a frosted brown. They have long snouts and a shoulder hump and are bigger than black bears. They don't have to climb trees. A grizzly can pull down a small tree if it wants to.
Bears emerge hungry from their dens in the spring, spend the summer and fall raising their cubs and eating, and then retire back to their dens for the winter. They are magnificent to see, but only from a safe distance.
Some of the area's other animals are more elusive, like the wolverine. There is a threatened population of woodland caribou, more often sighted in the winter than summer.
The sociable hoary marmot whistles when it's on the alert, giving the name "Whistler" to a few places in this part of the country.
Pikas are little rabbit relatives with short ears, only found at high elevations. Porcupines, beavers, moose, elk, deer, bighorn sheep, and mountain goats all live in Jasper, and visitors can sometimes see them.
7. Go Hiking Or Horseback Riding
Jasper's most famous long hike is the Skyline Trail, popular because so much of it is above the treeline, providing a spectacular view. Horseback riding is allowed on many of the trails.
8. Ski, Skate, And More In The Winter
Parks Canada has a long list of winter sports you can do in Jasper, including skiing, skating, snowshoeing, winter walking, ice climbing, and even fat-tire biking.
The big downhill ski resort in the area is Marmot Basin, with 3,000 vertical feet to enjoy. Cross-country skiing ranges from easy trails to ski touring in the mountains.
Try outdoor skating at Pyramid Lake or Mildred Lake.
9. Take Great Pictures At The Waterfalls
Two of the easiest waterfalls to get to in Jasper, Athabasca Falls and Sunwapta Falls, are favorites for dramatic pictures of glacier-cold water tumbling down a mountain channel.
10. Pick Up A Paddle
Spirit Island in Maligne Lake looks like something from a tourist brochure. Maligne Lake is 13.6 miles long and makes a pleasant place for a multiday canoe or kayak trip. There are cruises and boat rentals on the lake for shorter, easier tours. Other quiet paddling choices in Jasper are stand-up paddleboarding and kayaking.
For splashy river adventures, there's also a selection of whitewater rafting options.
11. Go Mountain Biking Or Road Biking
Mountain bikes are allowed on some of the trails in Jasper. Road biking is very popular with trained cyclists traveling the entire Icefields Parkway, from Jasper all the way to Lake Louise and beyond.
12. Learn About Indigenous Culture Pre- And Post-Contact
There's archeological evidence in parts of Jasper National Park of indigenous people having frequented the area for thousands of years.
The history of post-contact Jasper starts with the fur trade. Jasper House, now a National Historic Site, was an early trading post and stopping place.
When Jasper National Park was created, the people living in the park were removed and relocated. The Jasper Yellowhead Museum and Archives tells some of this story in a short document, Our Jasper Stories.
In recent years, the national parks, including Jasper, have been working closely with indigenous groups. There was a Haida totem pole, the Raven Pole, in Jasper for almost 100 years. In 2011, the Two Brothers Pole, also by Haida carvers, replaced it. There was a major celebration on the day it was raised.
13. See The Historic Buildings And Sites
Jasper National Park has five National Historic Sites within its boundaries.
Athabasca Pass and Yellowhead Pass are recognized as historically important routes through the mountains. The Jasper Park Information Centre, built in 1913, is a fine example of the rustic style of construction, using local materials, that set the tone for Jasper. Look nearby for a carving of Jasper the Bear, for many years a well-known mascot.
The Maligne Lake Chalet and Guest House, built between 1927 and 1941, marked the beginning of a new kind of mountain tourism in the area.
What To Know Before You Go
The Jasper Brewing Company was established in 2005 and offers food and drink at its brewpub. I love the nostalgic labels on their cans.
Just as in Banff and other national parks, you will need to purchase a park pass to enter. Available online and in person, there are day passes and annual Discovery Passes for sale. Here is Jasper National Park's list of fees.
Camping anywhere in Jasper requires a reservation. Camping in the backcountry also calls for a backcountry permit.
The best time to visit is certainly in the early fall. September is less crowded than summer.