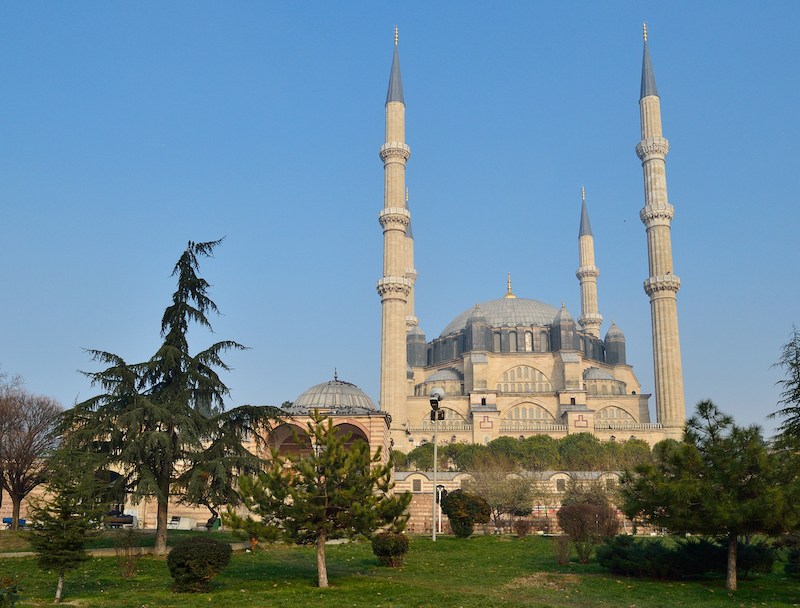 Thrace is the European part of Turkey, bordering Greece and Bulgaria as well as three seas: the Sea of Marmara, the Aegean Sea, and the Black Sea. In Thrace, you'll find just about every imaginable landscape: mountains, rain forests, plateaus, and golden beaches. The rich soil and humid but warm climate are ideal for growing some of the best wines in Turkey. In fact, viticulture has been known in Thrace since ancient times. Even Homer in his Iliad mentions the honey-sweet black wine of Thrace.
Winegrowing with an emphasis on ecology and sustainability has really taken off since 2000, with several new vineyards, all family run, located throughout Thrace. They all offer wine tastings and fabulous meals, many with boutique hotels attached, which makes a four-day road trip very comfortable.
Although the main theme of this trip is wine and wine making, Thrace is so full of historic sites and awesome nature, including Igneada Longoz Forests National Park, which means you can alternate between sightseeing and getting tipsy.
The best time to visit is between April and harvest time in October. Some vineyards even offer tourists the opportunity to help with harvesting the grapes.
Our itinerary takes you on a big road trip beginning in Edirne in the west and ending on the Gallipoli Peninsula in the south.
1. Edirne
Edirne, founded by the Roman emperor Hadrian, was the third capital of the Ottoman Empire before Istanbul. Therefore, you will find a plethora of historical buildings, one more impressive than the next. Spend at least a day and a half in Edirne to explore. The city isn't all that big, but you'll need hours to visit one of the three covered bazaars alone.
If you have arrived in Turkey in Istanbul, you can rent a car at the airport and drive straight to Edirne. It takes about 2.5 hours.
Check into the historical and wildly romantic Tasodalar Hotel. The pink and white building was once part of an Ottoman palace dating from 1362 and, according to legend, a sultan was born here. The decor is pure Ottoman glamour but amenities are modern. You can park the car right outside.
The hotel is right next door to the magnificent Selimiye Mosque. Built in 1575, it has the highest minarets in Turkey, surpassing even the one of the Blue Mosque in Istanbul. Visit inside and out (remember to avoid the hours of prayer, take off your shoes, and cover your head). At night, the mosque is even more magic as it is illuminated. You can enjoy the view from the terrace of your hotel. Adjacent is a hamam, where you can have a typical Turkish bath.
One of Edirne's specialties is fried liver. Have a great dinner at Cigerci Niyazi Usta. If you absolutely hate liver, they have plenty of other meals, too, plus, of course, a selection of Turkish wines.
Start the next day with an enormous Turkish breakfast at your hotel, then visit the Complex of Sultan Bayezid II to learn all about Ottoman history and culture. Stroll along one of the arched bridges that cross the rivers Meric and Tundzha. Admire the Grand Synagogue before visiting one of the three covered bazaars, for instance, Arasta or Ali Pasha. Edirne is famous for textiles, silk, and carpets, and you are bound to find a few pretty souvenirs.
2. Arda Vineyards (Arda Bag Evi)
Wineries are of course the red threads that run through this Thrace road trip, so stop at the Arda Vineyard, just outside Edirne and on your way to Kirklareli to taste their merlot and shiraz.
3. Kirklareli
It's an easy one hour drive east. The ancient city of Kirklareli surprises you with rows of typical half-timbered houses, especially around Yayla Square. Homes of this style are also found in the Black Sea region. You'll find stunning mosques, too, like the Hizir Bey Mosque and the Karaca Ibrahim Bey Mosque. A delight to visit is the Kirklareli Museum, which houses treasures from prehistoric times.
A must-visit is the Kirklareli train station, which is no longer in service. An old steam engine is parked on the rails, and the cafe preserves a table where Agatha Christie used to have tea when she stopped over on her train journeys to Istanbul.
4. Asagi Pinar Mound
Just three kilometers (under two miles) outside Kirklareli is the historic Asagi Pinar Mound, inhabited as early as 6400 B.C. Extensive excavations have brought to light the way these ancient people lived, and today, the site features a lovingly reconstructed village. If you travel with kids, they'll love it. It's just like The Flintstones come to life.
5. Vino Dessera Vineyard
You will enjoy a stop and wine tasting at this family-run vineyard with a small hotel attached.
6. Demirkoy
An additional hour's drive takes you to Demirkoy near the border with Bulgaria. You simply can't miss Europe's only rain forest, which can be experienced in Igneada Longoz Forests National Park. You can drive along flooded woods and lakes and emerge at another wonder of nature: the spectacular Dupnisa Cave. The caverns are beautifully lit and easy to navigate. They are also a haven for bats. Outside is a kiosk where you can buy soft drinks and delicious kebabs if you are hungry.
Demirkoy is also close to the Black Sea, so you might want to have a swim break at the 12-mile-long Igneada Beach before heading to your next wine tasting adventure.
7. Arcadia Vineyards
From a distance, the Arcadia vineyard and boutique hotel looks like a castle, and you will indeed be treated like royalty when you arrive. This venture is only about 20 years old, but already the meticulously and ecologically cultivated merlots, sauvignon blanc, and other wines have achieved a reputation for their high quality. The owner and his daughter greet you and tell you that they want their guests to feel like they are family. And they put a lot of energy into that. The hotel is new and modern but with high ceilings, big rooms, and five-star bathrooms.
After your journey, you will want to relax, and an absolute highlight is a huge outdoor jacuzzi where you can sit under the stars.
After yet another huge Turkish breakfast, which, among many other things, features honey harvested from the vineyard's bees, you are given a tour of the vineyards and the processing plant. Much is still done by hand to ensure that the grapes are treated with utmost care. You can taste to your heart's content, clearing your palate with chunks of home-baked bread. Of course, you can also buy the wine you like best. This is one of the places where guests are welcome to participate during harvest time.
8. Barbare Vineyard (Barbare Baglari)
Your journey takes you further south in the direction of Tekirdag. Along the way, you must visit another outstanding vineyard: Barbare. Family owned and rather small, this vineyard nevertheless produces high-quality wines. Taste as much as you like, sitting on a terrace amidst the vineyards overlooking the Sea of Marmara.
This region of Thrace has a lot more wineries along the way where you might want to stop.
9. Tekirdag
Tekirdag was an important summer resort during the Ottoman Empire and has remained so to this day. People from Istanbul love to head here for weekends to enjoy the marvelous beaches. The city on the Sea of Marmara has a big commercial port and a colorful yacht marina. What liver is in Edirne, kofte ( spicy meatballs) is in Tekirdag. A great place to eat is Ozciz Kofte Salonu.
This is the last stopover of the road trip. I love the Hotel Ramada right on the beach with its balconies and terraces and a great breakfast buffet. Right down the road from the hotel is a shopping center where you can buy excellent leather jackets and bags. If anything needs to be altered, they do it on the spot.
If you are interested in history, the Tekirdag Museum of Archaeology is worth a visit. It's located in an eye-catching white, blue, and brown building. You can also find several mosques and Ertugrul Firkateyni Park but will probably prefer to spend time on the beach.
10. Suvla
Suvla Wine's vineyards, located on the Gallipoli Peninsula, are the final point of the road trip before returning to Istanbul. Outstanding wines are produced here as well, so you can enjoy wine tastings until the last moment.
11. Chateau Nuzun Vineyard
Before the end of your road trip, make a stop at this romantic, family-run vineyard. Established in 2008, the vineyard also has a small boutique hotel and restaurant. The owners are a delightful couple keen on explaining things to you in very good English.
Pro Tip
Bear in mind that this part of Turkey is not a tourist destination. People are extremely friendly but you must respect their customs and culture, especially when visiting mosques. It also means that English isn't widely spoken, especially in the more rural areas.
Driving in Turkey, especially in the more rural areas, can be hazardous. Turkish drivers tend to go fast, like to overtake, and don't always stick to traffic rules. Just be careful. On wine tours like this trip, it's imperative to have a designated driver for each day. Traffic police are everywhere, and if they catch you with alcohol on your breath, they have no tolerance.
Bearing all this in mind, you will see a side of Turkey that is a far cry from the overcrowded holiday resorts of the Aegean Sea and the Mediterranean. You'll love the wines and the incredible nature awaiting you.