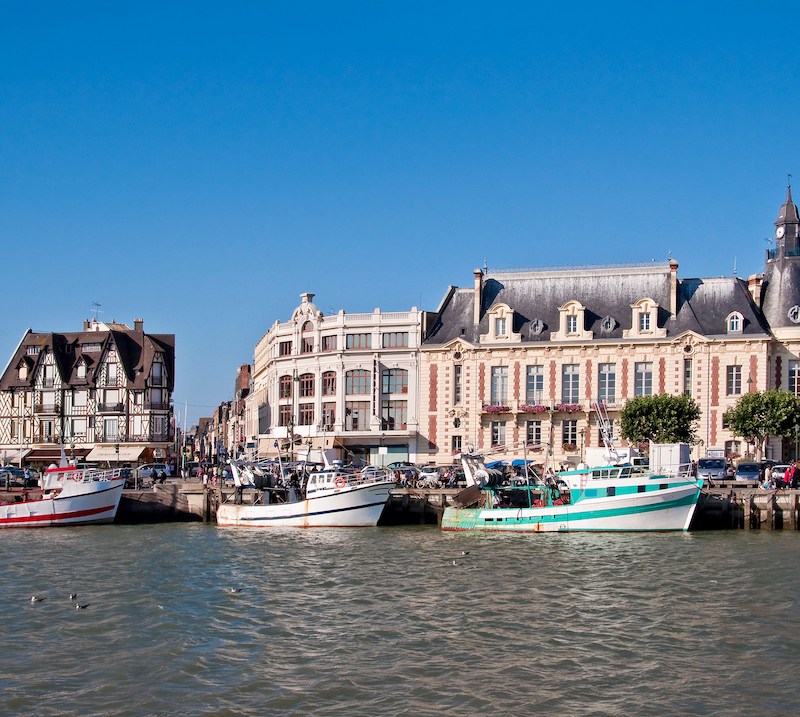 There's a line from the 1960s TV series The Patty Duke Show theme song, "One pair of matching bookends, different as night and day," that best describes the difference between the two neighboring seaside towns Deauville and Trouville in Normandy. Deauville is an upscale, wealthy enclave for the Parisian elite (Patty Lane's identical cousin, Cathy Lane, who is sophisticated and worldly), and Trouville is a casual, bohemian beach town (Patty Lane, who is a typical, down-to-earth teenager).
Trains depart nine times a day from Paris Saint-Lazare station to the Trouville-Deauville station, and the travel time is between two hours and two and a half hours. Once you arrive, the center of both towns is a walking distance of about ten minutes from the station.
Things To Do In Deauville
Deauville Beach
The pristine and immaculately maintained Deauville Beach stretches for a mile and a half and has a tennis club, an Olympic-size seawater pool, over 20 shops, brightly colored beach umbrellas and cabanas, and art deco cabins from the 1920s. The 450 cabins have the names of movie directors honored at the annual Deauville Film Festival posted on each door. The beach also has plenty of activities for the kids, including a skate park, a multi-use sports field for football, basketball, and handball, miniature golf, and an outdoor lending library. Events during the year include a running marathon and photo exhibition.
Villa Strassburger
One of the more opulent mansions in Deauville, Villa Strassburger was erected in 1907 on the site of the former home of the family of famed French writer Gustave Flaubert. The elaborate facade of the home mixes various architectural styles and incorporates half-timber, ceramic tiles, brick, and stone in a checkerboard design. An abundance of geranium-planted window boxes adorns the windows. Next to the home is an apple orchard spread over two and a half acres.
During WWII, a 150-foot corridor was constructed under the house to protect its occupants from bombings. Villa Strassburger is open to the public in July and August.
Events And Festivals
Deauville sponsors many high-profile events every year, including a film festival, a horse jumping competition, an antique car show, a bridge tournament, and two classical music festivals.
Rallye Paris-Deauville
Now in its 55th year, the Rallye Paris-Deauville is one of the top-tier car events in France, sponsored by the prestigious Club de l'Auto. The race starts at the grand Place Vendome, home of the Ritz Hotel in Paris, and finishes in Deauville with a gala dinner. Cars date from 1900 to 1970 and include vintage Rolls-Royces, Mercedes, Bugattis, and Alfa Romeos.
The Deauville Film Festival
A glamorous, star-studded event, The Deauville Film Festival attracts film people and fans from all over the world. Even though the festival is in France, only American films are shown. The festival takes place in early September and lasts 10 days. Last year, Johnny Depp was presented an award by iconic French film star Catherine Deneuve. Past best film winners include Thunder Road, The Rider, Little Men, Tangerine, and Captain Fantastic.
Hippodrome Deauville-La Touques
The Hippodrome Deauville-La Touques has been the official racetrack of Deauville since 1882. July and August are when the most important races are run, including the Rothschild Cup, the Deauville Grand Prix, and the Prix Morny. Have lunch at La Toque, the gourmet restaurant on the top floor that has a panoramic view of the racetrack and horse stables.
The Easter Music Festival
To celebrate Easter and the coming of spring, the Easter Music Festival runs for 30 days and sponsors nine concerts.
Festival Of New Talents
Budding musicians and proteges are invited to Deauville every August to perform at this special event. Seven concerts are played with music by Mozart, Schubert, Brahms, and Handel, among others.
Things To Do In Trouville
Fresh Fish Market
If you make a right turn from the station, you will be walking toward Trouville, over a bridge. Fishing boats are moored, and the scent of the sea strikes your nostrils as you approach stalls brimming with freshly caught prawns, live lobsters, shrimp, sole, mussels, and razor clams. Many of the stalls have prepared fish dishes and high tables with stools, so order a tray of shucked oysters and a glass of white wine and enjoy.
Boardwalk And Beach
A short boardwalk stretches along the sea with pale blue benches. Names of well-known French writers and artists who lived in Trouville or owned houses there are painted in the backs of the benches in bold white letters and include Marguerite Duras, Claude Monet, Gustave Caillebotte, Guy de Maupassant, and Gustave Flaubert. If you look up, there are a series of banners with delightful illustrations of artist Paul Signac.
The wide, sand beach in Trouville is unusual considering almost all the beaches in Normandy have rocks or pebbles. You can rent canvas beach chairs along with portable canvas beach cabanas for the day at a nominal price.
Casino
If you are in a gambling mood, Trouville has a casino. Games include slot machines, French and English roulette, blackjack, Boule, poker, and War. The casino also has a full-service brasserie with French cuisine, a snack bar, and a cocktail bar. You must provide a valid photo ID such as a passport or driver's license upon entry.
Museum Of Villa Montebello
Set in a former seaside mansion built in 1865, the Museum of Villa Montebello is a fine arts museum that has seafront history. The museum also features a tribute to artist and illustrator Raymond Savignac with a collection of his iconic posters of Trouville.
Best Places To Eat In Deauville And Trouville
L'Essentiel
L'Esstentiel is the best-rated haute cuisine restaurant in Deauville according to top-notch food guides Le Fooding, Gault et Millau, Michelin, and Le Figaro Magazine. The restaurant has a three-course menu and a more extensive tasting menu, which features dishes such as asparagus with sea urchin and haddock, Wagyu beef steak with seasonal vegetables, and, for dessert, a crispy chocolate surprise. Open for lunch and dinner. Reservations are a must.
Le Ciro's
Located inside the Barriere Casino in Deauville, Le Ciro's is an elegant bistro with a lovely outdoor terrace overlooking the beach. Seafood dominates the menu, and the restaurant is known for its extraordinary sole. They also offer traditional, raw seafood platters on ice, with an assortment of oysters, clams, crawfish, and langoustines. Bouillabaisse is another menu specialty that comes cooked two different ways.
Cafe Marius
For a different Deauville dining experience, try Cafe Marius. The outdoor rooftop terrace has scenic views of Deauville and seats 65 people. The menu offers classic French dishes.
It's all about the seafood in Trouville, with a wide selection of bistros, seaside cafes, and brasseries.
Les Vapeurs
You can't miss the bold red signs and graphics on Les Vapeurs. Opened in 1920, Les Vapeurs is the most well-known restaurant in Trouville, and it's situated right in the tiny downtown of the village. Besides the extensive seafood menu, they also serve Calvados, an apple liqueur, a specialty of the Normandy region, and a house-made tart made with local apples.
Villa Gypsy Cafe
A combination of a home shop and cafe, Trouville's Villa Gypsy is an alternative to the typical seafood restaurants in Trouville. The cafe and tea salon serves homemade quiches and mostly vegetarian dishes. Baked-daily desserts include loaf cakes, cheesecake, and carrot cake.
Best Places To Shop In Deauville And Trouville
Les Caves De Deauville
You can't visit Normandy without purchasing their famed apple products, and Les Caves de Deauville stocks a wide variety of Calvados, an apple liqueur, plus sparkling and non-sparkling apple cider.
Villa Gypsy Home And Fashion
Besides the cute cafe at Villa Gypsy in Trouville, you can also browse in the home and fashion shop that sells crafts, furniture, and home accessories by local artisans and manufacturers. They also sell jewelry, a limited selection of clothing, and children's clothing and toys.
La Fameuse Madeleine De Proust
Renowned French writer Marcel Proust spent time in Trouville, and his favorite pastry was a madeleine. La Fameuse Madeleine de Proust makes superb, buttery madeleines Proust would have been crazy for and packages them in tins with his image on them.
Best Places To Stay In Deauville And Trouville
Royal Barriere Hotel
If you want to indulge in the luxurious lifestyle of Deauville, the Royal Barriere Hotel fits the bill. The hotel is a sponsor of the Deauville Film Festival, so if you are checked into the hotel while the festival's running, you wind up rubbing elbows with movie stars. The five-star hotel has a spa, fitness center, outdoor swimming pool, guest services on the beach, and a host of restaurants and cafes.
The Cordier Trouville Park
The Cordier Trouville Park, a five-minute walk from the beach, is an upscale bed and breakfast with two-bedroom cottages with verandas overlooking a lush garden. Amenities include free parking and Wi-Fi, a washing machine, a dishwasher, and a flat-screen TV.
Pro Tip: Since Deauville and Trouville are seaside villages, the best time to visit is from May to October. Touring Normandy? Here's how to spend a day in Bayeux, France.