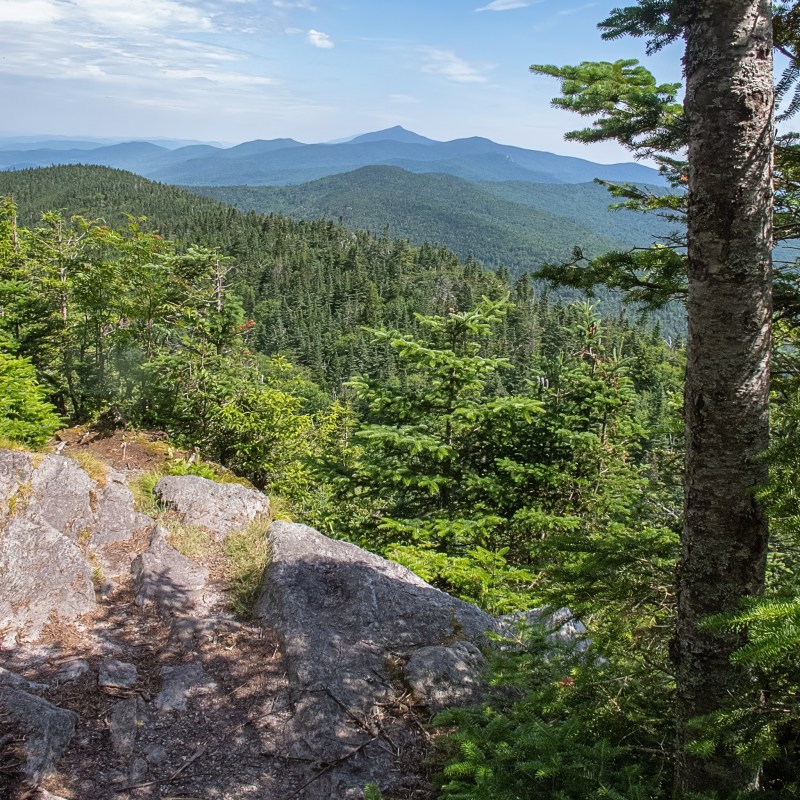 Vermont, the Green Mountain State, is home to 250 miles of forested mountains. The Green Mountains, part of the Appalachian range, run north to south, cutting a swath of stunning hikes and vistas for you to enjoy. The picturesque views of mountain peaks, foothill farms, sparkling lakes, and winding rivers give Vermont her natural charm and beauty.
Hiking in Vermont is accessible to everyone. Whether you require a flat, groomed path or are craving some chasm jumping, you will find it here.
Sterling Pond Trail, Smugglers' Notch State Park
Jeffersonville
The Sterling Pond Trail is 2.3 miles of easy uphill climbing punctuated by mostly flat straightaways. When you reach Sterling Pond, take some time to sit, meditate, and recenter while enjoying the beauty of the area. If you want to add additional steps, there is a flat loop around the pond that is more scenic than the wooded trek up the trail.
Situated in a narrow pass separating Mount Mansfield and the Sterling Mountain Range, Smugglers' Notch State Park is hemmed in by dramatic 1,000-foot cliffs. Smugglers' Notch is very popular on the weekends and parking can be troublesome. Plan to arrive early if you want a parking space and a peaceful visit at Sterling Pond.
Inn-To-Inn Walking Tour
Southern Vermont
Experience a multi-day hiking adventure with the Inn-to-Inn Walking Tour. Four classic Vermont inns welcome you to visit and enjoy Southern Vermont's hospitality, small towns, hiking, and natural goodness. Each day, you will hike approximately 10 miles to the next inn, making a 40-mile loop in four days.
Each morning, the innkeeper will fortify you with a great breakfast, snacks, a map for the hike, and suggestions for stops along the way. When you reach your next inn, your luggage will have been delivered, a comfy room will be ready, and a hearty dinner will be set out so you can refuel. This is the perfect combination of hiking and pampering. You don't need to pack (and carry) tents, food, or equipment, and you get to spend four days hiking around the beautiful countryside.
If you feel uncomfortable tackling the relatively easy treks or need any assistance, your innkeeper will arrange to pick you up along your route. Who could ask for anything more?
Hiking between the inns in autumn is the perfect way to enjoy the colorful foliage, crisp air, and local cuisine while you get some exercise and absorb nature's peacefulness.
Hamilton Falls Trail, Ball Mountain State Recreation Area
Jamaica
Hamilton Falls Trail is one of those routes along which there is something for everyone. At the trailhead is the entrance to a campground situated along Cobb Brook. You can rent a traditional site or a site along the water equipped with a lean-to shelter — the perfect place to sleep under the stars before beginning your 5.8-mile hike. Generally rated as a moderate hike, it's on the easy side of moderate. Most of the trail is wide and flat, then it rises sharply as you approach the falls.
The out-and-back hike brings you to the dramatic stone formation where the waterfall tumbles into a pool. The pool is a dangerous place to swim yet still attracts daredevils who take their lives in their hands. Instead of risking a dip there, safely enjoy swimming in the crisp water at the trailhead near the campground.
Quechee Gorge Dewey Pond Trail, Quechee Gorge State Park
Hartford
This is my pick for the best hike in Vermont. Check out TravelAwaits' picks for the best hikes in all 50 states here. Quechee Gorge Dewey Pond Trail is a 1.4-mile out-and-back hike. The first third of the trail, beginning at the visitor center, is ADA accessible. Here, the wide groomed trail is fairly flat with switchbacks through a lightly wooded area. At the end of the groomed trail are benches and overlooks. The rougher trail runs north and south from this intersection.
The rest of the hike follows along the Ottauquechee River. The 165-foot drop from the path at the highest point transitions to water level at the south end of the trail. Fishing, sunbathing, and meditation are awaiting you where large, gentle rock formations are smoothed by years of river flow. At the north end of the loop is Dewey Pond, where a dam produces lovely smallish falls.
Benches anchored at scenic vistas allow hikers a few contemplative spots to view the gorge.
Forest City Trail, Camel's Hump State Park
Huntington
The Forest City Trail is a moderately rated 2.7-mile-long woodland hike. Following along Brush Brook, the trail ascends to the top of Camel's Hump Mountain. This path goes straight up, meaning it's short but steep. There are several scrambly bits, so this is a good hike to give your trekking poles a workout.
At the top of Camel's Hump, the trail connects with Long Trail, which means an opportunity to extend your hike south to Mount Ethan Allen and Mount Ira Allen.
Known for the distinctive double hump shape, Camel's Hump is one of the most recognizable mountains in the state. Fun fact: Camel's Hump Mountain is featured on the Vermont state quarter.
Mount Pisgah Trail, Willoughby State Forest
Orleans
Climbing Mount Pisgah via the Mount Pisgah Trail will ensure you get your exercise in for the day. The 4.1-mile-long trail is rated moderate. It has some difficult spots that will keep your heart rate elevated. A delightful journey through forested trails, it is a fun trail to get in your exercise for the day.
The outlooks, including Pulpit Rock, afford the best views of Lake Willoughby. Be prepared for some sheer drops at the outlooks and the summit. If you are wary of heights, you might want to stand back a bit. The views of Lake Willoughby and Mount Hor are spectacularly memorable.
Mount Olga Trail, Molly Stark State Park
Wilmington
Perched in the southern portion of the Green Mountains is Mount Olga. The Mount Olga Trail is a 1.7-mile easy loop to the 2,145-foot summit. The trailhead is located at an elevation of approximately 1,600 feet, making the hike to the top short and sweet. This is the perfect hike if you are short on time or don't have a lot of hiking experience but want to enjoy some magnificent mountaintop views.
To appreciate the best views, you need to climb the fire tower at the top. On a clear day, you can see Mohawk Valley, the Berkshires, Mount Monadnock, and Hogback Mountain.
Mount Mansfield Loop Trail, Underhill State Park
Wilmington
Mount Mansfield, at 4,300 feet, is the tallest mountain in Vermont. The Mount Mansfield Loop Trail will challenge even the most practiced hiker. The 7.3-mile loop trail to the summit is rated as a strenuous climb. The payoff, however, is a 360-degree view from the summit with breathtaking vistas of Vermont, New Hampshire, and New York peaks.
This hike requires precision and solid experience. According to AllTrails, there are two major obstacles to overcome: "One is a rock wall that has only limited grips and toe holds, and a fall off that wall would cause serious harm. The second part is a chasm about six feet deep that you have to leap over. As with climbing the rock wall, there is no margin for error with this leap. You have to commit and then execute properly."
An alternative trail to the summit is the Sunset Ridge and Long Trail Loop. The trail is still a difficult ascent but does not require rock wall climbing or chasm jumping. Extreme hiking aside, if you can manage the seven-plus mile hike up 4,300 feet, the payoff is worth the effort.
Long Trail, Green Mountain National Forest
Williamston, Massachusetts To North Troy, Vermont
The Long Trail is 272 miles long and runs from the Massachusetts-Vermont border to the Vermont-Canada border. Slow going, often muddy, and generally quiet, this hike is for the outdoor adventurer. Todd Priess, a hiker who has completed the Appalachian Trail once and is two-thirds through his second time, told us, "The most important thing you can do as a hiker is to prepare your feet for all the walking. Packing smart is also key to success."
It takes between 10 and 30 days for an end-to-end Long Trail hike depending on the conditions and your skill level. The Green Mountain Club cares for the trail and guests along the route, and shelters are available for through hikers. Built by the Green Mountain Club between 1910 and 1930, the Long Trail is Vermont's oldest long-distance hiking trail.
Many hikers complete the trail in sections with point-to-point or out-and-back hikes.
Pro Tips
Much of the hiking in Vermont's Green Mountains is through dense forests. Bug spray is a necessity. As you hike, be prepared to encounter the abundant wildlife, and have a plan of action. Read our tips for safely viewing wildlife in national parks before your hikes. Many trails have snow and ice until late spring, when they can become muddy. Check the trail info ahead of time to ensure you're lacing up the proper footwear. If you are hiking to a summit, bring seasonal outerwear. It can be cold, even in the summer.
Also keep in mind that the outdoor fun doesn't stop with hiking. Fishing, swimming, camping, boating, ATVing, skiing, and more make Vermont Mother Nature's playground. When you are looking for an active vacation where you can let loose and play hard, Vermont is waiting for you.
This article is presented by KEEN Footwear. I have bone spurs in my feet, but because of the support the KEEN soles offer, I had no pain at the end of my hike. A word of caution: The KEEN Targhee III rides high on your ankle, so make sure to wear socks that are above the sneaker line to avoid rubbing. That said, these are perfect for moderate to difficult hikes or any hikes that involve tree roots, gravely surfaces, or rock scrambling. Shop KEEN's Targhee and other hiking shoes here.