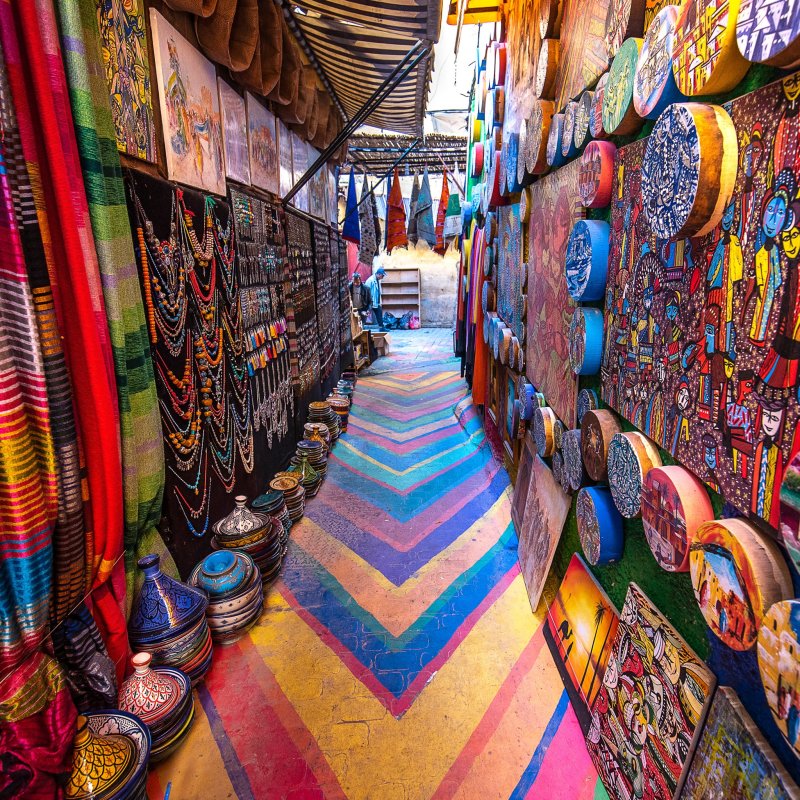 Part of the fun of traveling is going back home with some trinkets to remind you of your travels and inspire others to follow in your footsteps. When traveling in Morocco, there are plenty on offer, however, let me share with you some of the special must-purchase items and must-have experiences we found in Morocco's medinas.
The term medina is used to describe a walled North African city. Throughout Morocco, you will discover that many larger towns and cities still have historic medinas, usually with their own unique charms.
During our nine weeks traveling around Morocco in our RV, we were privileged to discover the hidden secrets of several medinas. My favorite was the UNESCO World Heritage-listed medina of Fes (also written as Fez), due to it feeling less touristy than others. Its authentic nature is a true representation of everyday life for Morrocan people. Hiring a local guide was not only enjoyable, but an excellent decision to avoid becoming horribly lost!
The medina of Fes dates back to the ninth century and houses over 220,000 locals. The narrow alleyways mean that instead of typical traffic congestion, goods and services are brought into this area by donkeys or hand-drawn carts. The donkey handlers will call out Il faut se mefier! — "Beware!" — and they will expect you to step aside as they hurry by with their trollies or donkeys.
Pro Tip: Photographing individuals — we were told — is frowned upon, unless you ask permission first. Taking general photos of the stores, alleys, and produce found in the medinas was okay, but we were asked to be respectful of taking photos of individuals. For more on taking pictures in Morocco, read my reflections on a photographer's paradise: 14 best places to capture in Morocco.
Hand-Woven Moroccan Carpets
If you are in the market for a carpet, hold off until you've visited Fes. That way you can not only choose a good-quality carpet (or two), but you can also be helping to feed and clothe local widows. Your guide will take you to an establishment that supports the widows and explain their involvement in carpet making.
After being widowed, women often struggle to earn an income. Therefore, cooperatives have been set up to teach these women how to weave and to provide outlets for marketing and selling their wares. The weavers reportedly receive 80 percent of the sales proceeds from their painstaking and intricate work. One carpet may take many months to complete, and their workmanship is simply breathtaking.
While visiting, we were shown a relatively youthful lady weaving a carpet and were astounded to learn that the pattern is memorized. She kindly slowed down to show us how the knots are tied and I noticed a bandage on her finger. After weaving the thread through two pieces of vertically strung yarn, she then tied the knot over and back on itself and physically yanked at the wool to break the thread and then started again. The bandage was there to protect her skin from the repeated abrasion. The speed at which she worked was incredible, and I found myself wanting to purchase a carpet just to show respect for her expertise.
From here, we were taken into a room and served mint tea — make sure you say yes to a little sugar in your tea, otherwise, it can be bitter. The sales pitch starts, and we were shown a number of different carpets made from sheep wool, camel wool, agave (or cactus) silk, normal silk, and cotton. Some had half a million knots per square meter and were stunning displays of craftsmanship (or should that be craftwomanship?).
One traveler in our party purchased a large blue rug for her bedroom floor, making the time they spent with us worthwhile.
Pro Tips: As is always the case in this type of transaction, the final price was much lower than the initial asking price because haggling is normal and expected. You can also consider visiting the medina with a group, that way if you don't wish to make a purchase, the pressure is off you when another traveler opens their wallet. Group tours are also usually cheaper than individual tours.
Herboriste Diwan Pharmacy
I recommend finding a traditional Berber pharmacy, ideally, one that is set up to demonstrate unique Berber techniques and products to visitors. There you will find herbal cures for anything that may ail you as well as natural cosmetics and shampoos.
Of particular interest was the opportunity to see how argan oil is made and buy some from a reputable source.
Argan oil, derived from the seeds of the argan tree fruit, has been an important resource for Morocco's Berber people for centuries. The oil came to the attention of the outside world in the 1990s and is now highly sought after for culinary, cosmetic, and medicinal purposes.
At the Herboriste Diwan Pharmacy we watched the painstakingly tedious oil extraction process. First, ladies harvest the nut pods, which resemble small pebbles. To crack open the pods, they use sharpened stones and bang them against a block of wood. Each nut was opened individually in what is a very manual and labor-intensive process. The kernel was then removed, looking somewhat like a flat almond, only smaller. You can sample them; however, be aware that they start off tasting sweet before turning very bitter in your mouth.
Next, the seeds are placed in a grinder, separating the oil from the residual brown, sticky substance left behind. Nothing goes to waste; the brown gunk is later turned into soap.
We purchased a 2.5-ounce bottle of this "liquid gold" at a cost of 120 dirham (just over $12 USD), making this product a whopping $160 for under four cups of oil. I have seen reports where the price is as high as $265 USD for the same amount.
Antiquities Shopping
Morocco is an ancient land with a rich history of occupation by many cultures. Consequently, the top antiquities shops offer a wealth of artifacts made by the top craftsmen of the last millennium.
At the shop we visited, my eyes bulged as it was difficult to take everything in. There were so many fantastic treasures I could have easily purchased (if we hadn't been traveling in an RV and had unlimited money, that is). The workmanship and ingenuity of some of the pieces was truly remarkable. For example, I was particularly struck by a table that opened out to reveal a checkers board, backgammon board, and felt card table.
The displays were separated into different ethnicities/origins — there was an area for Sephardic Jewish antiquities and another for Berber artifacts. The prices were a little shock inducing, but probably reasonable given the quality, age, and generally excellent condition of what was on offer.
This shop was one of the oldest houses in Fes and had been beautifully restored. It was apparently unique in that it had balconies on the third floor at each of the internal corners of the courtyard.
The shop occupied three stories, each one jam-packed with stunning furniture, ornaments, statues, weapons, and household goods, each of which no doubt had their own history to reveal.
The owner asked Alan, my husband, how many camels he wanted for his wife, and when Alan said a random figure of 500, the owner said I was worth more than that — even more than 600, although he didn't give an exact figure. At the going price of $2,000 USD for a camel, the price tag on my head exceeded $1.2 million and counting! I wasn't sure whether to be flattered or worried!
Clothing And Weavers Cooperative
Our next experience was to see a weaver making scarves. This was the second time we had seen this (the first being in Chefchaouen, a city just over 100 miles north of Fes), and both times the weaver was male. I was keen to take some of these beauties home and really had to restrain myself due to space and cost. I did, thankfully, find two gorgeous scarves, one made of agave silk and the other made from normal silk.
Many of the shops are in traditional 15th-century Fes houses that have been restored using UNESCO money. Behind the multitudes of scarves and other weavings, the detailed mosaics, plasterwork, and intricate architectural features can still be spotted and appreciated.
Leather Goods And Tannery
Morocco is famous for its leather goods, and no visit to the medina in Fes is complete without seeing the Chouara Tannery where various leathers are actually tanned and dyed.
If you are negotiating your way around the medina without a guide, be aware that there is a well known tannery scam, where someone will offer to show you something interesting, tell you that the road ahead is closed, and suggest that they can help you get a better price or something similar. It may seem rude to us to do so, but do not accept their help. This is a scam, and you will be expected to buy something you do not want and pay for a "tannery tour." Just refuse their help. If you want directions, ask a shopkeeper. Or better still, stick with a genuine guide.
Upon arrival at the viewing platform above the tannery, we were handed a fresh mint sprig to disguise the pungent smell of the curing leather. It wasn't that bad — although I could imagine on a 100+ degree day, it would be another story.
If you're in the market for good quality leather goods, it's fun to learn about the tannery's history as it becomes a great story to share with your friends and family back home.
The tannery is 11 centuries old, and the entire manual process hasn't changed since medieval times. They work with lamb, cow, goat, and camel hides, and the process takes a staggering three months from whoa to go.
Initially, the hides soak for three days in large vessels made from limestone, which allows the fur and hair to fall off. Next, the hides soak in a white liquid for three weeks. We were told this concoction is made using pigeon feces collected from the markets. Further research indicated it might also be mixed with cow urine, lime, salt, and water.
This soaking cleans and softens the tough skins and we watched as men — wearing waders — trod on the hides in the large, round stone vessels. Next, the skins sit for one month in colored dyes. These chemical-free colorants are made from natural products such as henna for orange, poppy for red, indigo for blue, and cedarwood for brown.
After dyeing, the hides soak in vinegar for one week, which fixes the color. From here they are left out in the sun for drying.
When it came time for shopping, we were taken into large display rooms where every kind of leather good imaginable was on display. High-quality bags and purses of all shapes and sizes were for sale, as were beautifully crafted coats and jackets, shoes — including slippers — belts, and wallets. Apparently, camel skin is best for bags because it is lighter but flexible and extremely tough, while goatskin is best for leather jackets because it stretches, making it more comfortable.
I was impressed to learn that they would take your measurements and make a jacket of your color choice and style, then deliver it to your hotel in just two hours!
Pro Tip: I would advise packing lightly when visiting Moroccan medinas so you have room in your luggage for all the goodies you will want to take back home with you.
Accessibility
The Fes and Marrakech medinas are relatively level and easy for a person of moderate fitness to negotiate; however, others we have visited were less flat. It is easy to get lost in a big medina and end up walking far more than anticipated, so comfortable shoes and a map are essential. Many of the alleys are roughly cobbled and can be very narrow, so wheelchair access to all areas may not be possible.
When To Visit
Visiting Morocco in the cooler months from March to May or September to November allows you to experience the most pleasant temperatures with reduced numbers of fellow tourists. Happy shopping in Morocco's medinas!