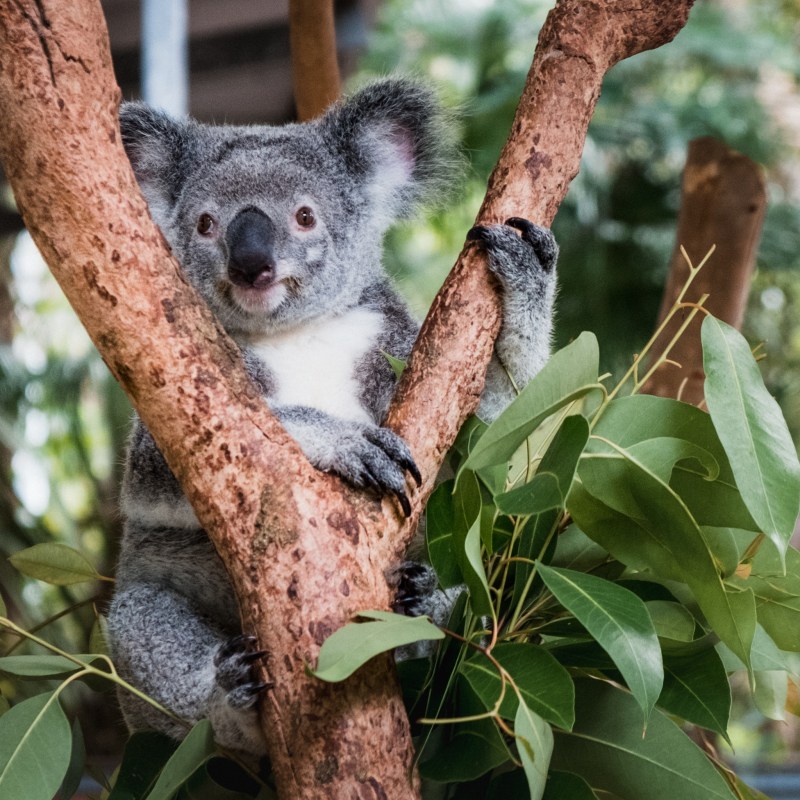 Australia's animals are like creatures from a fairy tale. Just imagine the impossible, and chances are, that animal lives in Australia. Remember the duckbilled platypus, an egg-laying mammal that looks like a cross between a duck and a beaver? Then there are the koalas, kangaroos and their relatives, and flocks of screeching cockatoos flying overhead at sunset. Add a sprinkling of the prehistoric, such as the crocodiles and cassowaries, and you have enough to delight any animal lover. And that is before you even pop your head underwater. All these animal experiences are found along the coast of the Great Barrier Reef, after all.
Ever since I saw my first wild koala, I have been in love with those fleece-furred cuties, but for this list, I have chosen all manner of experiences that can be enjoyed in the region. Some will leave you with everlasting memories and impressions — and not just the cute and cuddly kind.
Read on for my favorite animal experiences to be had along the Great Barrier Reef.
Take A Dip (Or Not) For Marine Life
Four hundred species of coral, 5,000 species of mollusk, 1,500 species of fish, 14 species of sea snakes, six species of turtles, and 30 species of whales, dolphins, and porpoises — and that is only the tip of the iceberg along the Great Barrier Reef. This, the world's largest coral reef formation, is quite literally teeming with marine flora and fauna. To truly appreciate it, you should go underwater, but if that is not your thing, then pop into Reef HQ, the Townsville Aquarium, for a good selection of species, all well looked after and displayed to best effect.
Go Turtles
One of the prettiest, gentlest, and, sadly, most endangered animals found in these waters are the sea turtles. Along the reef, you can find green, loggerhead, leatherback, hawksbill, flat, and olive ridley turtles. During turtle season, in the Southern Hemisphere summer, the turtles come close to land for mating and egg laying and are a common sight for scuba divers. But you can see them in the water any time throughout the year. If you prefer to stay on dry land, why not visit one of the centers that look after hurt turtles, such as the Cairns Turtle Rehabilitation Centre on Fitzroy Island? You will see some of the unfortunate guests up close and learn about their life and the dangers they face daily.
Crack On With A Crocodile Cruise
Along the Queensland coast, you'll come across more crocodile experiences than you can throw an alligator at. The vast majority are touristy gimmicks: crocodiles held in pens, fed, and held to scare and delight tourists, regardless of the life those crocodiles are supposed to lead. Hands down the best way to see these prehistoric creatures is in their equally prehistoric setting: the Daintree River. There, you can go on a small boat cruise and watch the enormous creatures lying in the sun alongside the river or swimming near the boat, and appreciate them in their natural habitat. Crocodile Express and Bruce Belcher and Son Daintree River Cruises are two crocodile cruise experiences I recommend.
An also interesting experience, but probably somewhat disturbing to some travelers, is to visit a commercial crocodile farm like Koorana in Coowonga, Queensland. Here, the animals are kept for their skin and meat, but in strictly controlled, cruelty-free conditions, allowing you to get up close and learn more about them. And then you can also try some of the meat, which tastes like a firm white fish — surprisingly delicious and healthy.
Editor's Note: "Crack on" is a British English equivalent to "Get cracking!"
Enjoy A Koala Breakfast
On Magnetic Island off Townsville lies a campsite that is associated with a wildlife sanctuary, and to boost their finances, they offer a hearty breakfast during which all sorts of creatures come to visit, most noisily, a stunning black cockatoo. While you cannot hold a koala during breakfast, afterward, you are introduced to some of the fluffy guests of the sanctuary and can meet a koala up close and personal. Now, I am aware that there are plenty of people who say that this is not fair to the animal and is simply cruel. But the sanctuary is led by rangers, is strictly controlled, and is not anywhere close to as busy as some other places along the Queensland coast that offer koala hugs, so I would say this is a good place to scratch that koala itch.
Hop Around With Kangaroos And Wallabies
These iconic Australian animals are delightful to watch. The best time to see them is early morning or late in the afternoon, when they come out to feed. Cape Hillsborough National Park near Mackay is famous for its hopping animals, and Magnetic Island is perfect for spotting the smaller of the two: the wallabies. No special tours are needed, just go for a walk in the countryside, somewhere not too crowded and not in the heat of the day, and you cannot help but spot some of them. Further up north, in the Daintree Rainforest, there lives the rare tree kangaroo. These are not only rare but also very difficult to spot. However, if you go on a guided walk with a trained ranger, you might just get lucky.
Hit The Breaks For Cassowaries
While there are plenty of cassowaries in northern Queensland, especially near Mission Beach on the — wait for it — Cassowary Coast, you still need to be lucky to spot them, as their preferred habitat is dense shrub and forest. However, you can spot them when they cross the road, and with many speedbumps slowing down traffic so that you can spot them without hitting them, you stand a good chance. Look out for the male birds, who are often trailed by their young. But be careful not to approach them as they are very protective of their chicks. You may also encounter them in the Daintree Forest, so drive slowly!
Spot An Elusive Platypus
The animal that was deemed a hoax when first presented to scientists, looking like someone played Mr. Potato Head with various animal parts, is a delight to watch — if you ever get to spot one. But the best place to actually stand a feasible chance of seeing one is in Eungella National Park at Broken River. This is a great spot to visit, even if you don't see a platypus. If you get up early, that is, just after dawn, and/or stand and watch intently just before dusk, your chances are good. The idyllic river has dedicated viewing platforms with information signs as to what to look out for, and, as a bonus, just in case you do not spot a platypus, there are plenty of freshwater turtles that play on floating tree logs.
Indulge In Whale Watching
From June to November, humpback whales migrate from Antarctica, along the coast of Australia, and up to the tropical Queensland waters. In southern Queensland — strictly speaking, just south of where the Great Barrier Reef begins — Hervey Bay has been named the world's first whale heritage site and is famous for the ease with which you can spot whales. However, all along the coast, you can spot them just as easily from dedicated whale-spotting tours, seaplanes, and helicopters.
Around Cairns and further north, you can even go swimming with not humpback whales, but the smaller and very agile dwarf minke whales, which are a rare treat to see.
Become A Twitcher: Go Birdwatching
Queensland has the greatest biodiversity in Australia and a recorded, very precise, 677 species of birds, ranging from sea birds to birds of prey, from the huge and flightless to the tiny and colorful, from parrots to wrens. And you don't have to do much to indulge in a bit of birdwatching: Simply sit in a park, somewhere with greenery, or on a beach, drink and identification booklet in hand, and just wait and watch. In Cairns, you can walk along the promenade and look out onto the mudflats for an incredible array of seabirds close to town, or take a walk through the lovely botanical garden of nearby Mossman. If there are species you want to see but have not spotted in the wild, pop into Birdworld in Kuranda, where 60 species live in natural conditions, and sometimes even hold still long enough for great photographs.
Download the guide to Queensland's birds here. Note that the guide also suggests apps if you prefer to go digital.
Pro Tip
However cute and cuddly Australian animals seem — and many are — please always be on the lookout for those who are not. Australia has countless spiders, insects, snakes, attacking and poisonous mollusks, stinging jellyfish, and even swooping magpies to watch out for, nevermind the crocodiles. Don't be put off; just be aware and read up on some of the not-so-cute Australian critters before you head off into the wilderness.