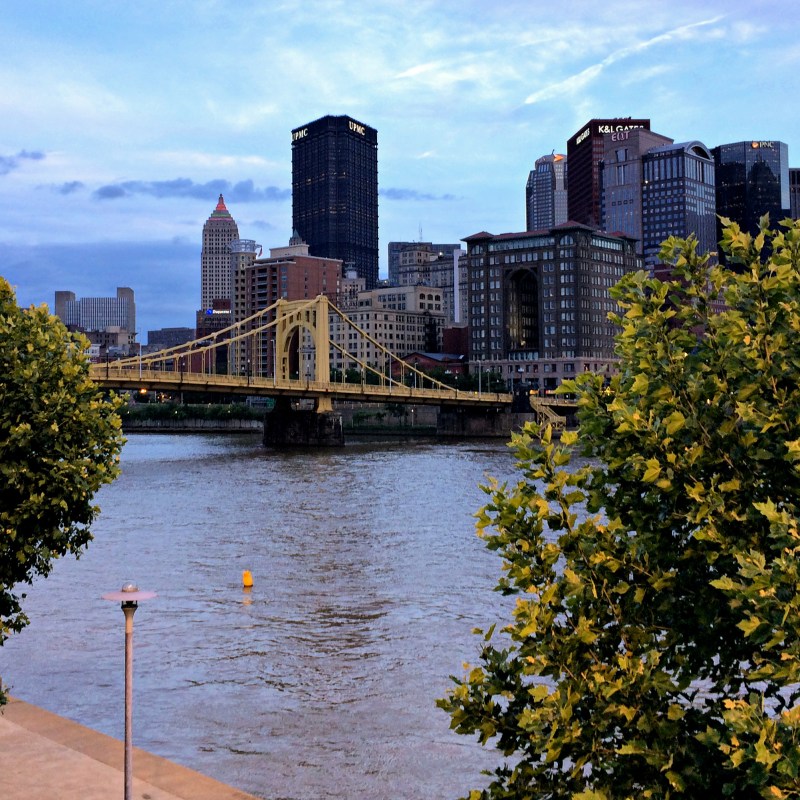 From the world-famous Horseshoe Curve to the Steeler and Penguin Country of Pittsburgh, the western part of Pennsylvania is full of towns full of character and history. It is a scenic drive through the Allegheny Mountains.
Altoona
Train and history lovers will be fascinated by the railroad experiences offered in the Altoona area.
There is the Altoona Railroaders Memorial Museum, where you have the chance to explore three floors of interactive exhibits telling the story of local railroading history. If you are into railroading, you can spend half a day here. Check their website for special event activities.
A remarkable engineering achievement, Horseshoe Curve, is nearby. It features a 220-degree curve of track used to get people and products up over the Allegheny Front. Built in 1854, it was so important that it was a target of the Germans during WWII. They knew if they could destroy Horseshoe Curve, it would be almost impossible for supplies to be transported from the east to the western part of the state.
Trains still run on Horseshoe Curve today, and there is easy access to see them. The funicular is an incline plane designed to take you from the visitors center up to the tracks. If you desire a climb, there are 194 landscaped steps. Both will take you to the train tracks for a view of the famous Curve. Take a picnic lunch to enjoy as you watch the trains.
If seeing isn't enough and you want to ride a train around Horseshoe Curve, wait till you get to Johnstown in a day or so. Due to the timing of train schedules, it is better to wait and ride the train to Altoona and back to Johnstown.
There are all kinds of restaurants in the area. If you enjoy Italian foods, I highly recommend Villa Capri Restorante. It is authentic home-cooked Italian and delicious.
Spend a night or two in Altoona, where a variety of hotels are available. While you are in Altoona, you might want to take in a minor league baseball game. The Curve team plays at the People's Natural Gas Field.
Fort Roberdeau
Just a few miles from Altoona is Fort Roberdeau, where you can explore a reconstructed fort initially built in 1778 during the American Revolution. This site, available to explore from May through October, showcases battle reenactments and historical demonstrations.
Bring your own picnic lunch. This stop will be for about two hours.
Bedford
Places to stay in Bedford include the Omni Bedford Springs, or, if you prefer a bed and breakfast, check out the Golden Eagle Inn in downtown Bedford.
Once you've checked in, there are many things to see and do in Bedford's quaint town, including many you can borrow from our recommendations on how to spend an amazing weekend in historic Bedford, PA.
Once you've had your fill of in-town activities, head out of town to the Jean Bonnet Tavern on the historic Lincoln Highway. At this 1760s historic landmark, you will experience old tavern charm amid the decorations of yesteryear. The food is exquisite.
Old Bedford Village is a can't-miss stroll back in time to the 1800s. Here, you can visit shops as they were back then. From the craftsmen and women in period clothing to the carefully constructed log cabins, you will learn about Bedford's historical past in various workshops.
This is an immersion-type experience, and you can enjoy a horse and buggy ride around the village before you leave. They have a variety of unique events and historical reenactments, so check out their website to see what is scheduled.
Travel Tip: If staying at the Omni, check out the on-site activities and the spa.
Johnstown
Surrounded by scenic views of rivers winding through the valley and forested hillsides is Johnstown.
Once an industrial hub of the 18th and 19th centuries, the city is now home to a symphony orchestra, the Southern Alleghenies Museum of Art, and University of Pittsburgh's branch campus.
The Johnstown Incline Plane is the world's steepest. It was built in 1891 to transport horses, wagons, and people up to a new hilltop community. It carried residents to safety during the floods of 1935 and 1977.
At the top, you will find a network of hiking trails perfect for the active senior. But it is fun just to ride the funicular to the top and take in the scenic view, too. Plan at least two hours for this activity.
Johnstown is most famous for a dam bursting in 1889, causing a catastrophic flood of 20 million tons of water that killed over 2,000 people.
The Johnstown Flood Museum introduces visitors to the heartbreaking and chilling details of the disaster in an award-winning documentary. Allow two plus hours to visit and watch the documentary.
Travel Tip: Remember the Horseshoe Curve? If you desire to ride the Curve, you will take the train from Johnstown to Altoona and back. It's about an hour and 15 minutes each way.
Flight 93 Memorial
The next stop is the Flight 93 National Memorial. Take U.S. Route 30/the Lincoln Highway to the turnoff in Stoystown. It is a touching memorial to the 40 passengers and crew aboard Flight 93. which was hijacked and headed toward Washington D.C. for an attack on the U.S. Capitol. Passengers thwarted the attack, and the plane went down on September 11, 2011, in a common field that has since become a field of honor.
The park is open from sunrise to sunset year-round. Plan to spend several hours here, and bring some tissues. It is very moving.
Travel Tips: GPS mapping programs may note alternate entrances, but the only entrance to the memorial is located on U.S. Route 30. The visitor center is on an exposed hilltop, where it's often windy and the weather is unpredictable. Shade and shelter are limited, so you may want to dress in layers and bring a hat.
Fallingwater
A UNESCO World Heritage site, Fallingwater is the first modern architecture designation in the United States. Designed by Frank Lloyd Wright, the 20th-century architecture is a sight to behold.
Designed in 1935, it sits over a waterfall, and the materials, colors, and design motifs were derived from nature. In-depth, self-guided grounds tours are available. When we visited, we spent at least two hours here.
Other Frank Lloyd Wright buildings in the area are Kentuck Knob, Mantyla House, and Duncan House.
Travel Tips: Fallingwater is open mid-March through November every day except Wednesday. Advanced ticket purchases or reservations are requested. While inside, you will be on flat surfaces. If you walk the grounds, you may encounter some uneven terrain. Pick your shoes, and your adventure, accordingly.
Mt. Washington
Known for its panoramic city views, the charming town of Mt. Washington is home to Grandview Avenue's Restaurant Row, the Monongahela and Duquesne inclines, and Emerald View Park.
A young George Washington once mapped the land and rivers below Mt. Washington for the British, and two dozen inclines once provided Pittsburgh residents and their vehicles access to neighborhoods above the steep hills that surround the city. Now, only two survive.
A spectacular panorama of Pittsburgh and its three rivers is provided by the 140-year-old Duquesne Incline. During the ride up, you'll get to see what USA Today Weekend Magazine has called one of the 10 most beautiful views in America.
The Monongahela Incline is a funicular located near the Smithfield Street Bridge in Pittsburgh. Built in 1870 to transport workers up and down Coal Hill, it was the first passenger funicular in the United States.
Pittsburgh
The city of Pittsburgh is full of sites, events, history, and culture. Here are a few of my favorites.
A world-class garden experience that has stood the test of time since 1893, Phipps Conservatory is a green sanctuary in the middle of Pittsburgh's vibrant Oakland neighborhood. It encompasses 15 acres and showcases a 14-room glasshouse and 23 distinct gardens. The seasonal shows are beautiful, especially at Christmas.
Pittsburgh dominated the 20th-century steel industry. The Carrie Blast Furnaces are a National Historic Landmark where you can take a two-hour guided tour. The majority of the tour is outside; dress for the weather and be aware this site is not wheelchair accessible.
The ground is uneven, so sneakers or boots are recommended.
The Benedum Center for the Performing Arts in the Cultural District of Pittsburgh is a beautiful old theater that was built in 1928. Check the schedule to see what might be showing during your visit. You might want to take in a sporting event while you are in town. Pittsburgh is home to Penguin hockey, Steeler football, and Pirate baseball. Indoor and outdoor shopping are available at Station Square located on the South Shore of Pittsburgh.
There is never a shortage of things to do in Pittsburgh. You can easily spend a few days to a week enjoying the last stop of your Western PA road trip. For even more inspiration, consider why Pittsburgh is a must-visit Pennsylvania destination.