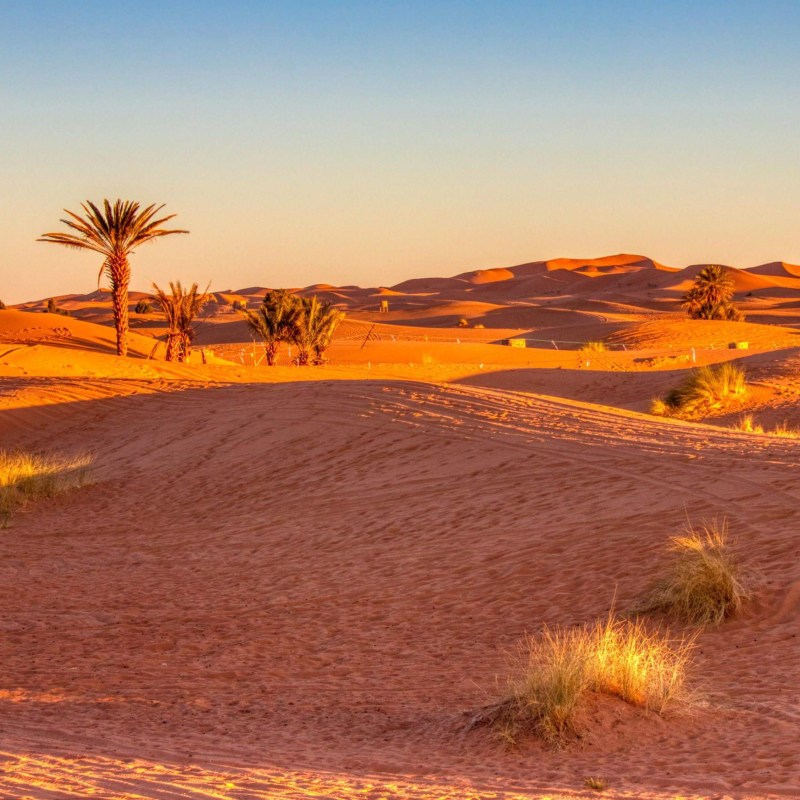 The Sahara is by far the largest desert in the world. And nowhere else are the famous expansive sand dunes more accessible to tourists than in Morocco, where a sliver of the Sahara extends up into the southeastern part of the country.
Open 24/7 for visitors, there is a huge variety of tours available for curious and adventurous travelers. Join a tour from Marrakech or from your hotel or campsite closer to the desert. Visit for the day, stay overnight, or experience several nights of desert solitude. Entry is courtesy of a quad bike, a flesh-and-blood camel, or the modern camel: a 4WD.
We opted for the modern camel, aka a Mitsubishi Pajero 4WD, for comfort and speed, and booked with Merzouga-Tours through Haven La Chance Hotel and Camping.
It was during our full-day tour that we discovered these nine secrets in the Sahara.
Secret 1: Lac Dayet Srij
An unexpected secret was Lac Dayet Srij, a rare Saharan lake, just over a mile west of Merzouga. The lake, which can be up to about 13 feet deep, is rain-fed, so it shrinks away and then returns over the dry and wet seasons, normally holding water from November through May.
We were surprised to spot a variety of waterbirds, including pink flamingos, right here on the edge of the sand dunes!
Secret 2: The Black African Village Of Dar Gnaoua
The village of Dar Gnaoua exposes one of the darkest aspects of the Sahara's history: slavery.
Beneath the inhospitable land lies a vast, shallow aquifer of priceless water, which was needed in other towns and outposts. Thousands of slaves were exploited to excavate an ingenious network of underground canals or khettara. Some of the original stone-lined well shafts are still visible today.
Between 1912 and 1925, under French rule, slavery was abolished in Morocco. Former slaves were offered the option of returning to their home countries or staying in Morocco. Some, knowing no other life, chose to stay, and their descendants continue to live in the village of Dar Gnaoua.
It's possible to walk around some of the earliest, decaying, and now uninhabited village buildings to better understand what life must have been like. The homes are constructed entirely from nearby environmental material, particularly clay, mud, and straw, and they start breaking down again almost immediately. Each heavy rainstorm or sandstorm erodes some of the structure until the occupants build another home nearby and abandon the old one. The thick walls keep the air temperature inside many degrees cooler than the outside temperature, making them bearable in the hot summer months.
Secret 3: The Kamlia Music Centre
Descendents of the slaves who lived at Dar Gnaoua have preserved the musical heritage of the countries from which their forebears were taken into slavery. At the Kamlia Music Centre, we were treated to a music and dance display. An ensemble of male musicians played various traditional instruments — including drums and castanets — while dancing and chanting. The walls of the center were adorned with an array of traditional percussion, stringed, and wind instruments from various parts of southern Africa.
Secret 4: A Moroccan Mine
One of the last things I expected to see on our tour was an operational mine. Historically, this area was mined for lead and zinc by the colonial French. Lead sulfide ore has long been used to make kohl for eye makeup. I picked up a lump of lead sulfide and marveled at the glistening silver color and just how very heavy it was. Mining here is still a labor-intensive process that involves deep narrow crevasses following the mineral seams into the depths of the earth.
As with nearly every tourist location in Morocco, enterprising locals were there with tables set out, selling scraps of minerals, fossils, jewelry, and semi-precious stones.
Secret 5: Domestic Animals
Who would expect to see shepherds with flocks of sheep and goats in the desert? What would be the point, as there is no grass? However, we frequently saw these animals being escorted across the barren plains seeking any vegetation that could offer them some nourishment.
The shepherds understand that the land is a fragile but important resource, so they don't let the animals damage the plants by grazing over long periods in one place. As the livestock are always on the move, the animal meat is very lean.
Camels were a regular sight, and at first glance, they often appeared to be unguarded. However, a closer look usually revealed a solitary herder squatting or sitting on the ground. Worth about several thousand dollars each, these animals are too valuable a resource to risk losing.
Secret 6: The Cool Abodes Of Berber Nomads
The highlight of the day was enjoying a very tasty lunch at the camp of a Berber nomad family. They had set up home in their spot for the next six weeks or so, pitching their tents by a group of mud buildings, literally in the middle of nowhere.
We were given a tour through the mud buildings and were amazed at how cool it stayed inside. This keeps them comfortable without an air conditioner and preserves their food — even in the hottest conditions — without refrigeration!
Modern technology has certainly brought some changes to the nomads' day-to-day lives. They now have solar panels and batteries to provide lighting and power for mobile telephones.
The women of the house cooked our lunch, then — as tradition dictates — they ate separately once everyone else had finished.
Lunch was a Berber "pizza" consisting of well-spiced meat, grated carrot, and onion sealed between two pieces of flattened bread dough. The pizza was cooked on a flat stone inside their wood-fueled clay oven, which looked remarkably like a small pizza oven.
Cooking the pizza took only about ten minutes from start to finish, as the oven is amazingly effective; just a few twigs were enough to provide the necessary heat.
In the traditional manner, our host served us lunch by tearing off pieces of the tasty pizza and handing them around. Coming from a country where food hygiene is seen as ultra-important, it was a little disconcerting to see someone using his hands to serve food. We wondered whether had he washed them, and whether the water clean and germ-free?
However, as the traditional saying goes, "When in Morocco…" I'm pleased to report that the food tasted great and we experienced no ill effects.
Our host spoke no English, just a little French and his traditional Berber tongue. Thank goodness for our English-speaking guides!
Secret 7: Fossicking Opportunities
How can a desert once have been under the ocean? Walking through an old riverbed, the evidence was all around us. Every second rock I picked up showed something hinting at the sea creatures that once inhabited this area. Trilobites and ammonites are the most common finds, but dinosaur fossils are unearthed in other parts of Morocco.
After half an hour of fun fossicking, well weighed down by rocks filled with all manner of ancient shell life, I was wondering how to polish them and where to store them in the RV. I don't think that becoming a paleontologist is on my agenda anytime soon.
Secret 8: Movie Magic
Being such a convenient piece of authentic desert means that many movies that require a desert scene have been filmed around here. We were surprised to drive past the actual plane used in the live-action The Little Prince (Le Petit Prince) movie, which is apparently famous in these parts. Also filmed in or near the Sahara: scenes from Gladiator, Black Hawk Down, Babel, The Mummy, Lawrence of Arabia, Star Wars, Game of Thrones, and many others.
If you are a movie buff, then I recommend visiting the huge Atlas Film Studios, located in Ouarzazate, about 230 miles to the west.
Secret 9: Trees In The Desert
We had to stop our camel — I mean the 4WD — to take a photo of us sitting on the only tree for miles around. It looked so out of place and so old, and it made me wonder what stories the tree could tell of the sights that it had witnessed.
Pro Tips
The best time to visit Morocco, in my opinion, is from February to April. The daytime temperatures are warm, up to 68 to 76 degrees Fahrenheit; however, the winter nights in the desert can cool right down to freezing, so make sure to take layers for both extremes. Any further into the summer months (May to September), and you can find the daytime temperatures in the Sahara reaching a scorching, uncomfortable 115 degrees.
For ideas on what to eat, beyond Berber pizza, read up on the tastiest foods to try in Morocco.