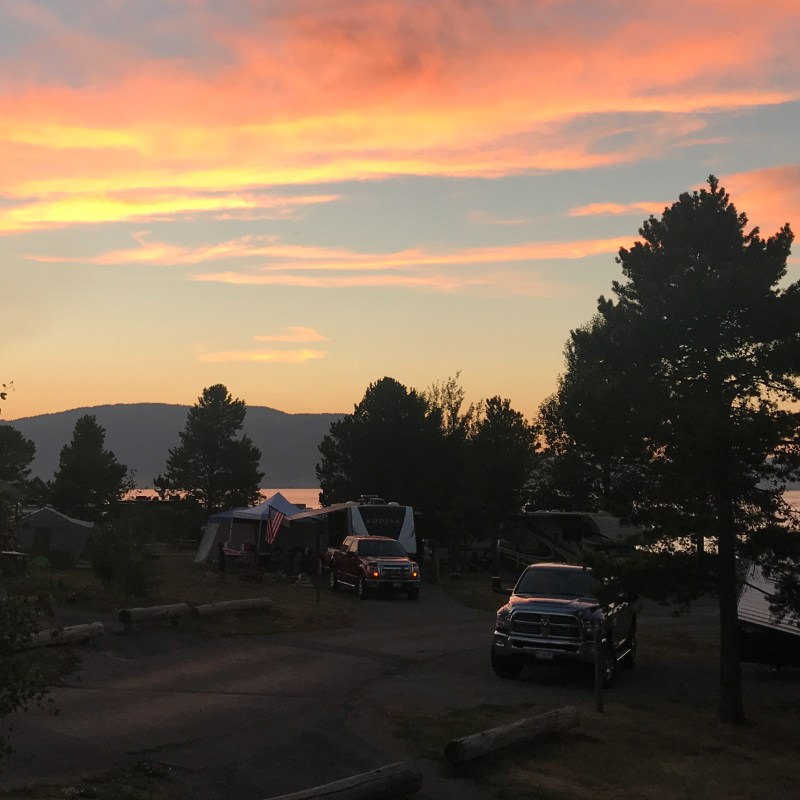 It's summertime, and the RVing is easy! There has never been a better summer than this one to get out into the great outdoors. We've had a challenging few months in our country. Nature is a tonic, and we need it now more than ever. Traveling by RV, even if just a few hours from home to a state or national park, forest preserve, or RV park, may be the safest form of travel and the safest type of overnight stay.
Millions of people enjoy RV travel in the summer. The weather can be ideal for being outdoors, the days are longer, meaning more time for outdoor activities, and it's easier to swim in a lake in the summer than winter. Yes, there are mosquitoes and other bugs to contend with, but there are also birds to watch, animals to spot, horseback riding, and, of course, campfires for cooking and enjoying the evening.
Anyone can RV. The only physical exertion you will have is hooking up the water hose, electrical cord, and sewer hose. Travel trailers require a bit more effort to hitch and unhitch, but otherwise are easy. Most large RVs today are equipped with hydraulic levelers and stabilizers. Travel trailers may require you to use leveling pads under one side and to manually lower the stabilizers. These are easy things to do. The only other work is to unpack your gear and camping chairs, make some food and drink, build a fire, and have a wonderful time.
1. RVs Provide The Ultimate Travel Freedom
Traveling in an RV gives you the ultimate freedom in traveling. You get in and you go. There are no airport security checks or crowds to navigate. Everything you need fits in the RV, which is the biggest suitcase you will ever have. You can have all your meals at "home" without having to find a parking place at a restaurant or wait for a table. I love that everything I need is on board: clothes, food, kitchen, recreation gear, lounge, and the all-important restroom.
Like any vacation destination, you have to get into the RV mindset. You may not be cooking things exactly as you do at home. Pick meal items that can be used in easy one-pot dishes or can be grilled outdoors, or cold items that can be stored in the fridge and cooler. Baking, roasting, and broiling are not as convenient. RV bathrooms are often small and may be a combination wet bath. But really, how much time will you spend inside? Given that your vacation destination is outside your door, you couldn't ask for more convenience and access.
2. Summer RVing Is Better Than Your Backyard
Get away from the noise, the city light, and the traffic, and enjoy some wide-open spaces. Campgrounds at national, state, and local parks are designed for outdoor recreation. You can't hike at home. You can experience nature up close and personal in all its beauty when you open your RV door. Some of my favorite memories of summer camping are going outside to have my morning coffee and just soaking up all that nature offers: filtered sunlight, birds chirping, branches creaking in the woods, waves lapping on the lakeshore. Tranquility is abundant.
Take your backyard fun with you. Many people bring their kayaks and bicycles on their trips. Or you can find boats and bikes for rent at or near your campground. Hiking and fishing are top activities for RVers in the summer. Pick a location with trails and lake access to maximize your options.
3. You'll Enjoy A Community Of People
I can guarantee that if you are open to meeting people, you will make friends and enjoy some great quality time with fellow RVers. RVers generally are interested in enjoying their time camping. They open their campfire circle to new friends and enjoy a beverage or picnic with "neighbors." I've shared meals, happy hours, camping tips, tools, and just good conversation with more people than I can remember.
This summer, many campgrounds are practicing contactless site management (meaning you won't have to go into the campsite office to check in), and have closed restrooms, common rooms, and even laundry areas. Social distancing is being practiced, and masks may be worn by some RVers. Please know the rules in the destination you choose to visit and honor the campground rules and requests. We all want to and can be safe as we enjoy RV camping.
Editor's Note: For more on why RVing might be the safest travel option this summer, read up on a Johns Hopkins doctor's advice for 2020 travel.
4. RVing Makes For A Great Getaway
The summer road trip is iconic in America. It is celebrated in books, television shows, and movies. RVing is the ultimate road trip experience. You can go anywhere and stay as long as you like, exploring and experiencing new places and sightseeing in as many places as you like. RVing affords you a completely flexible itinerary. You can wing it on where you stay each night, or you can check into a destination campground resort. Campgrounds can fill up quickly in the summer, especially out West, so reservations are highly recommended. In other parts of the country, you can find plenty of parks or campgrounds to pull into on any day. The good news is you will never be without a place to sleep.
RVs come in all shapes and sizes, and how and where you want to travel is the best determiner of which type of RV you use. The largest RVs can tow a car behind, giving you the ultimate living experience as well as driving flexibility once you reach your destination. Smaller RVs are nimble and can get you into and out of interesting destinations that you come across on the road. I enjoy towing a travel trailer that gives me a base camp and a vehicle for exploring and day trips. Think about your preferred road trip experience as you make your RV selection.
5. Everyone Gets To Go On The RV Trip
One of the best features of RVing is that you can bring your pet. Most parks and campgrounds allow pets. There are restrictions on breeds in some cases, plus leash and pooper scooper rules, and sometimes vaccination documentation is required. But RVs enable everyone in your household to vacation together. I've seen plenty of outdoor spaces created for dogs and cats including off-leash dog areas at some parks. Doggie fencing and screen enclosures are common at campsites. Even cats can enjoy screened cat tunnels or popup enclosures.
6. You'll Learn How To Really Enjoy The Outdoors
While RVs offer air conditioning, you will be spending a lot of time outdoors. Make sure you stay hydrated and keep sunscreen and a hat nearby. Bug repellent is a must — just as it is in your backyard. I use a Thermacell diffuser under my awning. Citronella candles are popular at the picnic table and campfire. Commercial repellants like Off! Deep Woods come in spray and wipes. I've found that the non-Deet products made with eucalyptus and lemon are effective. If you really want to travel well, bring a popup outdoor room!
Make sure you bring some good outdoor footwear. While flip flops are fine for the campsite, you want more protection when you hike to the bathhouse or lakefront. Socks and shoes as well as long pants are your best protection in the woods from insect bites, poison ivy, scratches from bush and tree branches, and uneven surfaces. You don't want an injury to ruin your trip.
7. Lots Of Daylight And Starry Nights
The long days of summer give you bonus time for having fun outdoors. Even if you sleep in, you still have well into the evening to enjoy daylight activities. If you are a night owl, you'll have the luxury of enjoying stargazing and firefly watching. Because you will likely be away from the city lights, you will have ample access to a miraculous view of the night sky, perhaps seeing constellations you have long forgotten about. If you are camping in the woods and your sky view is obstructed, then look out into the woods. Many of us have experience with a few fireflies in our yards. But in the woods, you will see hundreds of fireflies all blinking and twinkling. It's as if the fairies are just beyond your reach as you see their lights flash.
Of course, nighttime also brings night sounds. Coyotes are commonly heard at night. If you are lucky, you'll hear owls calling to each other. At twilight, you might hear elks bugling if you're out West. Maybe you'll just hear the crickets or the sound of a river or lake waves. Nighttime is a show all its own in an RV.
8. This Summer's Bonus Reason
Exceptionally low gas prices make this the summer to make a longer trip economical. RVs obviously get less mileage than the family car, and the bigger the RV, the lower the mileage. The big coaches are diesel fuel, which will cost more, but lower gas prices help offset the increased expense.
Pro Tip
When using a GPS map to plot your driving, remember that you will likely be going under the speed limit, which adds driving time. I add one-third more time to account for reduced driving speed and more time needed to get in and out for gasoline.
The open road is calling you this summer. Answer the call in an RV.
RVshare is the world's first and largest peer-to-peer RV rental marketplace. With thousands of satisfied customers and a broad inventory ranging from travel trailers to luxury motorhomes, RVshare has the perfect RV for your vacation, tailgate, or temporary lodging needs.