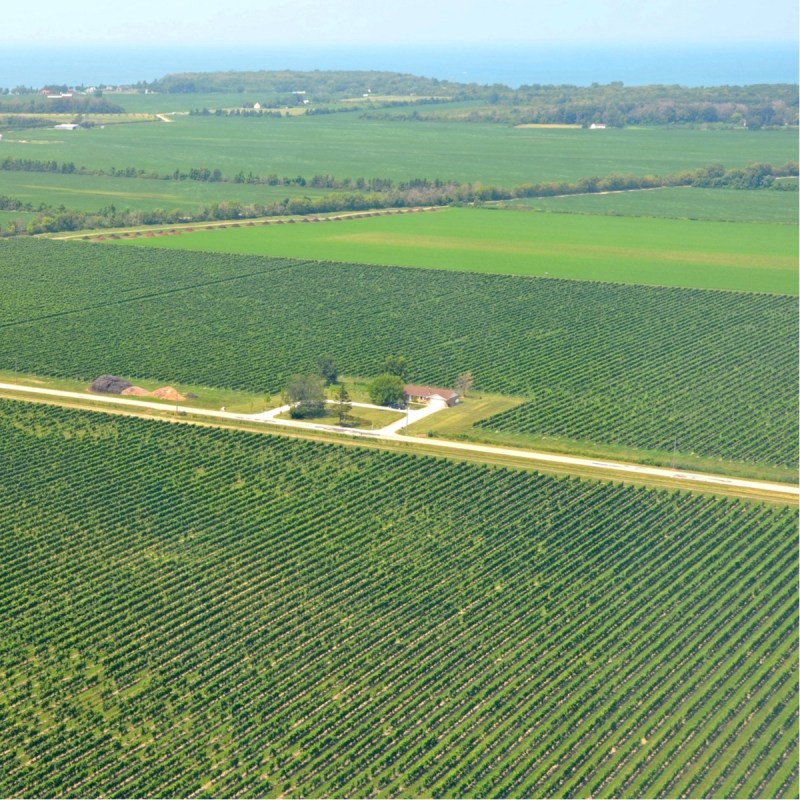 It's the largest wine region in North America east of the Rocky Mountains, but only the most devoted wine lovers have heard of Lake Erie Wine Country. On all but the busiest of summer weekends, it might feel like you've got the roads entirely to yourself. This is a spectacular area to explore, and the wines are just the tip of the iceberg. Between the area's natural attractions and great restaurants, there's enough to keep road-trippers busy for a long weekend — and maybe even longer.
Lake Erie Wine Country is located on the northeastern shore of Lake Erie between Erie, Pennsylvania, and Buffalo, New York. From the easternmost winery, Merritt Estate Winery, to the westernmost winery, 6 Mile Cellars, the Lake Erie Wine Trail is approximately 53 miles long.
Late summer and early fall are the optimal times to visit, since two of the biggest area festivals take place then. During the first week of August, the annual America's Grape Country Wine Festival takes place on the Chautauqua Fairgrounds in Dunkirk, New York. During the last week of September, the annual WineFest takes place in North East, Pennsylvania.
However, the area is a year-round tourist destination, and spring and autumn are particularly pretty times to visit.
Here are just a few reasons to consider a vacation to this region.
1. The Concord Grapes Are Tops
The Lake Erie region is home to the world's oldest and largest Concord grape-growing region. The Concord grape variety was first developed in 1849, but grape seedlings were initially brought to the area in 1818. Dr. Thomas Welch founded the area's first Concord grape production facility in 1897, and the Lake Erie region soon became known as an agricultural leader.
If you haven't tried a wine made from Concord grapes before, you're in for a treat. It's sweet, bright, and bursting with flavor.
2. There's A Lot Of Variety
The Lake Erie Wine Country wineries produce several categories of wine: fruity native Labrusca wines (Concords are a Vitis labrusca species), French-American wines, European vinifera, and specialty wines (including ice wine and dessert wine). There are 30,000 acres of grape vineyards in the region.
3. The Soil Is Perfect For Growing Grapes
Despite its northern location, Lake Erie's shoreline is the perfect place for growing grapes. Approximately 20,000 years ago, glaciers in the area receded and left behind loamy soil and a protective ridge, creating the perfect mild microclimate for growing grapes. Agriculture is booming here, and there's a great farm-to-table food scene in addition to the wines.
4. There Are About Two Dozen Wineries To Choose From
There are about two dozen wineries to choose from in Lake Erie Wine Country. These include 21 Brix Winery, which was named one of the 100 most influential winemakers in the United States. It's easily identified by the jaunty pink elephant outside.
Heritage Wine Cellars is a great place to try Concord grape wine, as well as pear, blackberry, and elderberry varieties. Penn Shore Winery and Vineyards is one of the oldest and largest vineyards in Pennsylvania and offers live music on Saturdays in July and August.
Quincy Cellars features a restored historic barn, a stone wine cellar, an open-air pavilion, a deck, and a dock on the pond. And Yori Wine Cellars grows 15 varieties of grapes on their home farms.
5. There's A Lot More To Drink Than Wine
Along the Lake Erie Wine Trail, you'll find microbreweries, hard fruit ciders, distilleries, and even wine drinks like slushies!
Arundel Cellars & Brewing Co. serves up hard cider from their own orchards. Sensory Winery brews their own beer at 7 Sins Brewery. Johnson Estate Winery makes 30 wines from the grapes on their 115 acres, but they also offer port, sherry, and ice wines, plus a bar with more than 20 local bourbons, whiskeys, gins, and vodkas. And at Presque Isle Wine Cellars, you can sample spirits and wine slushies along with local wine.
6. The Grape Discovery Center Is A Must-Visit
No matter what route you take through Lake Erie Wine Country, the Grape Discovery Center is a must-visit destination. It's the official visitor center for the Lake Erie Concord Grape Belt. The building includes a small museum showcasing the history of grape-growing in the area. It also offers wine and juice tastings and a long list of Concord grape products. There are jams and jellies, salad dressings, pie fillings, candies, and even salsa for sale! The Grape Discovery Center is also an epicenter of special events — both wine-related and not — and frequently hosts different activities.
Pro Tip: If you see a sheet cake commemorating a special occasion, there's a good chance that it's filled with Concord grape jelly or pie filling, not frosting!
7. Exploring Is Easy
The wineries and attractions along the Lake Erie Wine Trail are well mapped. Traffic is generally light, save for some busy weekend afternoons in July and August, and parking is ample. You can pick up a copy of the Lake Erie Wine Country map and guide at any winery or tourist attraction.
What To Know Before You Go
Most wineries are open year-round, seven days a week. However, it's a good idea to double-check the opening hours during holidays and the middle of winter just to be safe. All wineries are free to visit, but most charge a modest fee for tastings, starting at $1 per person per sample. There is usually a package if you want to buy several samples at once, and most wineries return a portion of your tasting fee if you purchase a bottle of wine.
Look for the green Lake Erie Wine Country trail signs around the region to help you find your way. Note that trail used to be called the Chautauqua-Lake Erie Wine Trail, and you might still see that name used on occasion.
If you'd rather leave the driving to someone else, Flagship Trolley based in Erie organizes wine tours and takes care of all transportation. It operates from May through October and generally visits four to five wineries over the course of 6 hours. Note that only one tour takes place each month, so it's wise to book in advance.
Don't forget your Visit Visa. This $20 booklet contains over $1,000 in local discounts and can be purchased online or at any winery. Coupons can be applied to wineries, other attractions and amenities, lodgings, and restaurants.
Where To Eat In Lake Erie Wine Country
Jacks Barcelona Drive In
Don't let the name fool you — there's no Spanish food on the menu at Jacks Barcelona Drive In, only classic American diner fare like burgers, pasta, and fish-fry items. It's a great spot for breakfast, and the pancakes are popular.
Johnny B's Restaurant
This homestyle restaurant has breakfast platters, a good deli section for lunch, and robust dinner choices, including steak, pasta, burgers, and incredible desserts like bread pudding.
Freeport Restaurant
Some of the best seafood in the area is served up at Freeport Restaurant, including Lake Erie perch, yellow pike, and scrod. Plus, they make their own sausages in house and have a good variety of steak, pork, and chicken platters.
Guppy's Tavern
A favorite area watering hole, Guppy's Tavern serves up giant cocktails in fishbowls; appetizers like loaded nachos, dips, and wings; and a long list of burgers, pizzas, quesadillas, and pasta dishes.
Where To Stay In Lake Erie Wine Country
The Athenaeum Hotel
Perfect for history lovers, this elegant hotel is located on the grounds of the Chautauqua Institution and features waterfront dining.
Sherman's Inn On Main Bed & Breakfast
With just three rooms, this cozy, old-fashioned bed and breakfast in an 1840s farmhouse offers personal attention.
Candlelight Lodge Bed And Breakfast
This romantic 1851 mansion is filled with antiques. It has seven rooms and can be reserved like a traditional inn or as a vacation rental property.
Brick House Bed & Breakfast
This handsome building dating to 1840 boasts a sauna, evening bonfires, fantastic full breakfasts, and lots of personalized attention.