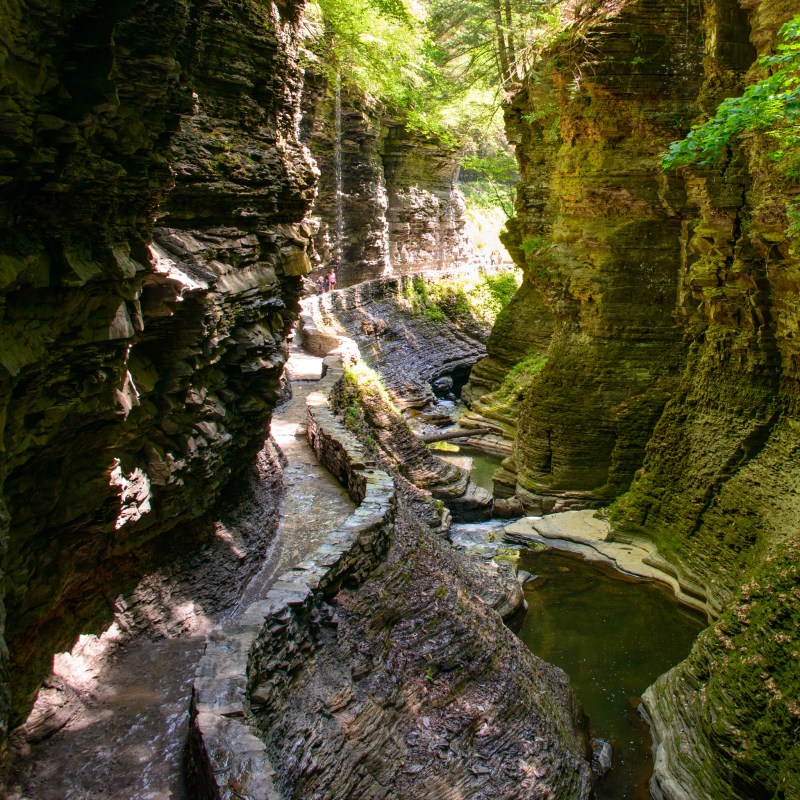 New York State has a million bucket-list attractions. Many are on this Corning to Cooperstown road trip. From the amazing Corning Museum of Glass to the 19 waterfalls in Watkins Glen State Park, Finger Lakes Wine Country to the Baseball Hall of Fame, this road trip has something for everyone.
You can do this Corning to Cooperstown road trip any time of year. Spring and fall are best if you like to avoid crowds and enjoy the colors of each of those seasons. Summer brings many events and activities (and crowds) and is good for families. Winter can be beautiful but challenging as the area gets a lot of snow.
This trip can be done over a few days or a week if you want to savor all of the experiences. Since the stops are varied, you'll always find something unique to do.
Note: Our experiences in Cooperstown were sponsored by This is Cooperstown. All opinions are our own.
Enjoy The Wonders Of Glass In Corning
Corning is one of the most amazing small towns in New York State. It is the home of the Corning Museum of Glass (CMoG) and the company of the same name. Corningware, Pyrex, and the Gorilla Glass on your mobile phone were invented here.
CMoG is a wonderful place to start your visit. I love glass, so I spent a full day in the museum. The contemporary art and history of glass exhibits are stunning. Even if you are not a science nerd, a Corning science demonstration is a must-see. Another must is one of the hands-on glass making classes or demonstrations. A great place for families, it is wheelchair accessible.
And don't forget about the gift shop. You're sure to find something that you'll want to take home.
The Rockwell Museum and the shops and restaurants in the Downtown Gaffer District will round out your stay in Corning. A free Shuttle from CMoG takes you to Main street in the Gaffer District and back on a loop.
We stayed at the Staybridge Suites next to CMoG as it was walking distance from the museum and had great rates.
Pro Tip
If you are a glass lover, spending the night in Corning is a wise idea. If you do that, you can do a full day at the museum and you'll have time to visit the Downtown Gaffer District, dine at one of the many farm-to-table restaurants, take a tour of the brewery, and see the Rockwell Museum the next day. You could also tack on an additional day and do Elmira and Watkins Glen as day trips.
Have more time or want additional info on CMoG? Read all about it in our piece on the best things to do around the Finger Lakes.
Next stop is Elmira, a 25-minute drive.
Visit Mark Twain In Elmira
Elmira is a hidden gem in the Finger Lakes region. If you love Mark Twain (Huckleberry Finn, Tom Sawyer, and more), you'll want to spend an afternoon in Elmira.
Woodlawn Cemetery is Twain's final resting place. He is buried along with his wife in her family's plot. Many people leave offerings of cigars and whiskey at his gravesite. On the campus of Elmira College, you'll find Twain's study, where he wrote most of his books. The study was originally on Quarry Farm.
Don't forget to take a peek at Elmira College while you are there. Now coed, it was one of the first women's colleges to open in the U.S. If the Civil War interests you, stop by Elmira Prison to see a POW camp for confederate soldiers.
A 25-minute drive from Elmira brings you to Watkins Glen.
Race Cars And Waterfalls In Watkins Glen
Watkins Glen offers two diverse paths: Watkins Glen International Raceway for racing buffs or the state park and its 19 waterfalls. Or, you can do both as we did.
If you are going to the raceway, purchase your tickets in advance and make sure to download the raceway's app to enhance your experience. We had the opportunity to "Drive the Glen" and it was definitely an adrenaline rush.
Watkins Glen State Park really does have 19 waterfalls. It is a wonderful walk and experience. Be prepared to get wet. Wear good, waterproof walking shoes as the path is slippery in some places. Wearing a rain jacket is not a bad idea. The park has many stairs and uneven pathways and is not accessible.
Pro Tip
In the summer, it can get quite crowded, so go very early if you want to beat the crowds. Better yet, go in the fall or spring.
After enjoying Watkins Glen, it's time to enjoy the wine of Finger Lakes Wine Country. It is a 30- to 40-minute scenic drive to our next recommended stops: two Finger Lakes wineries.
Sample The Wines Of The Finger Lakes
The Seneca Lake Wine Trail goes along Route 30, which circles Seneca Lake. You can't go wrong at any of the wineries. Most overlook the lake and have outside decks where you can have a glass of wine and something to eat. We enjoyed Wagner Vineyards Estate Winery on the eastern shore of Seneca Lake.
This area is an excellent place to spend the night if you want to savor your tastings (and drive responsibly). There are a few bed and breakfasts in Finger Lakes Wine Country. You can also rent a cabin overlooking the lake, although there's usually a two-night minimum stay, especially in summer.
Pro Tip
If you are planning to do tastings at many of the vineyards, you'll save money by purchasing a Passport (numerous options are available), which will make you eligible for discounts.
Experience History At Seneca Falls
Depending on where you are in the Finger Lakes, a 30+ minute drive takes you to Seneca Falls and the Women's Rights National Historical Park. In 1848, the first women's rights convention was held in Seneca Falls at Wesleyan Chapel. This is where the women's suffrage movement began. Spend one to two hours at the museum and don't forget to stop by the chapel.
Several recommended places to eat are the restaurant at the Gould Hotel, Deerhead Lakeside Restaurant, and, for a budget lunch, Bee's Cafe.
You can now set your GPS for the 2+ hour drive to Cooperstown.
Pro Tip
The most direct route to Cooperstown is I-90. For a more scenic route, try Route 20. The second route will take about 30 minutes longer.
Old-Fashioned Cider At Fly Creek Cider Mill
We recommend Fly Creek Cider Mill as your next stop. Fly Creek makes cider the old-fashioned way. It is fascinating to watch. They also have food on site — we recommend the macaroni and cheese, the apple pie, and the apple cider donuts. Oh yeah, they serve protein, too. Hot dogs, pulled pork, and more. There's a kids play area and music on the weekends.
A few miles down the road from Fly Creek is Pail Shop Vineyards. We stumbled upon this small, lovely, picturesque vineyard. They have excellent whites. Stop by for a tasting if you didn't already have your fill in the Finger Lakes.
A short 10-minute drive in the spring or fall will bring you to Cooperstown. If you are traveling in the summer, then the drive will be much longer due to traffic.
Baseball And More In Cooperstown
Cooperstown is a magnet for baseball fans of all ages. However, there is so much more to Cooperstown than baseball — the world-famous Glimmerglass Opera, The Farmers' Museum, and the Fenimore Art Museum are just the tip of the iceberg. You can also rent a kayak or take a sunset cruise on Otsego Lake. If you have children, don't miss the indoor merry-go-round in The Farmers' Museum. The museum is laid out like a village from the 1800s, complete with farm animals. There are demonstrations of traditional crafts like dyeing and spinning yarn.
The centerpiece of the town is undoubtedly the Baseball Hall of Fame. The Induction Ceremony at the end of July draws 80,000+ people annually. The ceremonies are free to attend. In addition to the inductees, many Hall of Famers come to town. There is a parade down Main Street. It's a baseball fan's dream trip. You can spend more than one day at the Hall of Fame and Museum and not see everything it has to offer.
The Cooperstown Artisanal Distillery (in town), Ommegang, and Red Shed Brewery (a short drive) are good places to go if you are into craft beer or spirits.
We stayed at the Rose and Thistle Bed and Breakfast, a restored Victorian house. The bed and breakfast offers a luxurious breakfast spread and large comfortable rooms and is well located across from a trolley stop.
For a nice dinner, try Mel's at 22 or Alex's World Bistro. If a diner is more your style, try the Cooperstown Diner.
Pro Tip
Did we say that Cooperstown is crowded in July? It is. We suggest leaving your car at your lodging and walking or taking the trolley to get around. Book your restaurants, entry fees, and tickets far in advance. If you don't like crowds, go in the spring or fall instead.