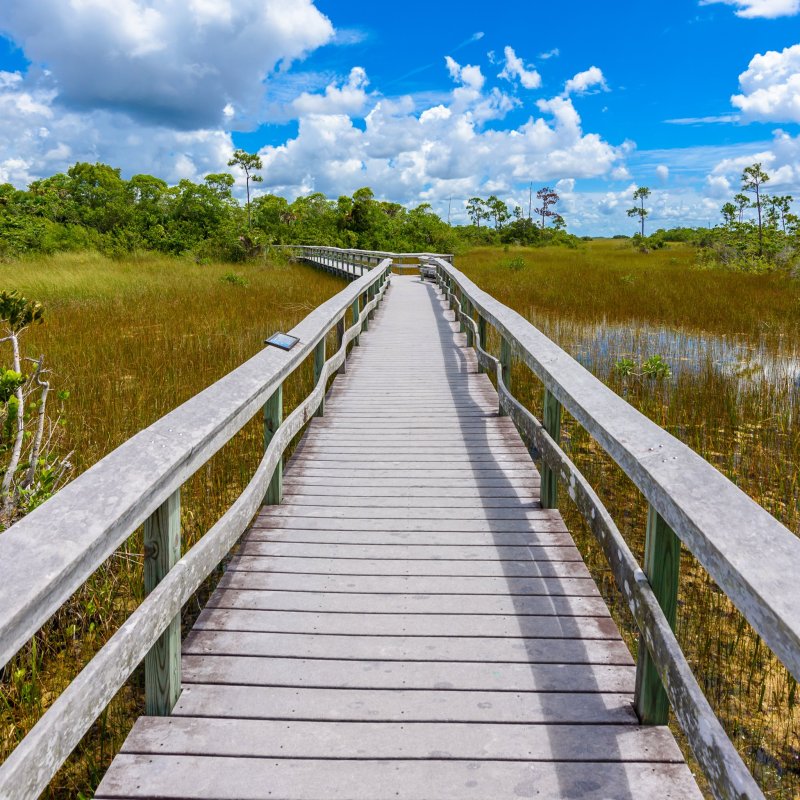 A UNESCO World Heritage site, Everglades National Park covers only 20 percent of the entire Everglades in the south of Florida, the largest subtropical wilderness in the U.S. A vast expanse of wetlands and tropical forests, the Everglades stretch from Lake Okeechobee to the southern tip of Florida and are home to manatees, the American crocodile, and the elusive Florida panther, not to mention rare birds and other endangered animals. There are 20 different kinds of snakes too, but only four of them are poisonous. It's an ecosystem of great variety and beauty fond nowhere else in the world, and hence it's simply a must-visit.
The vegetation is equally lavish with mangrove trees, swamp grass, and even the odd tiny orchid.
Here are some of the best things to do in Everglades National Park, plus tips on when to go and how to get there.
1. Airboat Rides, The Best-Known Everglades National Park Attraction
While living in Miami a few years back, I went to the Everglades several times because I just loved the thrill, the devoted rangers, and, of course, the gators, many of which actually have their own names.
The Everglades are a swamp crisscrossed by many waterways that are no more than four to five feet deep. Therefore, the only way to navigate them is by canoe, kayak, or the iconic airboats, which are also called fan boats. They are flat-bottom aluminum crafts propelled by an aircraft-like propeller sitting high up on a tower at the back of the crafts. They are driven by the rangers and can go pretty fast. Some are even designed to go over land or the savanna.
The rangers themselves are a sight to behold. You can feel the enthusiasm they bring to their work. Many of them are Native Americans of the local Seminole and Miccosukee tribes and live in villages nearby.
From the visitor center, you board an airboat and off you go. Sit down and remain seated. Do not under any circumstances trail your hand in the water. Put in your earplugs; when the ranger twists the throttle, the noise is deafening and you get sprayed. That said, most of the way is slow. You want to see the vegetation and spot the gators. The ranger will whistle and call their names and they'll come out of hiding to say hello. There are plenty of tours available. Scroll to "Airboat Tours" partway down this National Park Service page to learn about providers who are authorized to operate within the park.
2. Touch, If You Dare, At The Gator Show
Back on dry land, it's show time. You are guided to an arena-like open ring, sit on wooden benches, and watch alligator wrestling. Again, it's often guides of Native ancestry who bring out gators and lizards of various sizes and demonstrate the centuries-old techniques used to wrestle with them. Then it's your turn. You are asked to come down and touch or hold the tame and smaller ones, always under the watchful eye of a ranger. Never fear; nobody gets their fingers bitten off!
Take some time to stroll around the visitors center and learn about the history and nature of the Everglades. Naturally, there is also a gift shop where the best buys, in my opinion, are books full of fabulous pictures. In the adjacent restaurant you may want to try gator tail steaks or gator sausages.
3. Venture Into The Wild On Foot
Wrestling shows and airboat rides are fine, but the real adventure is to be had when you take to your feet and venture deep into the cypress and mangrove swamps. Again, there are a great variety of guided tours on offer. Which one you choose depends on the time you have allocated to your Everglades National Park trip.
Assuming you start from Miami and hence the Shark Valley Visitor Center and you just want a taste of the wilderness, you can set off on your own on the marked trails. They are near the center and you can get an overview from the observation platform. Follow the signs, walk over wooden bridges, look down at the swamp and the alligators dozing at the fringes, swipe some mangrove branches out of the way and, for about half an hour, feel like an explorer.
If you are more serious, have more time, and want to know more, this sunscreen takes you deep into the cypress swamps where you can observe some amazing wildlife. Hiking shoes, a sun hat, bottled water, sunscreen, and insect repellent are all musts.
There are also ranger-guided tours listed on this National Park Service calendar.
4. Explore More Easily On A Tram Tour
If you are not so comfortable or eager to set out on foot, that doesn't mean you can't enjoy a great adventure tour. There is always the Shark Valley Tram. This two-hour tour starts from Shark Valley. Whereas the airboat ride focuses on water, the tram tour takes you through another aspect of the Everglades: a sea of grass. Sitting comfortably in your seat and listening to the explanations of rangers or trained naturalists, you will be awed by the sheer expanse of this phenomenon of nature.
You'll see birds like herons, egrets, and flamingos and, yes, gators, too. The train travels on a loop and passes by the highest elevation of the Everglades around its halfway point. If you wish, alight for a bit and climb the observation tower.
5. Visit Miccosukee Village
The Everglades aren't all about flora, fauna, and the swamps. A very important aspect of the area is its history and the customs of the original (and current) inhabitants, who are mainly Seminole and Miccosukee. While in the Everglades, don't miss out on a visit to Miccosukee Village.
Traditional wooden houses line a main street interspersed with stalls where ladies in their colorful clothes show how they make fabulous bead ornaments and jewelry, both of which make fine gifts and souvenirs. There is also a small museum, a shack where you can have drinks and a snack and, yes, gator wrestling shows. If you are based in Miami and are interested in learning more about the area's native heritage, visit the HistoryMiami Museum on Flagler Street, too.
6. Camping In Everglades National Park
If you are a real nature fan and fancy some camping in the Everglades, this is also possible. Two drive-in campgrounds are available: Long Pine Key and Flamingo. There is also a wilderness campground. Staying here requires a special permit. RVs and tents are allowed in Long Pine Key and Flamingo, but wilderness is only accessible by kayak, canoe, or hiking. For details, consult the park's website.
How And When To Visit
My recommendations are based on the ins and outs of Everglades National Park, not the entire basin. The best starting point for a visit is Miami, from which you can easily reach the northern (Shark Valley Visitor Center) and southern (Ernest F. Coe Visitor Center) entrances, though I include additional entry-point recommendations below.
Unless you plan on camping, Everglades National Park is a wonderful day trip from Miami. You can either go on a group tour or drive there yourself, setting off along U.S. 41, also known as the Tamiami Trail. It takes about one hour to reach the northern entrance. Whichever option you choose, take a good look at the Everglades National Park map ahead of time.
The Tamiami Trail drive is very scenic as it goes along swamps and grass savannas where you can observe egrets and herons. You may want to stop and take pictures, but be very careful when getting out of the car. I nearly stepped on an alligator who was lying motionless in the grass, looking just like a tree trunk! They are everywhere, even crossing the roads.
If you go on your own, consult the entrance fees here and prepare accordingly by having the correct amount of cash available.
The best time to visit is the dry season between November and April. It's also the busiest. Dry season doesn't mean you won't get wet! Obviously you will want to enjoy an airboat tour, so bring a waterproof jacket and sunglasses as you will get sprayed a lot. Insect repellent is a must as well as earplugs. They give you some, but you'll want to use your own. Wear a sunhat or cap, sunscreen (the sun can be fierce), and walking shoes. Flip flops or high heeled sandals are not a good idea.
Other Entrances To Everglades National Park
So far, we have told you about the northern and southern entrances, assuming that you are coming from Miami. However, there are two other entrances. If you are closer to Florida City, head for the Homestead entrance. If, however, you are on the Gulf Coast, the best entrance for you is at Everglades City, which is the northwest entrance.
With the exception of camping, which isn't really to my liking, I have been on each and every one of the adventures I've recommended — some, including the airboat rides, several times. Once visited, the Everglades' magic touches you deeply and leaves you with impressions that will last a lifetime.
Road tripping through Florida? Here are my recommendations for an epic Florida road trip from Miami to Key West.