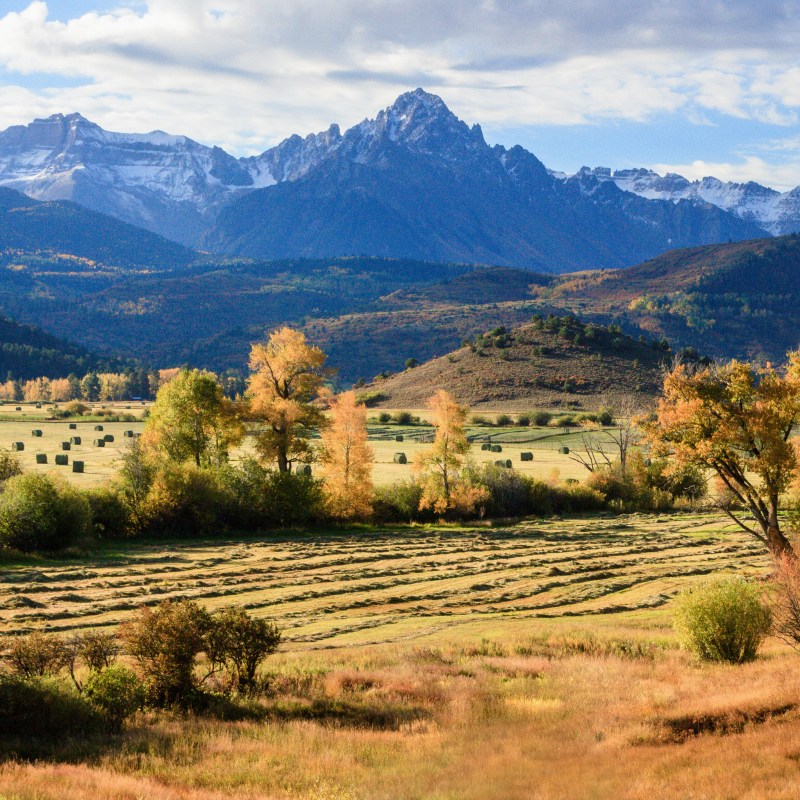 Most everyone has heard of — and many have visited — Colorado's top tourist areas: Denver, Colorado Springs, Telluride, Aspen, Breckenridge, and Vail.
But if you're looking for a unique Colorado vacation without the crowds, consider the following offbeat options, from the heart of Colorado's wine country to the spot where the original True Grit with John Wayne was filmed.
1. Palisade
Palisade, Colorado, is home to the vast majority of the state's vineyards and about a quarter of the state's wineries. Located just off Interstate 70 on the state's Western Slope, Palisade is also home to fruit orchards. The best way to see all the wineries and orchards is by following the Fruit & Wine Byway. You can tackle the entire route via car or for a more adventurous time, opt to bike segments of the trail. Bike from orchard to winery and reward yourself at each stop with fruit and wine samples. The trail is broken up into segments, so I recommend downloading the map beforehand to plan your trip.
Highlights to check out include Colorado Cellars, the state's oldest winery, which has been producing award-winning wines for the last three decades, and the Meadery of the Rockies, which sells wines made with local honey.
After all that biking and wine tasting, an overnight stay may be warranted. There are a variety of lodging choices in Palisade — everything from RV sites to motels and quaint inns. The Wine Country Inn is situated within a vineyard and offers free breakfast and an evening wine tasting. It also has a restaurant on-site and a heated outdoor pool. Or stay among the vineyards at the Palisade Basecamp. Whether you choose to camp in a tent or stay in an RV, cabin, or upgraded suite, you'll be directly off the Fruit & Wine Byway along the Colorado River.
2. Ridgway
This one is for the movie buffs. Ridgway, Colorado, is where the John Wayne Western True Grit was filmed. And while that was back in the late '60s, this small town in southwestern Colorado maintains that Old Western feel and attitude.
Situated in a valley within the majestic San Juan Mountains, Ridgway was once a hub for the Rio Grande Southern Railroad. Today, you can learn about the railway, as well as the mines it served, by visiting the Railroad Museum. Or take the True Grit Movie Walking Tour for $10 to see some of the iconic buildings and spots from the movie. Then fuel up at the True Grit Cafe right in the center of town.
Ridgway (like its neighbor, Ouray) is also a mecca for outdoor enthusiasts. There are opportunities for hiking and biking, rafting, award-winning golfing, and year-round fishing. Take to the water at Ridgway State Park for kayaking, boating, windsurfing, and more. You can also stay overnight at the park in one of its yurts.
3. Ouray
Just 15 minutes away from Ridgway, Ouray, Colorado, is known for its ice climbing, attracting top athletes from around the world. The Ouray Ice Park is a man-made park with more than 100 climbing routes. It hosts an ice festival every January with climbing competitions that are spectacular to watch.
The ice park is located just past the town's main street, which is lined with small shops and local restaurants. My favorites include the Artisan Bakery & Cafe for lavender and pumpkin bars and coffee for breakfast, the Ouray Brewery for a taste of Colorado-brewed beer, and Bon Ton Restaurant for a romantic Italian meal below the Saint Elmo Hotel.
After all that outdoor adventure, consider soaking in some mineral waters at the hot springs in either Ridgway or Ouray. In Ridgway, Orvis Hot Springs has seven pools all filled with natural lithium water aimed at relaxing and rejuvenating tired muscles. They range in temperature from 90 to 112 degrees, and clothing is optional. The Ouray Hot Springs in Ouray has two hot pools, plus a colder lap pool, waterslides, and a floating obstacle course. Both hot springs offer massages.
4. Edwards
Located within a few miles of two of Vail's largest ski resorts, Edwards is your low-key alternative to those expensive ski areas. Edwards has more of a local feel; it's not overrun by tourists and is a well-kept secret among Coloradoans who want to escape to the High Country.
The main part of Edwards, the Edwards Riverwalk, is built in a square, and it's where you'll find a local bookstore, boutique clothing and home decor stores, and even a small movie theater. Behind the square is a paved path that runs along the Eagle River all the way to Vail.
For a small town, Edwards has an abundance of excellent restaurants. Some of the best burgers can be found at local bar Woody's, where you'll also find live music by local artists most nights. Hands-down, the best happy hour in town is at E-Town, where you can fill up on flatbread pizzas, Southwestern egg rolls, and pretzels without shelling out tons of money. And don't judge a book by its cover: The Gashouse may not look like a seafood restaurant, but the dishes inside are simply amazing.
Edwards is close to the Vail Ski Resort and Beaver Creek Resort, both of which offer winter and summer activities. And there are also fishing excursions (either on your own or with a guide), golfing opportunities, mountain biking trails, and fun First Fridays concerts held in the Riverwalk Backyard Amphitheater.
5. Alamosa
Just about 40 miles from the New Mexico border is Alamosa, Colorado, a small town in the San Luis Valley. Alamosa is a popular overnight spot for tourists visiting the nearby Great Sand Dunes National Park & Preserve, home to the tallest sand dunes in North America, but the quaint town has much more to offer that's often overlooked.
Start with the Alamosa Walking Tour, a free, go-at-your-own pace tour of the town's architectural history. Or hop aboard the Rio Grande Scenic Railroad to reach places that haven't been touched by modern times. For a real treat in the summer, take the train to the Fir Summit Amphitheater for an outdoor concert at 9,400 feet.
Alamosa has nearly 8 miles of walking and biking trails bordering wildlife refuges. It's not uncommon to see different bird species, as well as elk, bighorn sheep, and coyotes. For more rugged rides, there are nearby mountain bike trails, but note that some of them climb up to 12,000 feet! The Rio Grande National Forest, which surrounds Alamosa, is popular for trout fishing and both big- and small-game hunting.
The place to go after your outdoor adventure is Splashland, a family-friendly naturally heated pool with waterslides, a concession stand, and lap lanes.
Alamosa prides itself on offering local cuisine prepared by locals. You'll find everything from quick bites to fine-dining options, but all with an authentic flair. No trip to the area would be complete without tasting some of the famous green chile. The town's proximity to New Mexico's fresh green chile crops means it can whip up some tasty dishes. Then wash it down with some locally brewed Colorado beer at one of the town's three breweries.
Lodging options in Alamosa range from camping and RV parks to hotels and motels.
6. Cripple Creek
If you're feeling lucky, head to Cripple Creek, Colorado. The small town a little more than 2 hours south of Denver is one of only two towns in Colorado where you can gamble. The old mining town was popular during the Gold Rush, and today it houses nine casinos inside restored buildings, as well as local shops and quaint restaurants.
The drive from Colorado Springs is beautiful, but winding. You can ditch the car and opt to relax onboard a shuttle bus that will take you from Colorado Springs (and a few other nearby towns) to Cripple Creek. Once you're in town, getting around is easy on the Cripple Creek Bus. For only a dollar a ride, the bus will take you to and from most hotels, casinos, and spots along the town's main street. The free Cripple Creek Trolley also has fixed stops around town. Accommodations in Cripple Creek include casino hotels, bed and breakfasts, cabins, and other hotels.
During your visit, take a break from Lady Luck to explore the town's rich history. Go 1,000 feet underground to tour the Mollie Kathleen Gold Mine, learn about the Wild West at the Cripple Creek Jail Museum, or just meander around preserved buildings at the District Museum.
For more adventure, there are hiking and biking trails, off-road tours, and whitewater rafting opportunities. Oh, and don't be alarmed if you are joined by some friendly animals. Descendants of the donkeys used during the mining days roam freely, even along the main street.