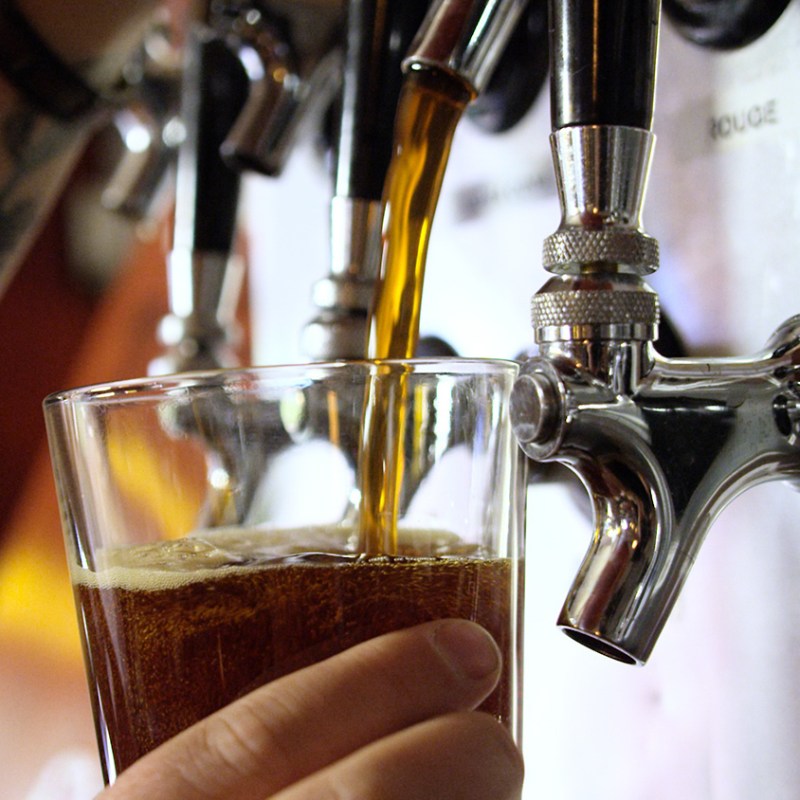 Combine pristine natural beauty, a variety of outdoor activities, and a burgeoning craft beer scene, and you have the North Lake Tahoe Ale Trail.
Lake Tahoe, with its multitude of sunny days, offers year-round outdoor adventure, from hiking or mountain biking the alpine landscape to paddling on the lake, skiing, and snowboarding. Add in the North Lake Tahoe Ale Trail, and there can also be a cold brew waiting at the end of a vigorous day outdoors. Plan your adventure with the interactive map, watch the video series, and then set off for the trails or the lake and a drink.
Here are nine things to know about the trail before you go.
1. It's Not Your Typical Ale Trail
Rather than focusing solely on breweries and distilleries, the North Lake Tahoe Ale Trail distinguishes itself by matching a Lake Tahoe-specific outdoor activity with a refreshing indoor beverage experience.
"As we looked at our natural outdoor assets throughout the North Lake Tahoe region and matched that up with our active brewery scene, the concept of 'the cold beer at the end of the trail' emerged. We took that concept, and the North Lake Tahoe Ale Trail was born," said Andy Chapman, president and CEO of the Incline Village Crystal Bay Visitors Bureau. "North Lake Tahoe has been active in the human-powered sports scene for quite some time. This includes all manner of outdoor activities, including hiking, mountain and road biking, paddleboarding, kayaking, etc. We took our HPS concept as the basis for our ale trail."
2. You Can Visit Virtually To Plan Your Trip
It started with a series of video vignettes. Each video looks at a particular activity — mountain biking, road biking, stand-up paddleboarding, hiking, and kayaking — takes you along the suggested route, and ends with a stop for refreshments. After the videos were created, an interactive map was added that allowed guests to virtually partake in the trail. Descriptions helped visitors find the trails and the brewpub or restaurant with the corresponding drink.
With the video series and the interactive map, you can get acquainted with the outdoor activities in Lake Tahoe before you even arrive. Check out the views and get a sense of the difficulty of the hike or ride, get familiar with the restaurant and pub scene, and then plan your trip based on your skill level and preferences.
To get started planning your trip, visit the interactive map and hover over any of the pinned places to learn more about the hiking, biking, or paddling trails, plus the beverage spots you can discover after partaking in the activities.
3. You Can Participate In Water Sports And Enjoy A Seasonal Beer Or Wine
Lake Tahoe, the largest alpine lake in North America, is renowned for its pristine waters that allow kayakers and paddleboard enthusiasts alike to view rocks nearly 70 feet below the surface. It's the perfect place to get out on the water and enjoy a leisurely tour.
One option on the North Lake Tahoe Ale Trail is kayaking or paddleboarding from Sand Harbor to the Thunderbird Lodge. It's a moderately difficult route of about 5 miles. You'll see some of the most dramatic of the East Shore's stunning scenes. Afterward, stop into Cutthroat's Saloon for gourmet pub food and more than two dozen seasonal and unique beer options.
Or kayak 9.5 miles from Homewood to Meeks Bay and back. You'll see wooded shorelines and sandy beaches along the way. At Meeks Bay, you can take a break to rest and swim before paddling back to Homewood. Afterward, enjoy a glass from the award-winning wine list at West Shore Cafe & Inn.
4. You Can Grab A Delicious Sandwich After Your Mountain Bike Ride
For an easy ride, take the descending Tyrolean Downhill Mountain Bike Trail that travels nearly 2,000 feet. Hardly any pedaling is required on this 3.7-mile ride. If you want more of a challenge, you can attempt the berms and jumps along the way. Pick up the trailhead at Mount Rose Highway near Mount Rose Meadows; the trail ends at the Diamond Peak Ski Resort.
Finish at the Mountain High Sandwich Company, where the focus is on organic and sustainable sandwiches, cold-pressed juices, local kombucha, and beer on tap. Refuel with the Give Thanks sandwich, with naturally raised turkey, stuffing, cranberry sauce, organic spring mix, and mayo on a white roll, plus a draft beer or a cup of roasted organic coffee.
5. You Can Take A Challenging Road Bike Ride Before Dinner
The 36-mile Tahoe Triangle heads from Kings Beach to Tahoe City, then on to Truckee, and then back to Kings Beach. It's a difficult ride, with a steep climb up Brockway Summit followed by a fast descent to Kings Beach.
Head to Jason's Beachside Grille afterward to regain some of the calories you burned. Start with the baby back ribs — a Jason's Beachside Grille specialty — and then try the smoked chicken pasta with sliced chicken breast, fresh vegetables, and sun-dried tomatoes tossed in a creamy gouda sauce.
6. Easy Bike Tours (Plus Beer) Are Available, Too
For a more leisurely ride, try the 11-mile Squaw Valley to Tahoe City Loop.
Afterward, stop by the Rocker@Squaw at the Squaw Valley Ski Resort. The food is sourced from regional farms and served in a modern rustic setting. Share an order of the mussels, or try the broiled goat cheese with thyme, oregano, citrus salad, pickled onions, and parsley, served with root vegetable chips.
If you're there for dinner, try a burger or chicken sandwich, or indulge in the lobster mac and cheese made with Fiscalini sauce, green peas, chives, parsley, lobster meat, toasted Brioche, and Parmesan. Sip a FiftyFifty West Coast Haze IPA or try a specialty cocktail like the RockerRita made with Herradura Silver, Cointreau, lime, and agave.
7. You Can Enjoy A Hike Paired With A Saloon-Inspired Cocktail
If you prefer to experience the beauty of nature on foot, North Lake Tahoe has a variety of hiking trails for people of all fitness levels.
For a moderate 3-mile hike, consider the Tahoe Rim Trail, which runs from Brockway Summit to Picnic Rock and back and offers spectacular views. If you'd like to challenge yourself with a longer hike, continue past Picnic Rock toward Martis Peak and Mount Baldy for an increasingly panoramic and breathtaking view of Lake Tahoe and the Carson Range.
Afterward, stop by Backyard Bar & BBQ at the Ritz-Carlton. Sit on the back patio and enjoy traditional barbecue favorites cooked in an on-site smoker, or try the wood-fired oven-baked pizza, a burger, or a bratwurst. The seasonal beverage program offers saloon-inspired cocktails plus local craft beer selections.
8. You Can Attempt A Difficult Hike Followed By Lakeside Dinner And Drinks
If you're wanting a challenging loop that offers stunning views of Twin Peaks, Lake Tahoe, and Granite Chief Wilderness, consider the 12-mile Stanford Rock Trail. You'll hike to majestic meadows and waterfalls and step onto a section of the Tahoe Rim Trail.
Afterward, relax lakeside at the Sunnyside Restaurant & Lodge. Start with the fried zucchini, a Sunnyside tradition since 1965. A local favorite for dinner is the Meatloaf & Mashers — meatloaf served with sour cream and chive-whipped potatoes, green bean amandine, and smoked tomato chutney. Or try the mixed seafood hot pot with Maine lobster, shrimp, fresh fish, a saffron tomato broth, and a risotto cake.
There's a wine and draft beer selection, but consider one of the signature cocktails like the Dirty Snowman made with Three Olives vanilla vodka, Frangelico liqueur, Baileys Irish Cream, hot chocolate, and whipped cream topped with graham.
9. You Can Explore The Craft Brewing Scene Without Breaking A Sweat
If you want a day off from hiking and biking, Tahoe Brew Tours offers guided tours of the craft brewing scene starting at $90 for a 5-hour tour. The guide and designated driver will accompany you as you sample appetizers at the first stop, then sip on 20-ounce beer samples at each of the three breweries on the tour. While there, you'll learn about the brewing process from the brewers themselves. Pair your meal with a craft beer or one of the creative cocktails.