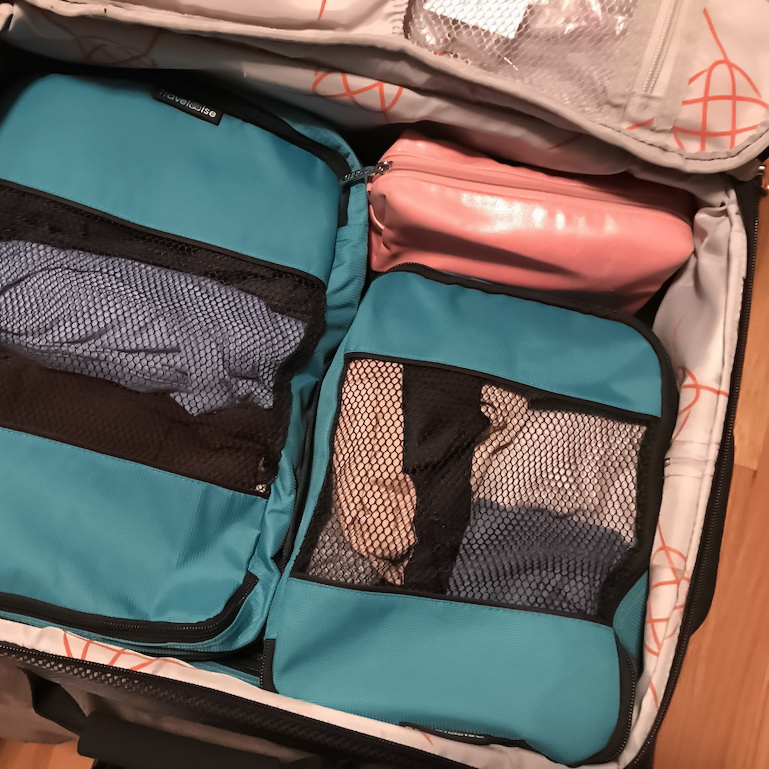 Packing can be a chore. Whether you're trying to squeeze more into less space or plan for a long and varied journey, challenges will arise.
You might say that we are professional travelers, having traveled for work for over two decades. While much has changed, the importance of smart packing remains. Here are our best travel packing tips to help make your preparation a breeze.
1. Make A Packing List
Even if you're going on a quick overnighter, make a packing list. Include everything you're going to take, especially those items that are easy to forget, like power cords, adapters, all-weather gear, and hairbrushes. Take your packing list with you and use it when it's time to return. You'll never again forget the phone cord in the wall or something in the safe.
2. Back Up Important Documents On Paper
Digital technology is great. But one of our most important travel packing tips is to back up some things on paper.
Make copies of your passport, visas, credit cards, and any other important documents. Keep them in your hotel safe when you're traveling. It's also a good idea to put one actual credit card and some cash in the hotel safe in the unlikely but possible event that yours gets lost or stolen.
If your trip requires some navigation, have a paper map handy. GPS works fine most of the time, but if not, you'll have another way to get from Point A to Point B.
3. Bring Water And A Reusable Water Bottle
You can bring an empty water bottle through airport security, and then fill it up after you pass through. You'll have it with you whenever you want, and it's a lovely way to honor the Earth by leaving less trash. If you want, you can take two — one for drinking water, and an insulated one for the hot or cold beverages many hotels offer for free in the room or lobby.
4. Don't Forget Snacks
Most of the time, the food that comes with economical transportation is unappealing or nonexistent. You can avoid a growling stomach if you've included snacks on your packing list. Depending on how you're traveling, you could even take a meal with you, such as a sandwich, chips, cut veggies, and fruit. But anywhere you go, you can bring tasty munchies that aren't a problem to keep fresh and available.
Nuts, dry-roasted chickpeas or edamame, pretzels, chips, seeds, trail mix, cookies, dried fruit, jerky, granola, protein bars, and dark chocolate are all great options. Not only are these good for eating between meals, but they can be a lifesaver if the unexpected happens during your trip.
5. Keep Your Medicines In Your Carry-On
Staying healthy is a top priority when we travel. If you have prescription drugs that you take regularly, keep them in your carry-on bag. You don't want to be without them if your checked luggage gets lost or your travel plans change.
We also recommend taking a "medicine bag" of over-the-counter drugs you tend to use. We're highly allergic to insect bites, for instance, so we always include Benadryl. Ibuprofen or acetaminophen, sinus-relief medicines, cough drops, antacids, saline eye drops or contact solution, Emergen-C, or your vitamins of choice can all come along.
We like to use a bright red cosmetics bag that's easy to identify. Keep a few of these most-used items in your carry-on, too.
6. Pack Right, But Pack Light
Even when travel goes smoothly, it's a pain to drag your bags around. When changes, delays, cancellations, or disruptions occur, it's even worse. You'll curse yourself if you have to tote around an extra load of formalwear you brought "just in case."
Before you head out, lay out everything you plan to take. Look at it and decide what is not essential. Then pack it all up and see how it feels. If you had to pull or carry it for 20 blocks, catch a bus with it, take it up the stairs, or lift it onto an overhead rack, would it still feel okay? If not, find a few more things you can live without. We'll give you more ideas in the travel packing tips below.
Another tip: Bring a lightweight foldable tote bag or backpack and some gallon-size storage bags. That way you can go shopping, sightseeing, or exploring using the lightweight bag instead of a heavier purse or backpack. Use the storage bags for anything from keeping receipts together to holding a wet bathing suit.
7. Experiment With Packing Cubes
Some pro packers roll their clothes, and others recommend folding or layering. Another way to organize your clothes and other items is to use packing cubes. These lightweight containers come in different sizes so that you can put various items into each one. Then you pack the cubes into your bag. Packing cubes are part of our strategy for travel packing made easy.
8. Coordinate Your Colors
Start out with neutral colors that you can mix and match. Every item should go with at least two others. Match your tops with pants, shorts, and skirts. Men can coordinate shirts and pants with sweaters or blazers if necessary. If traveling for business and wearing a suit, you can change up an entire outfit with a different shirt, scarf, or tie.
9. Think In Layers
If the weather at your destination will be unpredictable or you'll be out during different times of the day or night, layers are your friend. You can wear a thin shirt, overshirt, sweater, and jacket at the same time, and then peel off your layers as the weather warms up. Don't forget to add a scarf or light sweater to your travel packing list. They take up little room, but add a lot of flexibility to your wardrobe.
10. Lose The Shoes
You should be able to do anything, anywhere with three pairs of shoes maximum. Pack a dress pair, a casual pair, and an active or comfort pair. Wear the bulkiest pair when you start your trip. We like to pack our shoes inside plastic bags from the grocery store. That keeps them from getting any dirt on our clothes. Don't forget that small items like socks and underwear can be stuffed inside shoes if you're short on space.
11. Try Compression Socks
Whether you're taking a flight, walking a trade-show floor, or spending time on your feet while out sightseeing, compression socks are a must-have item. Aside from their well-known medical benefits, travel socks just keep our legs and feet from getting so tired. Their popularity has spawned many designs, and they're mainstream now. For more detailed information, check out our article on the best travel compression socks.
12. Be Smart About Electronics
Your digital life travels along with you, so you'll want to be smart about your electronics. Among our most important travel packing tips is that you take all your devices and their accessories with you in your carry-on bag. If you're traveling by any mode other than plane, keep them in a separate bag that stays with you or that you can easily access. Make sure you keep all cords, adapters, extra batteries, power banks, and accessories together, too.
13. Bring Entertainment For Downtime
Most travel includes some downtime, whether planned or accidental. One way to enjoy downtime is to have plenty of your favorite entertainment within reach. If you like games, be sure to have some digital ones — the same goes for books, movies, music, magazines, and podcasts.
Some of us still love physical books, so don't be afraid to bring one with you. Just make sure it's a paperback, and when you finish, you can leave it somewhere for another person to pick up and enjoy. If you like this idea, you're not alone. You can register for free and join nearly two million BookCrossing members who label their books and release them "into the wild" for others.
Taking just a little time to implement our travel packing tips will have you packing like a travel pro in no time.