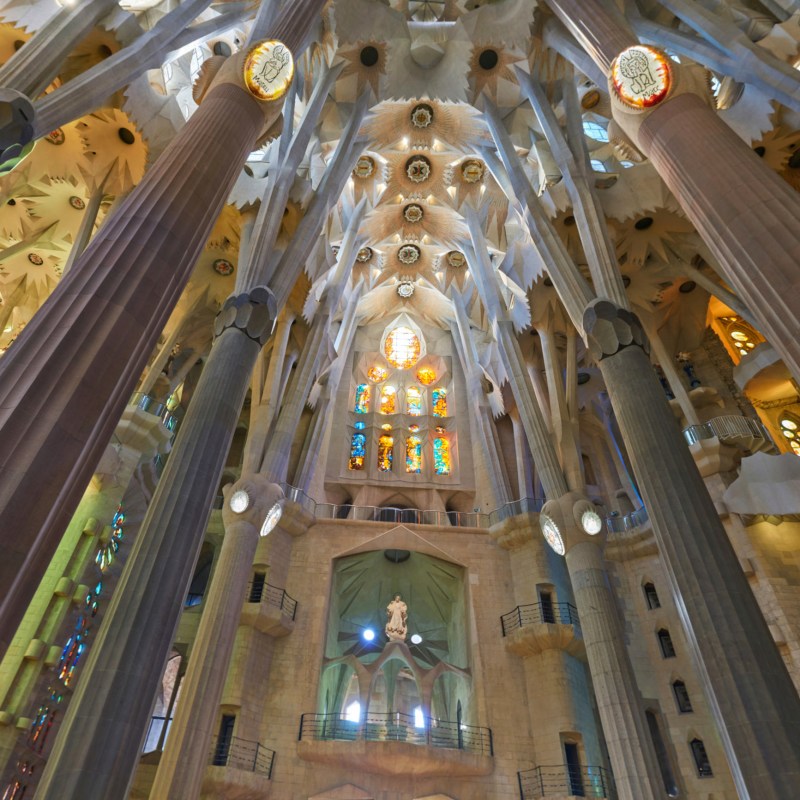 Even during times when we are unable to travel, there is no reason why we cannot soak up some art and culture from around the world. Armchair travel has always been a good way to get inspired and learn more about other countries' arts and cultures, and it's a perfect precursor to booking a dream trip abroad.
Recently, it has become even easier to view some of the world's best exhibitions, with access to displays that you would have been either hard-pressed to get tickets to, would have had queues around the block, or require spending a small fortune to enjoy. And then you usually have little chance of having these exhibits to yourself. Just think of the Mona Lisa: You actually see crowds rather than being able to take your time to enjoy the painting.
Devoid of tourists, the world's 10 most-visited countries have now generously opened their cultural heritage to virtual visitors, often creating special and unique exhibitions that can only be viewed online.
There are a lot of great exhibitions and experiences to choose from, and I have enjoyed trying them all out and picking my personal favorites. I have chosen a mixed bunch because not everybody is into art or archaeology or history, and each country has its own quirks and interests. So, sit back and enjoy your trip around the world through the virtual world of art, culture, and history.
The Louvre, Paris
France is the world's most visited country, with just short of 90 million visitors per year. The Louvre is the world's most visited museum, with more than 10 million visitors each year. But trying to get in and having enough time to look around is often impossible because it just so happens that the Louvre is also the world's largest art museum. But currently, devoid of queues and crowds blocking your favorite paintings from view, the museum has designed four virtual walks through its countless corridors, allowing you to stop and start as you choose your way around. All you must do is decide which of the tours to enjoy first. Your options are The Petite Galerie with its Advent of Christ exhibition, Egyptian Antiquities, the history of the medieval Louvre, and Decorative Arts.
Sagrada Familia, Barcelona
Nearly 83 million visitors go to Spain every year, with Barcelona alone receiving some 8 million of them, much to the consternation of the locals. One of Barcelona's most visited sights is Gaudi's Sagrada Familia, the cathedral that will have taken 150 years to build once it is finished in 2026 if all goes well. There is something to see on every inch of this amazing building, inside and out, and even if you are on vacation, there never seems to be enough time to leisurely explore all of it. After all, there is much to see in Barcelona. Now is your chance.
Thanks to Sagrada Familia's Vista Virtual, you can explore the outside and the inside at your leisure, zooming in and investigating corners without people in the way. The maneuvering takes a little getting used to, but it's worth persevering.
The Great Wall Of China
A museum in the loosest possible sense but a cultural attraction in its best sense, the Great Wall of China is a once- (or preferably twice-) in-a-lifetime sight to see. Breathtaking doesn't begin to describe the feeling when you first stand on the wall and see it stretching into the distance, across the mountains along the horizon, and then onward past the horizon. Sadly, even off season, the wall is mightily popular, with more than 10 million annual visitors (a sixth of China's total annual visitors) who all tend to block one another's views.
Through this virtual tour, you can explore the stretch between Jinshanling and Simatai at your own pace, even if the tour seems to jump between seasons.
J. Paul Getty Museum, Los Angeles
The Getty Center's many exhibitions draw a couple of million visitors through its doors every year. But in acknowledgment of the times, the J. Paul Getty Museum in Getty Villa has collated four virtual exhibitions, which can be enjoyed only online and only now. You can choose from The Director's Choice; Century Pastel Portraits; Heaven, Hell, and Dying Well; and the medieval collection: Eat, Drink, and Be Merry. This is a varied offering with something to appeal to everyone.
Vatican Museum, Rome
Ah, Rome. Hotbed of history and beauty. And tourism. With some 62 million annual visitors vying for space in the city's most popular attractions, it can be tough to actually see and enjoy what you have traveled around the world to see and enjoy. A recent article analyzing how we travel estimated that we get around 200 seconds in the Sistine Chapel in the Vatican to try and take in the hundreds of images on the ceiling alone. So, this virtual tour of the Vatican is perfect for those you have visited and missed out, those who want to visit, and those, like most of us, enjoying a little armchair travel. Visit each room and stay for as long as you want. This is probably the most special of all the virtual experiences I have tried.
If you are inspired to plan a visit when we can travel again, don't miss our tips for Visiting Vatican City and getting the most out of the experience.
Pera Museum, Istanbul
Dreaming of Turkey, that land straddling Europe and Asia, once the Ottoman Empire, the land of Sultans and unbelievable riches? Nearly 46 million visitors a year do, too. Unfortunately, once you are in Istanbul, tourists get carried away with the Grand Bazaar, the mosques, and Topkapi Palace, and often neglect the art museums, of which there are plenty. Here is your chance to visit the Pera Museum's exhibition Intersecting Worlds, pop into each room, and stay in front of your favorite images if you wish.
Or learn about Turkey's street art through the Language of the Wall digital exhibition, complete with interviews of artists and opportunities to watch them in action.
Frida Kahlo Museum And The National Museum of Anthropology, Mexico City
These museums are one of the reasons Mexico is the world's seventh most visited country. Yes, it's also the beaches, but when it comes to museums, I simply could not decide whether I prefer the Frida Kahlo exhibitions or the artifacts of the Museum of Anthropology. Both belong so much to Mexico, and both tell the country's story. But with this being virtual, why choose? Just enjoy both.
Bode Museum, Berlin
Located on the Museum Island in the Spree River in Berlin, the Bode Museum is one of five museums that, between them, offer 15 online exhibitions. But my favorite is the 360-degree experience of the Bode Museum, which allows you to appreciate the architecture as well as the exhibitions.
This beautiful museum, located between two bridges, offers you a range of things to look at and explore, from Byzantine art to sculptures, coins to medieval and romantic art. You can spend hours enjoying each room, all without having to dodge other visitors.
The Grand Palace, Bangkok
Rather than being stuck inside, let's go and explore this amazing palace site in Bangkok. Usually overrun with people, as you can see from the virtual experience, there is no doubting that this is a place where art, culture, and tradition collide. Amazing architecture mingles with religion; riches meet humbleness. The quality of this experience is not great, but it will give you a taster and allows you to have a little look around, experiencing a virtual tour with people still present.
The British Museum, London
Yes, this is probably a predictable choice considering the Natural History Museum, the Tate, the National Portrait Gallery, and others also offer fabulous virtual visits. But the reason I chose the British Museum is because despite having visited countless times, I still have not seen it all. There never seems to be enough time to linger, to explore, and to double-back. So, here it is: the British Museum with its Moai from Easter Island, its Egyptian treasures, its ancient African rock art, and everything in between. What I like especially is that this virtual experience is a little different: You can select a timeline and a continent to narrow down what to see and learn about, with added filters to theme your viewing biased toward art, religion, living, trade, or identity. It's a quite unique and thoroughly enjoyable approach.
With museums and cultural sites having opened their wonders to the virtual visitor, it will only be a matter of time before fees will be charged, so, enjoy these while you can, and take notes for when you can pack that suitcase and visit in person again.
Intrigued by the British Museum? Here's how to visit the Enlightenment Gallery, which writer Jill Browne calls unlike any other part of the museum. You'll also want to peruse these 38 virtual tours and webcams you can enjoy from home any time.