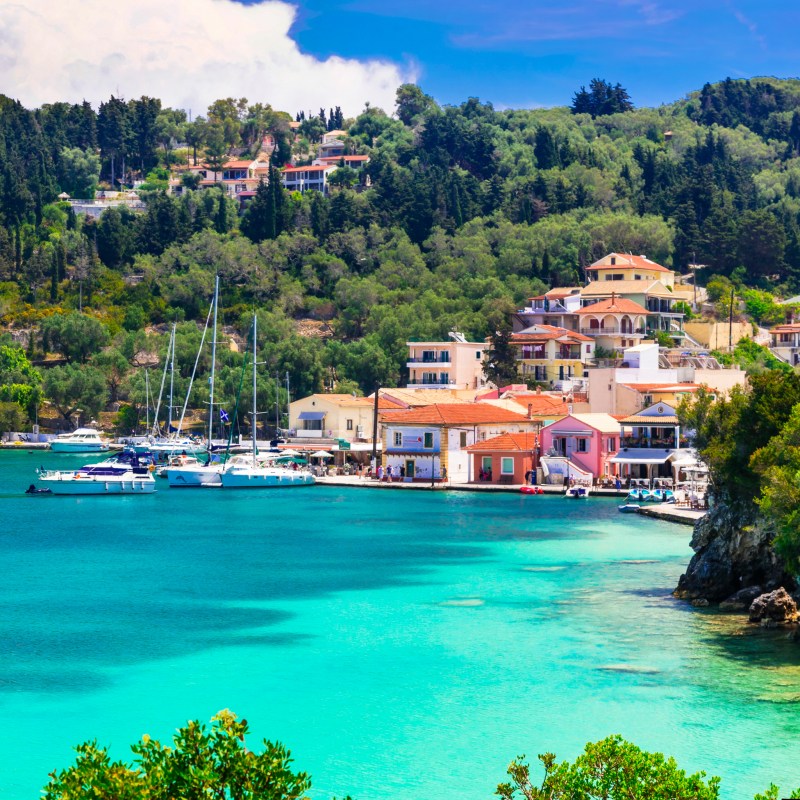 Part of the Ionian islands of Greece, Paxos is mostly off the radar in terms of extreme tourism, especially compared to Mykonos, Santorini, and Crete.
What's advantageous about Paxos is its close proximity to Corfu, which is a major airport and boat hub. It can still take a full day of travel by boat to get to many other Greek islands after an already-long flight, but Paxos is only a one-hour hydrofoil or 90-minute ferry ride from Corfu.
Paxos is too small to receive large cruise ships filled with day-trippers but big enough to offer everything one would expect for an idyllic Greek island: a wide selection of hotels and villas for any budget, charming villages, quiet beaches, shops and boutiques, and restaurants and cafes.
Measuring a mere three miles wide by seven miles long, Paxos has three main port villages: Gaios, Lakka, and Longos. Gaios is the main port, where most of the larger commercial boats are moored and where the hydrofoil and ferry from Corfu dock. The bulk of restaurants, cafes, and shops are in Gaios.
Boat Ride To Antipaxos
A 15-minute boat ride from the pier in Gaios will transport you to an idyllic, tiny island, Antipaxos, with a sandy white beach and turquoise water so clear you can spot toes.
You can spend just a few hours and just take a swim or make it a day trip, rent a chaise lounge, and enjoy a lunch of just-caught lobster or local fish, prepared on a grill on a thatched roof terrace.
Lakka
At the northern tip of Paxos lies Lakka. Small but compact, Lakka has two main beaches with full access and a few smaller beaches reachable by foot. Two main squares are where most local services are clustered, along with the town's restaurants and cafes. Water skiing and scuba equipment and lessons are available here.
Longos
The smallest of the three villages of Paxos, Longos has gorgeous beaches and some of the best restaurants on the island. Canoeing and windsurfing are two popular activities. At night, twinkle lights romantically illuminate the village.
Paxos Festival
Every summer for over 30 years, from the last week of June to the first week of September, the Paxos Music Festival, the biggest cultural event of the year, takes place on the island
Musical artists from around the world are invited to play in a series of concerts and musical events. The Fireflies is a series of concerts that introduces talented, young guitar and piano students from the top Greek and Italian conservatories.
In recent years, the festival has expanded its reach to include the visual arts, with exhibitions of photographs, ceramics, paintings, and jewelry.
Guided nature walks through the island are organized by the festival and focus on ancient Greek, Venetian, and English cisterns on the edge of the wells and springs. The schedule of walks runs from mid-May through mid-October.
Where To Eat And Drink
Gaios is tightly packed with casual cafes and restaurants, and one road facing the port has over 20 eating establishments with outdoor terraces facing the harbor.
Genesis and Taka Taka are two tavernas serving classic Greek dishes such as stuffed grape leaves, feta cheese, moussaka, tzatziki (cucumbers in Greek yogurt), grilled and fried eggplant, and lamb kebabs.
Mambo updates traditional Greek dishes with modern flare and has two specialty dishes: slow cooked lamb in garlic accompanied with tomatoes and peppers wrapped in parchment paper, and oven roasted chicken marinated in lemon juice and olive oil in a clay pot. If you book your reservation at least one day in advance, you can order the catch of the day.
For local caught seafood, Thalassa, serves some of the best, most succulent lobster, mussels, monk fish, and swordfish on the island, with upscale decor of all-white tables and table linens.
Where To Shop
The narrow alleyways and roads near the restaurants of Gaios are lined with clothing boutiques, specialty food shops, galleries, and souvenir shops with locally made products.
Christopher Boicos, who is half-Greek and half-French and lives in Paris, makes his home in Paxos for the summer months. He owns a contemporary gallery in Gaios, which is open from May until September. The gallery sponsors international artists, photographers, and ceramicists for summer residencies in addition to displaying their work at the gallery.
Fiona Gilles stocks her Pythias Gallery with her own multimedia pieces, including paintings, jewelry, and sculptures.
Bottles and tins of the best extra-virgin olive oil pressed in Paxos can be purchased at Babis Lekkas.
A fourth-generation family in the optical business has sprouted a concept shop, Koos, which boasts young, top-notch designers out of Greece. Far removed from being a tourist shop, Koos sells fashion apparel, sunglasses, handbags and totes, jewelry, ceramics, shoes, and hats in a sophisticated atmosphere.
Taste and Flavor of Olive offers local, handmade soaps, shampoo, creams, and scented candles with personalized service from its warm staff.
Where To Stay
Paxos Club Resort, secluded off a country road, is a four-star resort and hotel with many amenities.
The spacious pool area has various types of seating, including chaise lounges, daybeds, and hammocks, and nestled inside the saltwater pool, there's a small Jacuzzi, perfect for two.
Rooms range from a double to a family suite, featuring two-bedrooms and sleeping room for six with a kitchen. All rooms have air conditioning and private terraces that face the garden filled with oregano plants and bougainvillea trees.
An expansive spa on the lower level of the hotel offers a workout room weight machines and cardio equipment, spa treatments, including massages and facials, plus a Jacuzzi, steam room, sauna, and hydrotherapy treatments. They use organic extra virgin olive oil, red wine, lemon, and organic honey in their treatments.
Breakfast, which is included in the price of your room, is a tempting buffet with the usual breakfast foods but also fresh, local honey, Greek cheeses, and yogurt.
The hotel offers free shuttle service in the morning and the evenings to Gaios, and free transfers to and from the hydrofoil to Corfu.
Paxos Resort Hotel, easy walking distance from Gaios, is one of the only hotels with a private beach on the island. The rooms are either suites or bungalows, and some room categories have terraces overlooking the sea and floor-to-ceiling windows. Spread over a 12-mile hilltop property lined with olive and pine trees, the hotel also has a full-service restaurant, outdoor pool and Jacuzzi, pool bar, and tennis courts.
If renting a villa suits your needs better than a hotel, Paxos Retreats offers some of the most exclusive rental properties on Paxos.
Fully furnished villas range in size from two bedrooms to six bedrooms, and all of them contain a sheltered, private swimming pool overlooking the sea.
If you require something on a smaller scale, Paxos Retreats also rents studios and apartments.
Paxos Retreats automatically assigns a personal concierge for every rental, and he or she can arrange all your travel needs on the island, including car rentals, chef and cooking services, massages and beauty treatments, boat rentals, boat transfers, and pre-stocking your pantry and kitchen before you arrive.
Paxos Pro Tips
The best time of the year to visit Paxos is between May and October. June and July are the busiest months, so book accordingly.
Paxos is quite hilly, so make sure to wear flat shoes or sneakers. Also, many of the beaches have rocks or pebbles, so make sure to pack appropriate footwear.
You'll need to take a taxi from the Corfu Airport to the New Port, where the ferries and hydrofoils leave for Paxos. The ride takes about 10 minutes and costs between 10 and 15 euros.
There are two types of boat services: ferry and hydrofoil, and they both run seasonally from May 1 to October 31. Ferries take approximately 90 minutes and cost just over 10 euros per person, one way. The ferries also accommodate vehicles. The hydrofoil takes approximately 60 minutes and costs 20 euros per person one way. Both services have free Wi-Fi and snack and beverage bars.
It's easy and advantageous to rent your own boat on Paxos as you can dock at various inlets and beaches much easier than reaching them on foot or by car.
Still considering where to go? These are the nine best beaches in Greece, from the mainland to the islands.