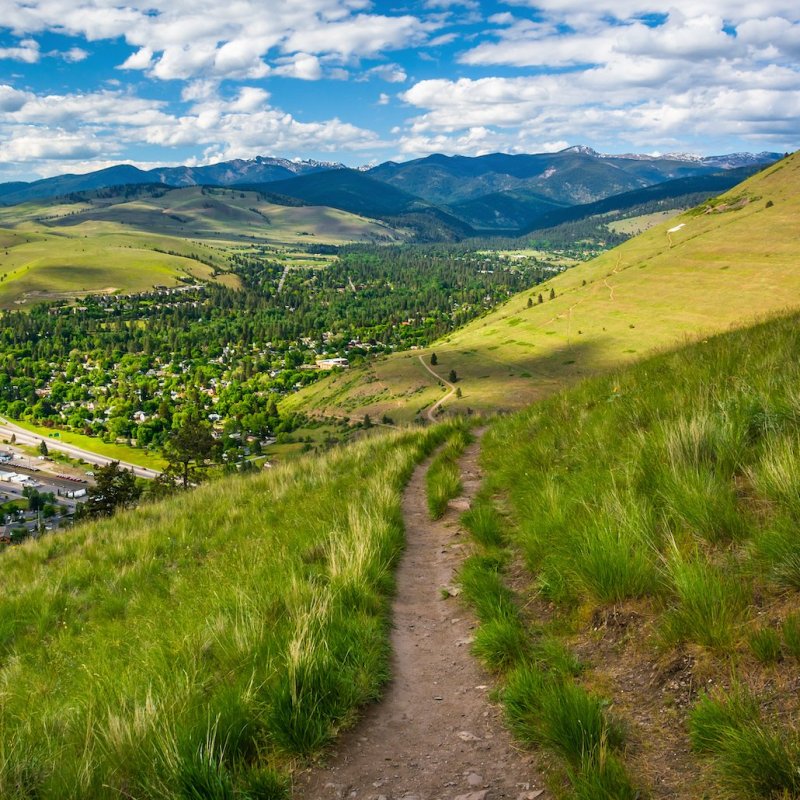 Our trip to Montana and some of our experiences there were hosted by Yellowstone Country Montana, Visit Big Sky, and Destination Missoula. All opinions are our own and are based on our experiences.
Montana is one of the most beautiful places on Earth. We've been to different parts of the state during different seasons, and each has something special to offer. Outdoor enthusiasts are especially lucky, since Montana provides so many beautiful scenic trails for exploring.
Here we'll discuss some of the most beautiful hiking trails in Montana. We've hiked them all and have thoroughly enjoyed each one. What's more, each area has a variety of options for people of all fitness levels.
1. L Trail
Missoula
Missoula, Montana, is a fantastic town, and there are plenty of hiking trails to explore. Two of the most famous hikes are associated with Montana schools.
The gentler of the two is the L Trail on Mount Jumbo. The giant white letter L is the symbol of Loyola Sacred Heart Catholic School. It adorns the western side of Mount Jumbo and marks a fairly short and not-too-steep climb. If you hike only the L, you'll go less than a mile, but you'll have a lot of fun doing it. Elk and deer hang out there in the winter, but the trail is closed during that time.
If you want to stay on the L and get more of a challenge, you can keep going up past the L and continue on the Backbone Trail for another 2.5 miles.
2. M Trail
Missoula
If you're looking for even more of a challenge, then head to Mount Sentinel for the M Trail. A sort of big brother to the L Trail, the M Trail is marked by a giant concrete M, the symbol of the University of Montana. It was originally created in 1908 by the school's Forestry Club. Today, the M beckons to students, locals, and visitors of all ages to hike up the zigzagging trail and get a great view of the university. The higher you go, the better the view gets.
Although the actual length of the trail is less than a mile, the climb is steep, and there are many switchbacks. You can stop at the M or keep going for another mile to get a gorgeous view from the mountaintop.
Missoula has several other great hiking spots. Here are seven classic Missoula hikes.
3. Natural Bridge Falls, Natural Bridge State Park
Big Timber
Sometimes the work of nature can take your breath away. Natural Bridge Falls is an example of nature at work over thousands of years, and it's simply stunning. The Boulder River flowing over and through the rock formations created what was once a natural stone bridge. The bridge itself broke apart some years ago, but the falls still run, providing a gorgeous view. The 100-foot-high falls at high water are spectacular — it looks like the water is literally exploding out of the rocks.
There is plenty of scenery to look at as you wander the easy nearby trail. Keep your eyes open for local huckleberry bushes and chokecherry trees as you walk the more rustic parts of the trail.
Pro Tip: For an unforgettable treat, stop by Big Timber Bakery in the morning before you go and get some scratch-made sandwiches and sweet pastries to eat at the picnic area. You won't find a more peaceful and beautiful spot to enjoy nature's glory.
4. Grinnell Glacier Trail, Glacier National Park
Babb
If you're looking for an iconic hike in Montana's Glacier National Park, the 10.3-mile Grinnell Glacier Trail offers a truly memorable experience. Hikers will enjoy the vast array of terrain, including alpine meadows, steep slopes, rocky cliffs, beautiful lakes, and incredible glacier views. The first part of the hike is good for beginners, but later there are steeper slopes, thin ledges, and more ambitious hiking at a moderate level.
The rewards are worth the effort, though. The trail passes by three glaciers, including the impressive Grinnell Glacier and Salamander Glacier and the Gem Glacier, the smallest named glacier in the park. Picturesque lakes such as Lake Josephine and Grinnell Lake and several waterfalls also offer lovely views. From the Grinnell Glacier Viewpoint, you can see the Garden Wall, which is part of the Continental Divide. Wildlife lovers will likely notice plenty of bighorn sheep and mountain goats, but be aware that this is grizzly country, too.
Take your time and bring something to eat with you so that you can stop at the picnic area about a quarter of a mile before Grinnell Glacier to relax and appreciate the unparalleled beauty around you.
Can't get enough of Glacier National Park? See this piece for more hikes.
5. Lower Mount Ellis Trail, Custer Gallatin National Forest
Bozeman
If you love a good view and are willing to work for it, then give the Lower Mount Ellis Trail a try. It's 7.2 miles and moderately difficult, passing through open grazing lands and forests. There are a few areas of steep climbing, but when you get to the top, you'll have a gorgeous view of downtown Bozeman, as well as beautiful canyons, foothills, valleys, and mountains as far as the eye can see. You might even catch a glimpse of some local wildlife. If you like to hike with your dog, you can do so as long as you keep your pet on a leash.
For other fantastic hiking options in the Bozeman area, see this page.
6. Charles M. Russell National Wildlife Refuge
Glasgow
Wildlife lovers will enjoy hiking through the Charles M. Russell National Wildlife Refuge on a 9-mile, moderately difficult up-and-back trail. The climb starts out gradual but gets steeper later on as it takes you through varied terrain.
The wildlife refuge contains over a million acres, and you just might see elk, mule deer, red foxes, and coyotes. Bird-watchers will find plenty of feathered friends, too — songbirds, grouse, osprey, sandpipers, and even white pelicans.
Ultimately, you'll reach the top of the butte and get a stunning view of the Fort Peck Lake Reservoir, which is home to 50 different kinds of fish. It's Montana's largest body of water and covers more miles of shoreline than the California coast.
7. Ice Caves Trail
Lewistown
The Ice Caves Trail is a moderately difficult 5-mile trail that leads to a permanent ice cave at the top of the Snowy Crest. The well-maintained trail is a bit of a challenge, but the view from the top is one of the most spectacular we've seen. You can see multiple mountain ranges, including the Crazies, Highwoods, Little Belts, and others. The ice caves maintain their iciness all year long, making them a cool place to see even during the summer.
If you're looking for a challenge with a memorable reward, this is for you. Just be careful in the ice caves, because the seeping water makes the floor very slick.
8. Ousel Falls Park Trail, Custer Gallatin National Forest
Big Sky
When many people think of Montana, they think of Big Sky Country. And indeed, it's one of nature's most magnificent features. Skiers love the wonderful variety of mountains to fly down, but hikers can certainly get their fill here, too. Some of the best Montana hiking trails to be found are in this area.
Ousel Falls Park Trail is an easy .75-mile hike that ends at a gorgeous waterfall. If you go during warm weather, you'll be able to take a dip! Otherwise, take your time and amble through the woods. You can explore the river area and will find many benches and picnic tables where you can stop for a while and just enjoy the scenery and the sounds of the water. The trail is very well maintained and well marked, so if you're looking for a pretty easy stroll in the fresh air and Montana beauty, this is a great option.
You can also bring your dog, but be sure to pick up after it if it answers nature's call. Bags for this purpose are provided at the start of the trail for everyone's convenience.
9. Beehive Basin Trail
Big Sky
For an alpine-like hike, head to the Beehive Basin Trail for some majestic beauty that will have you singing a happy tune. Beehive Basin is a great place to explore different scenic landscapes. Some sections of the trail offer wildflower-covered meadows, while others are filled with forests of trees. It's a 6.6-mile up-and-back trail that provides views of Lone Peak, with an elevation of more than 11,000 feet.
Pack a lunch and enjoy the views, or hike up to the lake. If you're up for even more of a challenge, you can climb the rocks and go even higher up in the basin to get additional views. You'll likely see wildlife like moose and bears, especially during the warmer months. Whatever you choose, this is one of the most beautiful places for Montana hiking.
Montana is one of those places where you simply have to spend time outdoors. Whether you're looking for an easy stroll or a thrilling challenge, there's a Montana hiking trail for you. Locals will tell you that many trails remain snow-covered through mid-July, and some of the hiking trails host snowmobiles and skiers during the winter. Although most trails do not allow pets, there are certain ones that do. Check the trail websites for the specifics — you'll want to know what to expect before you set out on your adventure. To see my all-time favorite hike in Montana, check out TravelAwaits' picks for the best hikes in all 50 states here.
This article is presented by KEEN Footwear. Sue is conscientious about how her feet look and doesn't like boots that are too bulky. Her Terradora II Waterproof Boots are sleek and look really good. They're stylish and comfortable with lots of support. They're also really waterproof so when you're walking through the morning dew or after a rain, your feet are still nice and snuggly inside. These are perfect for all kinds of hiking and walking. Diana's Targhee III Waterproof Mid boot is so lightweight. It's sturdy and grips the ground well. The wide toe box is perfect for hiking because you can comfortably go up and down all kinds of terrain, including spots with lots of roots or uneven ground. There's also a lot of ankle support. If you want to walk on trails of all types as well as more pedestrian routes, these will treat your feet like royalty. Shop KEEN's Terradora, Targhee, and other hiking shoes here.