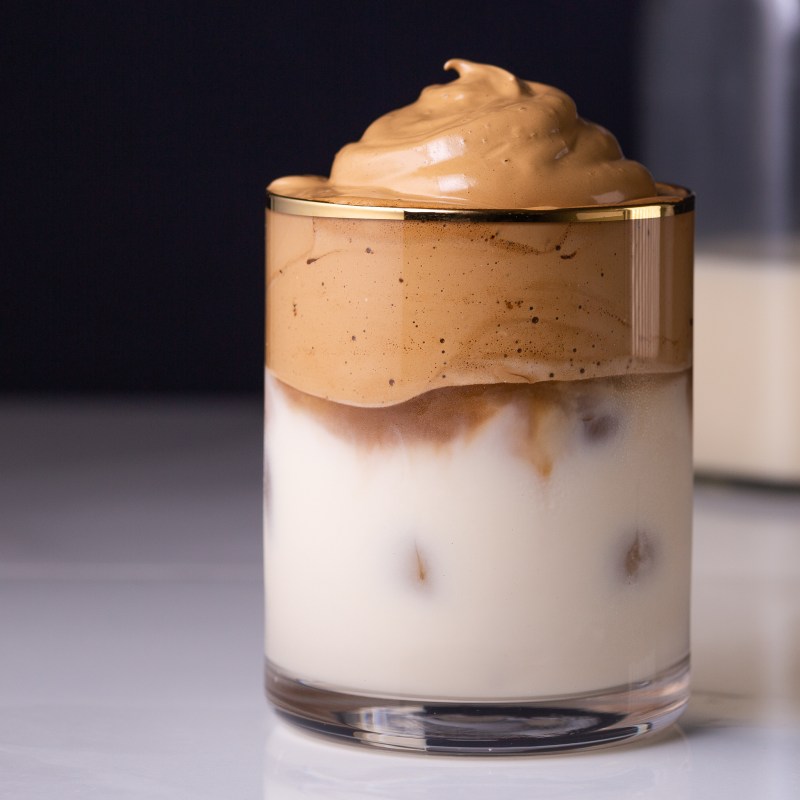 Dalgona coffee is one of the hottest social media crazes of 2020. This photogenic drink started out as a local trend among South Korean social media stars and is now a fully fledged international phenomenon. Consisting of a soft, pillowy, caramel-colored pile of whipped instant coffee and sugar that sits on top of a glass of cold milk, dalgona coffee is easy to make, delicious to drink, and just the thing to inject a little bit of cafe style into your quarantine routine.
How Dalgona Coffee Got Started
Dalgona is the name for Korean honeycomb candy. The term dalgona coffee is credited to South Korean actor Jung Il-woo, who ordered a whipped coffee at an eatery in Macau during his appearance on a celebrity TV food show. He loved the delicious drink and called it Macau Dalgona coffee — and it soon caught on. However, different versions of whipped coffee exist all around the world.
In Greece, frappe coffee has been popular since 1957 when, according to legend, a representative of Nescafe was attending the Thessaloniki International Fair and had to improvise to make himself a drink. In the Greek tradition, instant coffee and water are combined in a shaker to make a frothy concoction in which milk and sugar are optional.
In India, a similar drink is called phenti hui coffee or beaten coffee. A dollop of whipped instant coffee and sugar is placed at the bottom of a mug and warm milk is added to make what many people call handmade Indian cappuccino.
But while frappes and phenti hui have been around for many years, it's dalgona that's become the darling of coffee aficionados struck with cabin fever as they self-isolate (and as we all spend more time in our kitchens).
What You Need To Make It
Dalgona whipped topping is made with instant coffee, sugar, and hot water and the base is usually milk or any non-dairy alternative, such as almond or oat milk, with ice cubes.
While any brand of instant coffee will work, not all instant coffee is created equal. So by all means, feel free to use up any old instant coffee you might have leftover from a bygone camping trip, but if you're keen to pick up or order something new for your experiments, aim for quality over quantity. Note that ground coffee beans won't work. Nor can you add in a little brewed espresso in lieu of instant coffee and water.
There is flexibility in terms of the sweetener. Classic white sugar is used in most recipes, but brown or raw sugar will be fine. Most sugar substitutes will work as well.
What Do You Need To Make Dalgona Coffee At Home And On The Road?
In terms of supplies, you can easily make dalgona coffee at home, in an RV, or while camping with nothing more than a measuring spoon, a whisk, and a small bowl.
At home, an electric mixer will save you some time and energy. I also found a soft spatula to be helpful for scraping down the sides of my mixing bowl and spooning the mixture out into my milk.
In a hotel room, you'll have to improvise a bit! If you can get two plastic forks and attach them back-to-back with an elastic, you have a handy substitute for a whisk that will do a pretty good job of frothing your mixture in a spare coffee cup.
How You Make It
Dalgona coffee requires equal measurements of very hot water, sugar, and instant coffee. The most common measurements are two tablespoons of each, which makes enough for two servings in standard size mugs or one very large glass.
I frequently travel with Starbucks Via instant coffee sachets. Each sachet contains approximately 2 teaspoons of instant coffee. I used two sachets — 4 teaspoons total — for my dalgona experiments, along with 4 teaspoons each of sugar and hot water. It made the perfect amount of topping for one person.
Step-By-Step Dalgona Process
Combine equal measures of sugar, instant coffee, and very hot water in a small bowl. Tip: Add the hot water first. In case extra splashes in, you can easily start over.
If you're on the road, use the in-room hotel coffee maker to heat up the water. (I like to run the water through a few times to make sure it's extra clean).
Once combined, it's time to whisk the mixture. Within two minutes of brisk whisking, I could see a huge transformation in my ingredients. By four minutes, it was really coming together, and by six minutes, it was thick enough to hold peaks.
Spoon the thick coffee mixture on top of a glass mug filled with milk and ice cubes.
Pause to take a photo and share it on social media. You're a trendsetter now!
Mix it up and enjoy a thick, creamy, slightly sweet version of iced coffee.
Dalgona Coffee Variations
You can add a pinch of cinnamon into your instant coffee mixture or top the finished results with crushed cookies, caramel drizzle, or cocoa powder.
Dalgona coffee is vegan-friendly and works great with all dairy alternatives.
You can make a keto-friendly dalgona coffee by using a sugar-substitute and cream instead of milk.
I think dalgona coffee makes for an incredible mocha! Just spoon your mixture on top of hot chocolate. This is perfect for those who like their drinks on the sweet side.
And, yes, you certainly can use Baileys or another alcoholic beverage as your base.
The Result
Making dalgona coffee is a lot of fun. It's a satisfying kitchen project and sharing the results on social media is a nice way to spread community cheer. It might not make up for missing your favorite cafe, but it will definitely be a bright spot in your day. And I'm absolutely bringing the necessary ingredients to make a dalgona mocha during my next hotel stay!
Want to read more about sweet treats? These are the best pastry chefs and chocolatiers in Paris, plus the best gelaterias in Italy (and what to order when you visit).