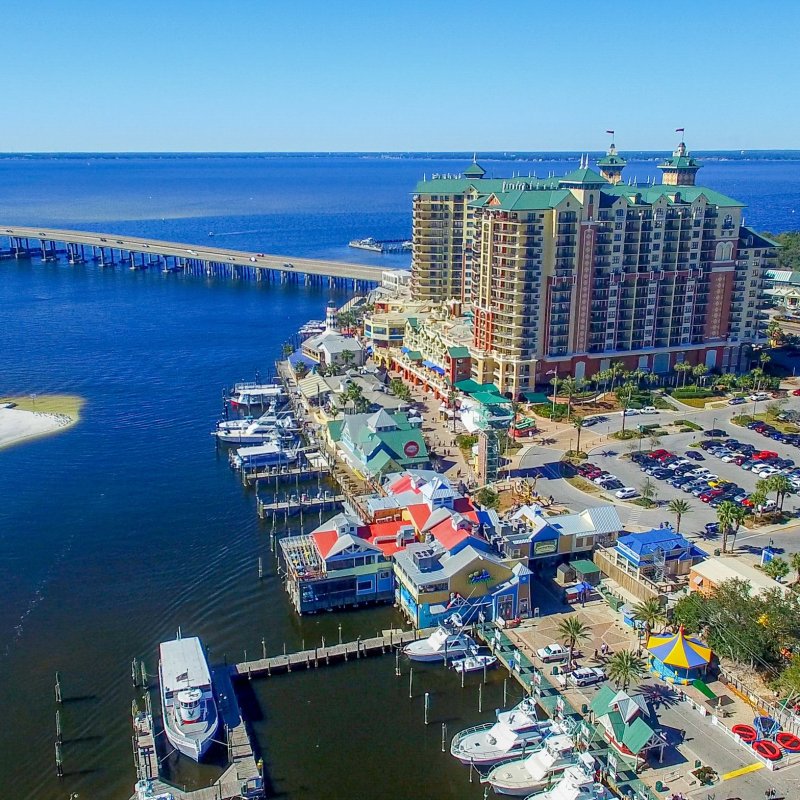 When planning a multigenerational trip, several things have to be taken into consideration to find just the right destination. You want to make the vacation fun and memorable so everyone wants to do another one. I am currently planning a multigenerational trip of my own. I took into consideration the variety of activities available and their difficulty levels. I wouldn't mind sitting on a beach reading a book, but others are much more active. Other considerations are the weather and travel distance for everyone; some of our family members did not want to leave the United States, for example.
With those criteria in place, Destin on the Florida panhandle is the place to go for us. Here are my top reasons why — and the activities we plan to enjoy.
First, A Note On Destin Weather
Destin is an excellent destination to visit anytime of the year. May through September are ideal months to visit for beach excursions because the sun has warmed the sand and water. For smaller crowds, August to February is a great time to visit, but the weather may be a bit cooler.
The Snow-White Beaches Of Destin
The Destin beaches along Florida's Emerald Coast are incredibly gorgeous. They're made from snow-white powdery quartz sand that is super soft on your feet. Not only is the sand vibrantly white, but the water is a deep emerald green. The two result in a dramatic contrast reminiscent of the Caribbean. This dynamic play of color is why the coastline along the Florida panhandle overlooking the Gulf of Mexico is known as the Emerald Coast — and Destin's smack in the heart of it.
Master The Waves On A SUP
SUPs, stand-up paddleboards, are readily available through many tour companies, and can either be included with one of their tours or rented for independent use. Enjoying an afternoon on a SUP is a great activity to do with the family. It is low-impact, but it still requires a certain level of balance, so it really works both your core and leg muscles! Let me say, it is quite fun to have balance challenges. When you get tired, simply sit or lay down on the board.
Become A Sand Castle Architect
Because Destin's beaches have super-fine quartz sand, they are the perfect locations for sandcastles. Beach Sand Sculptures, led by a husband-and-wife team, teaches how to create architecturally stunning and massive sandcastles that are works of art. During a two-hour lesson, you'll learn tips on how to create castles made only of sand that can be as tall as three and a half feet. This is a perfect activity for the entire family as you'll be creating lifelong memories, not to mention learning how to build sand masterpieces that will make beach walkers stop and stare with awe. We happened across a class in progress as we were walking the beach, and it was quite fun to watch them create sandy works of art.
Take An Ecological Nighttime Beach Stroll
Many of the beaches along the Emerald Coast are ideal nesting grounds for sea turtles. Sea turtles are vital to maintaining coral reefs, which are natural habitats for shrimp, lobster, and a wide variety of fish species that frequently end up in local Destin restaurants, many of which have incredible sea-to-table menus. The Emerald Coast Convention and Visitors Bureau offers one of the few nighttime beach walks that teaches about the importance of sea turtles, how they nest, what their biggest threats are, and how we can help them. For more information or to sign up for a walk, visit their Beach Walks page here.
You can also read up on eight places to see baby sea turtles hatch (yes, more than one is in Florida!).
Okaloosa Island Fishing
Okaloosa Island connects Fort Walton Beach and Destin with tall arching highway bridges. The island acts as a break barrier between Choctawhatchee Bay and the Gulf of Mexico, protecting the beaches and making the waters very calm.
The 1,262-foot pier is a fisherman's dream for young and old alike. Some of the more common fish caught are tarpon, blackfin tuna, king mackerel, and cobia. Don't worry if you do not have fishing gear. There is a fishing hut at the beginning of the pier that offers fishing supplies. There is a small fee to fish from the pier, but it is free to walk.
Crab Island
Spending a day on an island that isn't really an island with floating restaurants and an inflatable obstacle course, can be both fun and relaxing. Crab Island is a submerged sandbar that at one time, before it became submerged, was home to thousands of tiny sand crabs. Today, it is a hot spot for people who want to snorkel and play in the shallow waters.
Crab Island is only accessible by boat or other watercraft. There are many places to rent boats or jet skis, or book a charter to the island.
Experience Life Under The Sea With Snuba
Destin's waters are teeming with life. The best way to experience it is to grab some snorkel gear and swim not too far from the shore. Booking a snuba tour is another option that will allow you to swim further from the shore and go down to depths of 20 feet for about 30 minutes.
If you are not familiar with snuba, it is a cross between snorkeling and diving. Your air supply is in tanks that are floating at the surface of the water, so it feels like you are snorkeling. I am particularly fond of snuba for just that reason — I really dislike the weight of air tanks on my back.
Pirate Ship Cruise
No family trip to Destin is complete without the fun of being a pirate for the day. The crew of the Buccaneer, a 100-foot three-masted Coast Guard-approved pirate ship, will teach the younger members of the family about pirate life with singing, dancing, and firing of the cannon. Parents and grandparents are welcome to join the fun or man the camera, snapping shots of water gun battles, sword fighting, and treasure hunting performed by young pirates in training. Enlist your swabbie to become the next Blackbeard here.
Go-Karts, Water Cannons, And Skyflyer, Oh My!
The Track is a multitude of fun wrapped into one special park. It offers over six fun racing tracks for all ages and skill levels, from elevated tracks that rise up three stories to classic go-kart family tracks and rookie tracks. The Track even has specially designed go-karts for young, new racers.
The Track is a one-stop location for a day of fun. Not only do they have incredible go-kart tracks, but they also have miniature golf, blaster boats with water cannons, bumper cars, and, for those who want to try skydiving but can't seem to jump out of a perfectly good plane, they have the skyflyer.
Destin's Pearl And Gator Beach
Fudpucker's is truly a unique hot spot in the Destin activity scene. Where else can you go for specialty cocktails, finger-lickin'-good food, alligator feedings, and walls the kids are welcome to write on?
Fudpucker's has been hanging out on the beach since the early 1980s serving items ranging from tacos to crab cakes and salad to Ribeye A La Fud. Adults can relax with a Fud's specialty cocktail while the kids can entertain themselves with arcade games or doodling on designated walls.
After the meal, make your way to Gator Beach (also part of Fudpucker's) to get memorable pictures taken holding and feeding the alligators. Be sure to say hi to Pearl, an extremely rare albino alligator.
One other tidbit that makes Fudpucker's a must-visit if you're traveling with kids who'd like some "independent" time is Teen Night. Geared specifically for the 13- to 17-year-old crowd, Teen Night is drug-, tobacco-, and alcohol-free with adult chaperones. Teens are free to dance, interact with peers, and generally have a great night in a safe environment.
Sunset Camp At The Gulfarium
Okaloosa Island Boardwalk is a family destination that offers shopping, dining, and live music. A short walk from the boardwalk is the Gulfarium, where you can learn about marine life, snorkel with stingrays, and even have breakfast with dolphins. Gulfarium offers a sunset camp for kids ages 6 to 14 that includes a dockside dolphin encounter, scavenger hunt, dinner at Seal Harbor, and other ocean-themed activities. This could be perfect if the adults want to catch an event that does not interest the kids.
The Destin Challenge
Destin challenges you and your family to come and frolic in its emerald green water, build castles on their snow-white sandy beaches, and partake in a plethora of activities that will make you want more. The locals welcome you anytime of year to fall in love with their fresh seafood, glowing sunsets, rich history, and open hospitality. Come, bring your family, and see what Destin has to offer.
Want more Destin inspiration? These are the best things to do in Destin all year long.