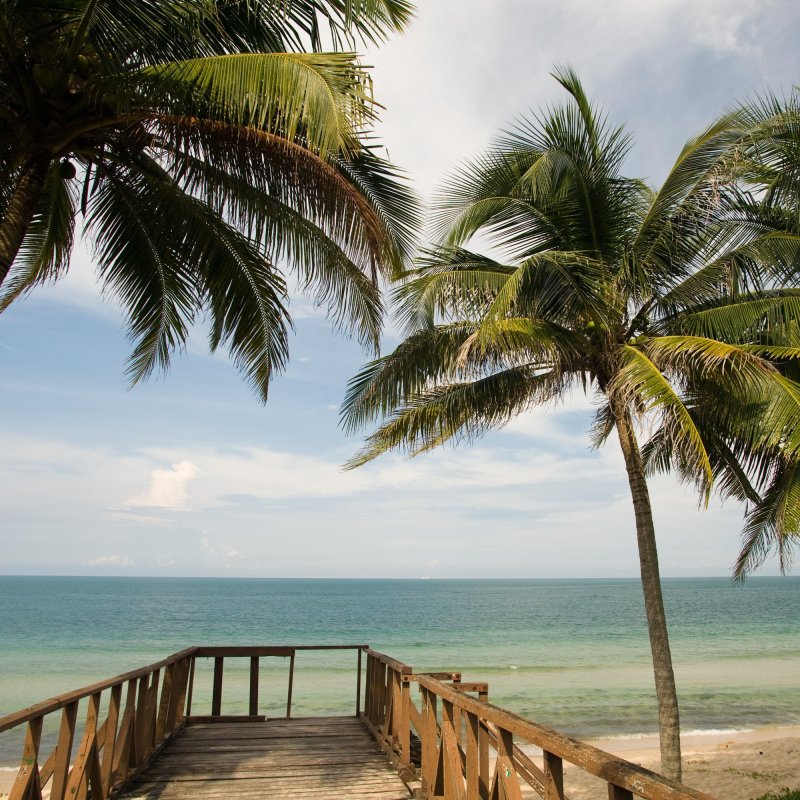 On the far southwestern tip of Malaysia, on the last stretch of the country before it submerges into the South China Sea, is a golden stretch of coastline known as Desaru, which means village of soft palms in Malay. For decades, local Malaysians would enjoy the quiet beaches here, but since the country's tourism was centered around the east coast of Malaysia, there was no infrastructure to draw visitors to this scenic spot. That's all changing now with the introduction of a new resort area that's adding upscale hotel rooms while keeping the natural beauty and serenity of the area intact.
In the past few years, a string of hotels, including the luxurious Anantara Desaru Coast Resort and Villas (where I stayed as a guest of the hotel) started drawing beach-seekers from around Southeast Asia, and now, slowly, the rest of the world is getting in on the secret as well. It's just a quick hop from Singapore (a 1.5-hour drive or 30-minute ferry), or a one-hour drive from the closest international Malaysian airport in Johor, which is how I arrived after spending time in Thailand. Once you get to Desaru, you'll feel like you've arrived at a secret beach thousands of miles from any city.
Beachside Bliss
First things first: The beach. The 15 miles of sparkling sand undulating down to the azure waters of the South China Sea and framed by towering palm and casuarina trees is one of the top reasons to come to Desaru. The water is perfect for swimming, boating, stand-up paddle boarding, and simply floating under the tropical sun. And that's just the public beaches. The resorts have their own private swatches of sand where you can relax with a cocktail in hand and cool off with a chilled towel, as I got to at Anantara Desaru.
Culture And Conservation
Conservation through conversation is the motto of Belungkor Adventure, a small tour company that brings guests into the waterways and mangroves of the Tanjong Surat area of Desaru. Tourism is a new concept in Desaru, but Belungkor's small and dedicated team headed up by young and enthusiastic guides will cruise you by small motor boat right up to traditional fisherman bringing up their nets by hand; through the thick mangroves, which are considered the "lungs" of the local environment, protecting both the coastline from erosion and the people who live here from hurricanes and floods; and onto hidden islands to meet local people. My highlight of the tour was a visit to the caretakers of a mangrove farm who live deep within the foliage and have rarely had a chance to welcome visitors in the past. I was able to sit with them and sip tea made from traditional herbs, plant a new mangrove stalk, and learn about this rarely seen corner of Malaysia. It was an incredibly special experience. The tour requires a bit of walking on uneven surfaces, but is mostly a sitting boat tour. Currently, the only way to book is through a resort.
Adventure Waterpark
If you've come to this sunny corner of Malaysia with kids in tow, the family-friendly thrills at Adventure Waterpark are a must during your vacation. Located at the epicenter of the resort area, it boasts one of the largest wave pools in Southeast Asia, a large array of race car-fast slides, and the longest lazy river in the country.
The Els Club Desaru Coast
Golfers will want to make time to hit the beautiful tropical greens that roll right up to the South China Sea at the lush Els Club that comprises two golf courses designed by two major champions: The 27-hole Ocean Course created by Ernie Els, and the 18-hole Valley Course developed by Vijay Singh with Els.
Desaru Fruit Farm
Warning: The deep brown, slightly caramelized banana chips from the Desaru Fruit Farm are among the most addictive snacks I have ever sampled anywhere in the world (I even stashed three bags in my carry-on luggage after eating multiple during my stay, and I'm now down to rationing one chip at a time). This is an easygoing guided stroll through sections of the 180 acres of tropical fruit groves (for a bit more adventure, you can rev up an ATV and ride instead of walking). This is another top spot for families, with a fish pond, petting zoo, and an educational bee exhibit. Be sure to save time for the shop, where you can find those addictive chips as well as a wide array of fruit treats.
Johor Bahru
The largest city near Desaru is Johor Bahru, the southern entry point to Malaysia, and home to about 1 million people. Although the sprawling city doesn't offer many attractions, the Old City, which dates back to the 1890s, is being slowly restored, and is an easily walkable microcosm of Malaysia as a whole, distilling the multicultural melting pot country into vibrant neighborhoods. Start on Jalan Tan Hiok Nee Street, where boutique shops and bakeries fill the centuries old storefronts (check out Senso Art Gallery for traditional batik and follow the lines to Hiap Joo Bakery for their hugely popular banana bread). Turn left at the corner and you'll be in Little India, where you'll find glittering gold shops, colorful traditional clothing boutiques, and the show-stopping Arulmigu Rajamariamman Devasthanam temple covered with fascinating friezes. Keep wandering and you'll find the Old Chinese Temple as well as open-air Chinese dumpling shops before you come across Thai noodle cafes and traditional Malaysian teahouses serving pulled tea, which is dramatically poured from hand to hand.
Eating On The Desaru Coast
It's been said that the national pastime of Malaysia is eating, and it's easy to see why. The country produces rice, fresh fish, and fruits and vegetables in abundance year round, and then the ingredients are put through a multi-cultural taste machine created by the mix of cultures that live side by side throughout the country, including Indian, Chinese, Thai, and traditional Malay. The result is seen in offerings such as the national dish of Malaysia, nasi lemak, a breakfast plate filled with coconut rice, spicy sambal sauce, curry, fried anchovies, hard-boiled eggs, and roasted peanuts.
Turmeric
For a taste of authentic Malaysian dishes as well as delicious Thai cuisine served in an elegant setting, head to Turmeric, an all-day restaurant at the Anantara Desaru. The breakfast buffet has a make-your-own nasi lemak section as well as my favorite, roti canai (soft flatbread served with curry). At lunch and dinner you can get cooked-to-order dishes from live chef stations and dine on a terrace overlooking the lagoon pool and the sea in the distance.
Where To Stay On The Desaru Coast
All of the new resorts in Desaru are located at Riverside, an entertainment destination in the making. One day there will be retail and restaurants and activities, but for the time being, it's more of just a name for the general resort area. Here you'll find two Western options, Hard Rock Hotel and Westin, and the luxury Asian property Anantara Desaru Coast Resort.
Anantara, where I stayed, is on a prime stretch of private golden sand and has two serene pools. Choose between spacious hotel rooms that have expansive views over the South China Sea from the balcony, or chic villas, a truly luxurious option with private pools and large teak decks.
Pro Travel Tip
Although Desaru is in Malaysia, Singapore is actually the easiest international gateway, especially if you're spending some time in the food-lover city; it's just a 2-hour car ride or a 45-minute ferry ride from urban high rises to Desaru's serene sand.
Coming from or going to Singapore? Don't miss these 10 truly stunning locations to see.