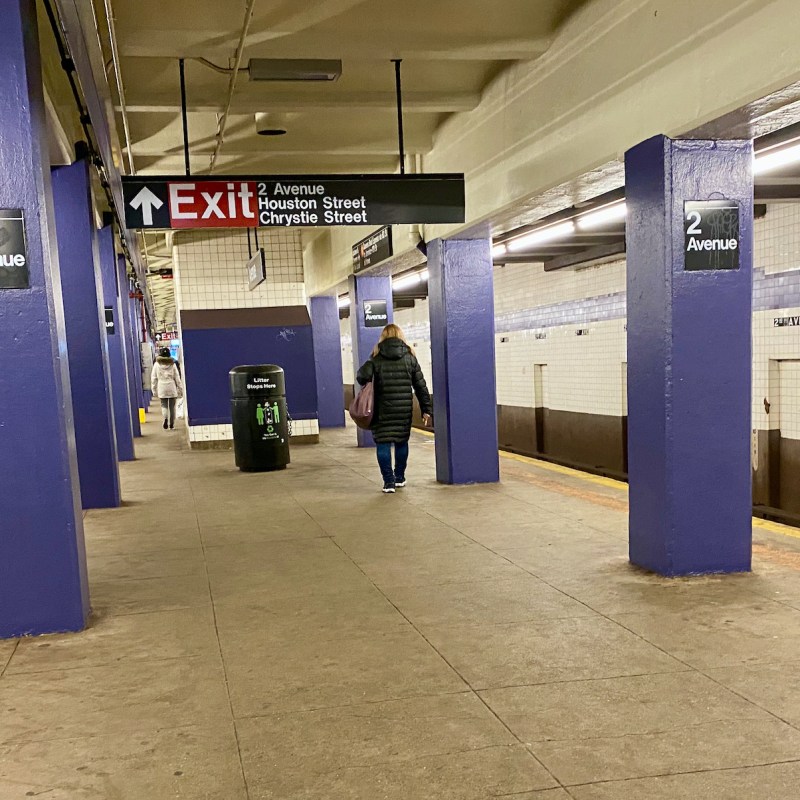 I was born in Brooklyn and spent most of my adult life living in the Village in Manhattan. After graduating from college outside of Philadelphia, I lived in Philly and Boston and for shorter stints in Washington, D.C., Los Angeles, San Francisco, and Portland, Oregon. I thought that I would fall in love with one of those cities. I didn't. New York City was the only city for me. I love New York energy, brashness, loudness, food, people — everything about the City.
You can tell a native New Yorker by the fact that we refer to New York as "The City" — as if no others exist.
I teach nonprofit fundraising and management at New York University. As a volunteer for Big Apple Greeters, I orient international visitors to New York City. I have been involved in New York City politics for 30 years (mainly advocating for independent voters). About five years ago, I moved across the river to Jersey City (many people call this the sixth borough of New York). I still spend most of my time in the City, and I travel internationally, too.
Returning To The U.S. From Asia
My partner and I spent January and most of February in Singapore. We saw the arrival of the coronavirus there. I was very impressed by how the Singapore government and people waged an efficient and all-out battle to contain it immediately. They are still struggling but have had no deaths so far. We shared our experience in Singapore here.
We were concerned about what would happen when we returned to the U.S. Would we have trouble getting back into the country? Would we be quarantined? Singapore did temperature screening at the airport. Would the U.S. be doing that?
When we returned to the U.S., we were shocked. We just walked right in. No questions asked. No temperature screening. No quarantine request (except from my 90-year-old mother, who told me not to visit for two weeks). No apparent concern about the coronavirus.
Self-Quarantine
We self-quarantined for two weeks to ensure we were not bringing back anything with us. We went to get food when the market wasn't crowded and then stayed home. We had a lot of time to get over our jetlag. (Singapore has a 13-hour time difference.)
After our two-week self-quarantine, we began to go back out into New York City. The City felt normal. I began teaching again at New York University (NYU). There were many more hand sanitizer stations at NYU.
No Masks Or Hand Sanitizer
By the beginning of March, the topic of coronavirus had exploded in the U.S. news.
In the stores, there was no hand sanitizer to be found. No masks or gloves either. Luckily, we already had a supply at home that we had collected for our travels. There was panic buying at the supermarkets. Our supermarket ran out of chicken and most meat, fresh vegetables, cleaning supplies, and toilet paper. Apparently, people don't like chicken livers or celery — there was plenty of that left in the market.
Pandemic In Nursing Homes
The news reports about the nursing homes in Seattle started to rattle us. The coronavirus swept through one facility, killing dozens of residents and infecting more than 70 staff. I started worrying about what would happen at my mother's assisted living residence. As a family, we began to consider moving her out of the facility as it is located very close to New Rochelle, one of the epicenters of infection in New York State.
Rapid Changes
NYU moved classes online for two weeks. A few days later it was four weeks. Then, days later, until the end of the semester. Students were required to leave the dormitories. My students were very worried about how online classes would work. Most of my students are working professionals in the nonprofit field (NGOs). They were worried about the futures of their nonprofits and the communities they serve.
Tourists Leave NYC
The reduction in the number of tourists in the city was very noticeable. At first it was pleasant to be able to walk the street unencumbered. We began to wonder if we should get those tickets to Hamilton that we'd never been able to get.
Then, the lights went out on Broadway. After 9/11, Broadway was dim for two days. For Hurricane Sandy it was four days. Now it was indefinite. All of the major cultural institutions closed. Sports teams — basketball, baseball, soccer, tennis — stopped playing. Our heads were spinning. Many of the things we loved about the city were now closed. Would they survive and come back?
Subways Are Empty
The New York City subway is the lifeblood of the city. It runs 24 hours a day and very rarely closes. I went to Astoria (Queens) to see some street art that I had wanted to see for a long time. I went during rush hour and was somewhat relieved that I could find a seat with no one near me. It was also unsettling — there were so few people on the subway.
When I returned, I was disturbed to see the empty streets in the Financial District. The last time the financial district was that empty was right after the 9/11 terrorist attacks.
Comfort Food
I wanted to get some comfort food, so I went to the Lower Eastside for pastrami and knishes. Katz's is usually at least an hour wait (two hours on the weekend) due to all of the tourists. It took just a few minutes this time. There was no one at the Yonah Schimmel knishery.
Rules Continue To Change
So many things have now closed. As it is in many cities across the country, restaurants can only serve takeout. Since this is the Big Apple, that also means people are ordering martinis to go. One difference from eating in: You are required to order food with your drink.
Before the hair salons were ordered to be closed, we had a long discussion about whether or not to get our hair cut. We opted to do so since it will be a while before the next one. I was told that only four people came in that day.
New York and the three adjoining states have all issued orders for businesses to close and for people to stay at home. We were amused to see that liquor stores are considered essential businesses that can stay open. It's clear that so many small businesses are not going to be able to survive this period.
Life In An Apartment Building
We live in a condo with about 100 apartments. The tiny gym in our building is closed. Some of the doormen/women are very scared about getting exposed to coronavirus on the job. I hope that they can stay safe. We've also been told not to speak to the building staff in person — only through email and by phone — and not to congregate in the hotel lobby.
Leaving The City
Many people in New York City have weekend homes and have left the city. We decided to follow suit and go to our weekend home. It was unnerving to ride the elevator and live so close to other people. Our building is mostly millennials and they are still going out and congregating in crowded places. The governor is threatening to arrest and fine people who violate the stay-at-home policies.
Bright Lights
While we are learning how to stay six feet away from each other, there are also some interesting new ways of connecting happening. I participated in an online improvisation session with people around the world. My students are learning that online classes can be fun and worthwhile. The singing from the balconies in Italy really inspires me. There are online happy hours, virtual performances, and tours of museums. I think we are beginning to figure out how to be together in this new world. Our governments can close borders and restrict travel. But that's not the whole story. We are creating new ways of being together. This gives me hope for the future.
For more on COVID-19, see TravelAwaits' most recently published content here.