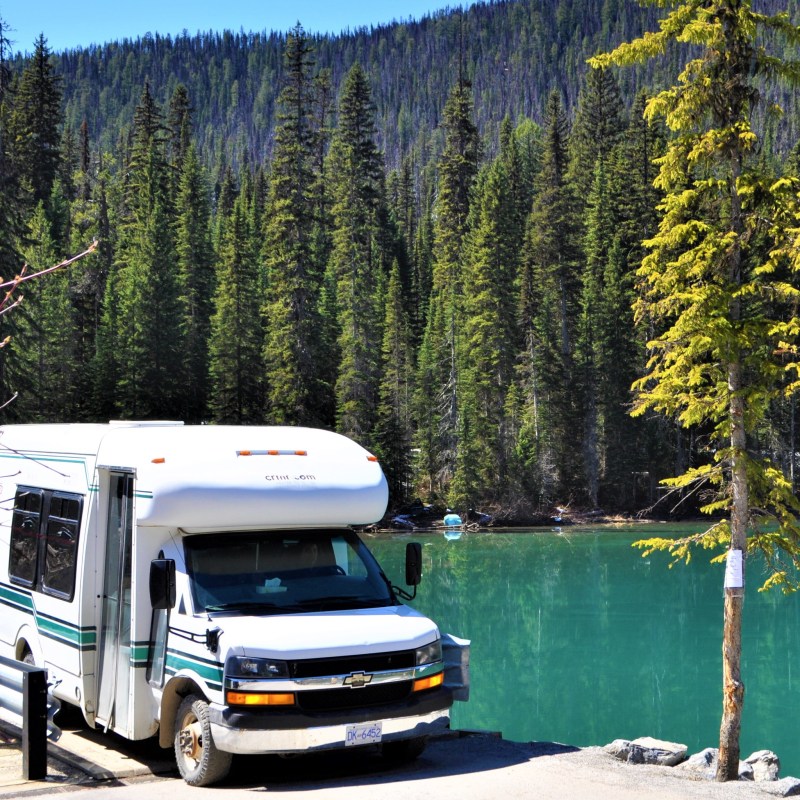 We RVed full-time for eight years and thoroughly enjoyed every minute of it. At the end of our adventure through 49 American states, nine Canadian provinces, and six Mexican states, we knew there are three ways to RV, two basic types of RVs you can use, and four kinds of campgrounds where you can stay. This piece will introduce you to all of them.
Ways To RV
The simplest way is good news for many people who are tied to a home base but want to take a short trip to be renewed. You may want the benefits of RVing: the open road, the outdoors, and no unpacking. You may simply want to escape from everyday life. I was not able to do this when I was younger because there was no RVing infrastructure in the Philippines. America, however, has great infrastructure, and Bill, my husband, took weekend RV trips with his family regularly before we hit the road together.
We RVed the second way for the eight months right after our wedding. We tried it out for our honeymoon. We wanted a longer trip but we still thought of returning home at the end of it. This is what snowbirds do — for three to six months — to escape the cold of their home base. They seek a warmer place and stay there until the weather back home eases. It is also what farmers (mostly from the northern U.S.) we've met do when their farms are idle in the winter. Some people do this while working at seasonal jobs, using their RV as a temporary home away from home. Finally, this is the kind of break those who have long vacations take so they can visit their favorite places and live there for their summer breaks, for instance. The goal is to be in the north during summer and in the south during winter.
The third and final way is what Bill and I eventually chose to do. After our first eight months on the road, we wanted to extend our honeymoon, so we bought a bigger RV and became members of a nationwide campground network. We jumped into full-time RVing. We made the RV our home and drove all over North America for five years. Then we went back to the second way. We stayed in Arizona during the winters and traveled the world and visited our children the rest of the time. Now we are back to the first way: just escaping. We bought the two RVs we used, but now we just do RV rentals. There are many available at reasonable prices.
General RV Types
There are two general classifications of recreational vehicles (RVs): motorized and non-motorized. Motorized RVs combine the living area and the engine and drivetrain in one vehicular unit. Non-motorized RVs are complete housing units that can be pulled or towed by a motor vehicle (like a truck) powerful enough to do just that. We chose a motorized RV because it was easier to set up and we planned on staying weeks, not months, in a given place.
There are four kinds of motorized RVs, from the smallest camper vans to the biggest Class As. Camper vans are vans retrofitted to create a small, walkable area in the back that houses a sleeping area at a minimum. These are very popular in Europe where the roads are very narrow. In the U.S., they are popular for short weekend trips. Class B and C motor homes are bigger and can be up to almost 30 feet in length. The difference between the two is this: The bedroom in a Class C is a sleeping area on top of the drivers' compartment while for a Class B, it is at the back. Both are typically complete with a kitchen, a dinette, and a bathroom. We chose a Class B for our first eight months of RVing. When we went full-time, we traded it in for a Class A. These are usually upward of 30 feet in length (ours was 37.5 feet long). They can also be fitted with slide-outs — as many as five, but we had only one — that make the living areas much bigger when parked. They can tow a dinghy — ours was a Saturn compact car — or even a toy hauler. Our Class B could only tow a scooter, which we used for getting around once we'd parked the RV.
Then there are two kinds of non-motorized RVs: travel trailers and fifth wheels. Travel trailers are towable housing units of various sizes, from the lighter pop-ups and teardrop campers to the bigger Airstreams and even larger units. They have to be towed by vehicles with enough power for their size. On the other hand, fifth wheels are usually larger and feature big noses that house the bedroom. Those noses are attached to the beds of powerful pick-up trucks, making the attachment more secure and stable. They are usually as big as Class A motor homes and can have slide-outs that expand the living areas.
Like camper vans, small pop-ups or teardrop campers are ideal for shorter weekend escapes. Like Class B and C motor homes, medium-size travel trailers are great for longer seasonal stays. And like Class A motor homes, large travel trailers and fifth wheels make the best full-time homes, especially if you're planning to stay in one place for several months or longer. Needless to say, you do not have to buy any of these RVs. Many RV rental companies have all these types of RVs available at reasonable prices.
Kinds of Campgrounds
There are four kinds of campgrounds. They can best be illustrated by constructing a grid with x and y axes. If we assign Location as the y-axis and Amenities and Activities as the x-axis, the grid can be divided into four quadrants. As you go higher on the y-axis, you go from urban to rural; as you move from left to right on the x-axis, you go from absolutely no amenities/activities to campgrounds with a ton of them. Those with many amenities and activities I call resorts and those with few or none, parks. Those that are in rural areas I describe as nature campgrounds while those in the urban areas I call city campgrounds. Here's more on each of the kinds of RV campgrounds you'll have to choose from.
Nature RV Resorts
We chose this kind of campground in North Carolina when we explored the Blue Ridge Parkway. It was a great place to go home to. Each space had a sizable deck looking out over a fresh spring, and we were surrounded by large trees. The campground had hiking trails, a lake for fishing and boating, a clubhouse with billiards, table tennis, and other game tables, plus tennis and volleyball courts and a nine-hole golf course.
City RV Resorts
What immediately comes to mind is the campground just six miles from Disney World and within walking distance of a strip mall and a big grocery chain. The large clubhouse was filled with tables for games plus billiards and table tennis. There was a large TV room, a gift shop, and even a diner. Guests also had access to a fitness center, hot tubs, pools, tennis courts, horseshoe pits, volleyball courts, and a mini-golf course. The resort regularly hosted dances with live bands, concerts, and craft and hobby clubs.
City RV Parks
You'll check into a city RV park primarily to be near family or friends or as a base from which to explore an area. We found one in the outskirts of Boston, which we went into daily by taking the train and subway.
Nature RV Parks
My favorite example of a nature RV park is the National Forest Service's Kirk Creek Campground. As we were negotiating Highway 1, which is widely considered to be one of the most scenic driving routes in the U.S., if not the world, we decided to stay overnight in Big Sur, the sparsely populated area where the Santa Lucia Mountains rise sharply out of the Pacific Ocean. We were lucky to find a space at this nature park even though we didn't have a reservation. And we loved the trail that led down to the largest sand beach in the area.
These four examples illustrate the range of options available. For shorter weekend escapes, go to a nature resort or nature park that's nearest to an attraction you want to visit. A city resort could also be good if you want to get the RV experience plus additional recreation options. For longer vacations, you can go to faraway nature resorts or nature parks. City parks are best for visiting family and friends or exploring an urban destination while staying in your RV. For full time RVers, nature or city resorts are best. In fact, we regularly chose these as our semi-permanent bases. Of course, the more you're on the road, the more you'll get to explore.
Want more on RVing? If you want to rent, don't miss these 15 luxury RVs to inspire your next road trip. You should also read up on seven reasons to add an RV trip to your travel bucket list.