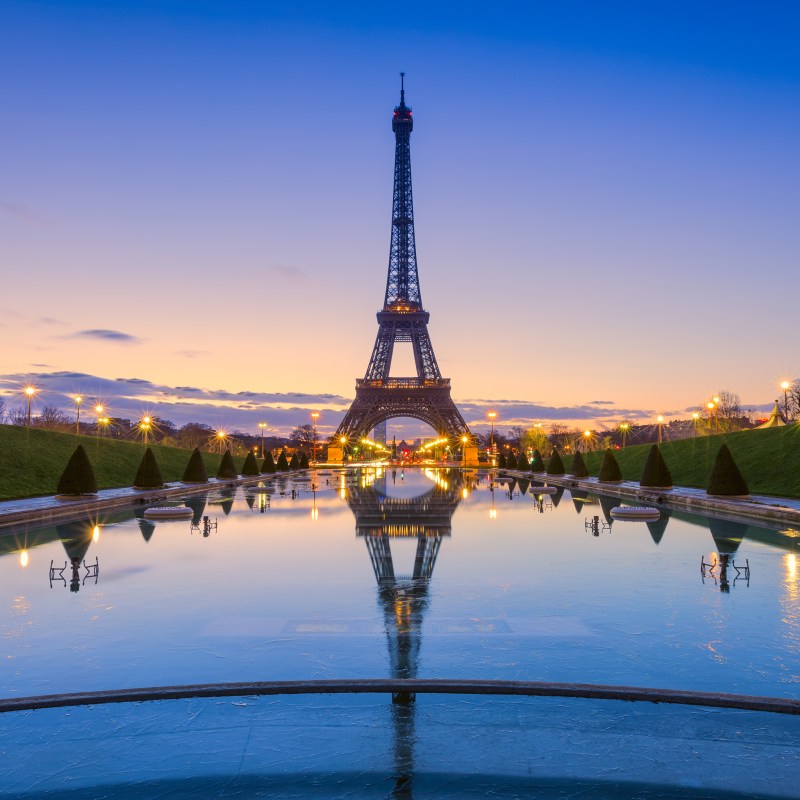 In the spring of 2006, I traveled to Paris to run a marathon. The trip was the culmination of years of training, with the last few months centering on intense runs through snow-packed streets.
Well aware that the marathon would be as much a mental battle as a physical one, my friends and I carefully plotted out our race strategy, mile by mile, even coming up with topics of conversation for each segment.
But before we had even made it to the starting line, we joked that emotionally, we had already completed the run. Had we not already put in the work and visualized each and every step? Where was the thrilling climax? Instead of being pumped, we were over it — over it before it had even begun. I vowed that if I made it through the race (and I did!), I would return to Paris for a very different kind of trip, one that was all about me and less about work.
A milestone birthday in the spring of 2020 seemed like the perfect celebratory occasion. It would even coincide with the Paris Marathon, although this time, I'd be a spectator — one marathon is enough!
While I'm not particularly sentimental about birthdays, it felt auspicious to return to the city. What better place to mark a big occasion in one's life? Plus, as a writer, a real pilgrimage to Paris felt practically mandatory for me. Several years ago, a hankering for the City of Lights became a fully formed plan. I would spend a month in Paris.
I'm a planner, and I set about designing my trip with vigor. I wanted to get to know every arrondissement, and, with a stylish new notebook by my side, I started to create an itinerary. I made note of where freebies were located and cross-referenced my list of bargains with nearby quirky cafes and bespoke bakeries. Like an overzealous Santa Claus, I was making my list and checking it twice. While my days wouldn't be strictly scheduled per se, I filled my planner with the dates of free exhibits, discounted museum days, and cooking classes.
As a former healthcare administrator, I had casually followed the news about the COVID-19 epidemic from the early cluster of cases in Wuhan, China. I wasn't particularly worried. Colds, the flu, and respiratory ailments abound in the winter months, and I assumed the virus would run its course over the season. I went to a conference in January, and my extra-vigilant handwashing was motivated more by a desire to avoid catching a cold from shaking so many hands than any concern about a possible pandemic.
My keep calm and travel on attitude prevailed even when COVID-19 spread to Iran and then Italy. My trip to Paris was a solo adventure. I imagined long days spent blissfully writing on a balcony and munching on croissants while watching the world go by. Avoiding large gatherings would be easy for me, since my itinerary featured small museums, outdoor sculptures, and pastry shops off the beaten path. I was healthy, happy to frequently wash my hands, and eager to settle into life in residential Paris.
My first inkling that my trip was in jeopardy came during the second week of March. As the news from Northern Italy became more and more worrisome and then the whole country entered a state of lockdown, I realized that a serious decision was looming on my horizon. But with three weeks to go, I felt I had time to reflect. Time, I reasoned, would be my best friend. It would soon be evident whether the danger had increased or subsided. I gave myself a deadline eight days down the road.
Within three days, the writing was on the wall. On the fourth day, I made my decision ahead of time — but in reality, COVID-19 made it for me. Paris was shutting down, first rather slowly and then quite rapidly. Within hours of finalizing my decision, I noted that nearly all the city's attractions, services, and amenities were shuttered. My own government in Canada initially advised against all international travel, and then quickly told all citizens abroad to come back home. There was no time for ambivalence or second-guessing. Staying home wasn't just the right choice — it was the only choice.
I hadn't expected to feel sad. The rapidly expanding pandemic was pushing aside personal concerns. But somewhere in between starting a food-bank fundraiser and volunteering to be a virtual guest speaker for classrooms that were suddenly meeting online, the sadness crept in. It was accompanied by shame — shame that I dared to feel sad about some lost luxury when so many others were losing their lives and livelihoods. It's hard to justify how I feel about the loss of my trip in a world where there is so much suffering and uncertainty. But the sadness still lingers.
At first, I immediately vowed to rebook my trip. I even started eyeing September as a possible time. I also pondered the idea of returning on my next birthday. After all, my decision to go to Paris was more about experiencing the city, taking time for myself, and growing as a writer than it was about a particular date or birthday. But then a familiar feeling started to creep in.
I started to feel… over it. Over Paris. I had seen so much art (virtually, at least). I had learned so much history (through my books). I had mapped out an entire trip; I had even checked out the route from my rental apartment to the neighborhood coffee shop using Google Street View. It was like the starting line of my marathon all over again. I had gone through the motions so many times that it felt like I had already completed my race.
While I hadn't exactly expected to have any great personal breakthroughs during my monthlong sojourn in Paris, there's no denying that every trip shapes who you are, even if just a little bit. I'm not going to be the same person next year that I would have been in a COVID-19-free world.
I'm at a strange crossroads where a part of me feels like that ship has sailed and that my life has changed — and it didn't take a trip to Paris to make it happen. The other part of me feels that I might enjoy a future trip to Paris even more without the subtle pressure to make it extra special and extra memorable because it's tied to a big birthday. I'm in limbo, and I suspect my inner uncertainty won't subside until the pandemic does.
Last night, as I got ready to shut my laptop for the day, I paused for one last glimpse at social media. I saw that someone had shared an article about the best covered passages in Paris. My heart skipped a few beats, and I inwardly squealed at such a cozy approach to exploring the city. As I automatically bookmarked the site, I realized that maybe I'm not done with Paris just yet. Maybe that trip is still on the horizon after all.