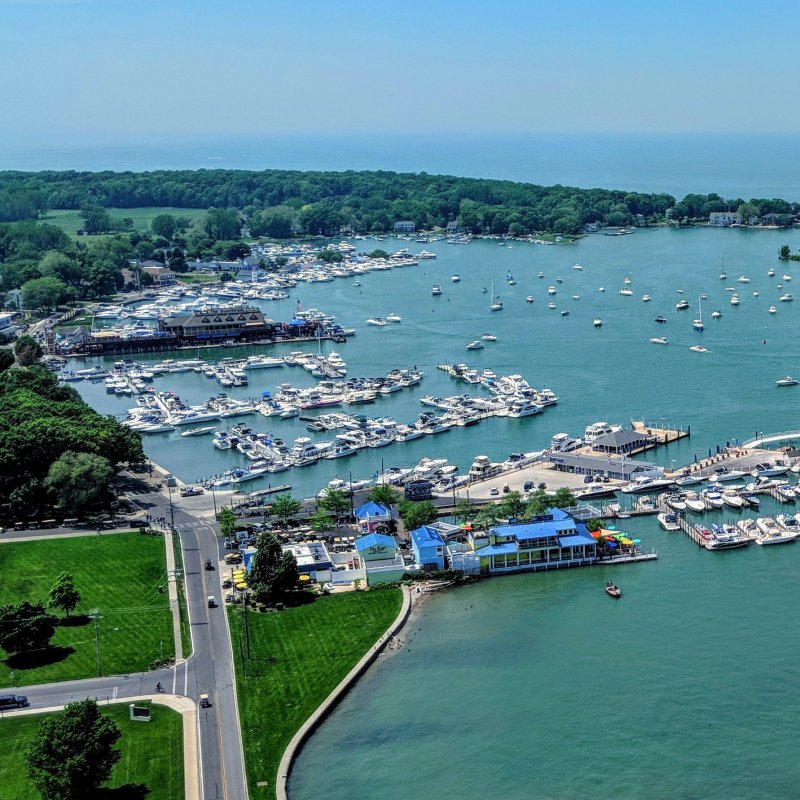 I received complimentary admission to some of the attractions in this article as part of a sponsored press trip. All opinions remain my own.
Put-in-Bay, Ohio, is a village on South Bass Island in Lake Erie. The charm of the village and the friendliness of its people are unmatched.
All visitors to the island must arrive by boat. Around 600 people live on the island year-round, but during the summer season, thousands of visitors flock there. May through September is the best time to experience all that the island has to offer.
Here are some of the best things to do on a visit to lovely Put-in-Bay.
Rent A Golf Cart
The best way to see Put-in-Bay is by golf cart. As you leave the ferry and step onto South Bass Island, you'll come upon numerous places to rent a golf cart by the hour or by the day. Golf-cart parking is available all over the island. A golf-cart ride is a fun and convenient way of seeing everything the island has to offer.
Visit Perry's Victory & International Peace Memorial
Perry's Victory & International Peace Memorial commemorates the Battle of Lake Erie that took place near South Bass Island. Commodore Oliver Hazard Perry led his fleet to victory in one of the most significant naval battles of the War of 1812.
The monument soars 352 feet over Lake Erie and lies 5 miles from the longest undefended border in the world. The views from above are breathtaking. You will see binoculars available for your use; grab a set and take a look.
If you have a National Parks pass, you'll be able to access this part of the island for free. The monument is handicap accessible and open to all visitors.
Tour Heineman's Winery
Heineman's Winery was established in 1888, and the tradition of winemaking is still alive and well in Put-In-Bay. This fifth-generation winery harvests more than 50 acres of grapes on the island. On a tour of the winery, you'll learn how the wine is made and have an opportunity to sample some of the winery's offerings.
I personally enjoyed the setting of this winery, a particularly green and beautiful part of the island.
Explore Crystal Cave
Crystal Cave is located on the grounds of Heineman's Winery. If you want to sample wine and explore a neat cave, you'll need to purchase the combo ticket.
Inside the cave, you'll see the world's largest geode. The blue-gray mineral is strikingly beautiful, and the crystals range from 8 to 18 inches.
To access the caves, you'll have to walk down and up several flights of steps. If you are unable to do so, this activity probably isn't for you.
Allow a couple of hours to visit both the winery and the cave. Tours continue throughout the day, so you should never have to wait more than an hour for one.
Indulge At The Chocolate Cafe And Museum
Put-in-Bay's Chocolate Cafe and Museum is a delight. I stopped there to purchase salted caramel chocolates and a cold drink. If you are a coffee connoisseur, you will appreciate the fact that the cafe grinds its coffee beans daily.
The Chocolate Cafe is located near Heineman's Winery and makes for a great stop after some wine. Golf-cart parking is conveniently located out front.
Take A Hike
Put-in-Bay is loaded with gorgeous nature and boasts several hiking trails for visitors of all fitness levels.
The Jane Coates Wildflower Trail and Ladd Carr Wildlife Woods are ideal for springtime visitors. Take your binoculars with you, since the migrating birds that frequent the area are spectacular to watch. The plants and flowers are plentiful, too: Jack-in-the-pulpit, wild phlox, and appendaged waterleaf can all be spotted here.
Hiking is not only on land in Put-in-Bay — water trails are also popular, and they offer a view you can't get on land. Kayaks are available for rent at Put-in-Bay Watercraft Rentals. If you are visiting the area for just a day or two, renting makes the most sense.
Visit The Butterfly House
At the Butterfly House at Perry's Cave Family Fun Center, you can get up close and personal with colorful butterflies. On the day that I visited, there were butterflies everywhere. They landed on my arms and shoulders, and even seemed to pose for photos. But if you hope to get a great shot, you'll have to be quick — they don't sit still for long! Hanging out in a room with butterflies is truly soothing to the soul.
Eating In Put-In-Bay
There are numerous places to dine in Put-in-Bay, and the locally owned restaurants all offer something different. The one thing they have in common is that they all offer excellent food and friendly service. The downtown district offers plenty of choices, but for a quieter experience, I recommend dining in one of the establishments in the outlying areas. The dress code is almost always casual.
Here are two fantastic spots that deserve a special shout-out.
The Boardwalk
You'll find fresh seafood and a great atmosphere at The Boardwalk. Ask for a booth with a view of the water. The locals will recommend the lobster bisque, which is very good. Sandwiches, fish, salads, and specialty cocktails are other highlights of the menu.
The Boardwalk is located in the heart of the downtown area, and you can't miss it. Golf-cart parking is available nearby. You might have to walk a couple of blocks to the restaurant, but keep in mind that every step offers a charming view.
Goat Soup & Whiskey
Goat Soup & Whiskey is a destination in itself. Anyone who has eaten here will tell you to order the perch tacos. The perch is freshly caught and plated and makes for a tasty meal. The secret sauce plus other fixings equal a memorable and mouthwatering experience. Add a cup of homemade soup, and you'll have yourself a winning meal.
After your meal, be sure to stop in at the nearby Chocolate Cafe and Museum to satisfy your sweet tooth.
Where To Stay In Put-In-Bay
The Anchor Inn Boutique Hotel is a classy, one-of-a-kind lodging. Parking is provided (one golf cart or car per room). Motorcycle and bicycle parking is also available.
The Park Hotel takes guests back in time to the 1870s. The current owners have worked hard to preserve the lovely Victorian home. One of the most popular rooms is the large front room that has three windows overlooking the downtown park and harbor. Ask for this room with a view when booking your stay.
Put-in-Bay can get quite busy once May rolls around and the weather is nice. If you visit during the off-season, you'll be more likely to get your lodging of choice at a great rate.
How To Get To Put-In-Bay
You can only get to Put-in-Bay by ferry. Miller Ferries offers reliable, safe transportation to and from South Bass Island.
Upon your arrival in Port Clinton, Ohio, you'll have to park your vehicle if you are not planning on bringing it to the island. If you want to bring your car to the island, you will need to drive it onto the ferry. If you choose to fly into the Cleveland Hopkins International Airport, I recommend renting a car and taking it with you to the island.
Many people are surprised to learn that Ohio is home to its very own island. In Put-in-Bay, life slows down, and it's easy to relax and connect with nature. Once you visit, you'll find yourself planning a return stay!