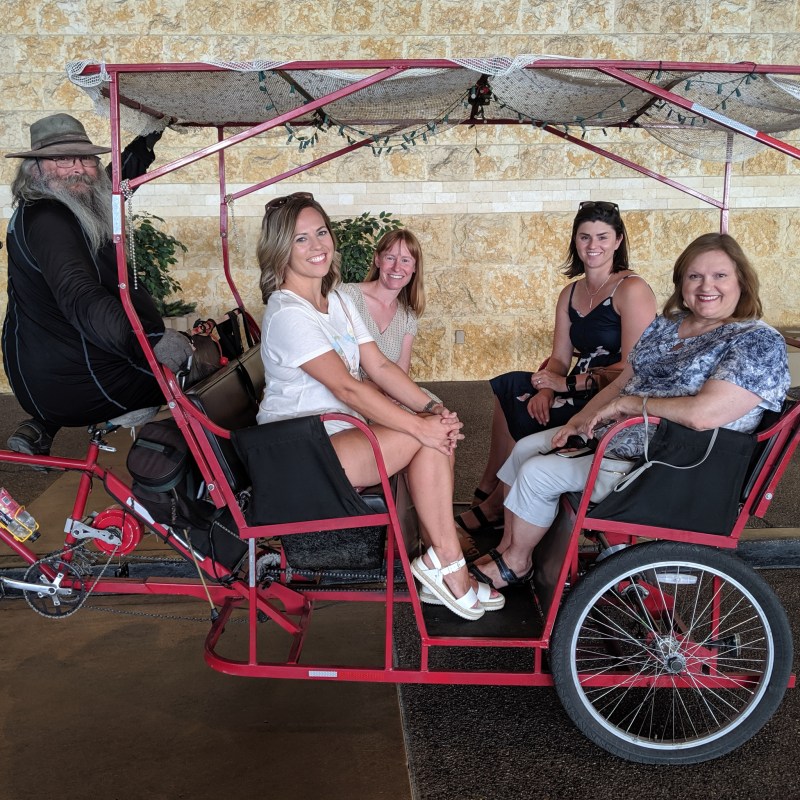 My pedal cab tour was sponsored by Visit Phoenix. All opinions remain my own.
A pedal cab tour is a fun, eco-friendly, and unique way to travel around a city. It allows you to see spots you might not be able to get to on a taxi or bus tour, and it is a great alternative to walking in extreme heat.
Last June, I visited the Phoenix area and stayed in Scottsdale. I was attending a blogging conference, and part of the event included some tours and experiences in the Phoenix area. One of the experiences offered was a pedal cab tour of the city's murals and historic sites.
A pedal cab — sometimes referred to as a pedicab, bicycle rickshaw, or tricycle taxi — is a small pedal-operated vehicle that serves as a taxi. Often, the drivers give tours of a city's major landmarks as part of their service.
I had never been on a pedal cab tour, and I thought it sounded like a fun way to see the city. I wanted to take pictures, and I thought it would be easier to do so in the open air than through the glass windows of a taxi or Uber.
On the day of our tour, the area was experiencing temperatures of 104+ degrees. It was hot, and we were all wondering if taking this tour in the middle of the afternoon was a good idea.
Doug MacKenzie, director of media relations at Visit Phoenix, sent a car to pick us up and take us to downtown Phoenix. He met us there and found a pedal cab and driver for us with Arizona Pedal Cab.
It was steaming hot in the middle of the afternoon when we boarded our pedal cab. Our driver, Billy Oxford, was quite the character. He specializes in downtown Phoenix art tours, and you can find him and Arizona Pedal Cab on Instagram here.
Before we started out, Billy gave us some quick info and provided us with a spray water bottle with a fan attached to help keep us cool.
We posed for a group photo with Billy, and then we were off. Billy was very knowledgeable about the city and its historic sites, as well as the many murals we passed.
We first toured the downtown area and learned about Phoenix's green initiative. The city is attempting to combat the air pollution and dust in undeveloped parks and other vacant land.
Then we headed to some historic landmarks, including Heritage Square and Science Park, where we saw the Rosson House Museum and other significant buildings.
We spotted various murals as we traveled from place to place. Since 2014, Phoenix has used street art to transform its urban public spaces. These murals are truly amazing and have turned the streets of downtown into an art museum.
The Piano Man mural is located near the entrance of an alley where artists have turned the entire area into an outdoor gallery. This particular mural was created in April of 2019, so it was still new when we arrived in June. It was painted by Tato Caraveo, a well-known muralist, as part of the 1½ Street Mural Project.
The moving No More Stolen Sisters mural raises awareness of missing and murdered indigenous women. It was painted by La Morena and is located in the same alley as Piano Man.
There are hundreds of other murals scattered throughout the city. We only got to see about 30 of them during our tour.
If you don't have time to tour all the murals, make sure you stop at 1½ Street to see the collaborative mural behind The Churchill. It extends the entire length of the alley and contains the exquisite work of 12 local artists.
The pedal cab ride was much smoother than I anticipated and was enjoyable except for the heat. Billy was wonderful and knew where to go so that we could be in the shade as we traveled. He always tried to stop in shaded areas for pictures and talking breaks.
Riding a pedal cab sure beat walking around the city in the sun and heat, but we were still outdoors, and it was very warm. If I were to take a pedal cab tour again in Phoenix, I would take it early in the morning or evening. I think it would be great fun after dark, with the lights inside the cab on.
In the pedal cab, we were able to see three to four times as many things as we would have been able to see had we walked. I highly recommend taking a pedal cab for sightseeing or simple transportation if one is available. I will definitely use a pedal cab in the future when I travel to Arizona.