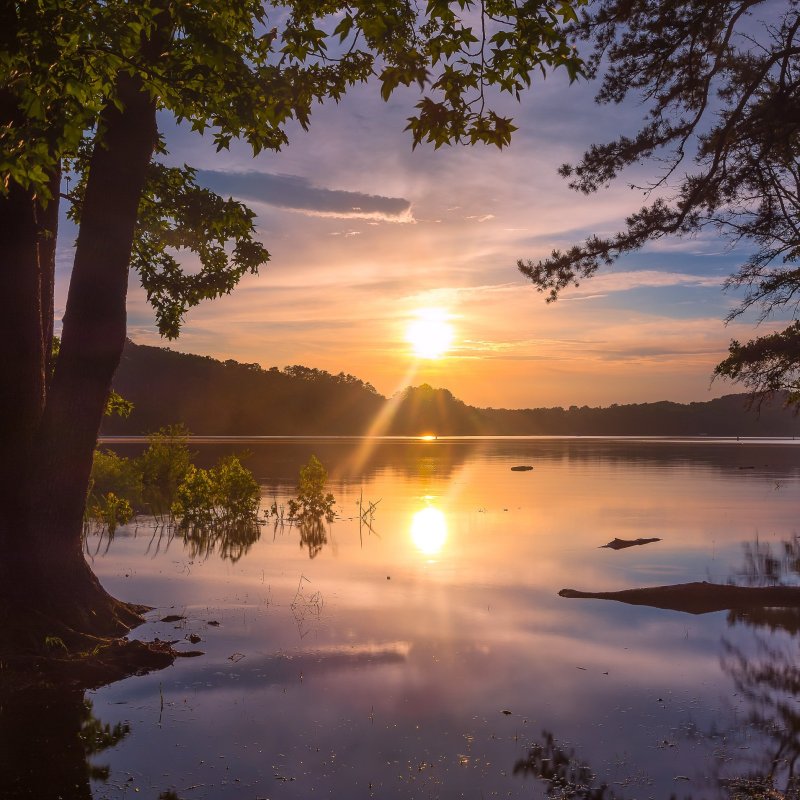 There's a lot to consider when deciding where to retire, including cost of living, climate, leisure activities, community life, and access to the arts. Many retirees are flocking to Gainesville, Georgia, and it's easy to see why. Gainesville, located near Lake Sidney Lanier in the foothills of the Blue Ridge Mountains, offers affordable living and a small-town feel with big-town amenities.
Here are seven reasons to consider retiring in Gainesville.
1. It's Centrally Located And Boasts A Moderate Climate
If you enjoy the variety of four seasons but prefer a milder winter, Gainesville might be for you. The town offers vibrant spring blooms, warm summers, gorgeous fall colors, and temperate winters with little snowfall.
Centrally located between the mountains and the ocean, and only an hour away from the Atlanta airport (and 1.5 hours from the airport in Greenville, South Carolina), Gainesville is easy to get to and travel from. Amtrak's Crescent stops in Gainesville, too.
2. It's Affordable
Gainesville frequently shows up on lists of the most affordable retirement communities. The AARP named Gainesville one of the 10 most affordable places to retire. To add more credibility to the claim, 55places put together a list of the most affordable places to retire based on 12 different data points, including median income, average home sale price, and cost of living. Gainesville made the list because of its low cost of living, affordable home prices, booming economy, great weather, and varied healthcare options.
3. It's Located On A Lake
"We're located on Lake Sidney Lanier, one of the most-visited lakes on this side of the Mississippi River," said Deb Gravitt of the Gainesville tourism bureau.
The lake welcomes approximately 11 million visitors each year. Completed by the Army Corps of Engineers in 1956, the lake hosted the 1996 Summer Olympics' rowing, canoe, and kayak events, and the Lake Lanier Olympic Venue was built for the occasion.
Pick up a picnic lunch of fried chicken or grilled meat, pimento cheese, and a bottle of wine at Green's Grocery and take it to eat lakeside. If you prefer time on the water, you can enjoy a vast boating playground.
With 60 recreational areas plus seven commercial marinas, the lake area offers all the hiking, picnicking, and water-based activities you could wish for.
4. It's Naturally Beautiful
In addition to the lake, you'll find a variety of other gorgeous outdoor spots in Gainesville. The town boasts 25 miles of trails, numerous gardens, and two golf courses. The Chattahoochee and Oconee National Forests are nearby, providing even more outdoor activities for area residents.
Starting in town and heading down to Lake Sidney Lanier is the Solar System Walking Tour. This 1.8-mile concrete path runs through various parks and the woods, ending at the lake. It's a to-scale solar system tour and features monuments representing the planets, with an information placard for each.
Avid golfers can enjoy numerous courses in the area, including the Chattahoochee Golf Club, one of the foremost public golf courses in North Georgia.
History buffs can enjoy several walking tours, including the Civil War Heartland Leaders Trail, the Alta Vista Walking Tour, and the Historic Green Street Walking Tour.
5. It's Got A Small-Town Vibe With Big-Town Amenities
Gainesville is home to an outstanding art scene, fine dining, superior healthcare, and other amenities you might not expect from a small town.
"Because of the two universities in Gainesville, we have a great arts program, a fantastic hospital system, an active and vibrant downtown, an award-winning and accredited parks and recreation program, and more. We really don't have to go to Atlanta for entertainment, but we're close enough if we want to," said Gravitt.
When it comes to the arts, there are lots of options. The Gainesville Theatre Alliance and the John S. Burd Performing Arts Center host live theater events. The Gainesville Symphony Orchestra is a 70-piece community orchestra. The town even has its own ballet troupe, the Gainesville Ballet. Local art galleries include the Quinlan Visual Arts Center and the Brenau University Galleries.
Gainesville also provides excellent healthcare. The Northeast Georgia Medical Center's Ronnie Green Heart Center has been recognized as the best in Georgia and one of the top heart centers in the country.
6. The Restaurants Are Top Notch
Seafood, farm-to-table fare, and fine dining to live music are just a few of Gainesville's culinary offerings.
The Atlanta Highway Seafood Market is part seafood market and part restaurant. Step inside and peruse the fresh catches, or head to the register to order seafood to your liking. Like many New Orleans markets, the Atlanta Highway Seafood Market gets its seafood directly from the Gulf and prepares it with a Cajun touch.
Avocados, located on the downtown square, is a farm-to-table restaurant that feels very grown-up. Avocado's offers dishes prepared from fresh ingredients in a cozy, eclectic atmosphere. There's a full bar that makes the sidewalk patio especially appealing for sitting outside and people-watching on the square. Try the brie-and-apple grilled cheese with hand-cut fries.
For fine dining, choose Scott's Downtown, which claims "Atlanta quality with Gainesville charm," or Luna's, which serves up American fare with a Continental flair. On weekends, you'll find live music in the piano bar at Luna's.
At Scott's, try one of the seafood appetizers like the creamy, warm blue-crab dip or the fried oysters Bordelaise. At Luna's, you won't want to miss the French onion soup.
7. There Are Plenty Of Shopping Options
The downtown square offers Southern charm, eclectic shops, and brick sidewalks, and boutiques, bookstores, salons, and gift shops abound.
Take a class at the Quinlan Arts Center, where you can make a unique item to take home with you.
Stop by Annastasia's Tea Room inside Serenity Massage and Day Spa for afternoon treats and tea, and then stay for a spa treatment. The tea room hosts a variety of themed parties.
Pick up a fresh flower bouquet at Occasions Florist, or head to Downtown Drafts, a beer cafe and growler shop that serves up the best selection of local, national, and international craft beer in the area.
Pro Tip: Nearby Alto, Georgia, just a short drive from Gainesville, is also worth a visit. You'll find a fantastic open-air market at Jaemor Farms where you can buy fried pies, homemade ice cream, canned preserves, and fresh milk and cheese. There's also a farmers market full of produce. Then stop by Sweet Acre Farms Winery, a family-run farm and Hall County's first winery, for fruit wine.