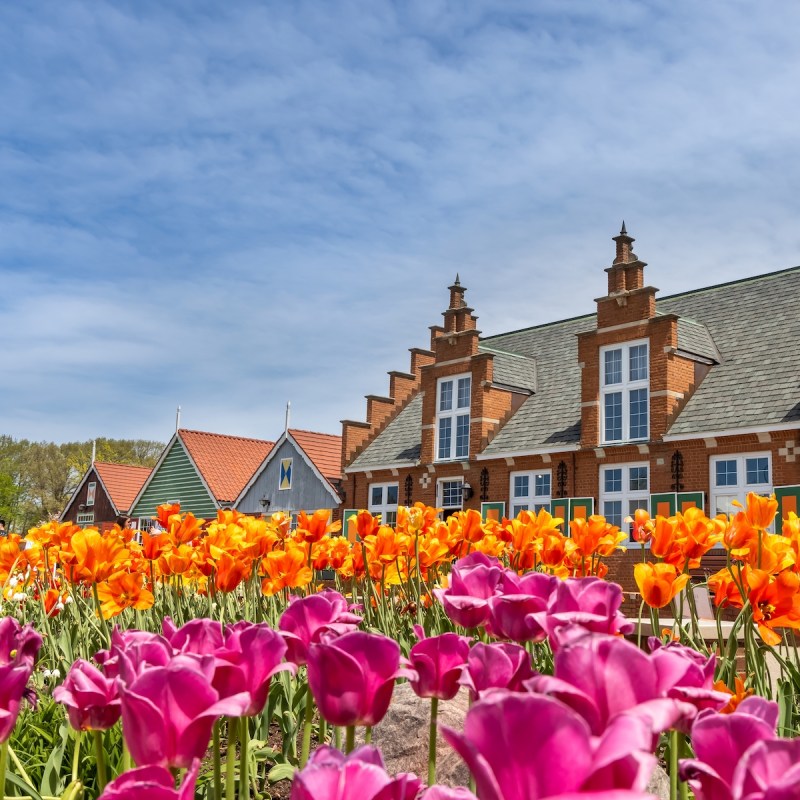 Is there any more gorgeous a flower than the riotously colorful tulip? We adore these cheery harbingers of spring, and it turns out there's a charming, picturesque city in Michigan that loves them just as much — if not more — than the rest of us. So much so that it hosts an 8-day bash devoted to these beautiful blooms each year, and it might just be the perfect destination for your next weekend getaway.
Holland, Michigan, located on the state's western shore near Lake Michigan, is a 3-hour drive from Detroit and has a long and rich Dutch heritage. It's also crazy for the flower that first became popular in Holland, a region and former province of the Netherlands. Since 1929, the Michigan town has played host to Tulip Time, a festival that features millions of blooming bulbs, art, entertainment, food, and lots of Dutch-themed fun.
Here are the best things to do during this terrific event.
1. Enjoy The Magnificent Blooms
You just can't escape the festival's lovely namesakes — nor would you want to! They are everywhere, a delightful riot of color spread throughout town. Holland's parks and recreation Department plants a whopping 5 million bulbs across town every autumn. Sourced directly from the Netherlands, these beauties are typically in their full, glorious bloom the first week of May, when Tulip Time is held. Everywhere you turn, you'll see festive splashes of red, pink, orange, yellow, and even purple, and there are perfect photo opportunities around every corner. Take in the floral splendor in parks and public spaces and along the roadsides — or tulip lanes — everywhere in town.
Tulip Time also features flower-specific activities and events for festivalgoers, including several walking tours, plus organized photo walks through the most scenic floral stretches of town. Also, back by popular demand, visitors can also take part in a special tulip immersion garden, featuring 50,000 tightly packed and perfectly planted blooms, with expert explanation and commentary from an internationally-lauded horticulturist. Talk about the perfect Instagram moment… be prepared to be dazzled!
New in 2023, you can even name a tulip bed after your family or a loved one. Talk about the perfect Mother's Day tribute!
Even if you're prone to allergies, you'll have a great time: It turns out that tulips are some of the most hypoallergenic blooms out there.
2. Tulip Time Run
Want to flower-power your way through a unique and unforgettable workout? Then consider the Tulip Time Run to kick off your Holland visit. The event — which is held the first day of the festival and features both a 5k and a 10k — welcomes all paces, and you can't beat the gorgeous views.
The race kicks off and also ends at Holland's Kollen Park, right on the lovely shores of Lake Macatawa. You'll run right through the tulip-lined streets of Holland, there's terrific runner support, and we'll challenge you to find a prettier spring race! Hint: it's not going to happen!
3. Floral Arrangement Courses
Creating dazzling floral bouquets is an art, and if you're inspired by Holland's tulips to try it out, you're in luck! Tulip Time is offering several hands-on floral arrangement sessions during the festival. In this hour-long course, you'll learn the basics from award-winning floral designers, and even create your own masterpiece to take home. Tickets include your lesson and all the supplies you'll need to build our own beautiful, one-of-a-kind creation.
4. Art Exhibits
Celebrating the arts has long been central to the Tulip Time Festival.
The Art in Bloem Fine Art Showcase focuses on pieces created by local artists. Here you'll find the top 20 finalists in the Tulip Time artwork competition, and you can even participate in the Viewers' Choice Awards by voting for your favorite image at the exhibit!
The Tulip Time Quilt Show is also a fan favorite, with the difficult and increasingly rare art form taking center stage. More than 100 hand-stitched quilts are on display, in a variety of styles, colors, and designs. Visitors can also buy raffle tickets for the chance to win a very special quilt: one created specifically to celebrate Tulip Time!
If you want to try your own hand at creating tulip-centered visual art, be sure to check out the Tulip Time Photo Walks. There, you'll get tips and tricks from professional photographers about how to get the perfect image of these iconic flowers, and even have the chance to submit your photo to be considered for Tulip Time social media posts during the festival.
5. Windmill Island Gardens
The Only Authentic Dutch Windmill Still Operating In The U.S.
To experience Holland's tulips in a truly Dutch setting, walk the 20 minutes from downtown to Windmill Island Gardens. The focal point of this beautiful spot is DeZwaan, the only authentic Dutch windmill operating in the United States. When we say operating, we really mean it: The mill grinds wheat flour and cornmeal that you can purchase on-site.
Climb to the fourth-floor deck for a gorgeous view of the grounds and gardens, which are perfect for strolling when the 100,000 tulips scattered across the three lush fields are in full bloom. As you can imagine, the gardens are bustling during Tulip Time, and for good reason. Tickets cost $12.
6. Tulip Time Parades
Volksparade
You'll want to make time for at least one of the parades that take place during Tulip Time. The Volksparade is a traditional Dutch march that encourages crowd participation. First, the mayor dons ceremonial white gloves to inspect the cleanliness of the route. If the streets need scrubbing (and they most likely will!), you'll see folks in traditional Dutch costumes bring out buckets and brooms for the spring cleaning needed for the parade to step off. After that, you'll be treated to dozens of bands, community floats, and other entertainment. There's also a Dutch dance performance just prior to the parade kick-off. 
Kinderparade
The Kinderparade — or children's parade — is a sweet Tulip Time tradition for Holland's youngest residents. Elementary school children will line up with their teachers and school administrators in full costume and march together through downtown Holland. Each school and grade will have its own theme that celebrates Dutch heritage.
Be sure to head downtown early to claim a spot for whatever parade you choose to view.
7. Traditional Dutch Dancing
Dutch dancing returns in a big way during the 2023 Tulip Time festivities. Costumed performers will show off traditional Dutch dance steps at Centennial Park in the middle of town. Expect lots of clomping in those clogs! There are also performances featuring far younger dancers as children from 3rd through 8th grade will also show off their talents. There are dance demonstrations each day during Tulip Time; be sure not to miss them!
Eating In Holland
During the Tulip Time Festival, Dutch cuisine takes center stage.
DeBoer Bakery is locally owned, and the people who live in Holland know that its two locations are the best places to go for pastries sweet and savory, including buttery krakelingen filled with almond paste and saucijzenbroodjes, or Dutch pigs in a blanket. Russ', another locally owned favorite, features Tulip Time's favorite Dutch pea soup.
Of course, you can enjoy Dutch cheese, beer, and sausage from vendors in and around downtown. And if you feel like mashing up your Dutch and Italian food faves, head to Hops at 84 East. Located downtown, this spot bakes up wood-fired pizzas with crusts made by DeBoer Bakery from flour milled at the local windmill. It's truly full-circle cuisine!
Shopping In Holland
The shopping scene in Holland during Tulip Time tends to focus on all things floral, with artwork, textiles, and other home goods emblazoned with the bright spring blooms the festival celebrates. You'll find tulip-themed gifts in nearly every downtown Holland boutique. You can also take home some tulip bulbs to plant in your own yard or garden once fall comes around.
You'll find special Tulip Time souvenirs and much more, at the Artisan Market on the grounds of Beechwood Church. More than 150 juried artisans will offer their wares for sale at the market. If you work up an appetite while shopping, no worries, as food trucks will also be on site. And as an extra bonus: Dutch dancing demonstrations will take place during the duration of the market!
Where To Stay In Holland
There are three downtown hotels in Holland, which tend to book up fairly quickly for Tulip Time: the newly revamped Haworth Hotel on the campus of Hope College, a Courtyard by Marriott property conveniently located along the main parade route, and the modern, chic CityFlatsHotel.
If you can't snag a room downtown, don't worry: There are 2,000 additional hotel rooms within 3 to 4 miles of downtown, with accommodations to fit every budget. Homesharing sites like Airbnb and Vrbo are other options to consider, especially if you're traveling with a larger group.
What To Know Before You Go
There's no getting around the fact that there will be crowds at Tulip Time, especially on the weekends. Saturdays tend to be the busiest. Be sure to pack your patience, and just focus on having a terrific time! 
Also, this should go without saying, but we'll go ahead and mention it: Although it might be quite tempting to do so, do not pick or cut any of the tulips on display in Holland unless you have express permission. It's the only way to keep the blooms beautiful for everyone who visits during this special event.
Related Reading: